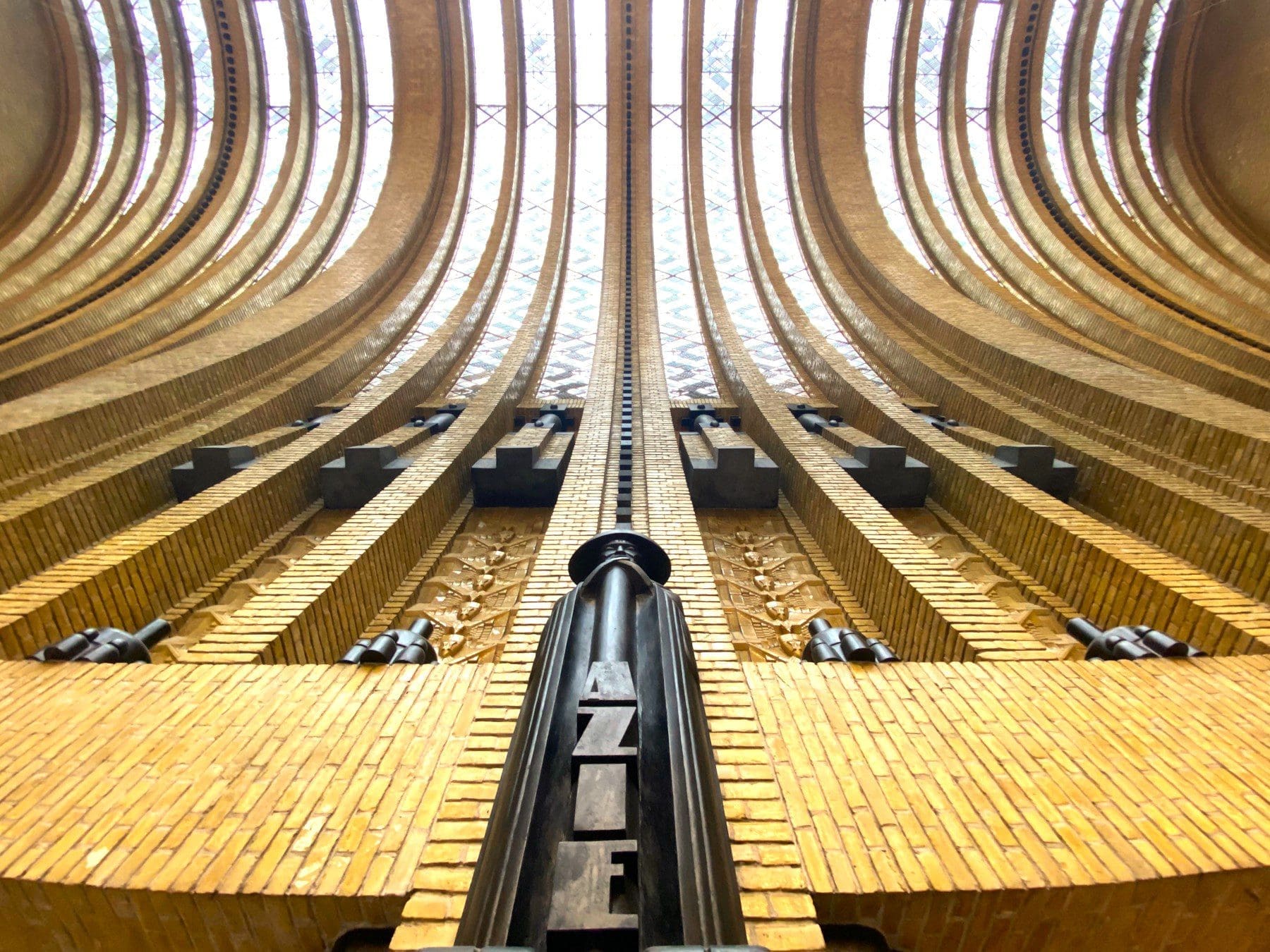 Circular Things to Do in Utrecht Netherlands: Bitterballen, Borrelen and Bikes
Mark Bibby Jackson
Posted on 26th Jun 2023
Mark Bibby Jackson visits Utrecht Netherlands to discover a visionary view of a sustainable future for the tourism industry.
If you have never tried a bitterbal then you have never really visited Utrecht. These double-bite sized deep-fried balls are consumed by locals faster than you can say "I didn't vote for Brexit". Often, they coincide with borrelen, the quintessentially Dutch act of relaxing with a drink (borrel) after a long day's work with friends or colleagues. It is exactly the way that any trip to the Dutch university city should start.
We are sitting in the courtyard at Winkel van Sinkel, soaking up the last rays of sun on this beautiful early summer's evening. Opened by German fabric merchant Anton Sinkel in 1838, this was the first department store in the Netherlands – winkel means shop. Now the place serves refreshing beers and naturally bitterballen (the plural of bitterbal).
However, these are not ordinary bitterballen, which normally are meat-based, but are made from mushrooms grown on rubbish, creating a circularity to the dish. According to my colleagues, they taste great, although I am not much of a fungi myself. It also sets us up for our visit to Utrecht, courtesy of the local tourism department, to explore the cycling and upcycling as well as vegan cuisine in the city.
A Walking Tour of Utrecht Netherlands
After our B&B (bitterbal and borrelen) we go on a quick stroll around Utrecht, before having dinner at BUNK, a green hotel housed in an old church which uses locally sourced ingredients wherever possible.
We reprise our tour the following morning with our guide Renette, while others on the trip get on their bikes.
Cycling in Utrecht is serious business. This is a bike city. It even has the largest bike park in the world, next to the Utrecht railway station, with a capacity of 12,500 bikes and the first day's parking free of charge. This is very much a car-free city centre. However, unlike its big brother Amsterdam there seems to be a harmonious relationship between pedestrian and cyclist which is maintained even when you erroneously wander into the cycle lane.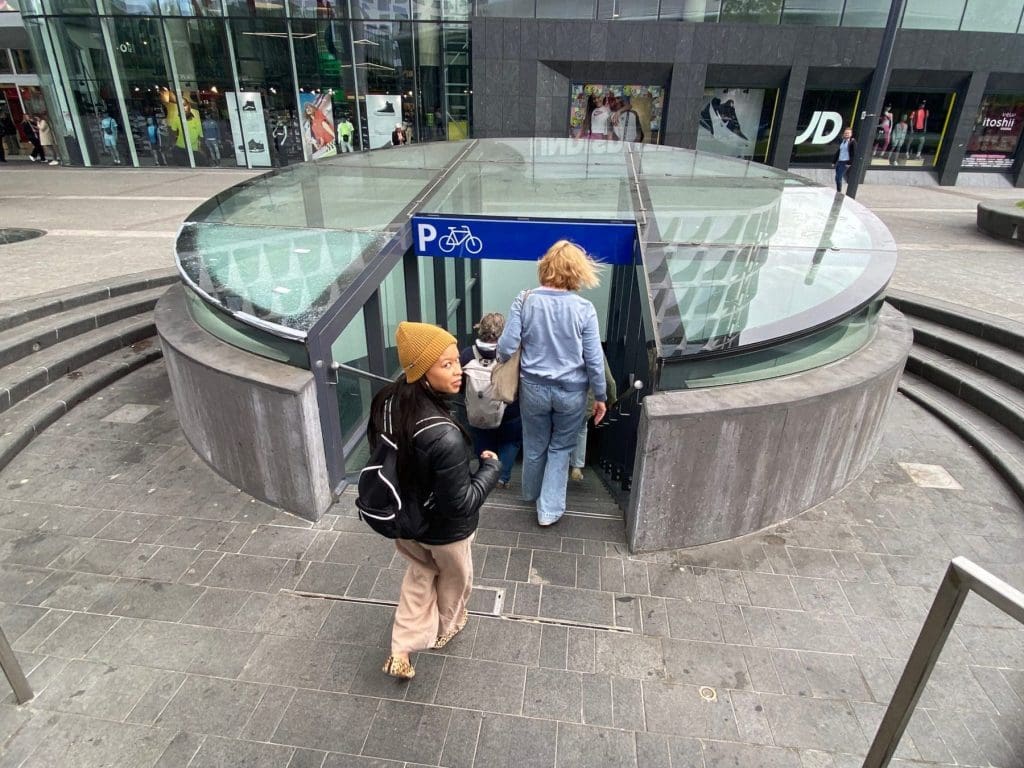 Granted city rights in 1122, Utrecht is a medieval city. Much of the inner centre has been preserved. The area close to the centre next to the Utrecht canal is particularly striking. The houses around the inner canal are from the 14th and 15th century. with ancient buildings leading down to the waters. Provisions are delivered by boat along the canal to the cellars of the bars and restaurants. Especially in the morning when all around you is still, this is a very peaceful and pleasant experience.
For me the most striking building is the old post office (main image). Designed in 1824 by Crouwel, a disciple of the Amsterdam School of Architecture, this amazing building has been converted into a library. Statues around it represent the different areas where the postal service reaches. It is a really good use of the space, with people working while children play in the play area.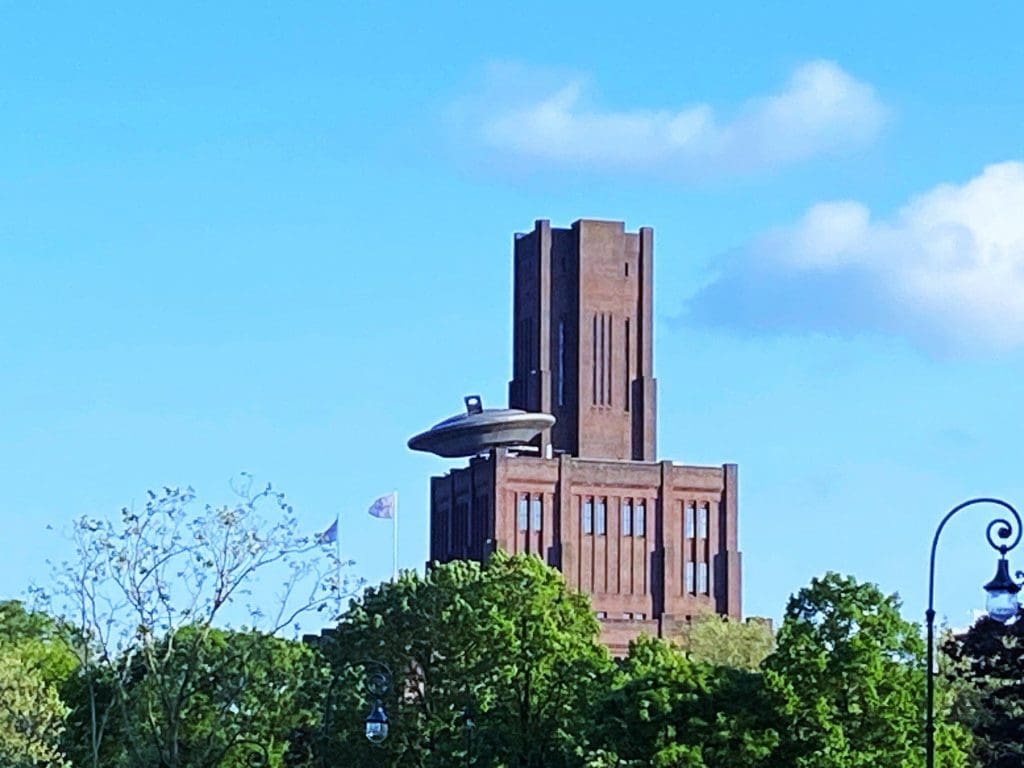 Upon arrival in Utrecht, I was struck by the sight of a UFO that had seemingly crashed into the side of a building, as if in an Ed Wood B movie. Renette explains this was part of Panorama 2000. The building is the head office of the Dutch railway company, who had commissioned the work especially for the exhibition.
The crashed UFO Building is next to the Catharijnesingel canal, which was built around the city as a defensive line when city status was granted. Standing beside it next to wild meadow flowers, it is hard to imagine this used to be a highway. The whole canal was threatened with being turned into a bypass in the 1960s.
Now, it is part of the Singelpark green space encouraging biodiversity. The canal became full circle once more in 2020. The project won the European prize for urban public space 2022. This is a great example of urban regeneration, which other cities could do well to follow.
Upcycling at the Hof van Cartesius
For lunch we take the train to Hof van Cartesius, a hotspot for creative and sustainable entrepreneurs, a few minutes ride from the city centre. It is an illuminating experience, much like my visits to Vienna and Berlin the previous summer.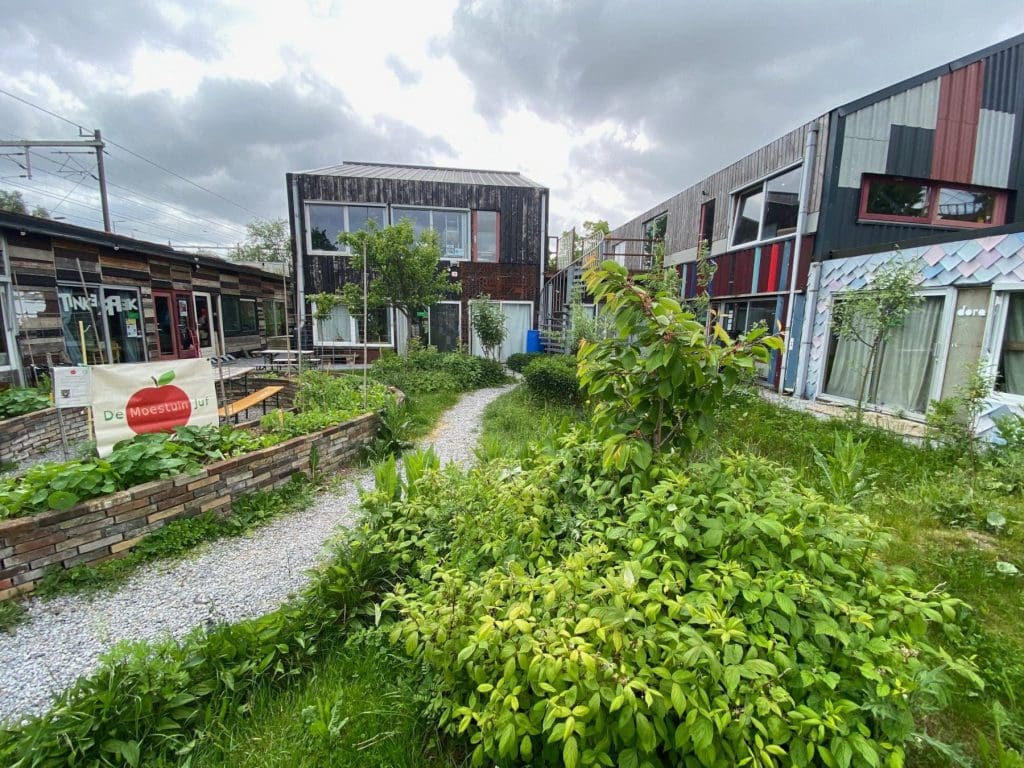 Run as a cooperative, around 120 people work here, nobody lives here, from acupuncturists to hairdressers and eco-warriors – Extinction Rebellion and Guerrilla Gardeners have offices. Covering an area of 10,000 sqm, the buildings are created from 90% upcycled materials, spread around a public green space and garden – our guide Gern is one of the gardeners.
Hof van Cartesius implements a circular philosophy. Wherever possible materials are upcycled, energy is 95% renewable, and waste is made into compost. They also have a sink to collect water which increases the biodiversity. The hairdresser even uses rainwater to wash client's hair.
Previously an industrial zone where trains were built, the area had become a wasteland when two sisters, Charlotte and Bianca, made their proposal to regenerate the area to the municipal authorities in 2017. Now, it is a vibrant hub, and another wonderful example of urban regeneration, and clearly part of the local neighbourhood.
After our tour, we settled down for a healthy vegan lunch at its Warmoes restaurant, while watching kids enjoy themselves in the adjoining playground. You can book tours via their website.
Utrecht Vegan Food Tour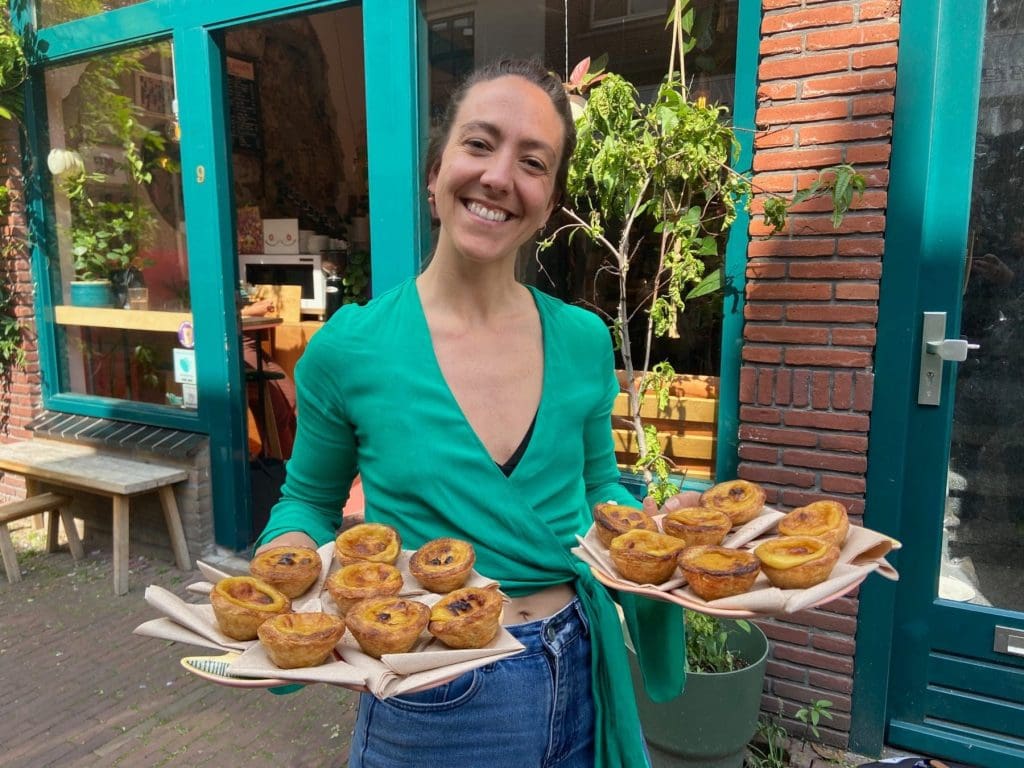 Continuing our healthy and sustainable theme, upon returning to the city centre, we set off on a vegan food tour of Utrecht's restaurants and cafés.
Patrick Boone and Daisy Scholte created their Vegan Food Tour in 2021. Our first stop is at Life's a Peach where we enjoy a pastel de nata, which has substituted soya milk for egg yolk, adding some turmeric for the colouring. Light and fluffy, frankly this was the best Portuguese custard tart I have tasted, even though it was made by an Italian in the Netherlands.
Patrick and Daisy lead us through the city providing us with little titbits of information in between bites. At Gys, which is one of the longest running organic cafés in Utrecht, we have a Dutch mojito served with a delightful sorghum risotto and chicory. This is followed by a coffee at Kluts coffee bar and vegan bakery – the snicker biscuits were amazing.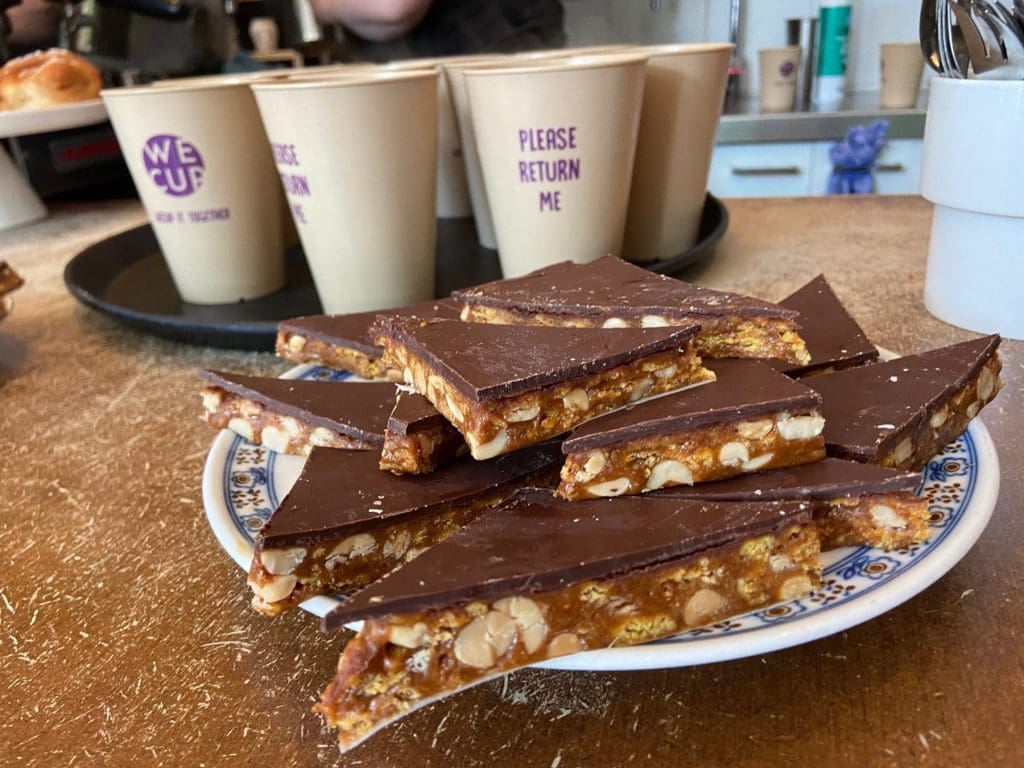 After visiting late night vegan kebab shop Last Vegas where we had some vegan bitterballen, similar to those at Winkel van Sinkel, and vegan fast food chain Copper Branch, our tour concluded at Broei, a 100% plant based restaurant close to the Utrecht canal, where we had some excellent local beer and cauliflower wings. Along the way we passed the longest street poem in the world. Each year one more letter is added, with the poem due for completion around the year 2400.
Climbing the Utrecht Dom Tower
Rising to a height of 112 metres above the city, the Dom Tower is unquestionably – crashed UFO Building notwithstanding – Utrecht's most iconic building. The tallest church spire in the country, the Dom Tower is currently under restoration.
The Van Dom tot Steengoed project is truly circular. It aims to reuse as much of the existing tower as possible. At the end of 2024, any residual material from the restoration work will be sold to private individuals and companies with proceeds going to the restoration of the light artwork in the Dom Tower. Construction work is powered by wind energy.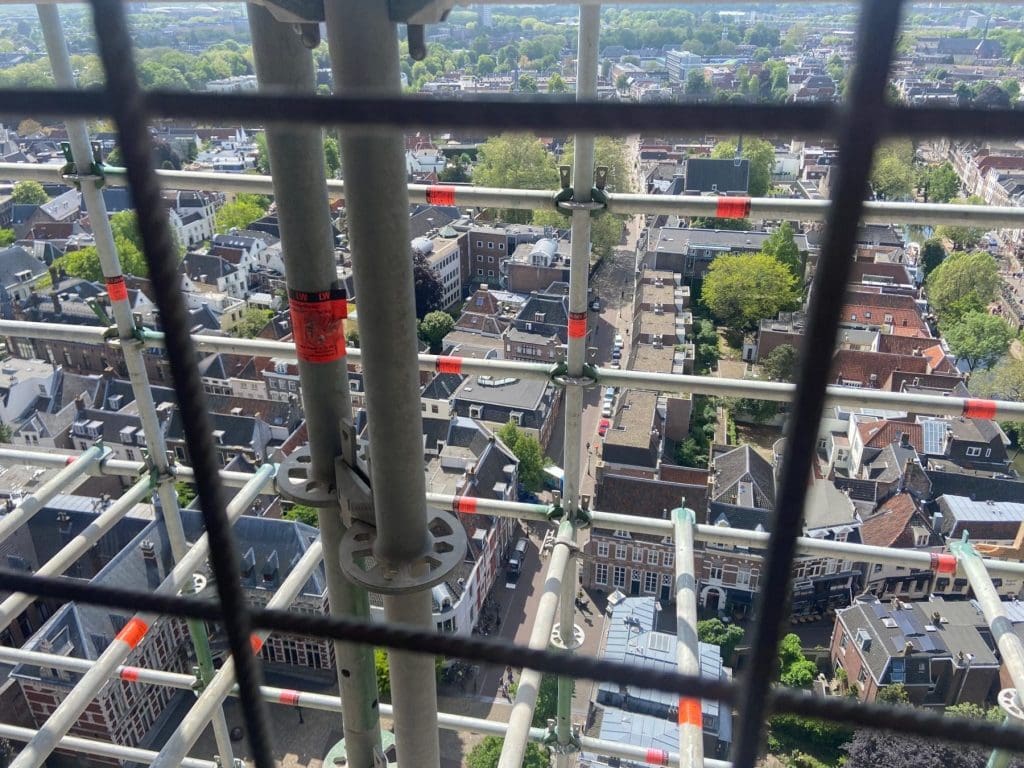 This does not mean that you cannot visit the tower. Our Dom Tower tour started in the crypt where we could see its history stretching back to 210 when it was a Roman villa. An exhibition is currently running until 9 September, 2003.
In 1674, the central nave of the church was destroyed by a storm, so the tower is separated from the church, allowing you to walk through the Dom Square, where the nave used to be. The Dom Tower itself was built between 1321 and 1382.
It is here that our visit to Utrecht finishes climbing up the 900-year-old tower to look down upon the city that is truly embracing the challenges of the current century, and hopefully providing a regenerative tourism path for other cities to follow. Now, all I need to do is get my dodgy old knees back down the 318 steps to earth, perhaps I can hitch a lift on the UFO?
---
Utrecht Accommodation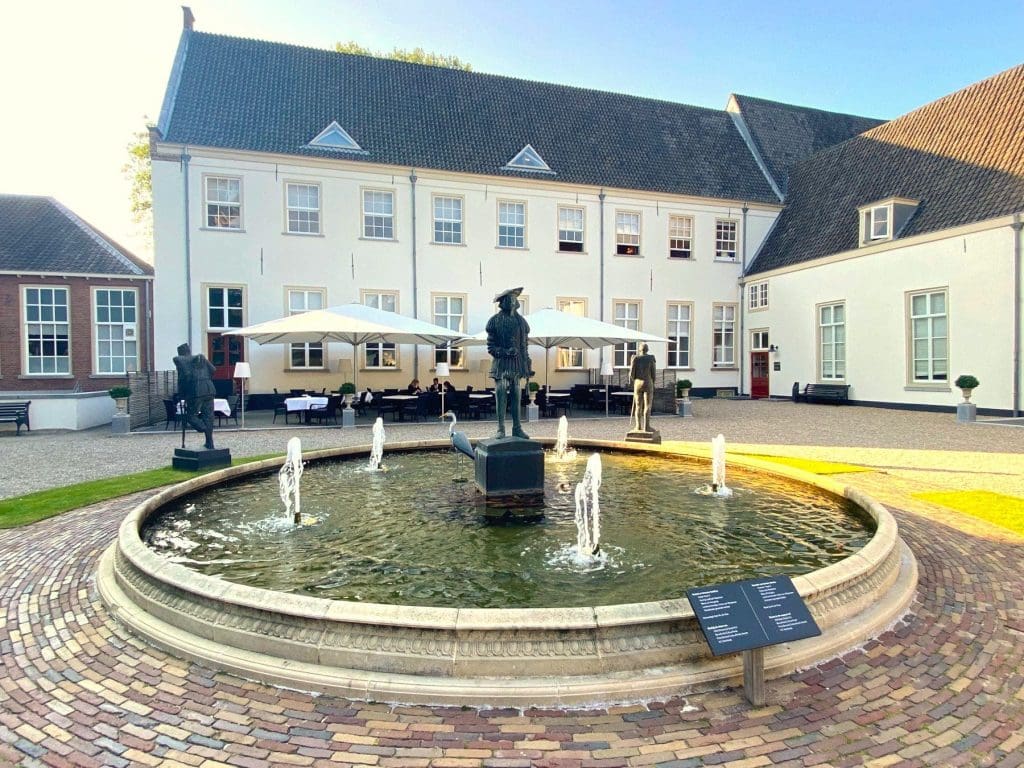 There are plenty of Utrecht hotels but only one Karel V. Previously a 14th-century monastery, it served as accommodation for knights and priests. Charles V stayed here when it was a convent, hence the name, as well as impressive statue in the internal courtyard. Surrounded by gardens, this five-star hotel is right in the centre of Utrecht and next to some lively Utrecht bars – believe me. Incredibly recommended. Stay in history. Or, you could always try a Utrecht AirBNB.
Getting to Utrecht Netherlands
You can travel from Utrecht to Amsterdam by train in under an hour. Alternatively, take the Eurostar from London St Pancras to Rotterdam and travel to Utrecht station from there – the train should await you on the adjoining station.
---
Utrecht Things To Do
Is Utrecht worth visiting? If the above has not answered the question sufficiently, then for planning your Utrecht holidays including Utrecht canal tours, visit discover-utrecht.com.
All images: Mark Bibby Jackson.
Mark Bibby Jackson
Before setting up Travel Begins at 40, Mark was the publisher of AsiaLIFE Cambodia and a freelance travel writer. When he is not packing and unpacking his travelling bag, Mark writes novels, including To Cook A Spider and Peppered Justice. He loves walking, eating, beer, isolation and arthouse movies, as well as talking to strangers on planes, buses and trains.