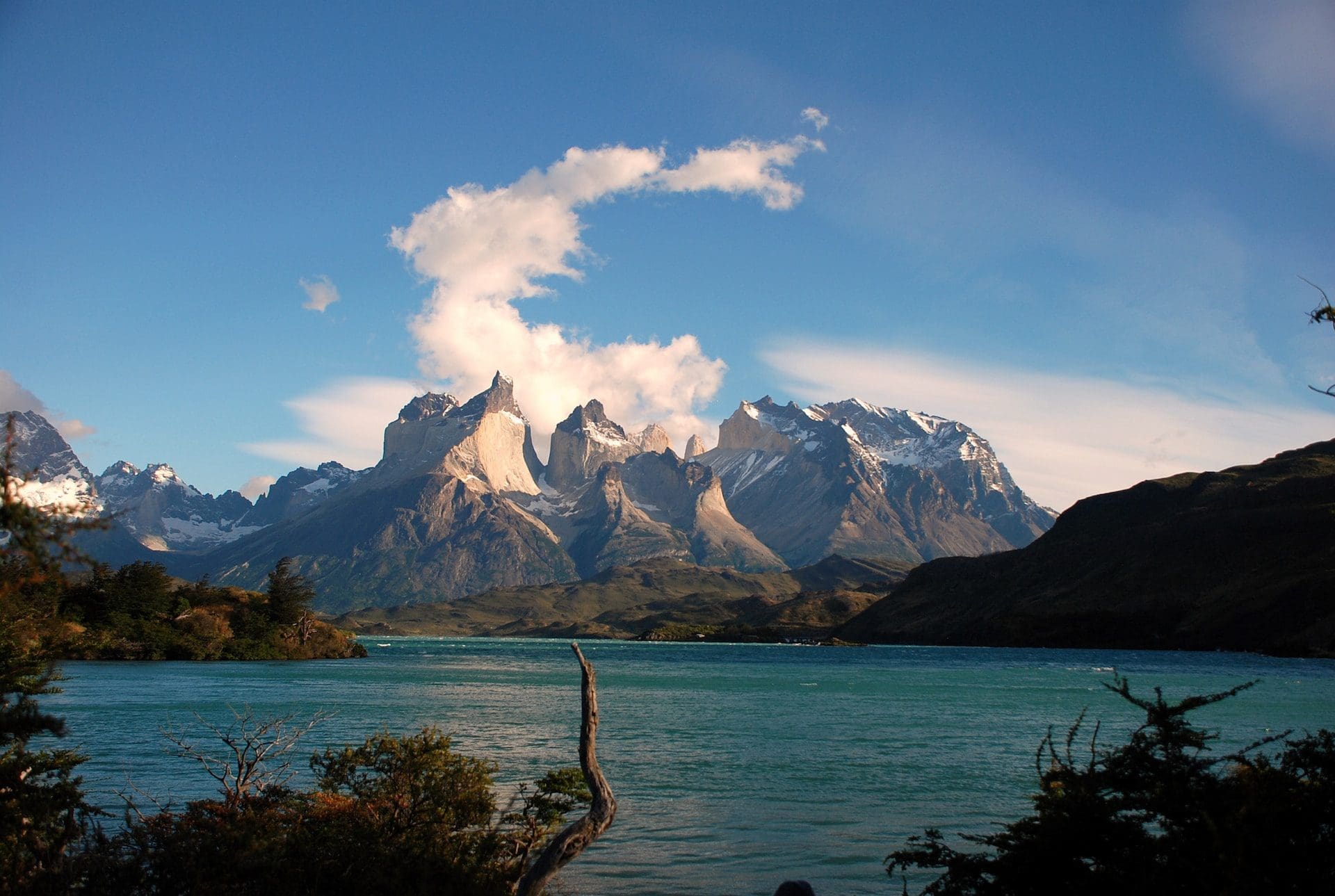 Patagonia's National Parks: A Guide to the Best Hiking Trails for Over 50s
Travel Begins at 40 Editor
Posted on 7th Jun 2023
Patagonia has long been reputed for its epic multi-day hikes across mountains, glaciers, and lagoons that challenge even the most experienced hikers. However, the beauty of this region (aside from the landscapes) is its ability to cater for all. Yes, even for those of us over 50 that might not have the strength and stamina we once had, but maintain our sense of adventure and love for the great outdoors.
There are countless one and two-day hikes throughout Patagonia that suit the over-50s hiker perfectly. Some reaching Patagonia's most famous destinations like Cerro Torre, Grey Glacier, and Mount Fitz Roy. If you're curious about what and where these are, our guide to the best hiking trails for over 50s will reveal all. Combined with Chile and Argentina's best luxury Patagonia tours and hotels, these top hiking trails for over 50s will seem even more achievable.
A Guide to the Best Hiking Trails for Over 50s Day Hikes
Mirador del Ventisquero, Queulat National Park, Chile
Distance: 4 miles (7.5 km)
Difficulty: Medium
Time to complete: 3 hours
Queulat National Park is one of the smaller and lesser visited parks in Patagonia, but with hiking trails like Mirador del Ventisquero, it should be at the top of your list (like it is ours). It is situated along the Carretera Austral, a 750-mile-long road leading from Puerto Montt to O'Higgins, connecting the highlights of Chilean Patagonia.
This 4-mile hike leads you from the entrance of the park to one of Patagonia's most unusual and astonishing sights — a hanging glacier. The glacier teeters over the edge of a steep mountainside overlooking a milky-blue glacier lake below fed by the glacier's waterfalls. To reach it, you'll make a steady ascent with around a 300-meter elevation. While the elevation can be challenging, the hike is really short and well-paved which makes it doable for anyone with a standard level of fitness.
Grey Glacier, Torres del Paine, Chile
Distance: 6 miles (10 km)
Difficulty: Moderate – Hard
Time to complete: 4-6 hours
The Grey Glacier is one of the highlights of Torres del Paine and some of the most rewarding views of it are seen on the Grey Glacier trail. Although the hike is relatively short (6 miles), it's a long steep ascent to the final viewpoint, a large suspension bridge across the glacier where you can get incomparable views of its immense scale and beauty from above.
Of course, its difficulty level requires a certain level of consideration to the confidence in the hiker's level of fitness and ability. However, it's also accessible to less experienced hikers that can manage high levels of exertion in a short time period. There are two suspension bridges leading to the final one at the trail's end where you can rest and enjoy more great views of the glacier.
While this hike is the best way to see the Grey Glacier, its beauty is also accessible to those who don't want to take on this challenge. Instead, there are options to go kayaking, sailing, and ice hiking on and around the glacier.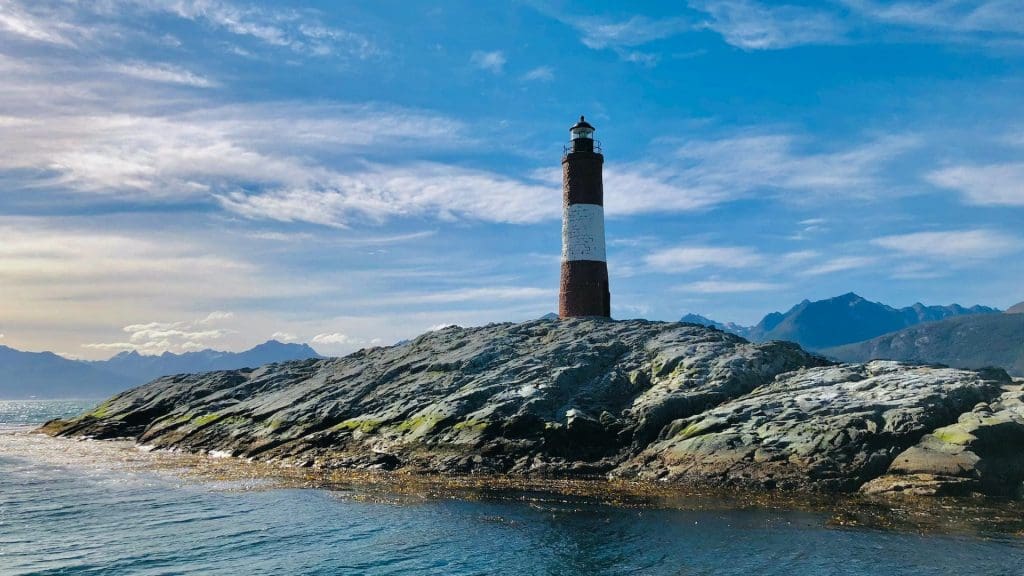 Esmeralda Lagoon Trail, Tierra del Fuego, Argentina
Distance: 5.5 miles (9 km)
Difficulty: Easy
Time to complete: 4 hours
The Esmeralda Lagoon trail in Tierra del Fuego is one of the most relaxed hikes on this list. Starting from Ushuaia, aka the End of the World, it winds through a lenga forest where you can hear the trickle of the river as you appreciate the sight of these native Andean trees and spot beavers building their dams. The end of the trail rewards you with a beautiful icy-blue lagoon complemented by snow-capped mountains and a hanging glacier to boot.
Despite being one of the shortest and easiest trails in Tierra del Fuego, it's undoubtedly one of the best. It gives you a real insight into the national park's topography, which is unlike any other in Patagonia. What's more, you'll return right back to Ushuaia where you can celebrate the hike with a refreshing drink with fellow hikers at a local pub or collapse on a massage table at your hotel spa.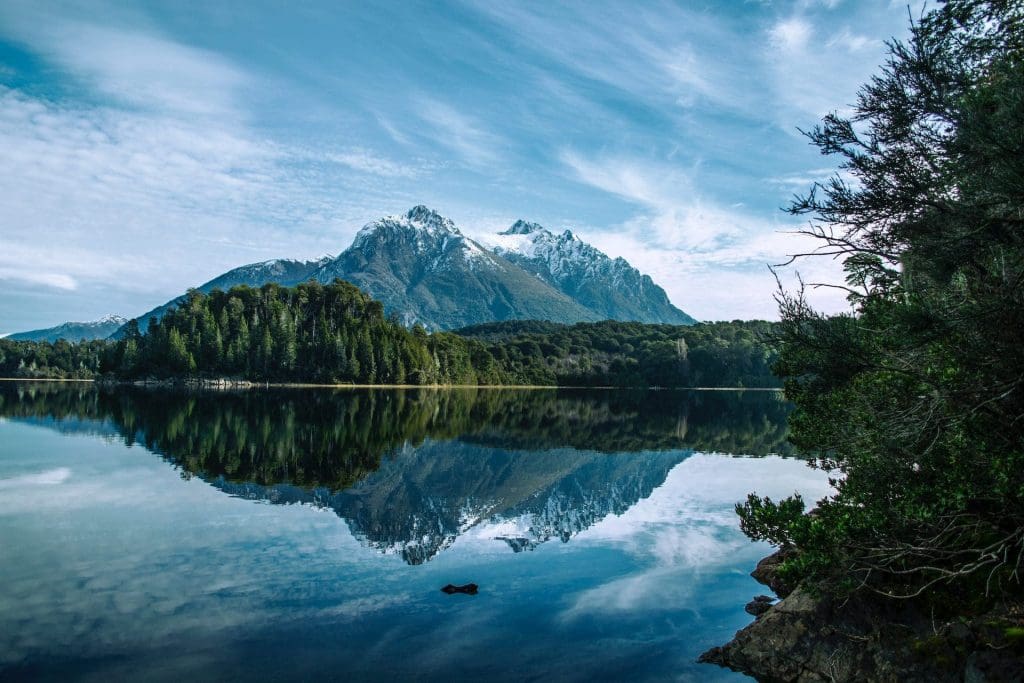 Cerro Llao Llao Trail, Bariloche, Argentina
Distance: 9 miles (15 km)
Difficulty: Easy – Moderate
Time to complete: 4 hours
While Refugio Grey is the most popular hike in Nahuel Huapi National Park, the equally beautiful Cerro Llao Llao trail is much more suited to over 50s hikers. It offers the same range of landscapes and memorable viewpoints in half the distance including Mirador Lago Moreno, Nahuel Huapi Lake and, of course, Cerro Llao Llao. Expect to trail through the lush Alpine forests, across trickling streams, and over rolling hills overlooking the park's unique selling point: the district of lakes below.
Overall, the looping trail from Circuito Chico is easy enough for hikers of any age with the ability to hike casually for 3-4 hours. There is a slow and steady ascent most of the way to Cerro Llao Llao along well-paved paths with a moderate climb at the last hurdle.
A Guide to the Best Hiking Trails for Over 50s Two-Day Hikes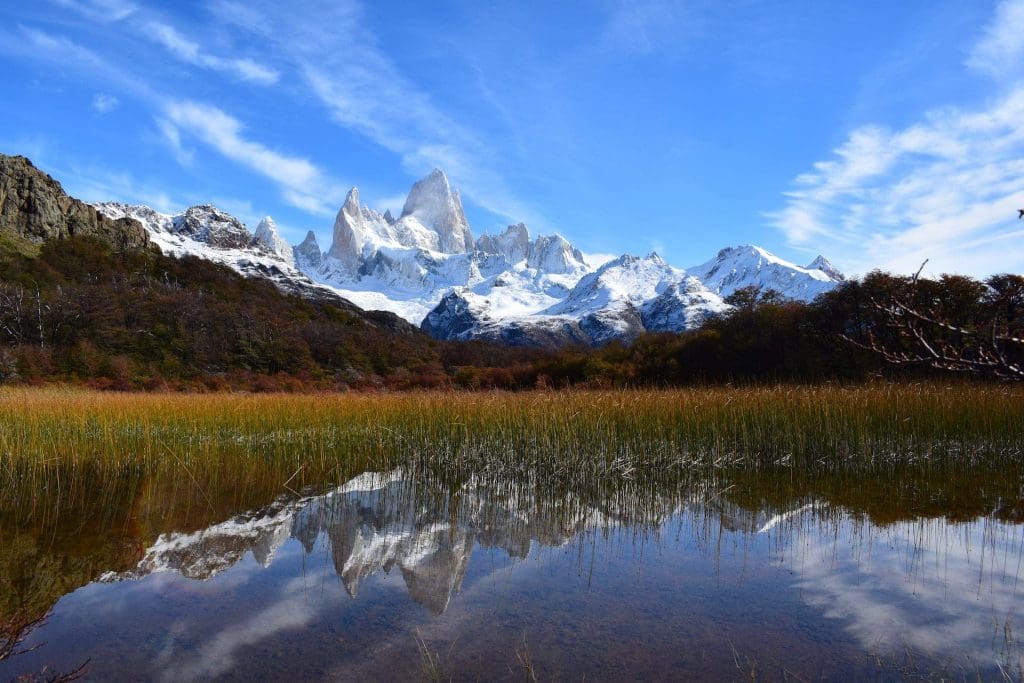 Laguna de los Tres, El Chalten, Argentina
Distance: 15 miles (24 km)
Difficulty: Moderate
Time to complete: 2 days
The Laguna de los Tres hike is one of the more challenging but rewarding on our list. The 15-mile out-and-back trail reaches Laguna de los Tres, a gorgeous emerald lake that sits at the base of the Mount Fitz Roy peaks to create one of Patagonia's most iconic postcard pictures. While it can be done as a day hike, there are several basic but comfortable campsites along the trail to break it down into a two-day hike.
This allows you to take the route at a more steady pace and spend more time appreciating the vistas rather than catching your breath. It begins in El Chalten and although there is a steep initial climb, the majority of the trail is easy to moderate with a steep final ascent to the peaks. If you opt for the two-day hike, you'll make the final ascent in time to watch the sunrise over Mount Fitz Roy which will undoubtedly be a highlight of your Patagonia adventure.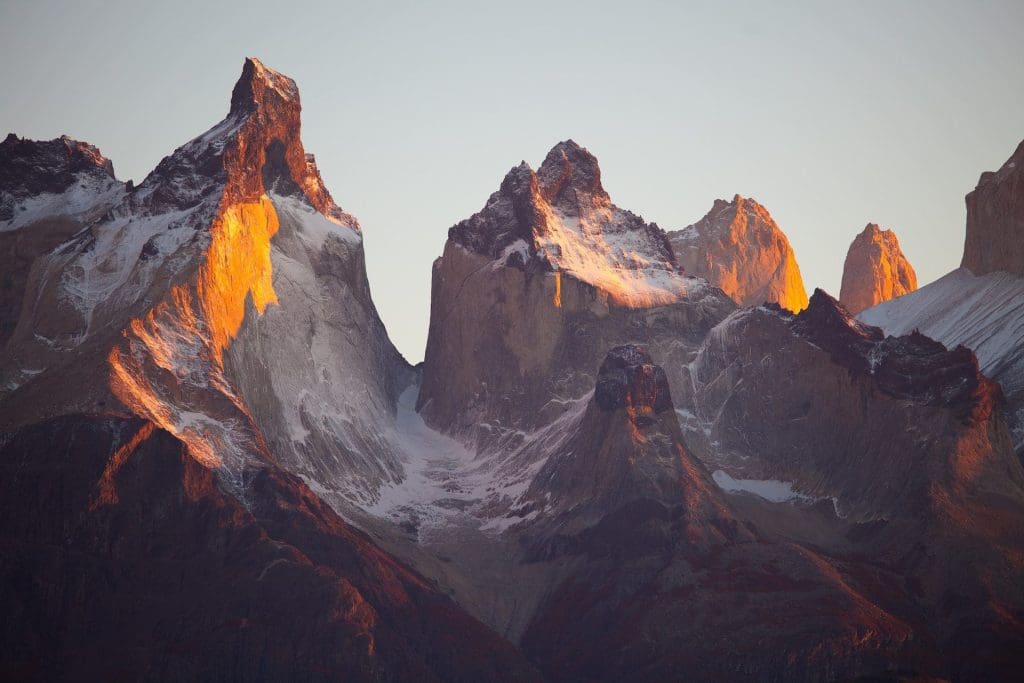 Mirador Los Torres, Torres del Paine, Chile
Distance: 11 miles (18 km)
Difficulty: Hard
Time to complete: 9 hours – 2 days
Reaching the base of the iconic Torres del Paine towers, Mirador Los Torres is one of Patagonia's most popular day hikes. However, it's also one of the region's most challenging with a 1000-metre ascent across an 11-mile trail. While much of the trail is moderate with a gradual ascent, the final half-mile requires a steep climb up a scree hill with loose rocks and boulders. So, why is it included on this list of best hiking trails for over 50s?
This is the hike for those seeking a challenge and a sense of against-the-odds accomplishment. Anyone over 50 with good strength, endurance, and agility can complete this challenging hike with the right preparation and equipment. Plus, although the Mirador Los Torres is technically a day hike, there is a refugio en route where you can stop for the night before making the final ascent to the towers at sunrise, allowing you to take the trail at a slower pace.
Whilst hiking isn't a luxury in itself, it can feel like it when combined with luxury Patagonia tours and hotels. For those who are 70 going on 27, a few luxuries added to your Patagonia itinerary are nothing more than a much-deserved reward for a lifetime of hard work. For those who may need a little more time to prepare, rest, and recover before and after a challenging hike, these added luxuries can make things a little easier too.
Totally Latin America arranges some of the best luxury Patagonia tours and hotel stays in the region. Imagine returning to an exclusive five-star Patagonia retreat after the two-day hike along the Laguna de Los Tres trail to a mountain-view spa, freshly prepared gourmet meal, and a beautifully appointed suite that promises a restful sleep. Or waking up to breakfast in bed after a day spent hiking to the Grey Glacier and then taking a relaxed horseback ride across the Patagonian steppes before retiring to your luxury estancia to read beside the log fire. These are the kind of experiences you can expect on an over-50s hiking trip with TLA.
Having found the best hiking trails for over 50s, you now have the inspiration you need to plan your own Patagonia trip. With the TLA travel experts at hand to create a bespoke itinerary that covers all of your favourite hiking trails and luxury Patagonia tours, your trip will be as rewarding as you'd hope. Get in touch with them now to start planning by messaging TLA here or calling on +1 855 217 9045.
Travel Begins at 40 Editor
Travel articles, news, special offers, festivals and events from the Travel Begins at 40 Editorial team and our global network of travel industry contributors.