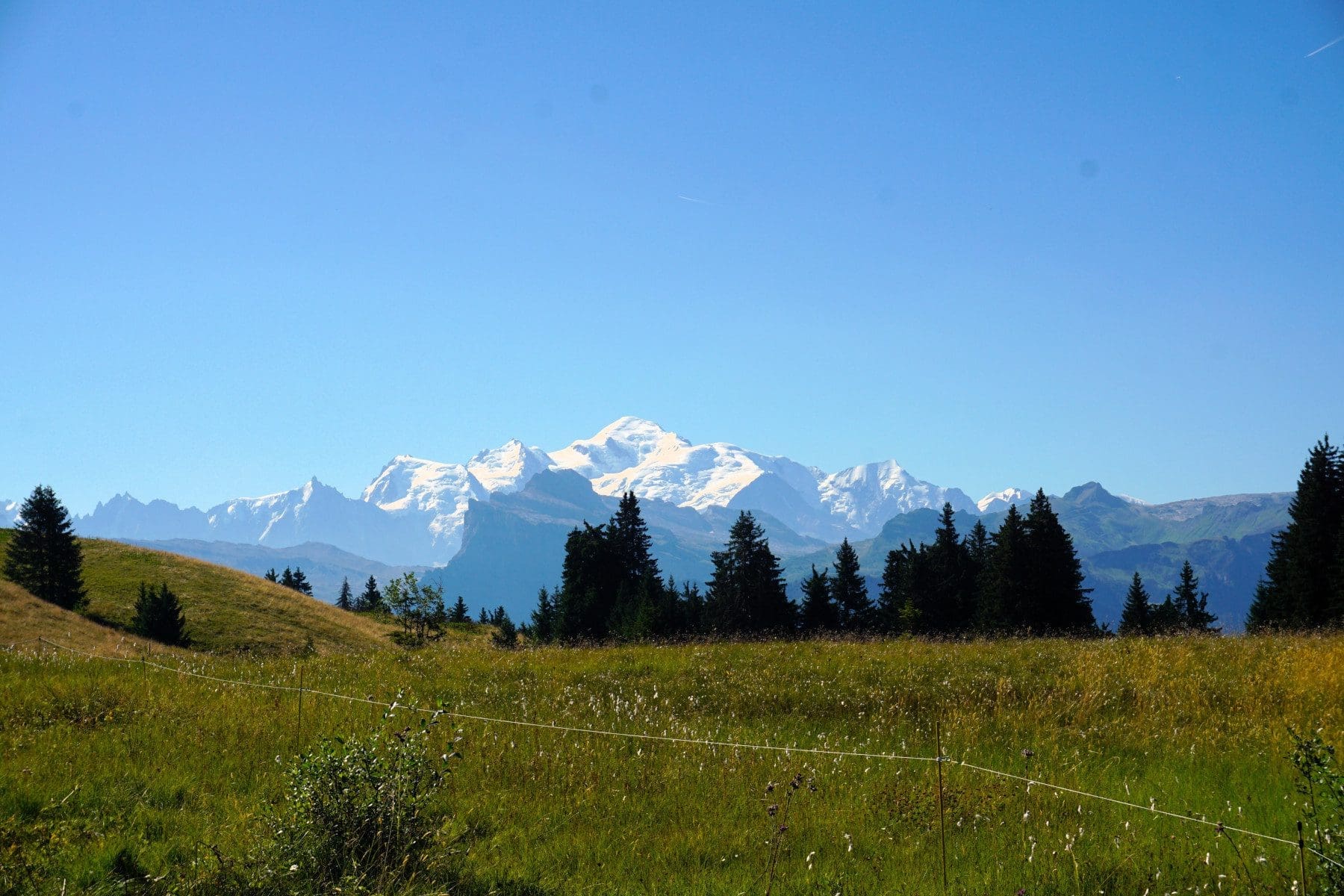 Cycling Thrills in Les Gets France
James Clark
Posted on 27th Jul 2023
James Clark takes to two wheels in Les Gets, France, to see what it feels like to cycle up to the top of the world, and then come back down again, very quickly.
As soon as I heard the news that a stage of the Tour de France 2023 was passing through the mountain resort of Les Gets, I teamed up with a group of friends, and decided to make the short journey to the alpine village. My mission was to try out some of the mountain trails in one of the top mountain biking destinations in the world.
As expected, there were plenty of accommodation options available, but we wanted to be looked after. The thought of cooking and washing dishes at the end of a day biking up and down mountains was doing nothing for me. Fortunately, my travelling companions agreed.
It didn't take long thanks to google to come across a company called Jack and Jill Holidays. The name made me smile so I gave the company a call. I spoke to Jamie (turns out there's no Jack and nor is there a Jill), but there is a Mary. He was exceptionally professional, helpful, and friendly, so I made the booking and a couple of weeks later we were ready to go.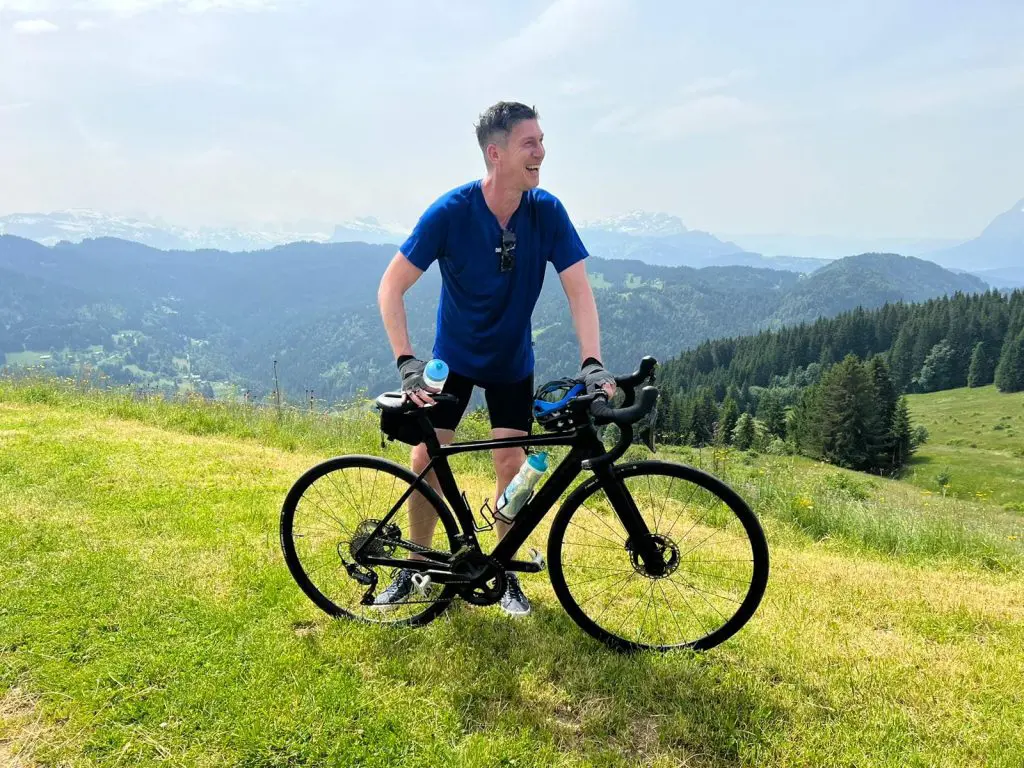 Most of us arrived at Geneva airport at around the same time from different London-based airports where we met Jamie. It took us just over an hour to cross the border from Switzerland into France, and reach Chalet Valambrun close to the centre of Les Gets. The time flashed by as we bombarded Jamie with multiple questions about the chalet, road cycling, e-biking, cheese, wine and beer. As I mentioned before, it was a short trip and we planned to experience Les Gets at its finest.
Chalet Valambrun
Without doubt Chalet Valambrun demands your attention. It's decorated exquisitely, has an indoor pool, steam room, hot tub, its own cinema room, huge dining and living room space, individual soft furnishings, a fridge stocked with food, and plenty of wine. The master suite had a glass floor to the swimming pool below, and all the bedrooms were designed with thought, and super comfortable. I even discovered a yoga studio, and rooms filled with bunk beds.
Mary was waiting for us at the chalet with lunch prepared and wine poured. Now that's what I call service. We were all feeling relaxed and comfortable with our new surroundings and friends, but we put it to the vote and decided it was time to explore Les Gets, but not before letting Mary know what time we would be back and ready for dinner.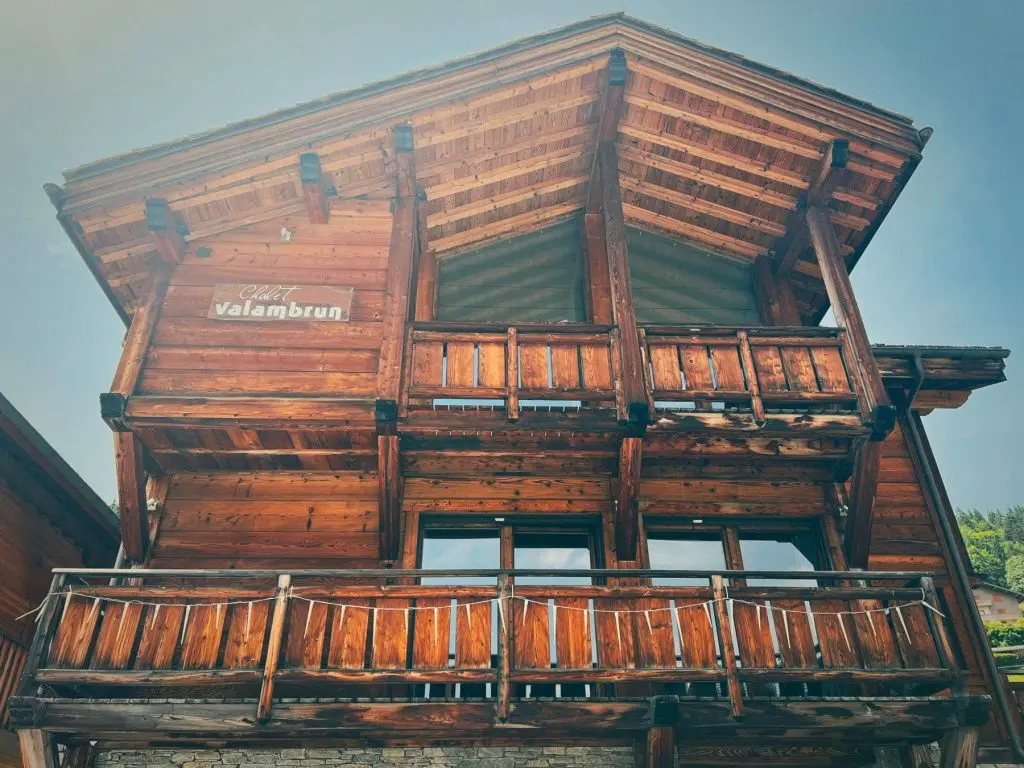 Walk to Les Gets
I was expecting Les Gets to be quieter in the summer months, but there were lots of mountain bikers racing down tracks towards the town and hanging around the L'Apreski Bar & Resto. The bar became our second favourite place to hang out, relax and drink beer. Chalet Valambrun claimed the number one spot.
The sun was shining, and the outside area was spacious. L'Apreski Bar & Resto also had the bonus of coming with picture postcard scenic views, a lively and friendly atmosphere with plenty of mountain bikers chilling out after a day on the marked trails, extremely friendly service and a delightful selection of cold beers on draught. What's not to like?
We headed back to the chalet at around 7pm, showered, and joined Mary in the kitchen and dining area as she prepared dinner and answered the questions we had come up with since meeting Jamie earlier that day. There was lots of laughter and enjoyable conversation, the cheese tart, pulled pork curry and rice, and chocolate orange mousse were sensational, and the wine was delicious. It was the perfect setting for a fun night.
Buzz Performance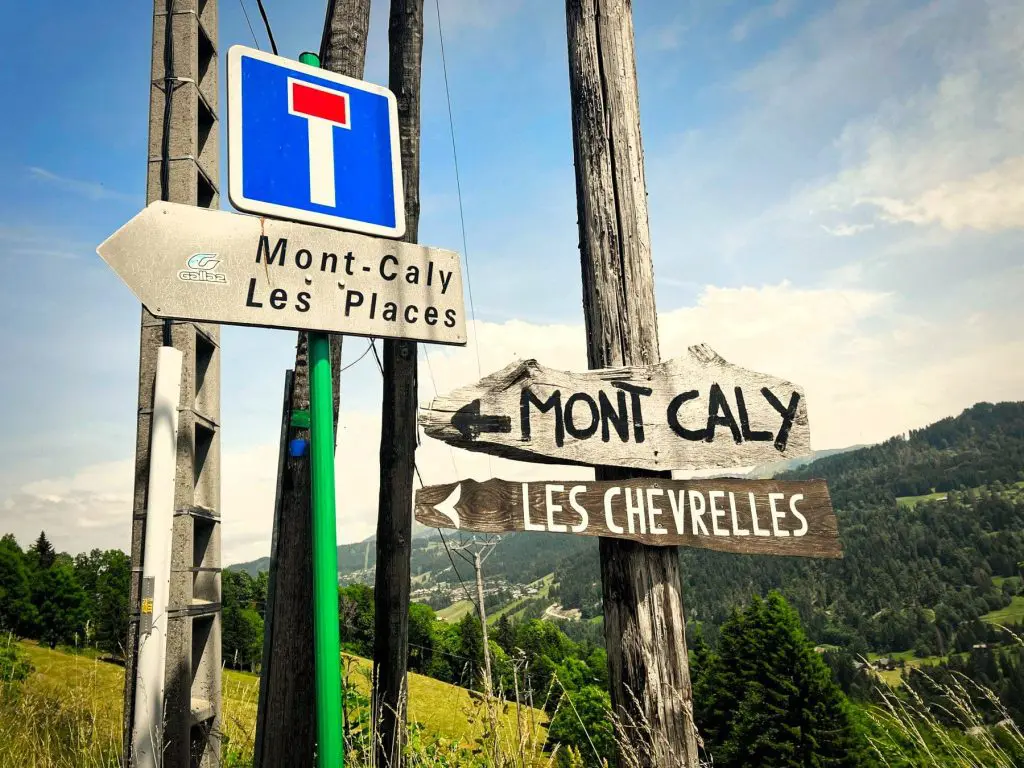 After a hearty breakfast of eggs, mushrooms, bacon, yoghurt, and pain au chocolat we headed downstairs to meet Amelia from Buzz Performance – a company notorious for triathlon fitness and cycling in the French Alps. Amelia was no stranger to me as we had met the year before for some wild swimming on Lake Montriond. It was great to catch up, although today was a vastly dissimilar experience. We were cycling up a mountain.
Once we were all kitted out and the bikes were adjusted to suit us, we had a pleasant cycle around Les Gets to get a feel for what lay ahead before heading in the direction of Mont Caly.
The views all along the route were incredible – mother nature at her very finest. At times I found the continuous uphill challenging, but we managed to reach the summit in 58 minutes of cycling time which according to Amelia was a record for people of our limited experience level.
It was all worth it when we reached our lunch destination, Les Chevrelles just a few kilometres above Les Gets, with outstanding views of the intimidating Mont Blanc. I felt a shudder when I was told that people cycle the mountain. It's the scene of the world's toughest one-day bike race. No doubt Amelia does it every weekend without breaking a sweat. When you meet her, you'll understand what I'm saying.
Les Chevrelles was set in an old farmhouse, it's about as authentic as it gets. We took our seats on the small, covered terrace while marvelling at our 1,490 metres altitude achievement, and 58 minutes record time. We could afford to be complacent; it was all downhill from there.
The menu was full of mountain traditional dishes including tartiflette (French baked potatoes in melted cheese), reblochon nade (a melted cow's milk cheese served with roasted sausages, boiled potatoes and vegetables) and raclette (the après-ski traditional melted cheese, potatoes and cured meats).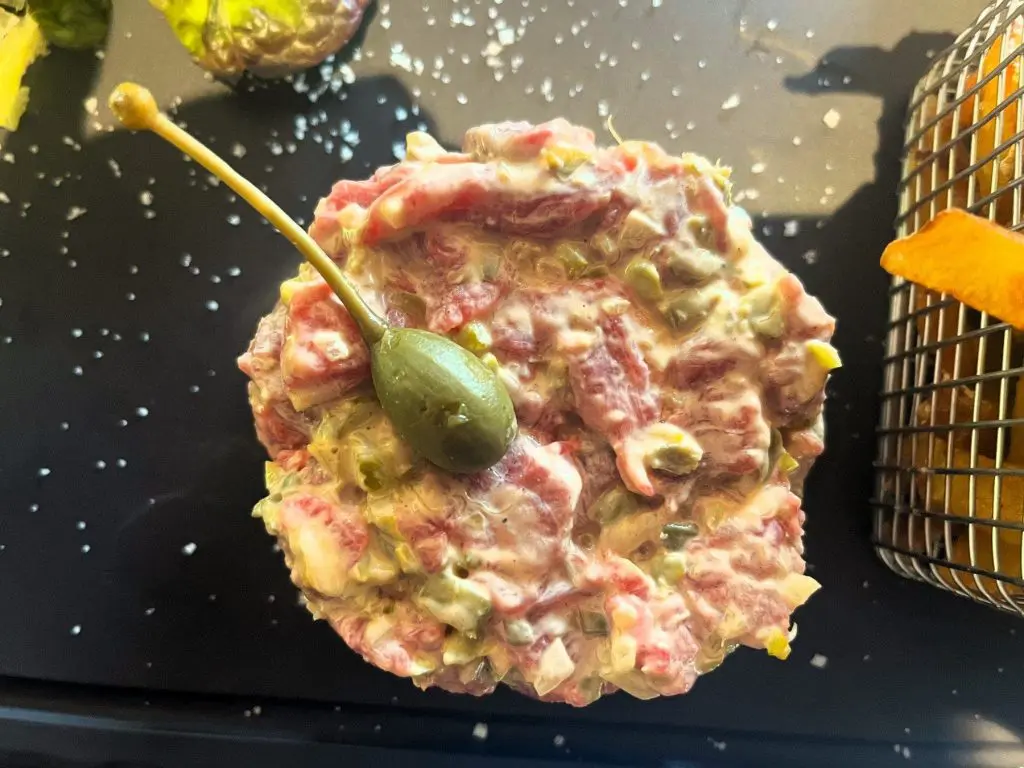 I opted for the croûte au fromage with a huge amount of cheese, lashings of ham and salad. Seriously, comfort food never tasted so good. Even though I was already full, I had no intention of stopping there. I ordered the ardoise gourmands – a coffee and selection of sweet treats that were delivered to the table on a slate. Everything tasted exquisite and after I had an offer from Amelia to return next year to run up a mountain, we were ready for our cycle down which took less than 15 minutes. The combination of speed and breeze was a terrific way to cool down on such a beautiful summer's day.
We felt it was only fair to give Jamie and Mary a rest after the day and night before, so that evening we decided to head out to dinner to La Biskatcha, a mountain brasserie and grill in the centre of Les Gets. It's one of three restaurants at the La Marmotte chalet-hotel. The restaurant had a great reputation for traditional dishes and meat, so we took our seats on the terrace and enjoyed beef tenderloin, served with glazed shallots, artichoke, port red onions, mousseline and black garlic coulis. It was exceptionally tender and went down a treat.
Rent e-bikes form The Hub
The following morning, we wandered to The Hub to rent electric mountain bikes with the intention of trying out some of the marked trails and downhill tracks. We were in the home of the 2022 World Mountain Bike Championships, and keen to try out some of the Tour de France route.
As most of us were novices when it came to downhill tracks the owner and manager Lionel agreed to accompany us. With an impressive CV; he designed the mountain bike world cup track, the world championship downhill track for the 2004 championships, and the two first downhill slopes of the bike park. We were in safe hands.
The uphill climb was more challenging than expected, but it was worth it for 40+ kms speed, sharp turns, bumps and occasional in the way tree on the downhill track. There were a few minor incidents, but we all loved the adrenaline fuelled experience.
As it was our last full day in Les Gets, we headed back to L'Apreski Bar & Resto for steak tartare, a dish of raw ground minced beef with egg yolk and beer, followed by a wander around the town, and dinner prepared by Paul back at Chalet Valambrun. That man can work wonders with a chicken breast, vegetables and tarte tatin before some much-needed sleep.
Jamie was unable to drive us back to Geneva Airport in the morning, but he did come and say goodbye, which was a nice touch. And I'm already looking forward to returning next year.
---
Chalet Valambrun, Les Gets France
Chalet Valambrun is close to the centre of Les Gets, it has five ensuite bedrooms plus additional bunk rooms. It sleeps 10-15 people.
+44 (0) 203 239 7941, [email protected]
Summer: from £5,000 per week for the whole chalet on a self-catering basis (up to £7,000) Winter: from £16,000 per week including breakfast, afternoon tea, evening dinner with wine (up to £28,000) jackandjillholidays.com
Les Gets France
Les Gets (https://www.facebook.com/LesGetsOfficiel) is regarded as one of the top mountain biking destinations in the world, with Europe's largest bike park that includes over 128 kms of marked trails for all levels and regularly hosts the downhill and XCO (Cross Country Olympic) editions of the UCI Mountain Bike World Cup. The Mountain Bike World Championships took place in the resort in 2022.
Road cyclists will find the mountain passes, often used during the Tour de France, a genuine challenge and local rides include the famous Col de Joux Plane, and Col de Ramaz.
James Clark
James Clark is a UK-based travel writer specialising in adventure and the great outdoors.