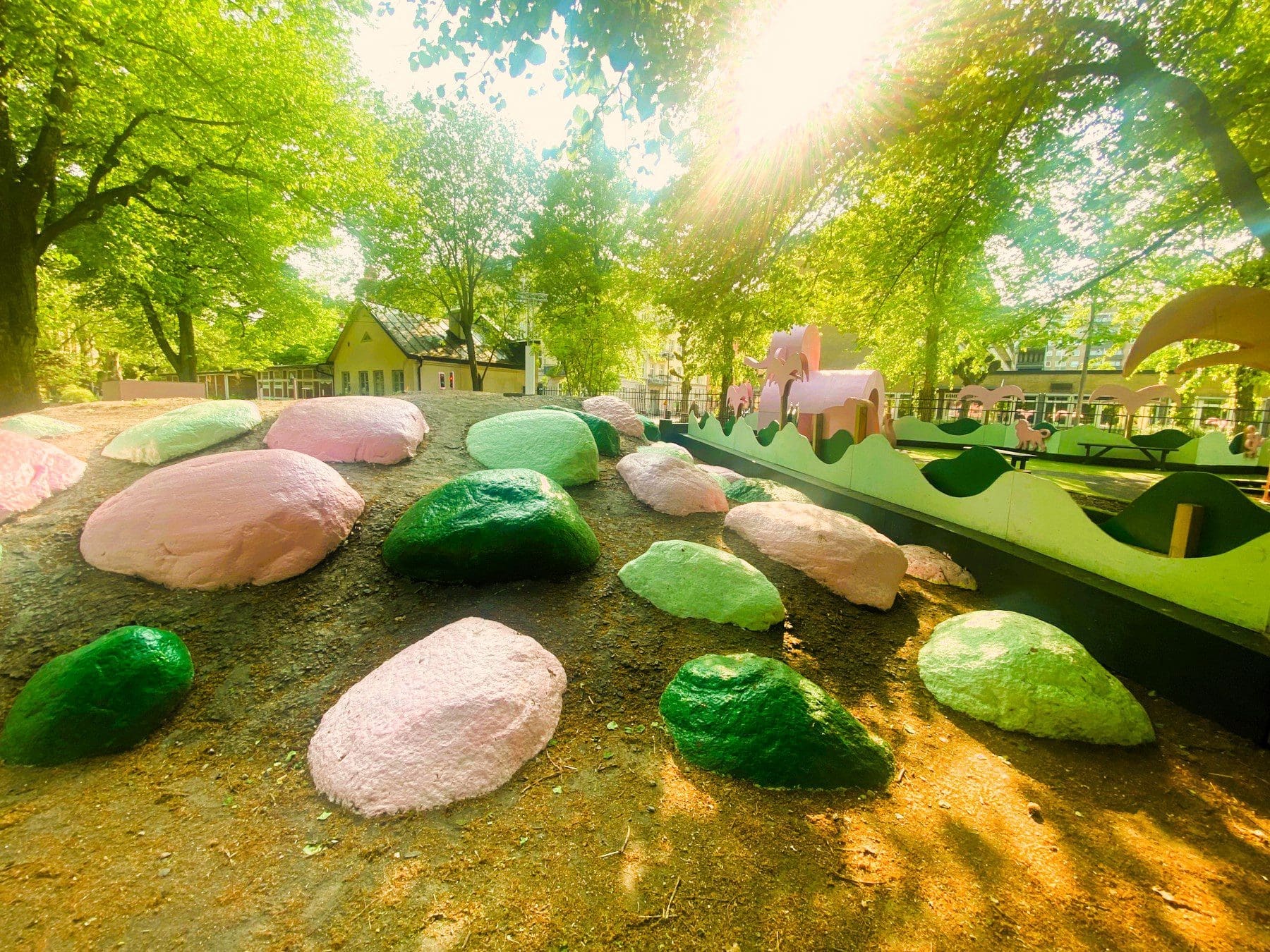 Discovering Malmö Sweden: Pretty in Pink
Mark Bibby Jackson
Posted on 24th Jul 2023
Invited to attend the Southern Sweden Design Days by Visit Sweden, Visit Skåne, and the host city of Malmö Sweden, Mark Bibby Jackson soon discovers the city's obsession with the colour pink.
I do not expect to spend my last night in Malmö watching people play boules in the city's Folkets Park while drinking champagne – myself not the boule players. But there again I have already discovered the third largest city in Sweden to be a consistently and constantly surprising city.
Perhaps it all emanates from the city's obsession with pink – it is everywhere, even on the railings in the aforementioned Folkets Park.
Taking Form at Malmö Museum
"We like pink," explains one of the designers at the Southern Sweden Design Days held between 25 and 28 May, 2023 – the reason why I am here. The aim of the project is to make Malmö a creative city, I discover at the press conference on my first morning held at the Form/Design Center.
This is the main venue for architecture, design and crafts in southern Sweden. Part of European Bauhaus initiative, it holds exhibitions such as the one I am visiting.
Lisa Darland, one of group of nomadic textile collectors involved in the exhibition Soft Balance, says they are trying an "exploration of what pink means". Only in Malmö, the pink city of Sweden. Their exhibition invites you to explore the materials in front of you. To touch. To feel. Textiles and fabrics are here to stay and should be brought to the fore, Darland says. So, long as they are pink, presumably.
Soft Balance is not the only exhibition held here. SPOTS by The Swedish Crafts Centre explores the use of spots in design. In:Tangible is a group exhibition by 27 designers focusing on future design practice curated by Karin Olu Lindgård and Kajsa Willner. However, I am most intrigued by Now or Never – 1kg CO2e, in which Emma Olbers explores how the way that we make furniture, our choice of materials, impacts upon the environment.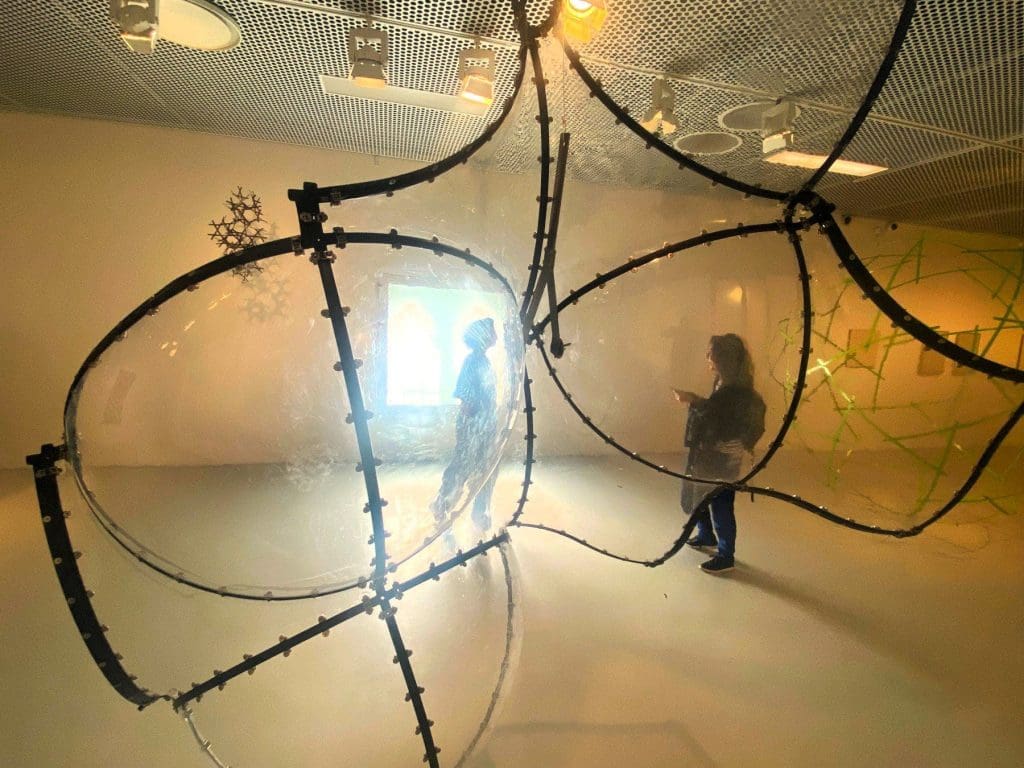 A Walking Bike Tour of Malmö Sweden
My host for Malmö is Micha van Dinther, a curator, creative director and writer who when not leading guests around the city, is online editor for The New Era. He has both an exhaustive knowledge of the city and its designers.
Earlier Micha met us at out hotel, MJ:s – not named after me – to take us on a bike tour of Malmö. Our first stop was Form/Design Center. Fortunately, just like in Utrecht earlier in the month, I discovered I was not the only non-cyclist in our group, and joined our pedestrian tour, meeting up with the cyclists at each stop.
As with Utrecht, Malmö is a bike city, ranked as the seventh best bike city in the world by Copenhagenize. It is also both an old and multi-cultural city. Founded in the late 1200s, the city initially belonged to Denmark, only becoming Swedish in 1658. Now, the population is just 316,000 people, but it counts 170 nationalities.
Micha leads us to Olsson & Gerthel, a design store selling contemporary quality Scandinavian furniture, which features two more exhibitions as part of the Southern Sweden Design Days – Fireplace and Crafted Potential, a collaboration between furniture maker Fogia and designer Kajsa Willner, who seems to have her finger in many designer pies in Malmö. The latter examines the potential for using residual materials and by-products from the company's manufacturing process – the craft potential of waste.
This is a recurring theme over the couple of days of my exploration of the southern Swedish city. Nothing seems to be left to waste, the design potential for all materials is explored.
It is the theme of our next exhibition, Business Opportunities created by the Fiber Land project, which looks at the commercial opportunities of using local materials, such as hemp, flax and wool in design.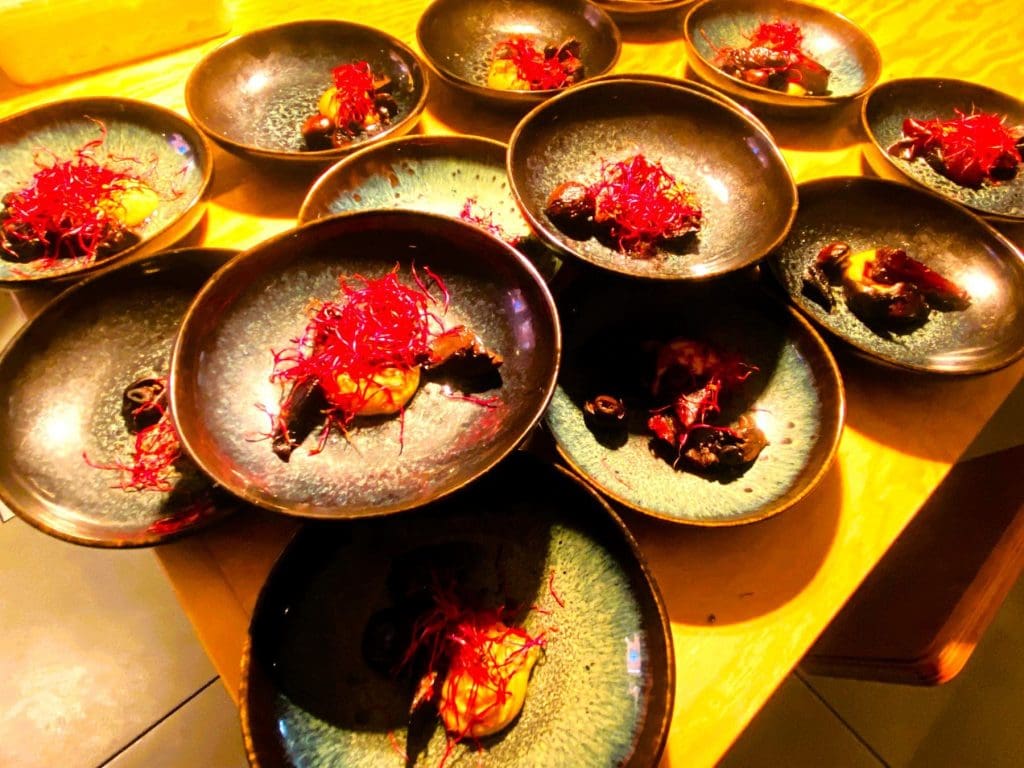 Before this visit we stop for lunch at Mat- & Chokladstudion, a lovely place opened in 2016 by the confectioner Joel Lindqvist. Here, the focus is on local organic ingredients – neighbouring Skåne is the larder of Sweden – as well as the great pastries and chocolates. It is the first of the many excellent Malmö restaurants we are to visit on our trip.
Towards the middle of the afternoon, we stop for fika. This is perhaps the most Swedish of pastimes, coffee and cake taken with friends, which Visit Sweden claims is "as Swedish as ABBA". Originally, the word was an inversion of the old word for coffee – kaffi – but with time the tradition came to involve something sweet too.
We take our fika at Beyond Us, which is an urban marketplace, creative space and café, where several exhibitors were on display as part of the design week. I must admit that by now I was suffering from a bit of design overload, and as the sun was shining outside, I spent more time enjoying my coffee and chocolate cake than perhaps I should. Still when in Malmö.
Moderna Muséet and Cowgirl Gallery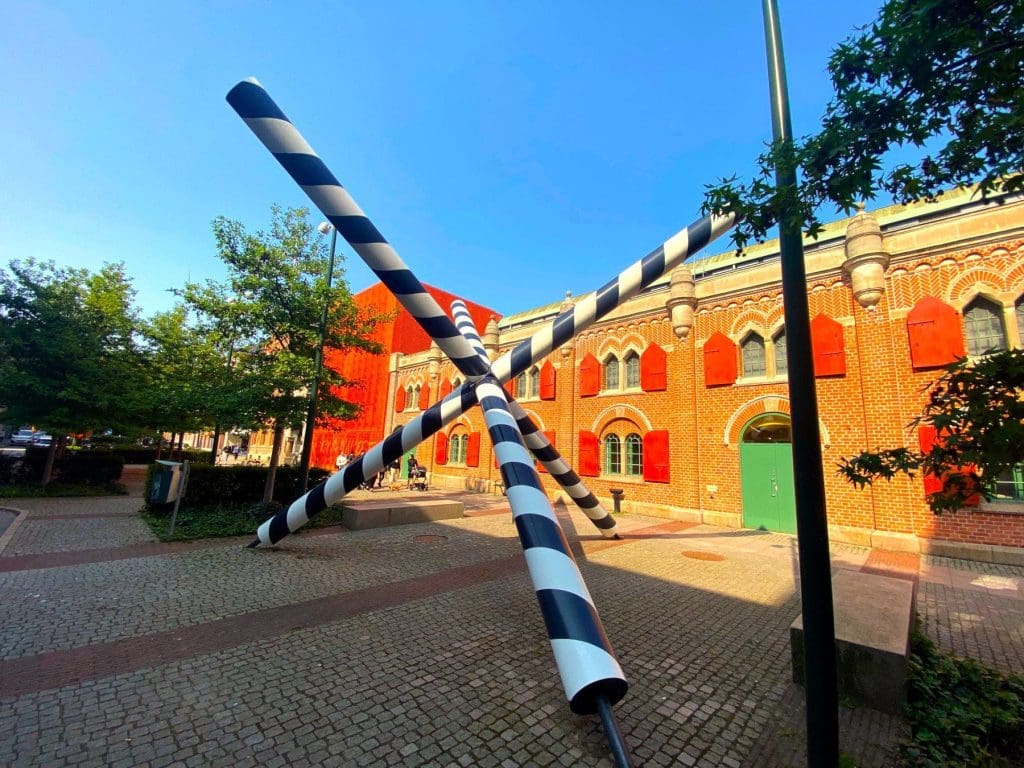 Fortified by my mid-afternoon sugar rush, I returned to our agenda with renewed enthusiasm, just in time for our visit to the Moderna Muséet (Modern Museum). Housed in an old power station built in 1901, the museum is a wonderful example of how industrial architecture can be put to creative use – more of that later. You can still see the steam turbine.
The 'orange museum' – obviously they did not get the pink memo – opened in 2009 and is Sweden's leading museum for contemporary art. During our visit there was an exhibition on Lotte Laserstein (1898–1993), a German Jewish artist who emigrated to Stockholm from Berlin in 1937 for obvious reasons. This fascinating exhibition features both her work before and after her exile. Laserstein was largely a forgotten artist before being re-discovered in 1987. Often the artist places herself in the portraiture, obscuring the boundary between artist, subject and viewer.
Our final exhibition was at the Cowgirl Gallery, a fun and intimate exhibition space, opened 18 months earlier as a venue where artists cold meet, share ideas, play music and DJ. Here there was an exhibition by designers Josefin Eklund, Ebba Lindgren and INGRID.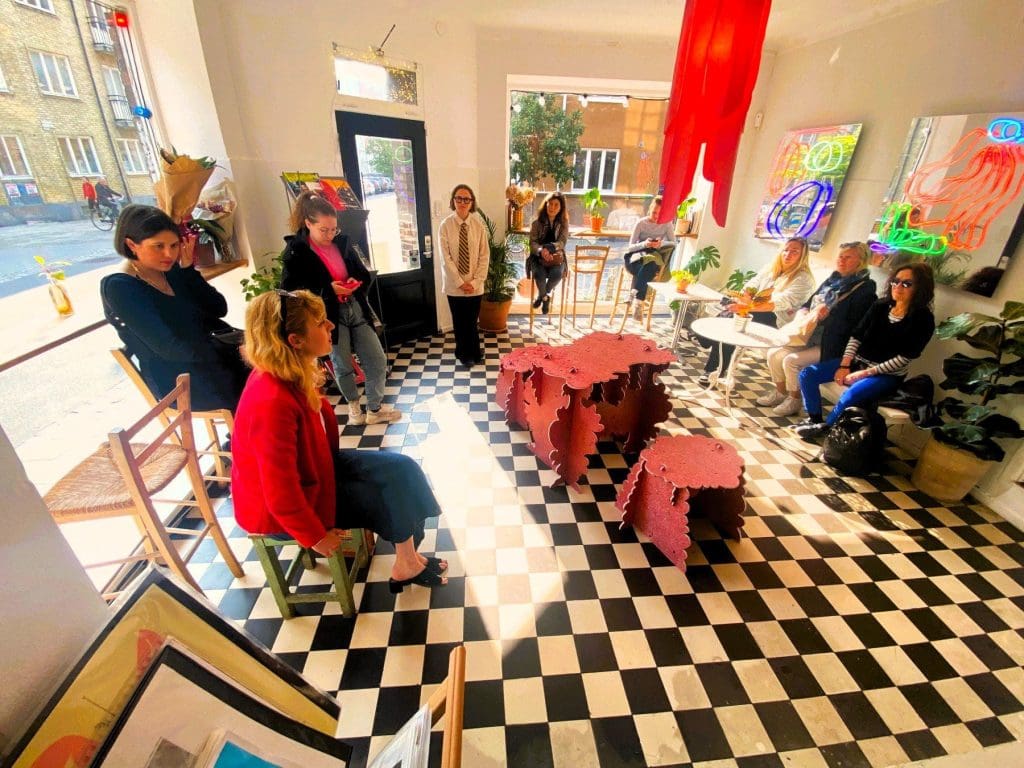 In the evening we dine at BISe, a wonderful restaurant with constantly changing theme and menu close to the harbour where we meet many of the designers on display during the Southern Sweden Design Days in a very informal setting. This gives us the chance to compare Malmö with Liverpool, the city that has just hosted the Eurovision Song Contest that Sweden won.
Varvsstaden and STPLN
The following morning Micha shows us a very different side to Malmö.
While the previous day he had introduced us to the way materials can be reused to create new designs, at Varvsstaden we see a new city rising out of the ruins of its industrial past.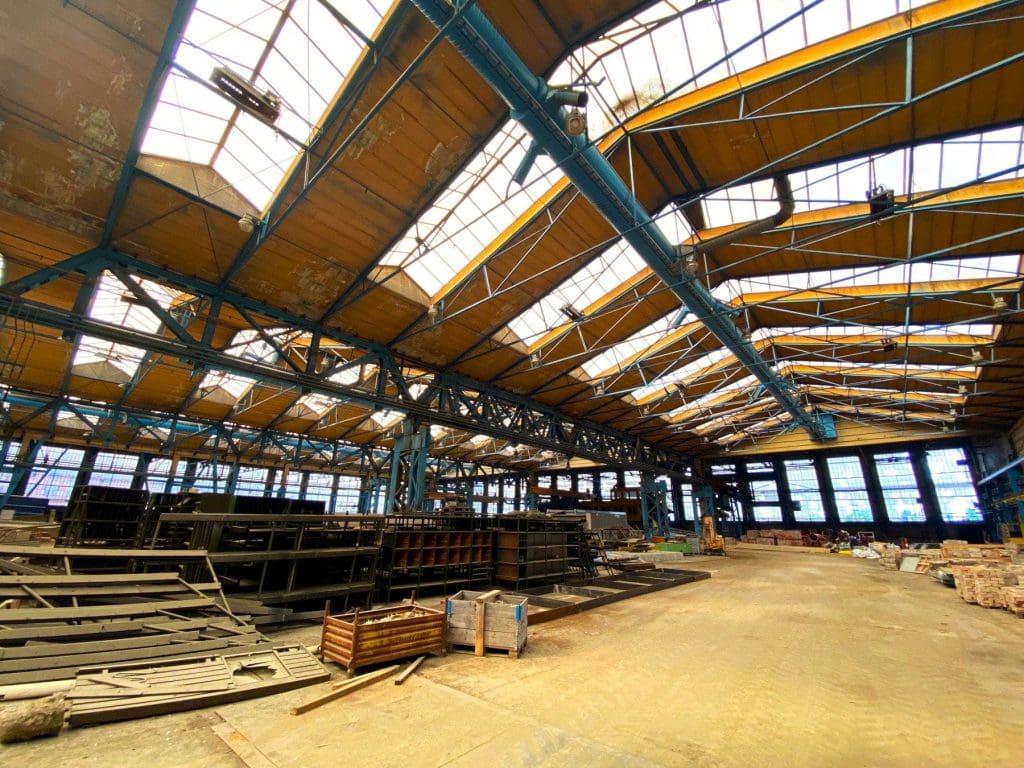 The Varvsstaden district of Malmö used to house Kockums shipyard, which at its height was one of the largest in the world. Now, it is being transformed into a vibrant new neighbourhood with 2,500 homes, 4,000 workplaces, and several public areas including parks and a public waterfront. Donning our hard hats, we are shown around the project due for completion in 2035.
Sustainability is very much at the heart of Varvsstaden. The existing industrial heritage is preserved where possible and stripped materials upcycled. They have a bank of materials kept from the old shipyard.
Next to Varvsstaden is STPLN, a studio, event and workshop space created on one of the former Kockums slipways. STPLN was built from leftover building materials in 2011. Upcycling is very much part of their DNA. They even have classes for the public to learn to fix or build things. During our visit they were hosting Locally Alien, an exhibition that highlighted the city's ecology.
Malmö Art Museum
While Varvsstaden and STPLN are creating a new use for the city's industrial heritage the Malmö Art Museum is located in the city's renaissance castle. Malmö Castle was founded in 1434 but partially demolished and rebuilt a century later. Somewhat paradoxically, it has been used as a hospital as well as for executions. Since 1937, it has housed the Malmö Art Museum, but in 1945 it also became a refugee centre for people from the concentration camps.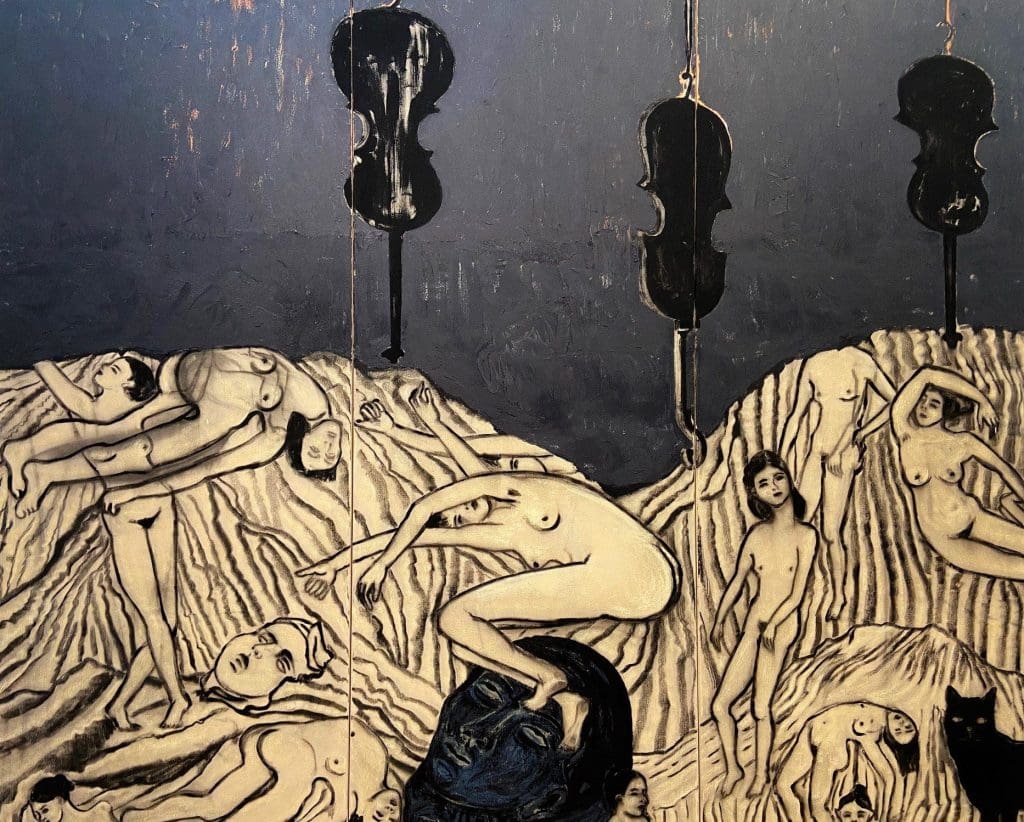 During our visit, the museum was holding an exhibition featuring the work of Danish-Israeli artist Tal R and Mamma Andersson of Sweden, forging a bridge between the two Scandinavian countries. Their work echoes that of Swedish artist Carl Fredrik Hill (1849-1911), whose haunting sketches are also shown in the exhibition.
We lunch at Saltimporten Canteen, a restaurant owned by two Malmö chefs, Ola Rudin and Sebastian Persson. Here, we sit outside on benches in brilliant sunshine in a rustic port environment. Their focus is on high quality, honest food made from local and seasonal ingredients. The salad was great.
In the afternoon, we visit the Malmö rowing club for an exhibition celebrating the art of losing in sport, before having a fika at the baker's Bagaren & Bonden.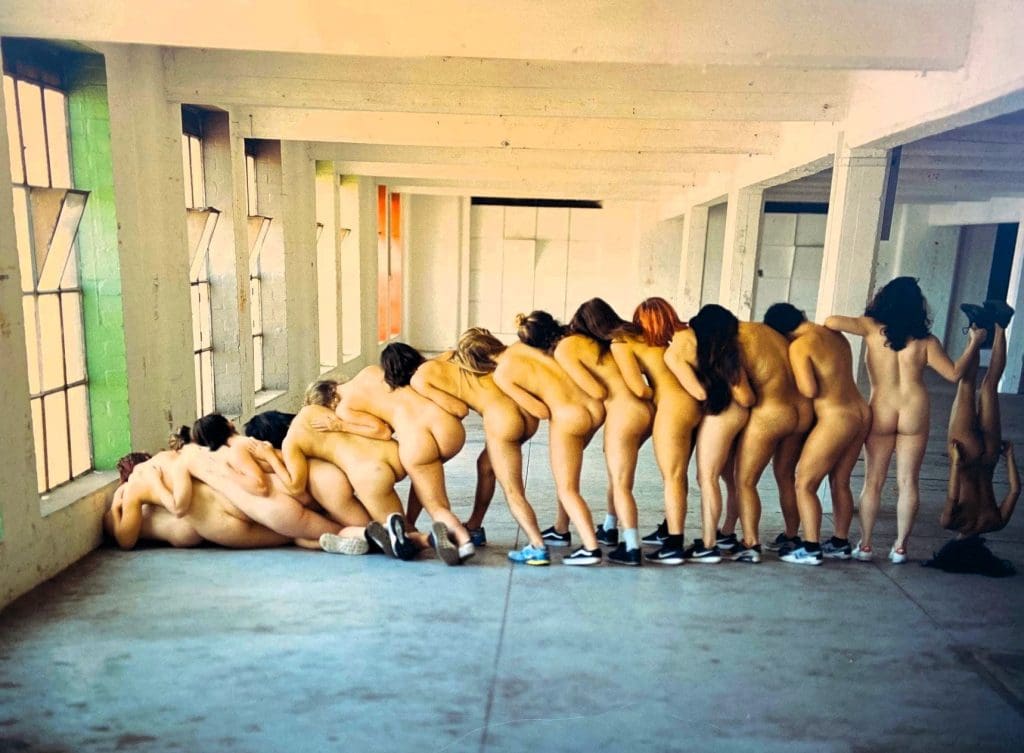 Lokstallarna and Mitt Möllan
The main exhibition space for the Southern Sweden Design Days is at Lokstallarna, the city's old railway workshops, which has now been converted into an amazing exhibition space in another prime example of how to reimagine industrial space.
Here, various exhibitors suggest how design can be utilised to create a more sustainable future. We are shown a circular kitchen as well as Fisker Ocean All Electric SUV, which has its own solar-panelled roof, in addition to a variety of exhibitions.
However, I find alternative shopping mall Mitt Möllan even more impressive. Here, sustainable shopping outlets are mixed with platforms for local creatives. I am most impressed by the work of micro-gardener Akshata, and that of Rron Bexheti, whose exhibition on the bunkers of Tirana, Albania entitled Project Bunker is fascinating.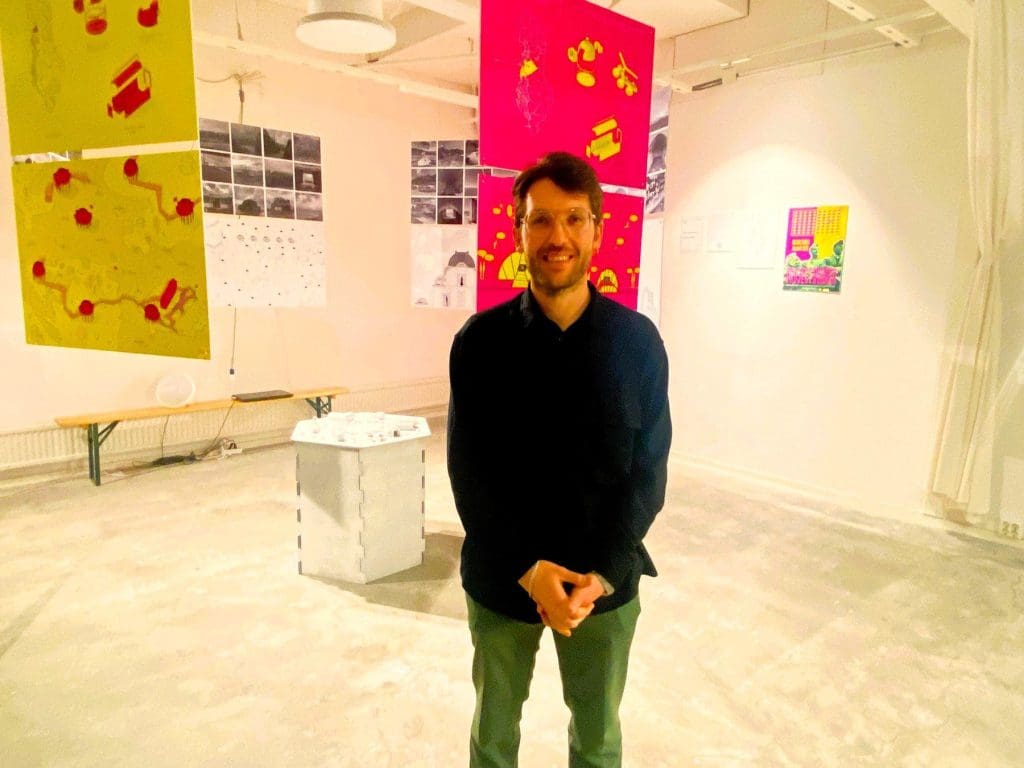 Our last supper is at Aster, an open-fire grill restaurant in the Varvsstaden district we visited in the morning. Aster has a plot of land outside of the neighbouring city of Lund where they harvest vegetables and herbs. Both food and wine are excellent.
The witching hour for our whistle-stop tour of Malmö is almost upon us, but although our group is feeling tired after such a full programme, we assent to Micha's final request.
Which is how we end up in a Marseille-inspired Boulebar in Folkets Park in the heart of Malmö, trying to process all the amazing projects we have been shown in this truly inspiring city. Alright, perhaps I am just enjoying the champagne. My only criticism, it isn't pink.
---
Southern Sweden Design Days
For more information about Swedish Design Days, click here.
Things To Do in Malmö Sweden and Skåne
Mark was hosted by Visit Sweden, Visit Skåne, and Malmö Sweden. Click on any of these links for more inspiration on what to do in these wonderful destinations.
Hotels in Malmö
Mark stayed at MJ:s (Mäster Johansgatan), a funky and vibrant hotel with a lively bar, Jekyll and Hyde character, and an excellent central courtyard where breakfast is served.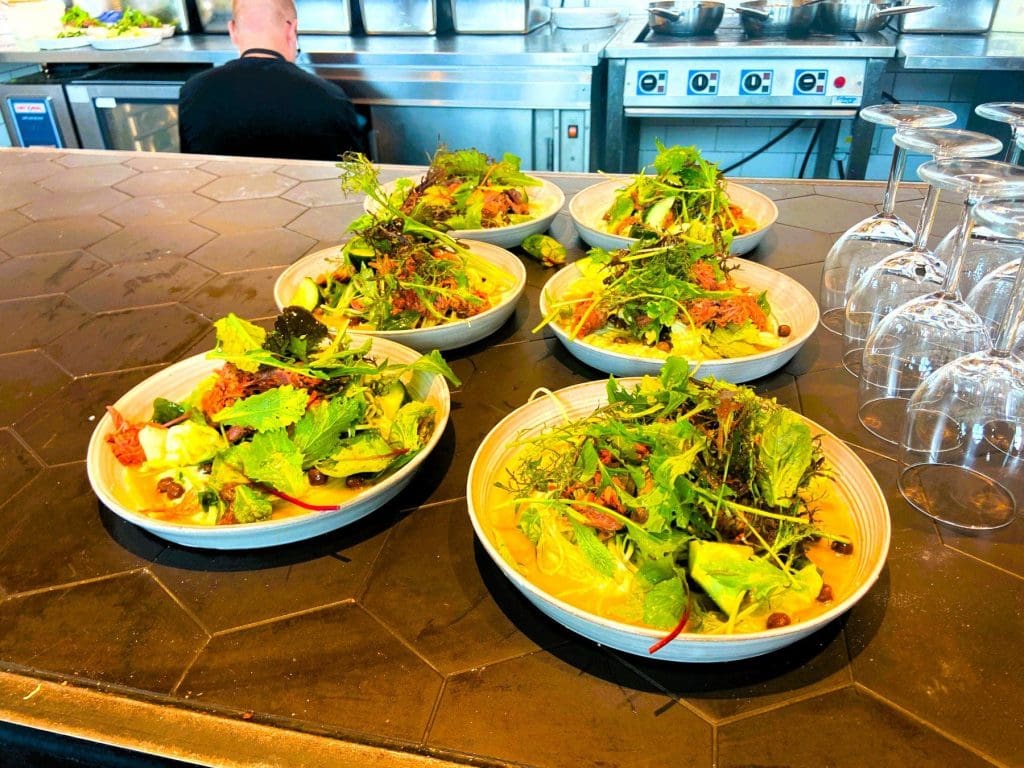 Restaurants in Malmö
I highly recommend all of the places at which we dined: Mat- & Chokladstudion, BISe, Saltimporten Canteen and Aster.
Getting to Malmö
The Malmö Copenhagen bridge has been immortalised in the TV Series The Bridge. It also links the two nations of Sweden and Denmark. Underneath the road bridge the Malmö Copenhagen train takes you directly to Copenhagen airport. It is also really easy to do a Malmö day trip from Copenhagen by train.
---
All photos by Mark Bibby Jackson.
Mark Bibby Jackson
Before setting up Travel Begins at 40, Mark was the publisher of AsiaLIFE Cambodia and a freelance travel writer. When he is not packing and unpacking his travelling bag, Mark writes novels, including To Cook A Spider and Peppered Justice. He loves walking, eating, beer, isolation and arthouse movies, as well as talking to strangers on planes, buses and trains.