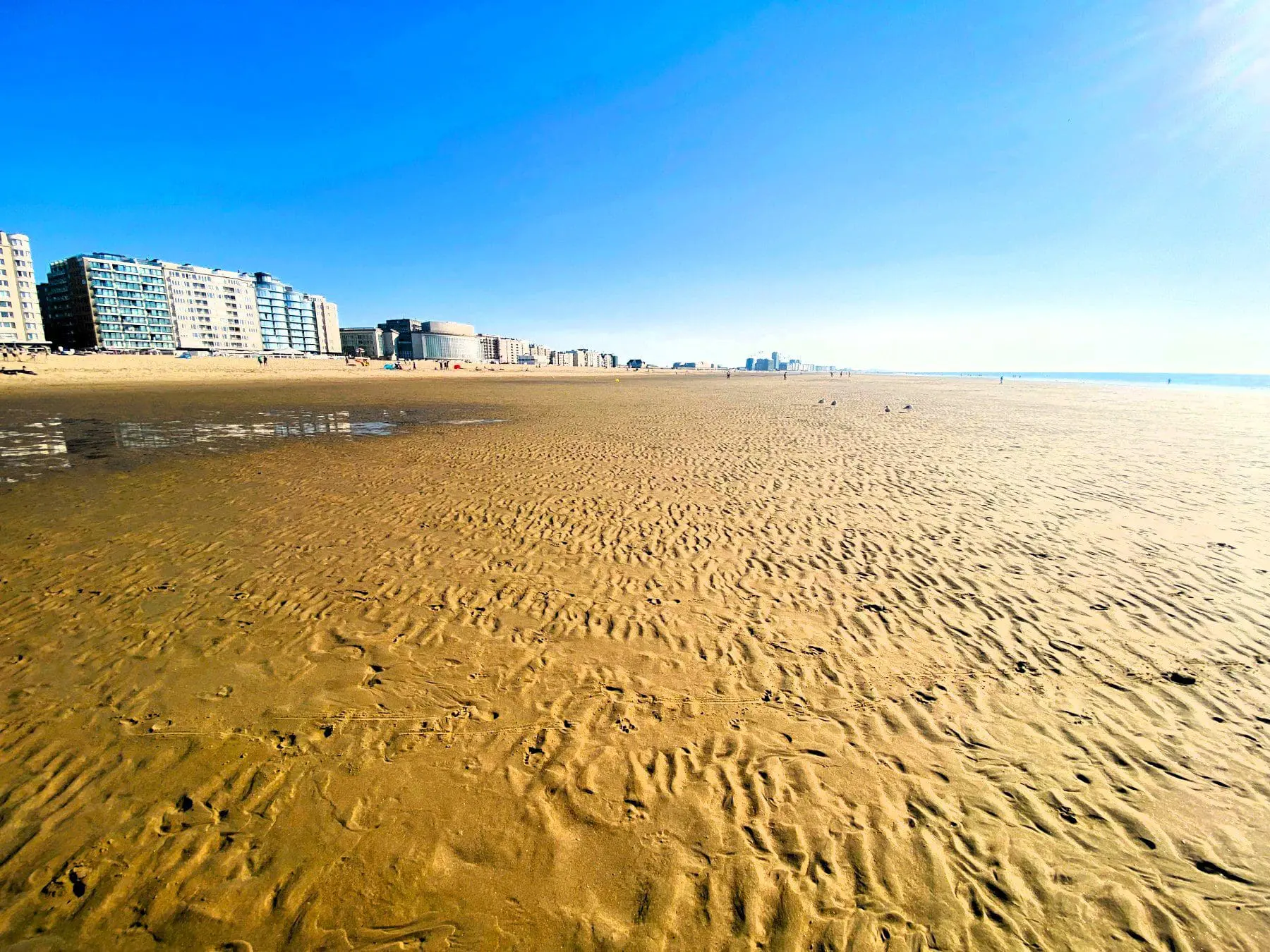 Don't Look Back in Ostend
Mark Bibby Jackson
Posted on 2nd Jul 2023
Mark Bibby Jackson visits Ostend Belgium and ends up turning full circle.
When I informed a travel writing colleague of mine, I was travelling to Ostend, her response was just one word beginning with the letter 's' that could hardly be deemed flattering. So, I wasn't exactly rushing to the Belgian coastal city with unbridled enthusiasm.
First impressions did little to alleviate my concerns. I arrive by train – first the Eurostar and on to Ostend from Brussels – feeling the fresh seaside air on my face. Having checked into my hotel, I immediately navigate my way through town to the beach. To be greeted by a seafront that at its best might be described as eclectic.
Perhaps, this is what my friend had been referring to – although afterwards she confessed her view was influenced by both whisky and gin. Then I realised her – and my – mistake. We were looking in the wrong direction.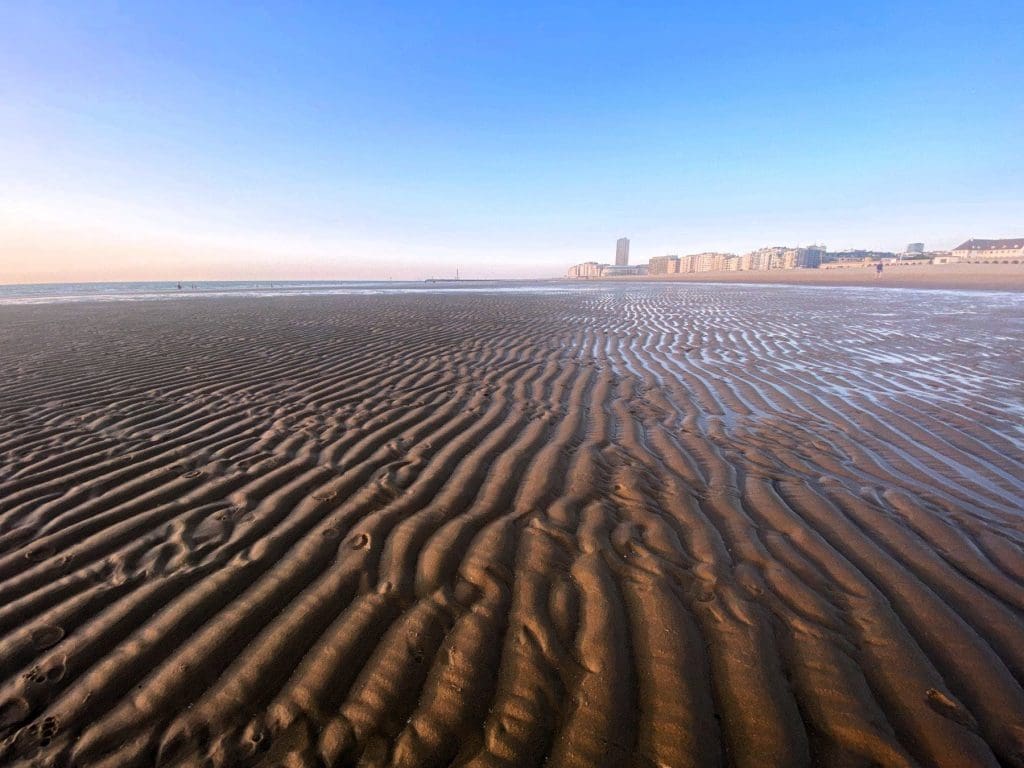 Ostend by the Sea
Across the promenade from the seafront is the most amazing beach that spreads out into the horizon and then on a bit more.
After the obligatory first Belgian beer at one of the numerous beach bars, I walk along the sands for what seems like hours before popping into KAAP Kadeem, a local bar and arts centre that hosts events and is a really cool place to hang out watching the waves.
It is also next to the Thermae Palace Hotel, which is where I was due to have dinner. When Ostend was at its peak, the Thermae Palace Hotel was the place on the Belgian Coast.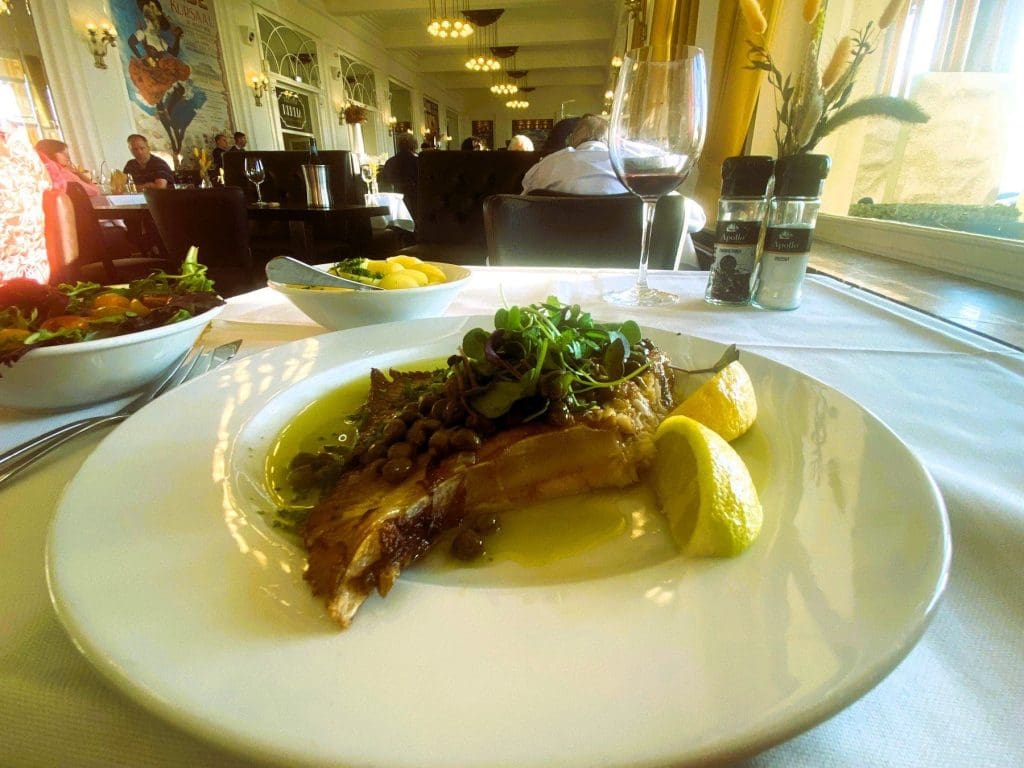 The development of Ostend stems from when King Leopold I had a wooden chalet built on a deserted sand dune. Subsequently his royal residence was established on the Langestraat. A direct rail line was built to Brussels in 1838, with the ferry service to Dover opening eight years later. However, it was when Leopold II acceded to the throne that the 'The Queen of the Belgian seaside resorts' became fashionable.
This was the period when the Casino Kursaal Ostend, the Hippodrome Wellington, the Church of Saint Peter and Saint Paul, and the Royal Galleries were built – all completed by 1905. Top artists performed at the Kursaal. The art deco Thermae Palace Hotel opened in 1933, attracting people from all over the world to try the healing waters.
Now it serves excellent food in its Brasserie Albert right on the promenade. Both setting and interiors are glorious, as is the food. I follow a traditional seafood coquette with an excellent skate in a rich caper and butter sauce.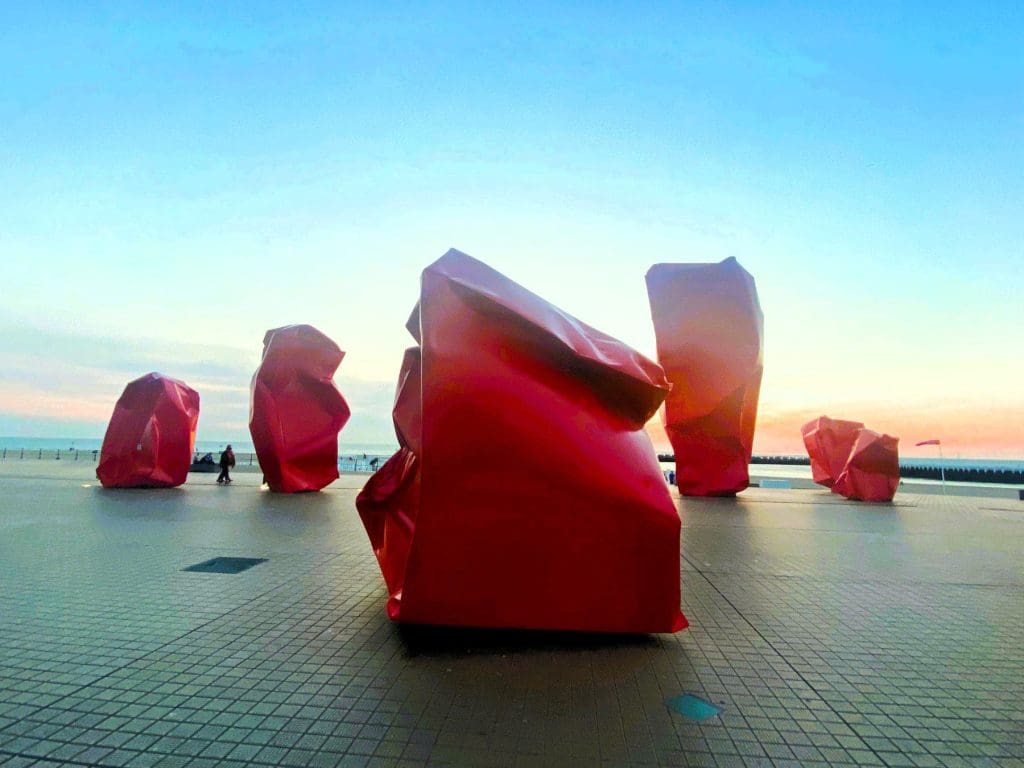 Fortified, I return to the beach for a late evening stroll which ends at Arne Quinze's magnificent red Rock Strangers, which was part of Beaufort04, the Triennial of Contemporary Art along the Belgian coast in 2012 – the next one will be in 2024.
Cultural Ostend
I soon discover that Ostend has quite a dynamic art scene.
The following afternoon I am to visit the house of James Ensor (1860-1949), who lived and painted in the city. It is of interest as a museum of the life and work of one of Belgium's most prolific painters. Ensor was famed for drawing masks and skeletons. His work was often satirical, and he constantly revised his paintings often adding masks. However, if you wish to see his work in the flesh you should head to the KMSKA in Antwerp or Ostend's Mu.ZEE, which shows Belgium visual art from 1880 to the present day. It is here I visit after breakfast.
The building which houses Mu.ZEE is one of many striking buildings in Ostend. This is a city, much like London, where you have to keep on looking up to fully appreciate the architecture – shopfronts are misleading.
Designed by Gaston Eyssenlinck, the original building (built between 1949 and 55) used to be a supermarket for the cooperative S.E.O. When the supermarket closed the building was converted into a museum, which became Mu.ZEE in 2008.
The displays are constantly changing, and there is an interesting exhibition on the evolution of the building on floor 2.b. The second floor is devoted to 1880-1940. An audio guide provides interesting details such as the plumed hat in James Ensor's self-portrait was added five years after the original portrait – one of his amendments.
Ensor derived much of his inspiration, especially in terms of his use of light from Rembrandt and Turner – the latter is evident in his seascapes. Other artists are clearly influenced by impressionism, cubism, expressionism, avant-garde and surrealism.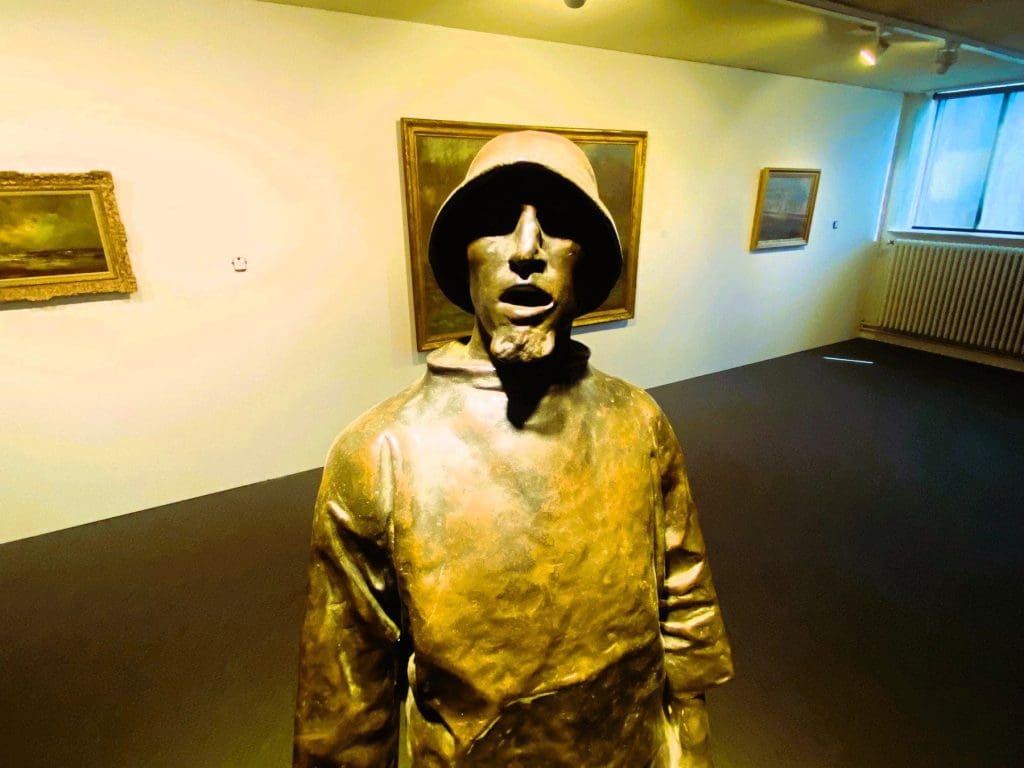 The free-flowing nature of the exhibitions allows you to view the paintings without a prescribed order, which I find liberating. There is a timeless wandering to my visit, which allows me to focus on the works that grab my interest.
The first floor features work from 1960-2000. The exhibition invites us to consider both the nature of art and it's intrusiveness. Lilian's Vertessen's arresting installation is entitled Take Me (1982), while Yuan Theys depicts a celebrity shielding her blank face from paparazzi in De Arnolfini's (1970).
The final room contains work from 2000. Contemporary art pieces are assembled in a cluttered form where nothing is taboo, but little is clear. This is a challenging exhibition to conclude a much worthwhile and thought provoking visit to the museum.
Lunch at Cultuurcafe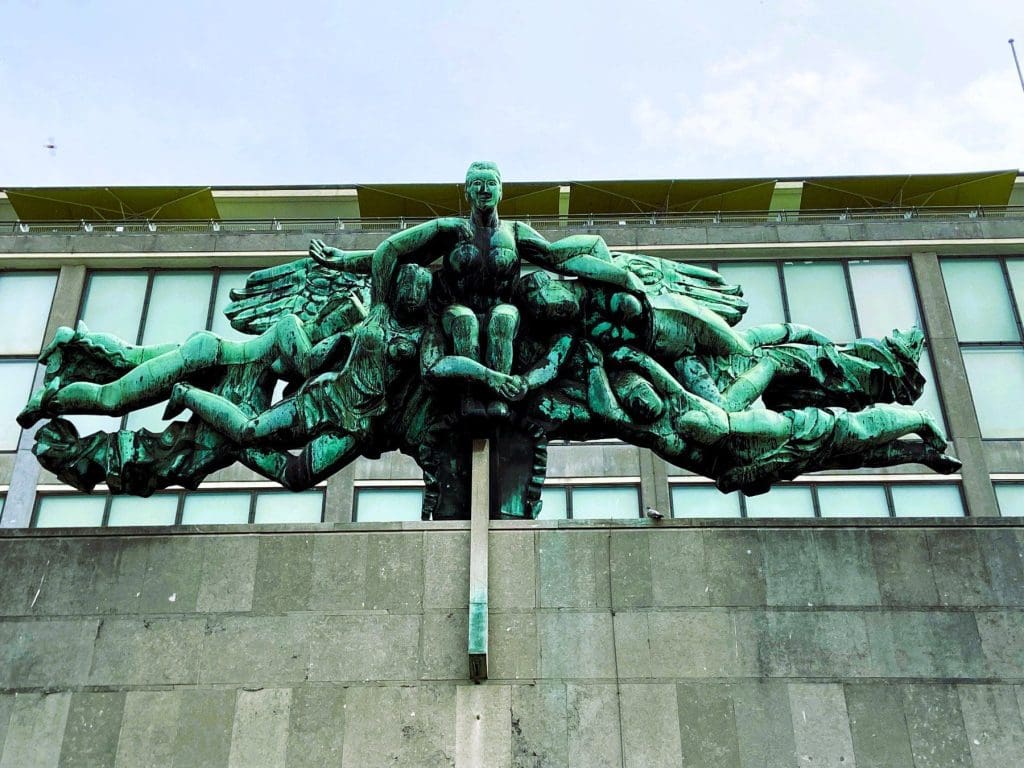 After Mu.ZEE, I spend some time continuing my aimless wandering around the museum, but this time on the streets of Ostend. This concludes at the Cultuurcafe, where I am scheduled to have lunch.
Built between 1953-6, the striking building used to be the old post office, which closed down in 1999, and became the cultural centre a decade ago. It holds various performances in several outlets including its intimate theatre. Many of the original features remain including the counters where people queued up to see staff, and the telephone cubicles. I particularly like the stunning sculpture outside.
I have an excellent Belgian beer and cheese croquette downstairs before venturing upstairs to the old post office canteen, which since 2017 has been the Panorama restaurant with its wonderful views down to the nearby park.
Here, I have a most unusual dish of diced cauliflower and almond nuts in a piquant harissa sauce served with broccoli spears. It really is excellent, and goes well with a fragrant orange wine. Panorama has a vegan menu, a fish one and a meat menu, with sustainability very much to the fore, working with local producers.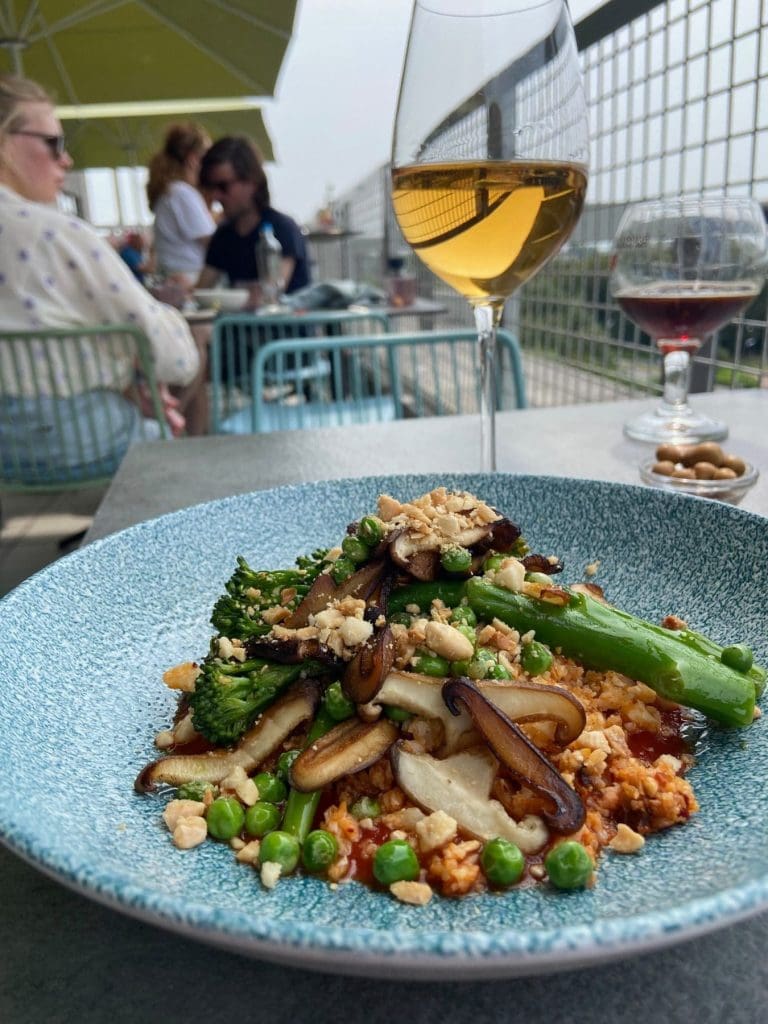 Ferry to Oosteroever – O666
In the afternoon I take the 10-minute, free ferry from Visserskaai to Oosteroever. The ferry takes a few minutes but it is like traveling to a different world. In addition to a long and less popular beach than in Ostend, Visserskaai has a WWII German bunker, Lange Nelle Lighthouse and Fort Napoleon. But it is a much more modern and visionary attraction that has drawn me.
O666 is a non-profit, circular hub which runs workshops, including how to transform plastic beach waste into re-usable items, such as surfboard-fins. They also have a very chill bar where I drink a seaweed stout – perhaps an acquired taste – while listening to excellent jazz.
Inge runs Kantino.666 bar and café. She takes time away from attending a friend's child's birthday party to show me the garden, that is tended by Carlos and a group of volunteers, as well as the workshops. In one, a man is repairing bicycles. The garden includes a stand where bras are used to support plant pots. 'Don't burn your bra, reuse it,' is the post-feminist upcycling motto of the decade, perhaps.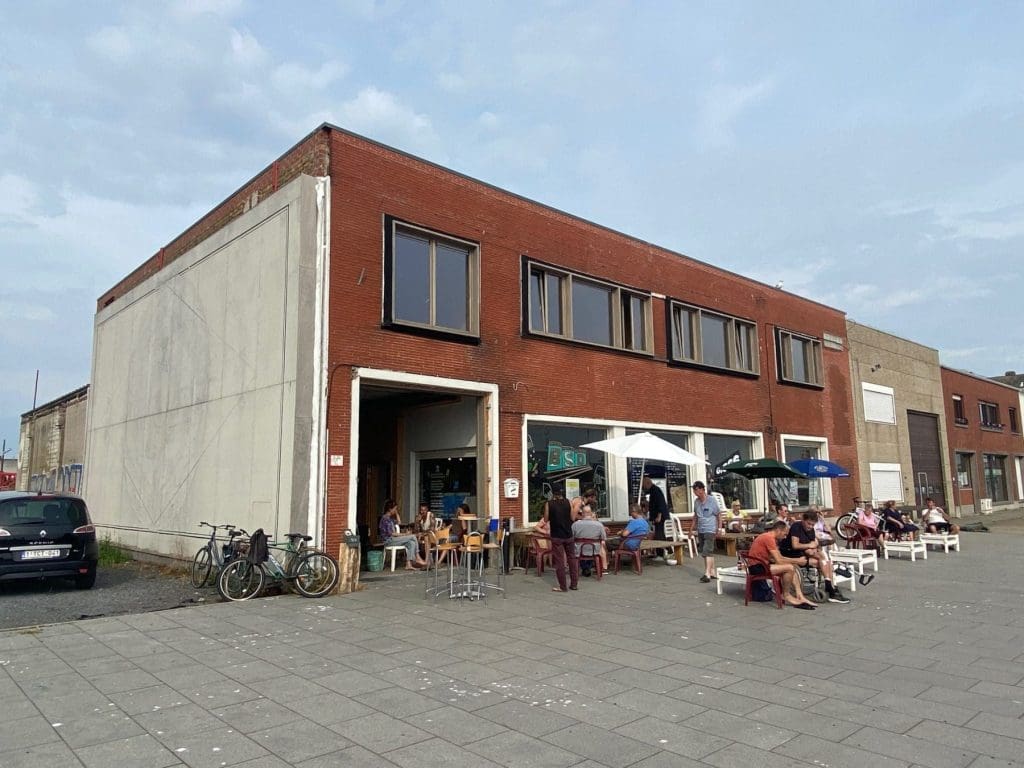 This is a wonderful place. All of the furniture has been made from recycled materials, the building is both ecological and sustainable, and there is even a plant library where people can swap plants or take sick plants into the nursery.
According to Inge, O666 has been here for about five years with a contract through to 2025. It clearly has a good relationship with the local community including the local fishermen and the people who work on the wind turbines out at sea. Every Sunday evening, they have a long table where people cook and eat together. All are invited.
"The synergy between everyone makes it unique and I am very grateful that I can work here," says Inge, who is confident about the future. "We are growing every week. We try to be a warm house for everyone … and dogs."
O666 works with the most disenfranchised in Ostend trying to create a more positive now. It is a neighbourhood oasis, like you might find in districts of New York, surrounded by the luxury apartment blocks on the same street. Leaving O666, I feel the world is a little bit better than I did while arriving.
I return to the other Ostend to have an excellent moules frites at Brasserie Rubens located on the Visserskaai.
---
O666 Photo Gallery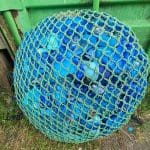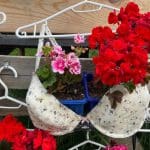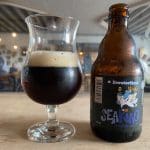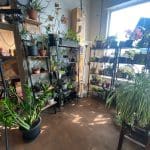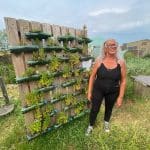 ---
Coastal Belgium
Part of the attraction of coming to Ostend was to use it as a base to explore some of the surrounding area along the coast.
The following morning, I take the tram from next to the railway station a few stops to De Haan, where I meet Guido Francque, a sustainability coach, who is helping to establish the first climate neutral hotel in Flanders, and the second in Belgium, with its owner Hermans Thibaud.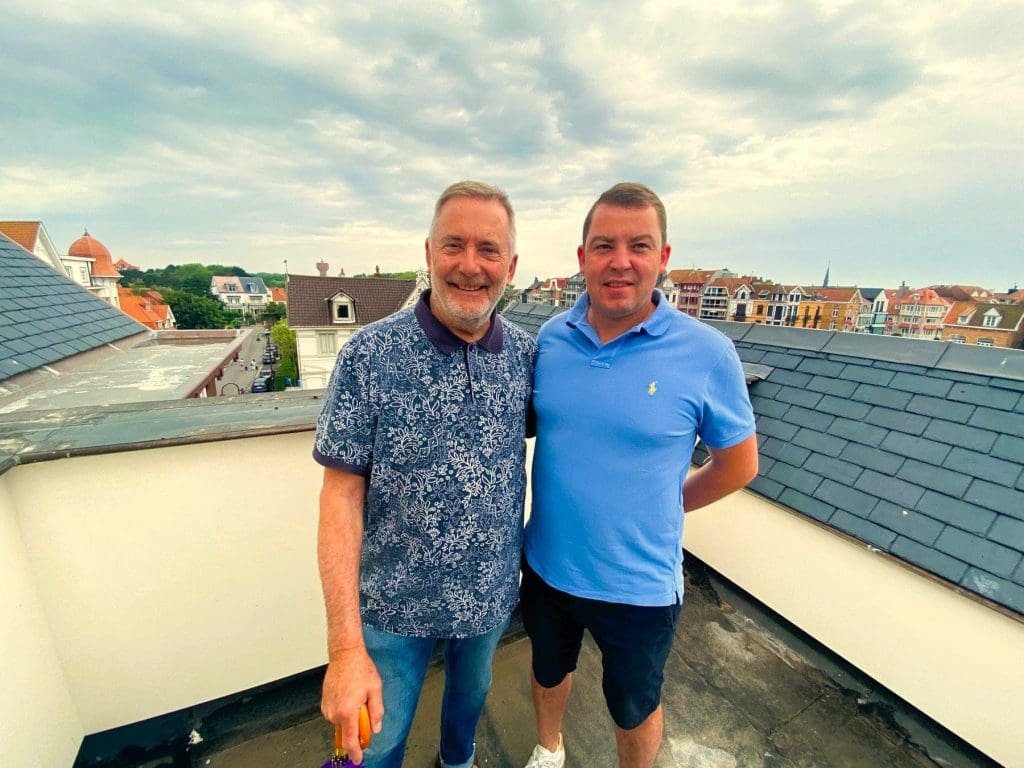 Hotel des Brasseurs opened on 8 July, I am the first visiting journalist.
According to Guido, there has been a large effort to conserve De Haan. Hotel des Brasseurs is in one of the original buildings in the coastal town, built just over a hundred years ago. This is noticeable as I walk to the seafront through the very pleasant town, before returning to Villa Rosa, a delightful Italian restaurant. Here I have an excellent sea bass ceviche, which had a zesty tang without overpowering, followed by some John Dory fillets served on a bed of lamsoor, which apparently is sea lavender, and white asparagus with the most delightful mashed potato on the side.
After lunch, I walk beside the tram tracks past some Hansel and Gretel style properties dating to the 1926-7 to the Dune Woodland Walk, which somewhat confusingly is on the non-beach side of the tram track. A pleasant walk through the woods, it is ideal for a lazy Sunday afternoon.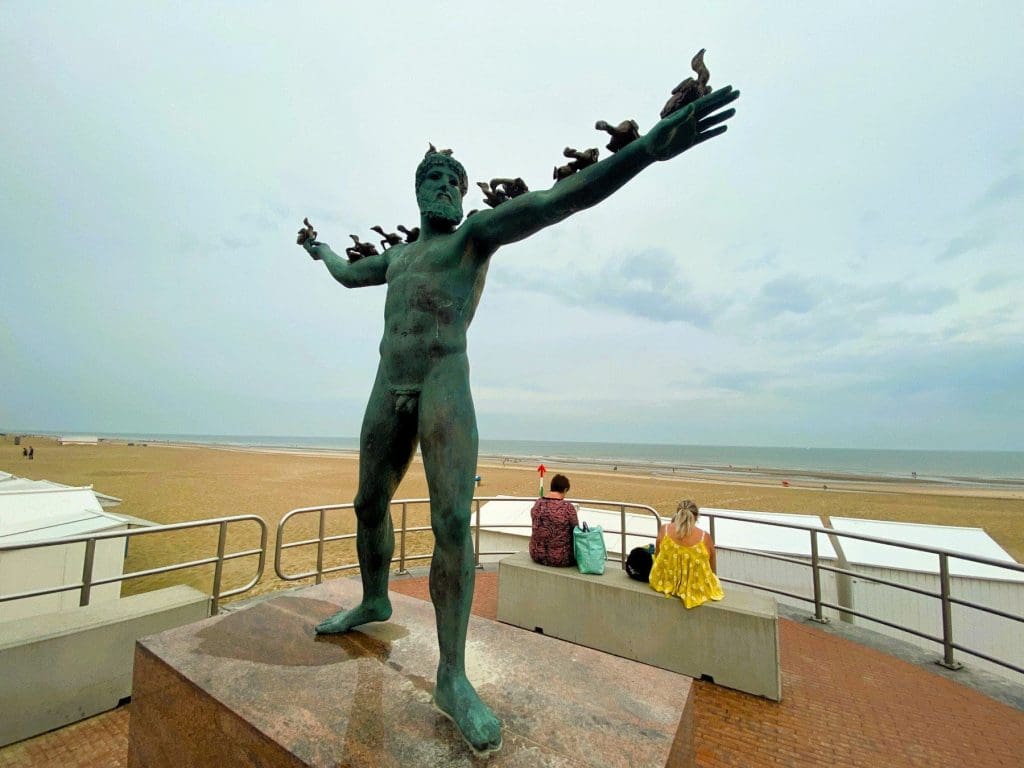 At the end of my walk, I rejoin the beach close to Wenduine. Although the beach may compete with that in Ostend in terms of length there are nowhere near as many people here, and it certainly is not as built up. Sand dunes replace questionable apartment blocks as the backdrop. This is a stretch of beach where you can become one with nature rather than listen to the music designed to lure unsuspecting beach goers to nearby bars.
I take a couple of dips in the refreshing waters drying out on the soft sand in the meantime before continuing to the Rotonde, a pleasant municipal space designed to be enjoyed by skateboarders and boules players – though presumably not at the same time. There I marvel at Inner Circle, a wonderful sculpture of a woman in a circle by Linda Ergo, one of the many inspiring sculptures along the front as part of Beaufort Triennial, just like Arne Quinze's Rock Strangers.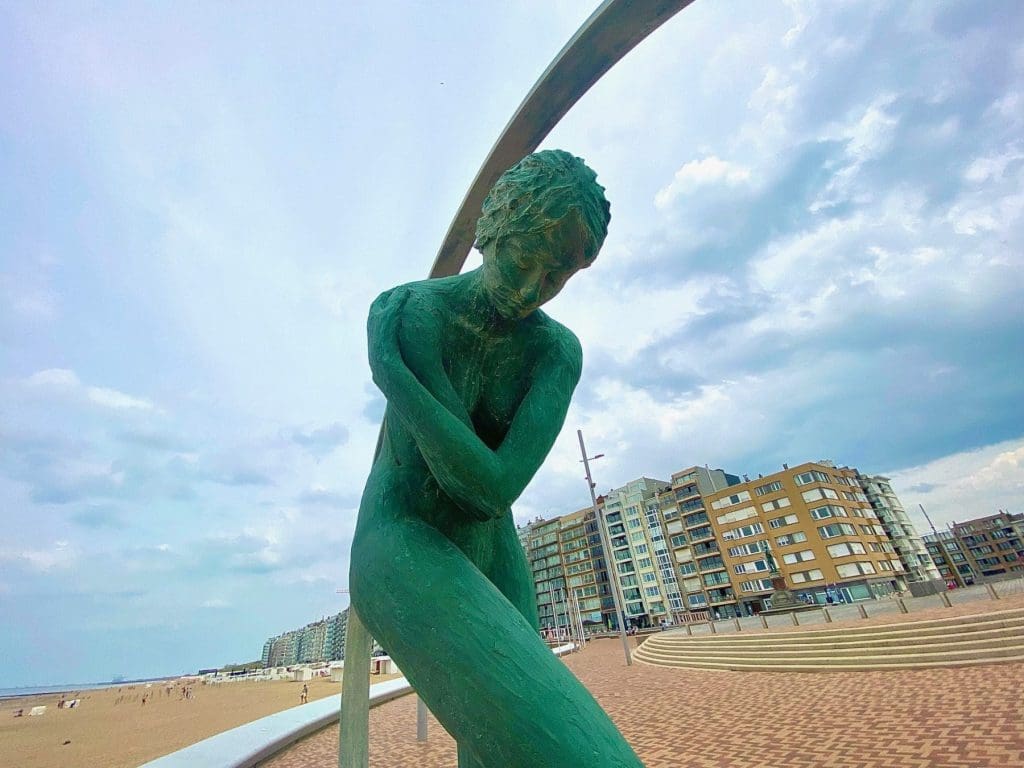 Taking the tram back to Ostend, I spend my final evening at Botteltje, a great bar in the heart of town, which has more than 300 beers by bottle and 16 on tap, as well as food made with beer. Here, I chat with the chef, who informs me how Ostend is protecting itself from the effects of climate change, while partaking in as many beers as seems reasonable.
As the sun sets, I once more look out to sea. It really is a most beautiful sight. Just remember never to look back, and if you are lucky like Inge at O666, and Guido and Thibaud, you might find your life turned full circle.
---
Things To Do in Ostend and Coastal Belgium
For more information on what to do in Ostend and Coastal Belgium, visit www.belgiancoast.co.uk. Mark was invited to Ostend by Visit Flanders.
Getting to Ostend Belgium
Mark took the Eurostar from London St Pancras to Brussels, and then a train from Brussels Midi to Ostend via Ghent.
Hotels in Ostend Belgium
Mark stayed at the Hotel Burlington, a contemporary hotel located close to the railway station and marina through within walking distance of the beach.
---
All photos by Mark Bibby Jackson.
Mark Bibby Jackson
Before setting up Travel Begins at 40, Mark was the publisher of AsiaLIFE Cambodia and a freelance travel writer. When he is not packing and unpacking his travelling bag, Mark writes novels, including To Cook A Spider and Peppered Justice. He loves walking, eating, beer, isolation and arthouse movies, as well as talking to strangers on planes, buses and trains.