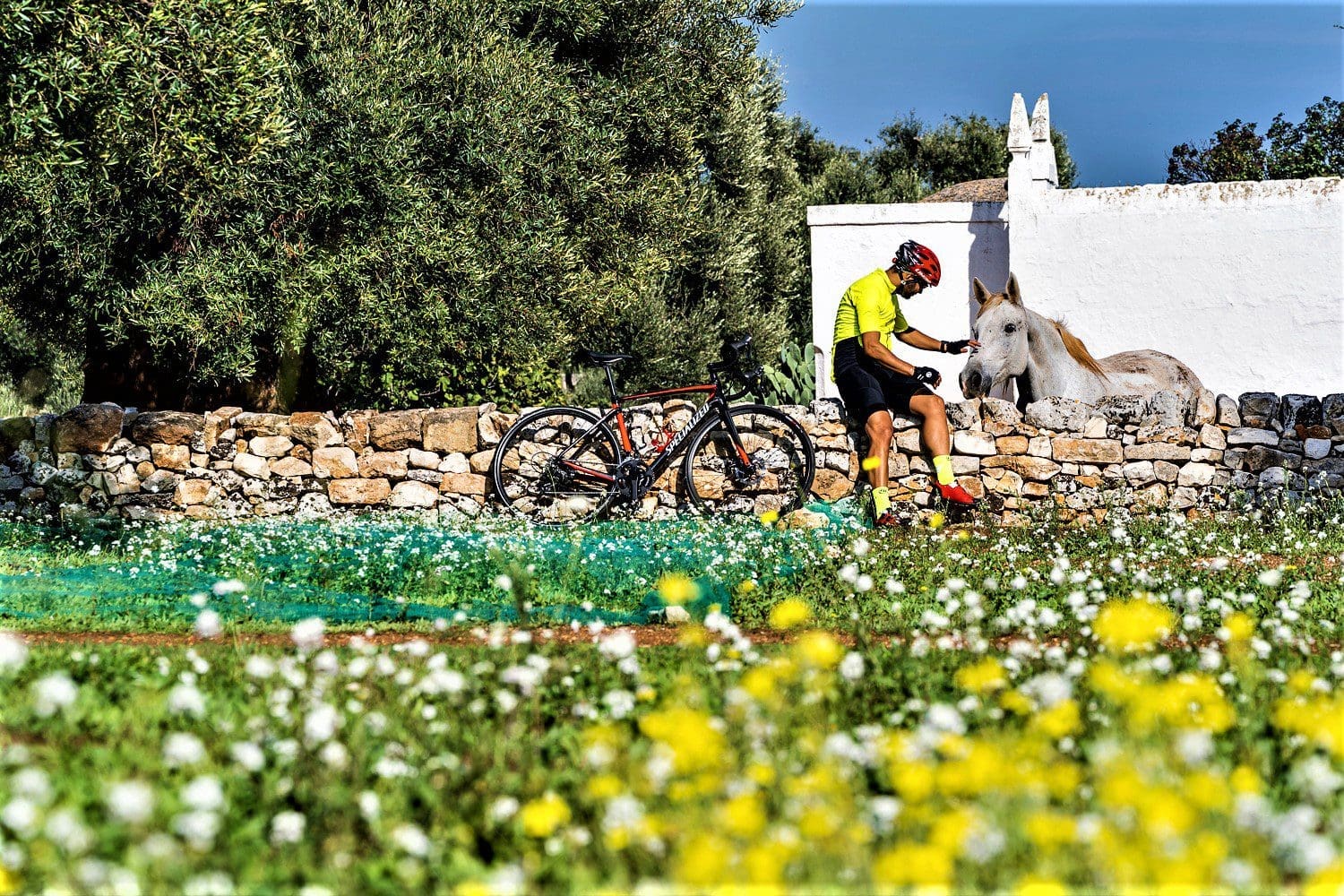 Pedals in Puglia Italy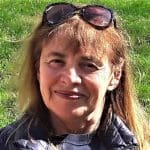 Judith Schrut
Posted on 19th Jul 2023
Head for Italy's 'heel' with Judith Schrut as she shares delights and highlights from her recent cycling trip in Puglia, deep in Italy's sunny south.
Whether you're an Easy Rider, Whizz-bang Wheeler or Velo Virgin, I firmly believe the best way to explore Italy is on a bike. And joy of joys, that's just what I've been up to on my recent visit to Puglia.
Puglia, the heel in Italy's beauteous boot, might be summed up in three words: past, present and Primitivo. Just add pasta, panini and pasticciotto and you've pretty much got the main ingredients of this wonderful place.
There are many reasons you might want to spend a week or two cycling and exploring this unique, unspoilt area and they all involve pleasuring your senses.
There's the impossibly pretty scenery, small towns full of charm and history which dot the hillsides and ancient seaside villages which line the rugged coastline. A near perfect climate produces the region's fabled food and wine, which I would describe as out of this world yet down to earth.
Local cheeses and smoked meats, such as burrata, ricotta forte, caciocavallo and spicy capocollo, rich red wines from Primitivo and Negroamaro grapes, superb seafood and shellfish from the morning catch, stretched orecchiette— 'little ears'— and other pastificious treats, and wow-factor gelato make Puglia a no-contest foodie paradise. And if you like being close to nature, exercising in clean air, waking to the smell of freshly baked cake and the world's best coffee, this destination is for you.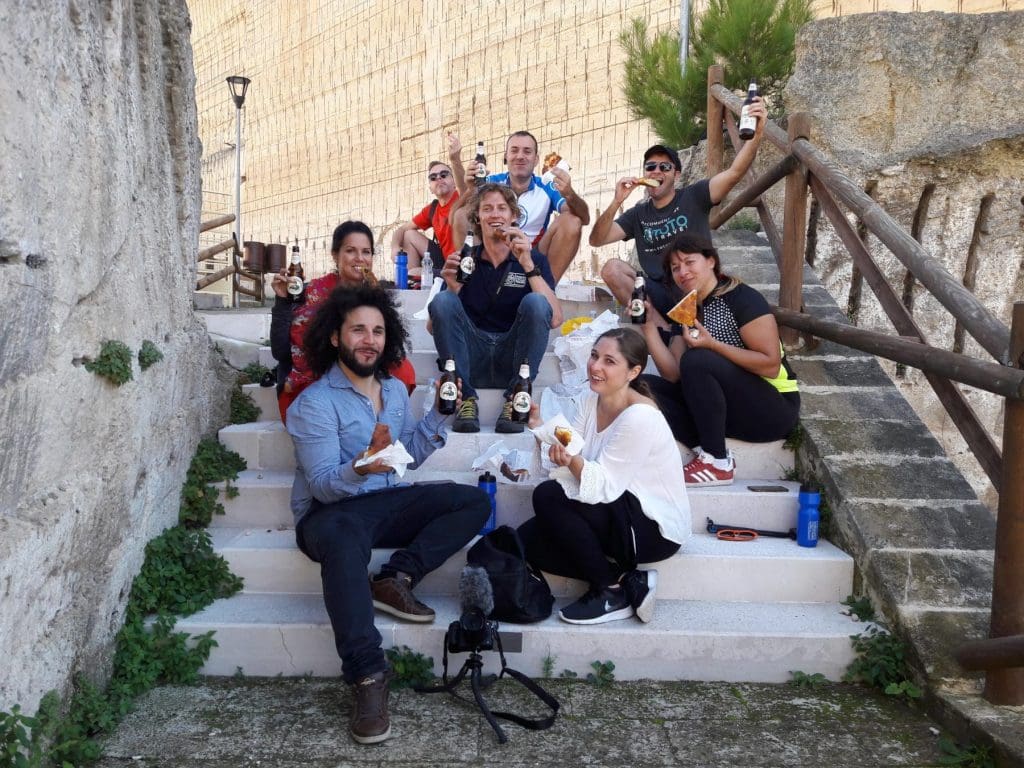 Now, when it comes to cycling holidays I'm an unabashed fan of Puglia Cycling Tours. I've toured with them before and wouldn't bike Puglia with anyone else. They offer a variety of guided and self-guided routes, well organised and supported, including accommodation at characterful small hotels and luggage transported between stops. Their lovely and local staff has an amazing knack of making you feel part of a cuddly Puglian family for however long you're visiting. (Don't take my word for it; feedback on social media says it all).
Puglia Cycling Tour's thoughtful scheduling, with typically two nights at each hotel, means you have plenty of time for sightseeing, sunbathing, shopping or whatever else takes your fancy.
On the first morning of our small group tour, cyclists-in-chief Mimmo and Giovanni meet us, brief us, then kit me out with an Atala B-easy E-bike. I wasn't convinced I could manage those renowned Puglian hills without a dose of 'pedal assist', but if you're reasonably fit you'll do just fine with their excellent standard bicycles.
I was grateful for the kind-paced first day's ride along the stunning Adriatic coast, pausing for lunch at Polignano a Mare with its maze of alleyways, cliff-hugging balconies and sea caves, memorable gelato and super fresh fish tapas.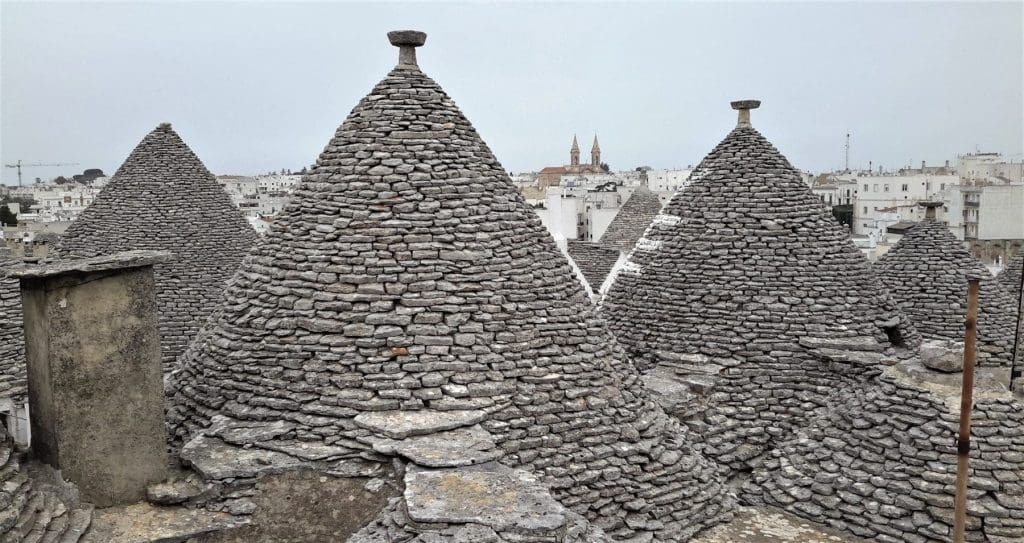 Then, a gentle climb through farmland laced with olive groves, almond trees and the invigorating scent of cabbage and parsley fields, until we reach today's destination, Alberobello. To get the most out of this magical place, we're spending a few nights in a traditional beehive-shaped trullo cottage in the exquisite Rione Aia Piccola area.
For the uninitiated, a trullo (plural: trulli) is a whitewashed drystone hut with a conical roof, found only in Puglia's Itria Valley. Alberobello is filled with hundreds of trulli, built many years ago as simple shelter for farmers and shepherds. Here they lived, in one round, domed room along with spouses, children and animals. Nowadays many trulli have been turned into smart but reasonably priced holiday accommodation. I was overjoyed with my cosy trullo, complete with underfloor heating, kitchenette, luxury bathroom and comfy alcove bed. There's even an alcove to leave my bici to charge overnight.
Apart from its unique trulliness, one of the best things about Alberobello is its proximity to many other wondrous sights to see and things to do. For us that includes a visit to the olive orchards at Masseria Brancata to sample 'liquid gold' from its 3,000-year-old trees, tasting organic Puglian wines at Amastuola vineyards and trying our hands, literally, at burrata cheesemaking with Giorgio 'Big George' Spalluti at Itria Bontà dairy farm. For refreshment, we enjoy a four-course sandwich lunch at Noci's legendary Il Panino di Marino and top up with a four-course dinner from the kitchen gardens of Trattoria Terra Madre.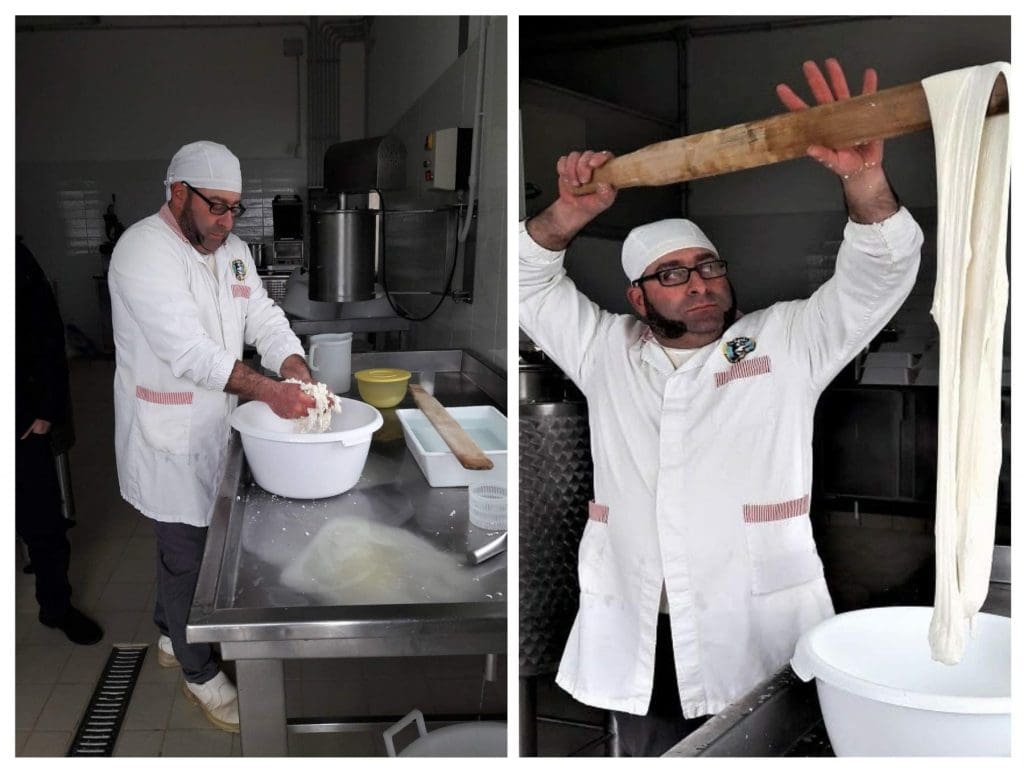 Leaving Alberobello, our route follows the splendid Ciclovia dell'Acquedotto Pugliese – the Apulian Aqueduct Cycle Route. This joint project of Bicitalia and Puglian Regional Transport literally lets you cycle or walk on water. It's the first stretch of a 500-kilometre cycling and hiking path built over the hidden river of the oldest and biggest aqueduct in Europe.
The route's completely free of road traffic and surrounded by a majestic mix of natural beauty and manmade wonders: wooded canyons and lush valleys, farmland and vineyards, perched villages and a multitude of trulli. The shimmering blue Adriatic is always with us, just over there on the horizon. Simply put, this is slow tourism at its very best.
We stop to pet horses, watch wild rabbits, nibble wild fennel growing by the roadside and rest in the shade of trulli. There's a quick espresso pause, then a long, lazy lunch in Locorotondo. Known for its distinctive circular shape and spectacular hilltop position with 360-degree views of the surrounding countryside and acclaimed white wines, Locorotondo is considered one of Italy's most beautiful villages.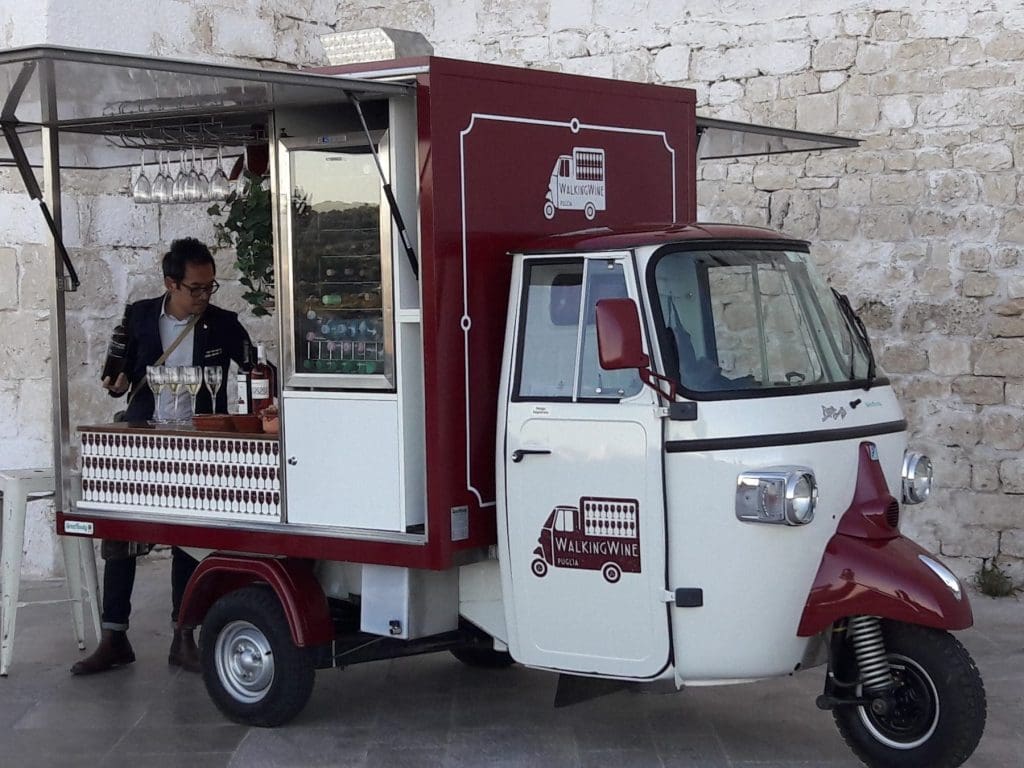 A further 24 kilometres of up-down-ups, then an exhilarating downhill spree to Ostuni, Puglia's famed White City. We are just in time for the twilight treat laid on for us at Ostuni's panoramic walled terrace: aperitivo hosted by the fine folk at Walking Wine.
The next days follow a similar pattern: 25-40 kilometres of scenic cycling, glorious weather, endlessly astonishing food and stand-out side trips. But all great holidays must come to an end, and so too must my glorious gambol down the heel of Italy's boot.
With this in mind, I savour our final ride, through the nature reserves and rugged coastal paths of Salento, pausing to dip in the natural pool at La Grotta della Poesia (the Poetry Cave) and gasp at the crystalline waters surrounding the sea stacks of Sant'Andrea.
At sunset, Giovanni and his bike-toting minibus magically appear to whisk us to the port of Monopoli. With its lively harbour and historic town centre, Monopoli is a dream come true if you like waking to the sounds of gulls and fishing boats instead of road traffic. It's also an excellent place to sample outstanding, just-off-the-boat seafood. For such a small and unpretentious town, Monopoli punches way above its waistline, with more than 250 eateries listed on Trip Advisor.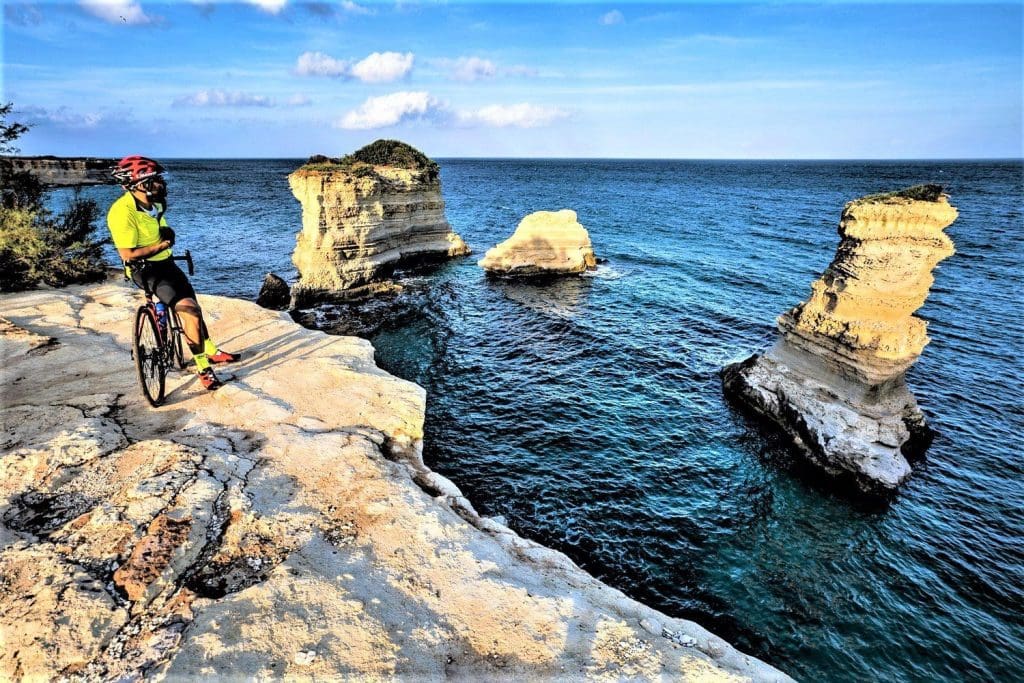 Like Pavlovian hounds, just thinking about Puglian food makes us ravenous and in need of another four-course banquet. The Chef at Il Guazzetto does not disappoint. Our long communal table heaves with start-platters of octopus and branzino carpaccio, mussels in olive oil, garlic, parsley and marinated anchovies and salmon, followed by calamarata pasta, assorted grilled fish and vegetables, fish soup and a tug load of Bianco Locorotondo and Negroamaro from Il Guazzetto's excellent, easy priced wine list.
Just as well we're staying at nearby Hotel Indelli Palazzo, a boutique hotel overlooking Monopoli's attractive square, but there are plenty of equally comfortable options. If you're on a tight budget or just keen to support a worthy local project, check out the studios, apartments and other beautifully renovated properties run by Monopoli's Albergo Diffuso Cooperative.
---
If you would like more information about Puglia, visit the official website, Viaggerie in Puglia
For information on cycling tours in Puglia, visit Puglia Cycle Tours
First and last images, courtesy and copyright Antonello Naddeo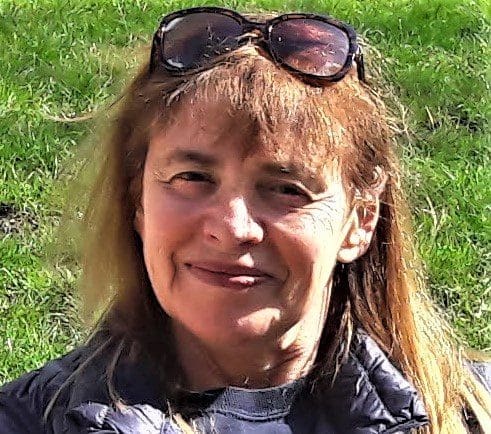 Judith Schrut
Judith is a writer and journalist who writes about people, places, food, the arts and more. Born and raised in California, Judith has lived in her favourite city - London - for over 35 years.