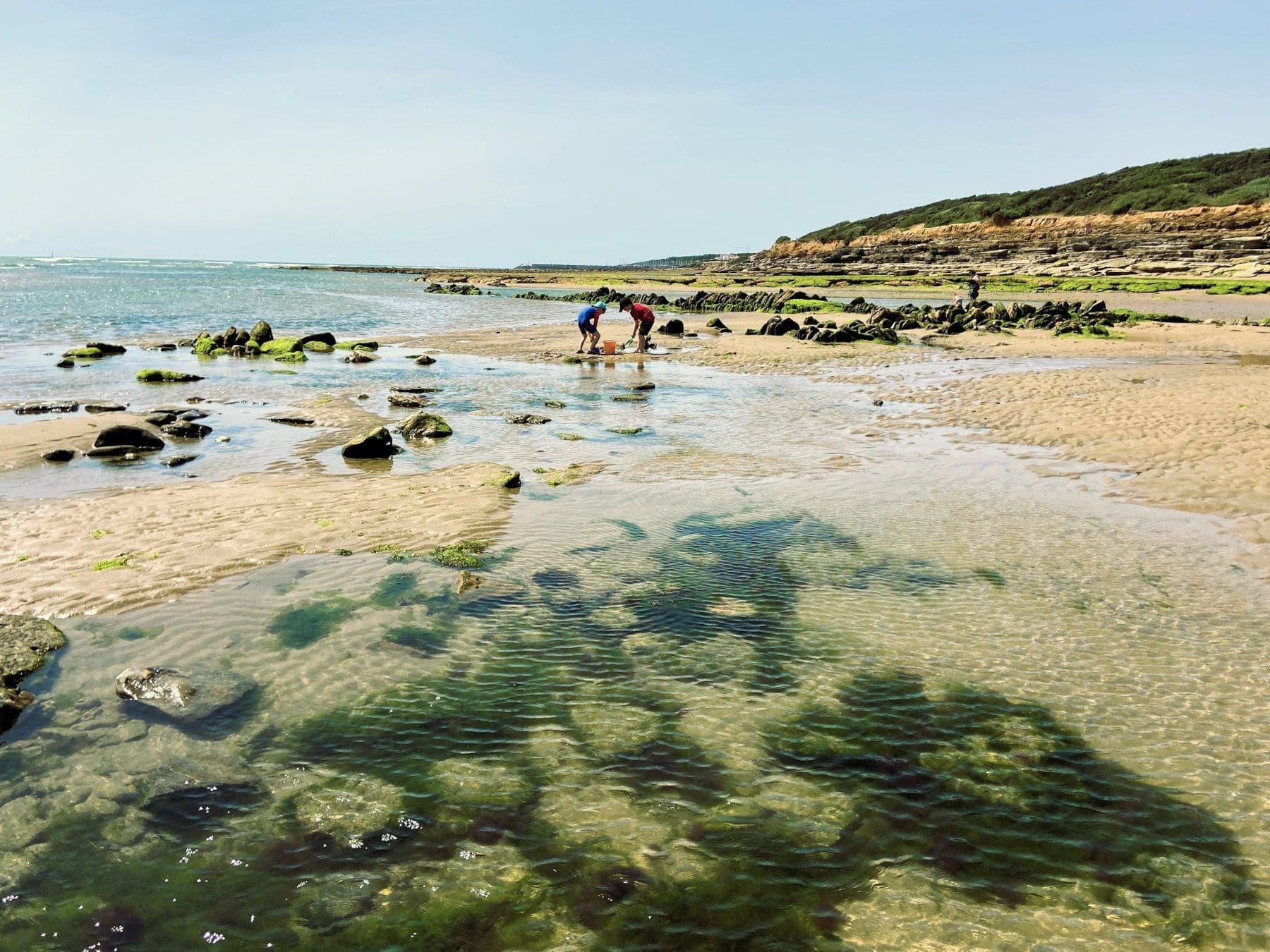 Travels with My Mum: Northern France Road Trip
Mark Bibby Jackson
Posted on 31st Jul 2023
Mark Bibby Jackson and his mother go on a northern France road trip from the UK to Calais through the Loire and back to Normandy.
Endless.
Like in a film, I pan right and then pan left. All that I can see is endless sand – and then eventually the sea.
I have become accustomed to this endlessness in the past month, having visited coastal Belgium. Accustomed but never bored.
This beach is called Quend, a short drive from Pierre & Vacances' Les Maison de la Plage resort where we are spending the first night on our road trip through France. I stroll along the beach feeling the soft sand on my feet, before taking a beer in one of several places in this pleasant, small coastal town. It is very chilled. Just what I need after our drive to Dover, then ferry crossing – which was simplicity itself – and my first little daunting drive on the other side of the road to the Somme.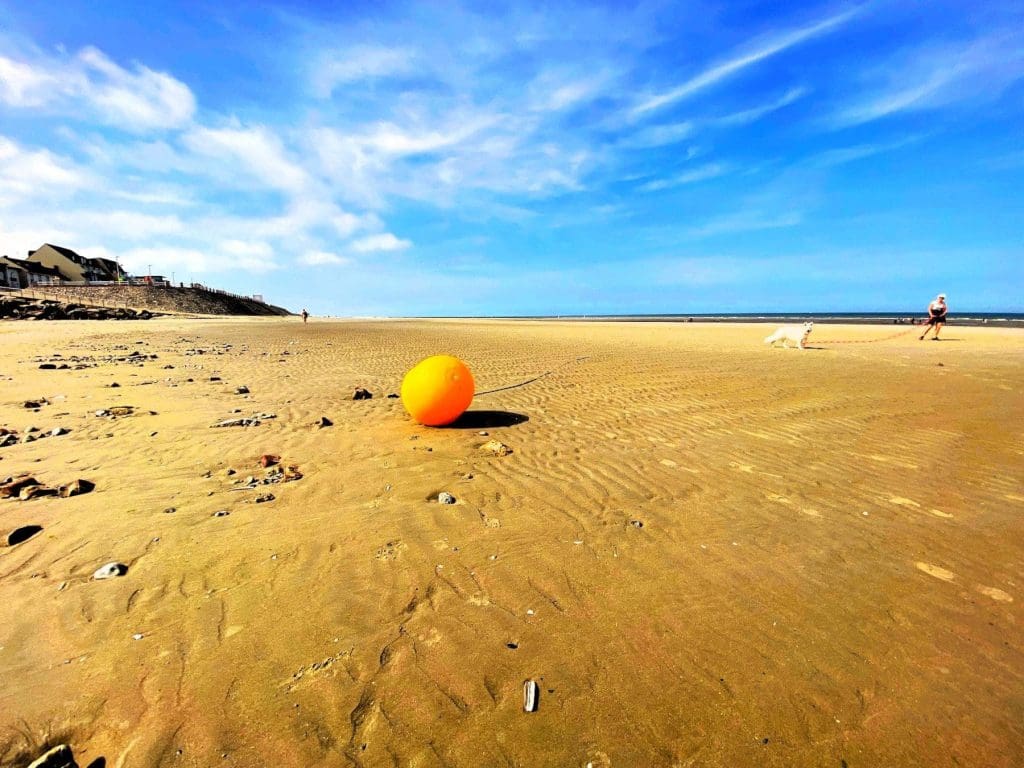 Les Maison de la Plage reminds me a little of Portmeirion in Wales. An Eco Village, it exudes space and tranquillity with lots of ducks squawking away on the peaceful lake. The weather is wonderful and our two-bedroom villa is spacious enough for both my mother and me to maintain our separate lives. After dinner, we glance across the lake, and enjoy the company of ducklings who come to wish us a most cordial welcome.
Northern France Road Trip : To Loches, Loire Valley
The following day we drive to Loches in the Loire valley. But first, we take one more stroll down to the beach. The tide is out so I can't swim, but some locals are wind sailing on the sand, which is pleasant to watch.
Located in an old mill, Residence Le Moulin des Cordeliers is right in the heart of Loches. Our accommodation is very different from that on our first night – this is very much a town resort, but still provides a great sense of space. We also have great views up to the Royal City.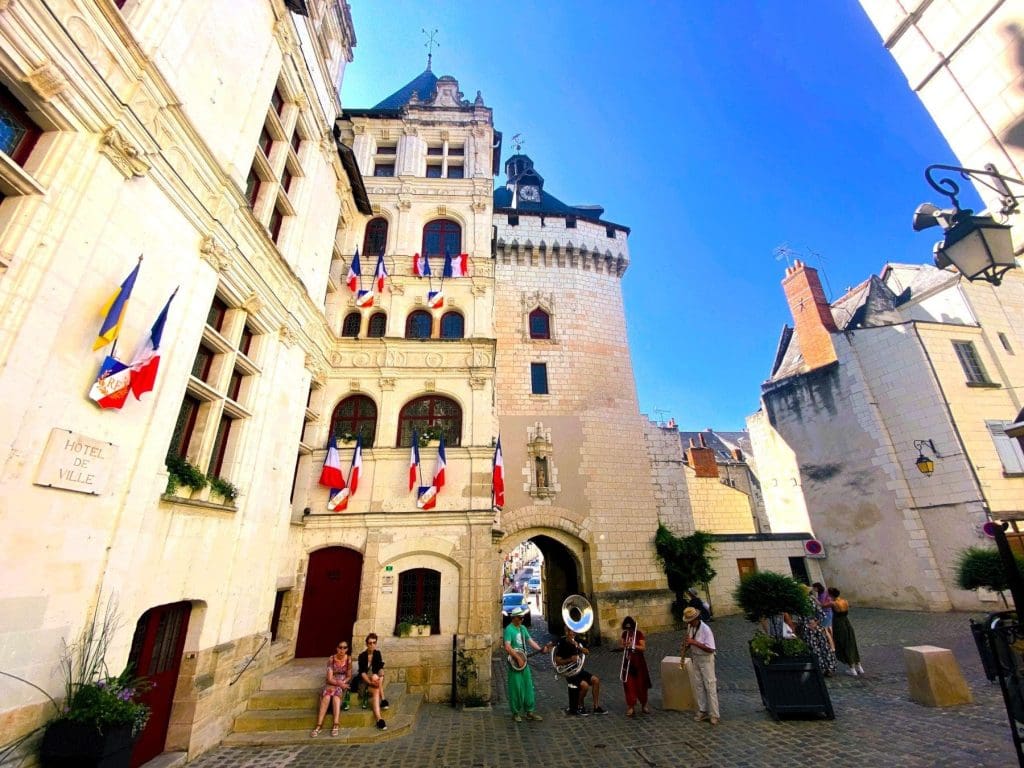 A flour mill was first built on the property here around the year 500. In the 19th century, the mill used to employ some 130 workers, now it has been transformed into a hotel by Pierre & Vacances. Across the road is Le Caravage a small bar where we listen to Waldden a one-man band after dinner.
The following morning, a Saturday, the town has been transformed into a vibrant market (also Wednesdays) that spreads across several streets in the centre of town. It feels as though most of Loche's inhabitants are here, as well as many a tourist, just like us. A band plays some Dixieland jazz.
We buy some fruit and salad to enjoy with a bottle of local rosé wine from Saint Georges sur Cher, which is 40km away, on the little terrace in front of our apartment.
Royal City of Loches
Loches really is a delightful town. After lunch, I walk up to the Tours of Loches, and enter the gates to the Royal City.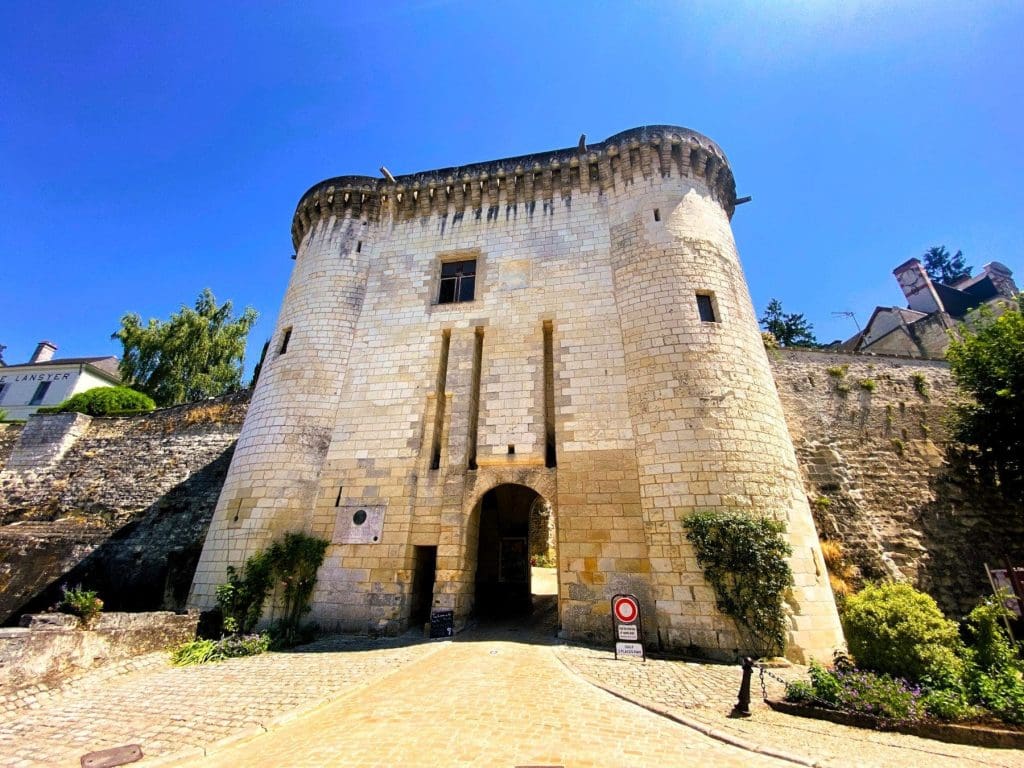 Built between 1013 and 1025, the Keep was used as a jail both before and after the Revolution. Now, it seems inhabited by small birds – swifts or swallows, I can never tell. The surrounding ramparts were built from the 11th and 12th centuries with the governor's residence, the new tower and barbican a couple hundred years later. It was fought over many times.
Inside the Keep is a gate made between 1160 and 1180 for Henry II, or Henry Plantagenet as he is called in these parts. The medieval garden, full of herbs and fragrances, is easily the most popular spot.
Although there is a fee to enter the Keep, you can wander around the old ramparts and laze in Parc Baschet, enjoying the shade of the trees, especially on a scorching summer's afternoon. From here you can look down to the Prairies of Roy, a 600-acre wetland area through which the Indre river flows.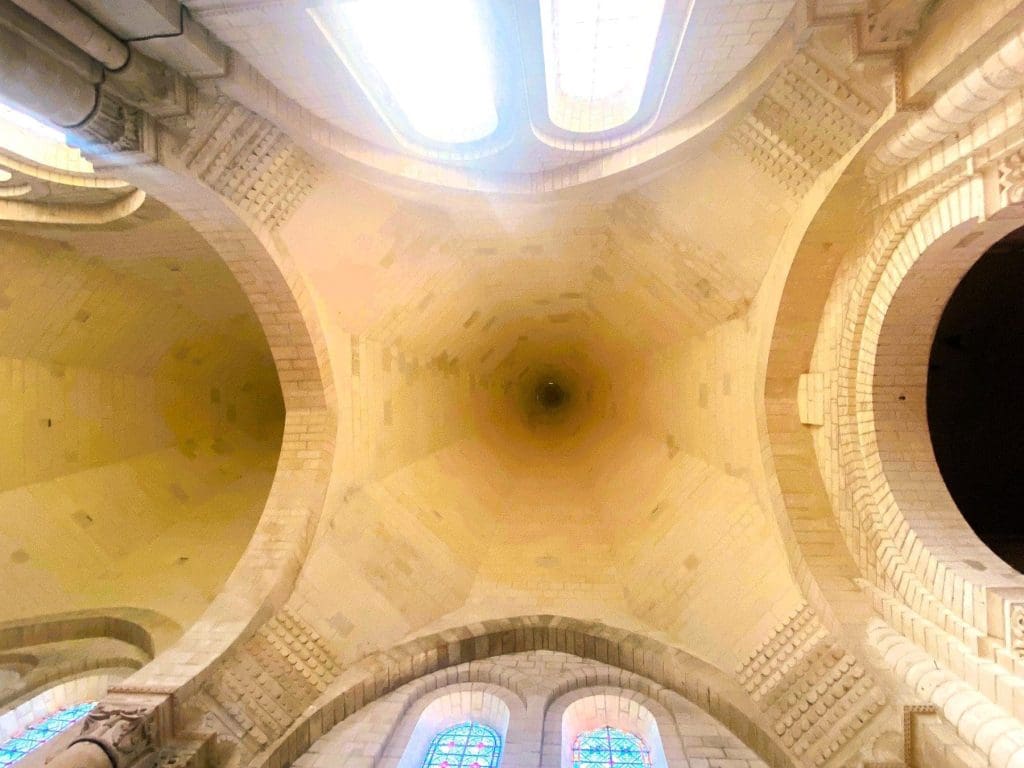 I walk back from the Keep through the narrow, cobbled streets towards the Royal Lodge. On the way I stumble across the Saint Lois Garden. This idyllic space is full of lavender bushes and dragon flies. You can rest at the café and enjoy the spectacular views.
The garden is next to a collegiate church, built in the first half of the 11th century, and dedicated to Our Lady (Notre Dame). The original church was said to house a precious relic – the girdle of Our Lady. Extended a century later, after the Revolution it was renamed the church of Saint-Ours.
Instead of having a barrel vault, the nave is topped by two octagonal pyramids, called 'dunes' which I find most interesting. There is a great sense of light.
Next to Notre Dame, the Royal Lodge was built by Charles V around 1377. Various kings lived here including Charles VII, who when still dauphin met Joan of Arc in 1429. According to legend, the Maid of Orleans beseeched the future monarch to go to Reims to be crowned. Quite what influence her words might have had is open to dispute, although Joan of Arc did indeed visit Loches when the dauphin was here.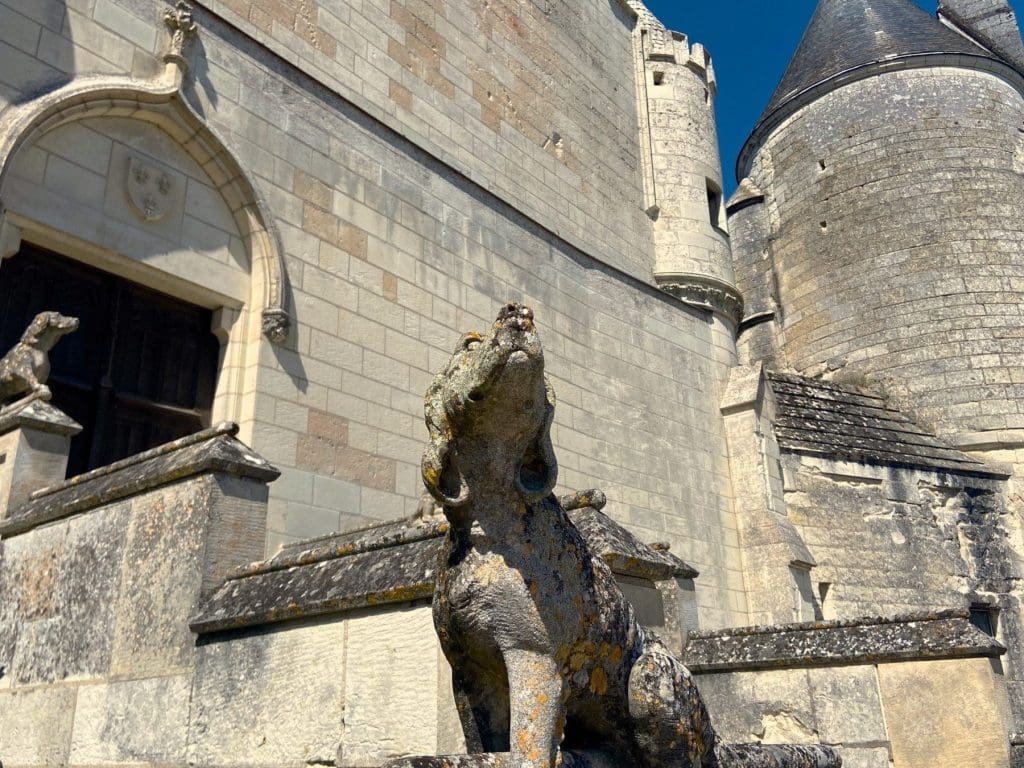 In the evening we dine out, at Le Prosper, an excellent restaurant that is in the shadow of the tower of Saint Antoine, one of the many ancient churches in town. We start with a wonderful seafood terrine, served with fish eggs and crisp endive that provide the dish with some texture. This is followed by monkfish in a clam sauce with heritage carrots, sweet potato and green beans. The monk fish is excellently cooked. The service is amazing, and we are able to talk with Evan, a young lad who is about to go to university. But the stars of the show are the glorious setting and the swallows – this time I googled – that fill the skies.
Northern France Road Trip : To La Vendée
The next day involves the longest drive on our northern France road trip. We bypass some of the wonderful cities and the amazing chateaux in the Loire which I had visited in 2019. This being a Sunday, France is closed, so we arrive at Residence Le Domaine de Bourgenay, just outside of Talmont-Saint-Hilaire, ravenous. Fortunately, the resort has a few restaurants around its central lake and we have a pleasant late lunch while waiting for our room to become available.
Residence Le Domaine de Bourgenay is our base for three nights. It has a similar feel to Les Maison de la Plage, but here there is even more space. One of the attractions of Pierre & Vacances properties is that you can self-cater. So that evening, we decide to cook some more of the food we had purchased at the market in Loches, and eat in the garden at the rear of our villa while watching the ducks landing in the swimming pool.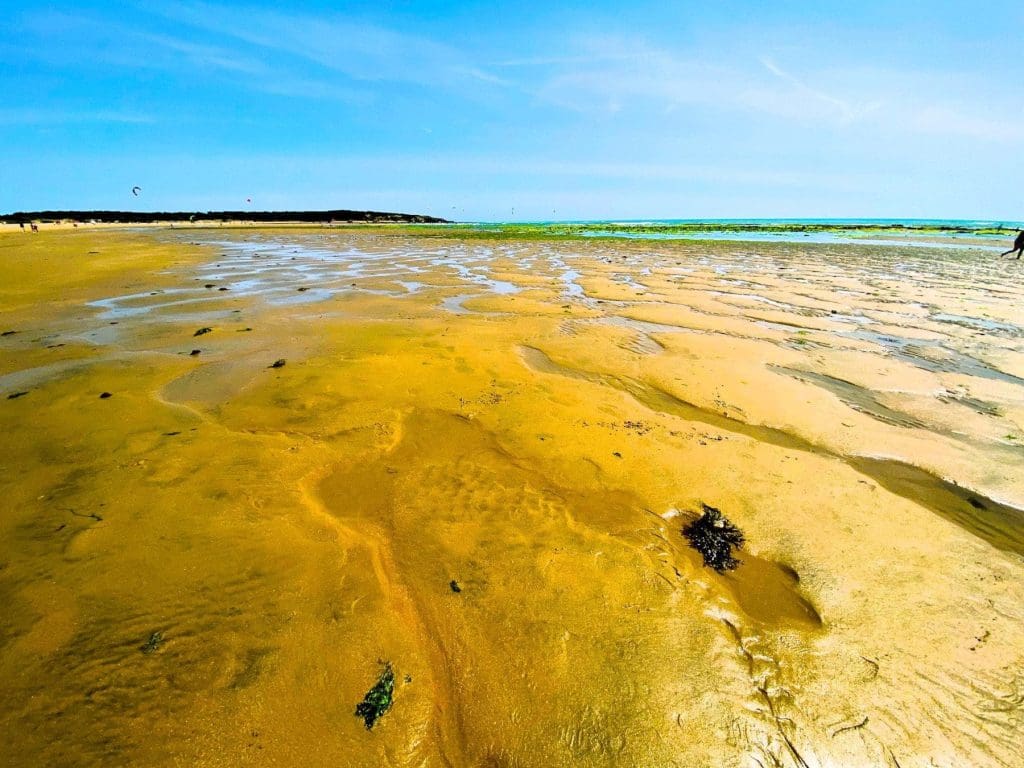 The following day we spend a lazy time relaxing around our holiday home before heading down to the quite mesmerising Veillon beach for a lunchtime panini followed by a few hours on the beach.
Initially, I was not too impressed by the Veillon beach – I have seen far more expansive stretches of sand in recent weeks, but as I walk towards the sea, it becomes transformed. Large rocks covered by green moss break up the universality of the sand. Small children play in the pools of salt water created by the rocks looking for sea creatures.
Not for the first time on the trip, I feel an enormous sense of calm as I trace my solitary steps in the sand.
Île de Ré and La Rochelle
Apart from being located right next to one of the most wonderful beaches and surrounding oak and pine forest on the Atlantic Coast, Residence Le Domaine de Bourgenay is also an hour-and-a-half's drive from one of France's most beautiful cities.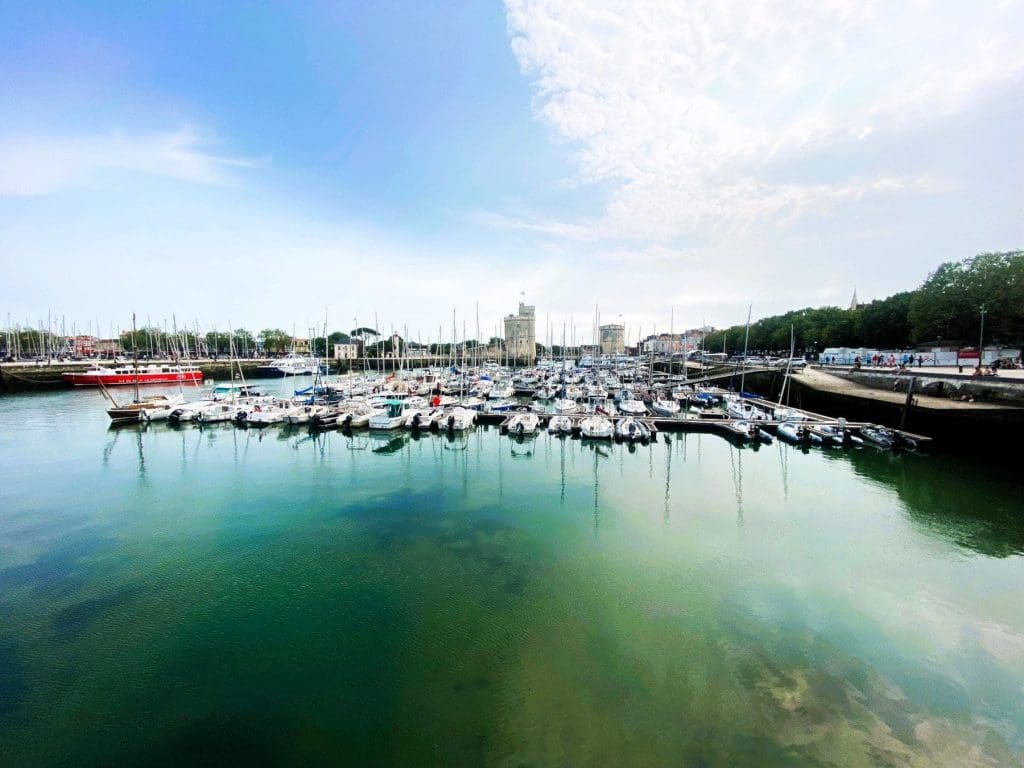 The following day, we drive to La Rochelle, stopping off for lunch at the Île de Ré, a 19-mile island separated from the land by a 1.8 mile-long bridge. We enjoy some great seafood at Le Saint Georges, a buzzing place in the old port (Port de La Flotte) on Quai de Senac, before heading for one of the island's many beaches.
In retrospect, this was probably a mistake as it limited our time in La Rochelle, which really is a beautiful city. Still, there is always next time to explore. On our return, we decide to have our final meal in the Loire at our house, under the shade of 'our' tree listening to the birdsong. It was quite blissfully deafening.
Northern France Road Trip : To Port-en-Bessin-Huppain
Our final stay was at the Residence Le Green Beach just outside Port-en-Bessin-Huppain in Normandy.
As we drive north through Brittany, the landscape perceptibly changes. It is greener and hillier. The buildings take on the appearance of Cotswolds rock, rather than the all-pervading white further south. It is far more to my taste.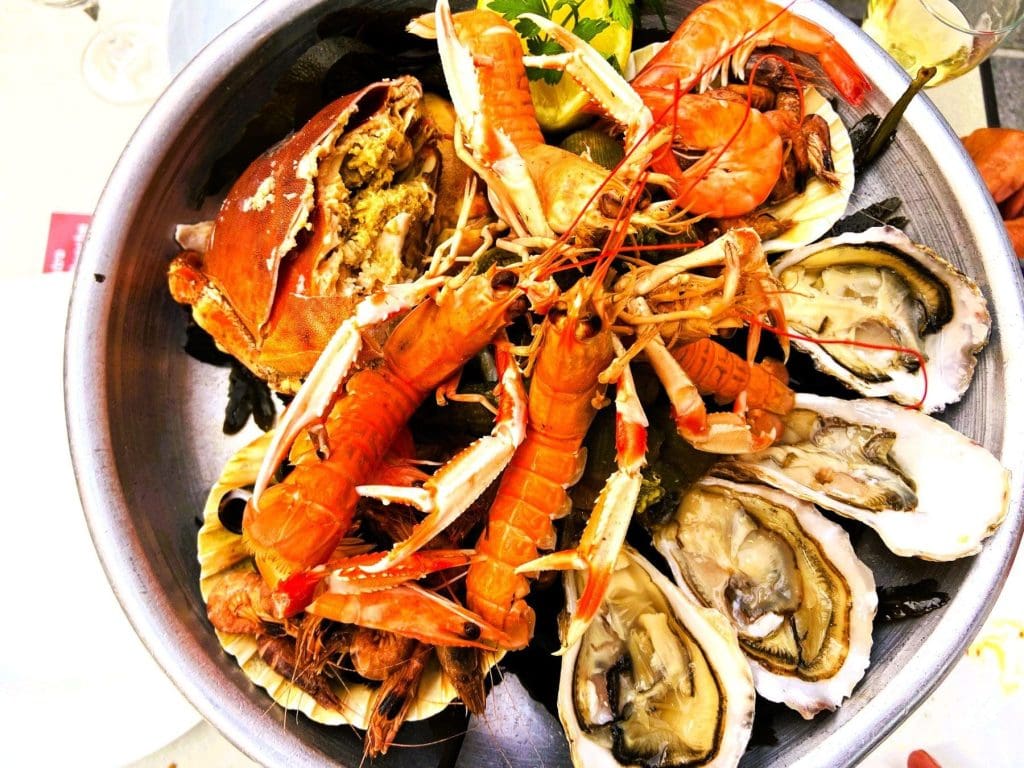 This is an area we know well from our previous road trip through Normandy and Brittany when we visited Port-en-Bessin-Huppain. So, having checked in at our final lodging we take an extremely cheap taxi into town to eat seafood and fish while watching the fishing boats ply their way slowly out to sea in order to secure the next day's catch.
Bayeux Tapestry and Omaha Beach
On our final day, the sun disappears for the first time on our road trip through France. So, we decide to drive to Bayeux a few kilometres away. The main draw is, of course, the tapestry which depicts the Norman invasion. The €12 entrance fee to the museum includes an invaluable headset.
For the next half hour or so, I walk slowly around one of the greatest historical works of art in the world. This is history being told, of the final conquest of the UK almost 1,000 years ago. It is quite amazing.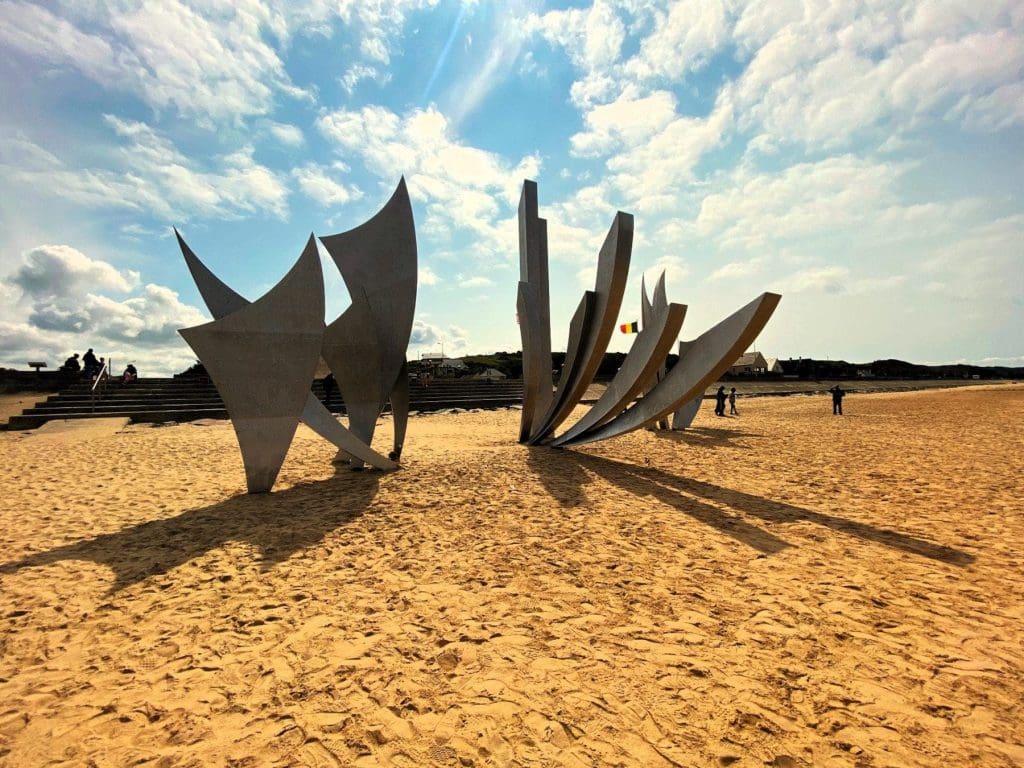 Leaving Bayeux, which is a delightful city, we head once more to the coast. It seems appropriate that my northern France road trip concludes – apart from the return driver to Dieppe – where it started a week earlier, standing on a beach staring out to sea. This time I even manage to get in a swim. But this is no normal stretch of land but Omaha Beach, where thousands of soldiers lost their lives during the D-Day Landings.
As I stand beside Les Braves (2004), an amazing sculpture by Anilore Banon, a bugler plays the Last Post as a tribute to those who fell in battle on 6 June, 1944, while visiting predominantly American tourists pay their respects. So, my northern France road trip reaches its fitting conclusion, as I think of those men and women fighting wars in other foreign lands, a tear in my eye. Endless.
---
Northern France Road Trip Photo Gallery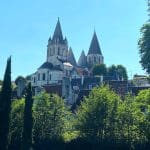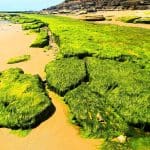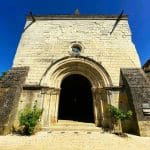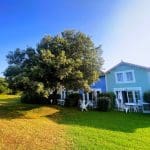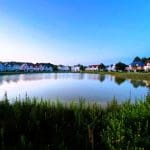 ---
Pierre & Vacances
We stayed at four Pierre & Vacances on our trip. While the facilities vary from property to property one thing was universal the space that the properties provide. Even the city hotel in Loches had a garden terrace with views of the old part of town for us to enjoy. There also was always a kitchen which allowed us to cook a couple of times and have salads for lunch thus reducing costs. All the properties had swimming pools and plenty of activities for the kids, or in our case to enjoy the peace and quiet. Highly recommended as an antidote to traditional confined hotel life.
Residence Belle Dune
A two-night self-catered stay at Pierre & Vacances Residence Belle Dune *** is from £172 in a one-bedroom apartment sleeping up to four people.
Residence Le Moulin des Cordeliers
A two-night self-catered stay at Pierre & Vacances Residence Le Moulin des Cordeliers *** is from £136 in a one-bedroom apartment sleeping up to four.
Residence Le Domaine de Bourgenay
A three-night self-catered stay at Pierre & Vacances Residence Le Domaine de Bourgenay is from £227 in a one-bedroom house sleeping up to four.
Residence Le Green Beach
A two-night self-catered stay at Pierre & Vacances Residence Le Green Beach**** is from £161 in a one-bedroom house sleeping up to five people.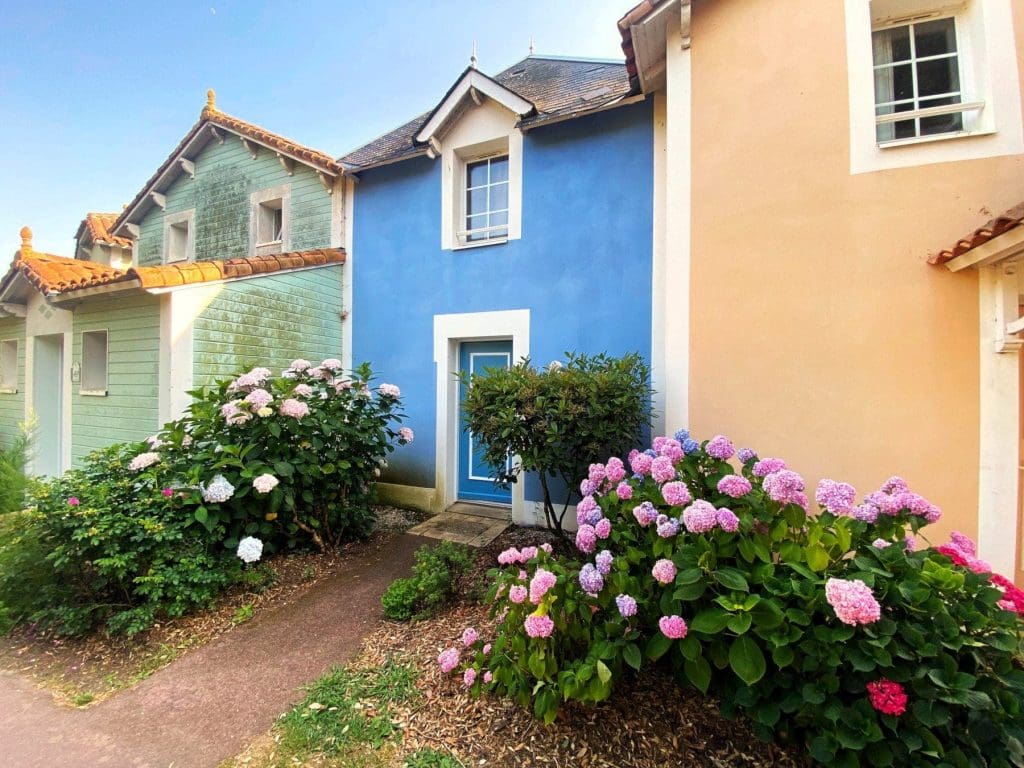 DFDS
We took the Dover to Calais ferry out, returning from Dieppe to Newhaven with DFDS. Our first crossing was short and sweet, taking an hour-and-a-half. Check in was painless and immigration a breeze. DFDS advises you arrive an hour-and-a-half before your departure, which allows you to enjoy a coffee while having a final look at the White Cliffs. The return ferry took four hours, the last of which saw the same white cliffs reappearing, albeit a few miles along the south English coast.
---
All photos by Mark Bibby Jackson.
Mark Bibby Jackson
Before setting up Travel Begins at 40, Mark was the publisher of AsiaLIFE Cambodia and a freelance travel writer. When he is not packing and unpacking his travelling bag, Mark writes novels, including To Cook A Spider and Peppered Justice. He loves walking, eating, beer, isolation and arthouse movies, as well as talking to strangers on planes, buses and trains.