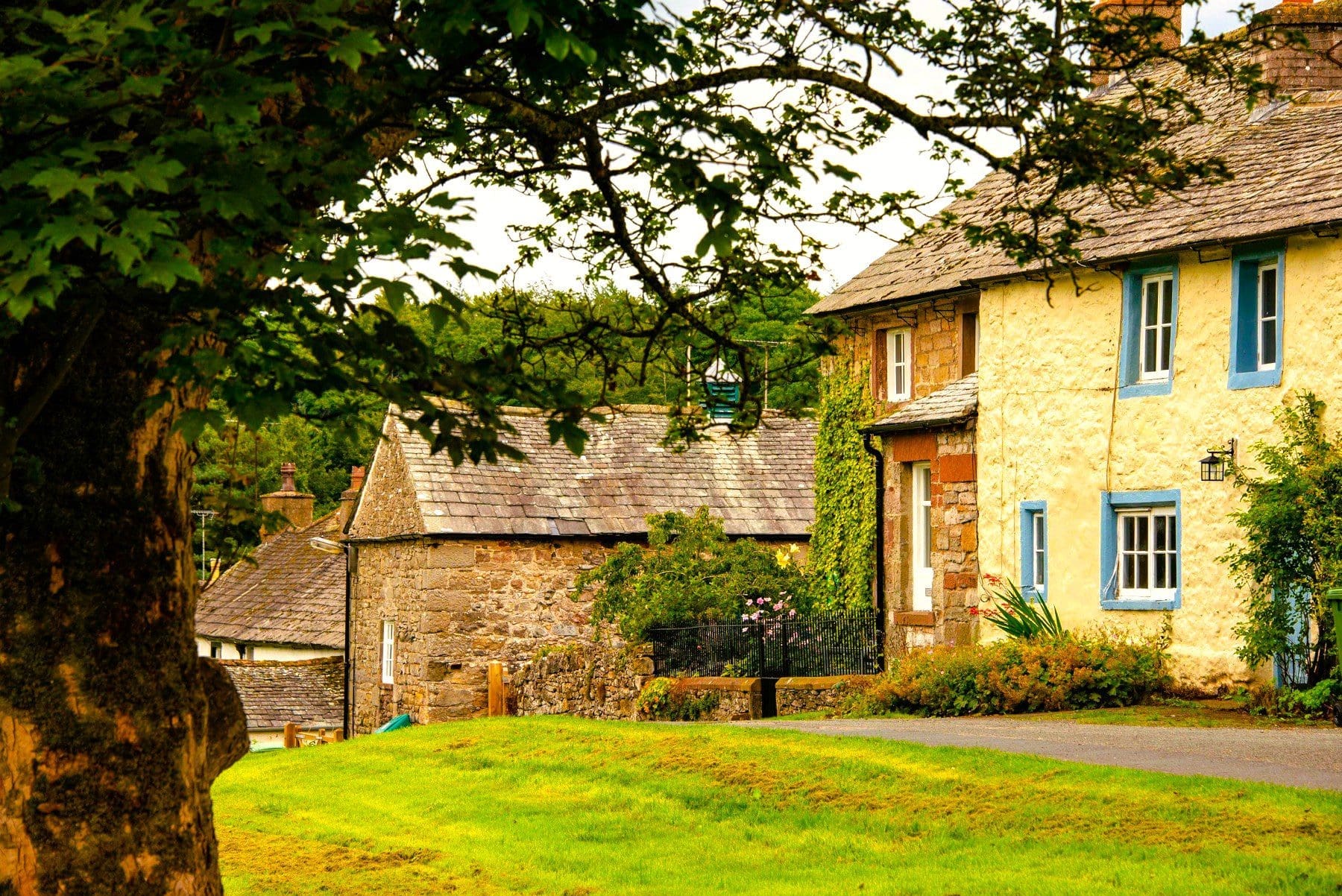 A Mini Break at Askham in the Glorious Lake District
Marion Ainge
Posted on 16th Aug 2023
Marion Ainge steams across Ullswater and savours a sumptuous afternoon tea while staying in Askham in the Lake District.
The sunlight sparkles on the water as the historic Western Belle chugs her way south from the Pooley Bridge Pier to Glenridding.
The Ullswater Steamers Cruise follows a seven-mile route along the second largest lake in the region. Passengers enjoy stunning views of the Lake District National Park, the gentle fells of the northern Ullswater, the spectacular mountain scenery of the south and the landscapes of the lush valley.
Back at the pier and it's a little more than a five-minute walk to the three-arched Pooley Bridge which straddles the River Eamont. The small village is a haven for tourists with its waterside cafés, shops and holiday accommodation.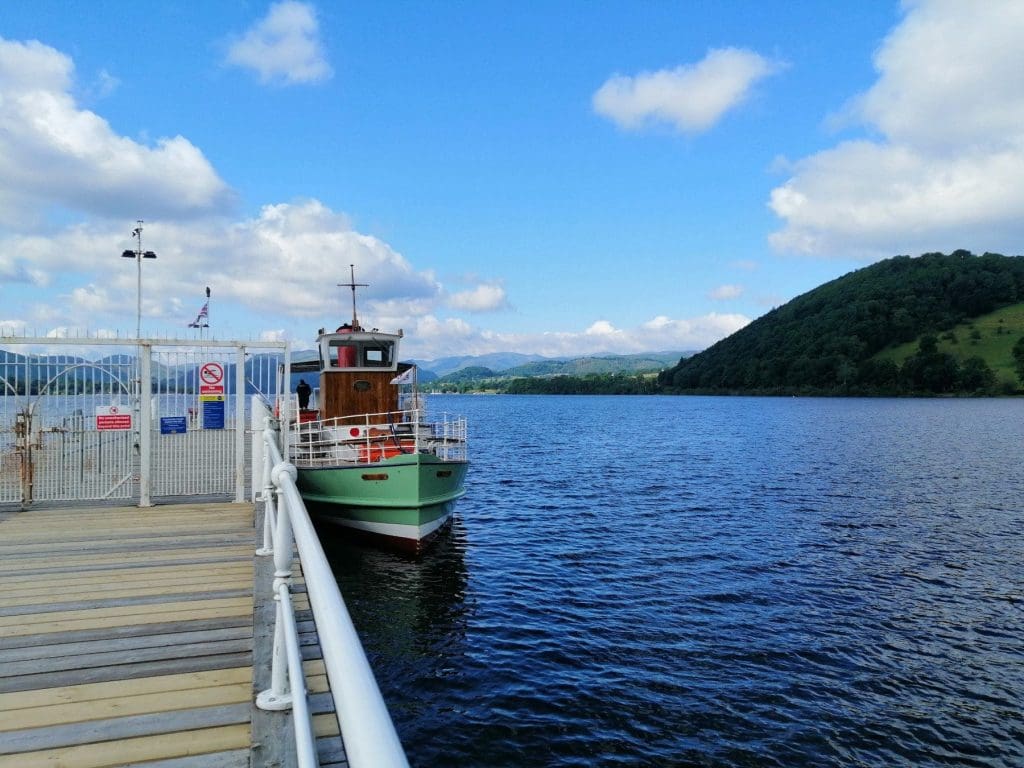 Queen's Head, Askham
We're staying in the picturesque village of Askham. Our home-from-home for two nights is the 17th century, dog-friendly Queen's Head pub which has been carefully renovated to preserve its charm and original features. Askham open air, heated 20-metre pool with plenty of grassed picnic space, showers and toilets, is just around the corner. This tranquil area of the Lake District, is an ideal spot for the exploring the fells, enjoying the Ullswater Way lake walk, riverside strolls and picnics, and visiting the ruined Lowther Castle and other attractions.
Our bedroom, just one of six, is tucked away and accessed by stone steps. We love our room with large antique wardrobe, twin Victorian-style mahogany beds with soft, pure cotton bedding, bath robes plus tea/coffee-making facilities and even a little paved, outside terrace area where we sit in the sunshine with a coffee. The huge bathroom has multi-coloured, contemporary floor tiles and  shower.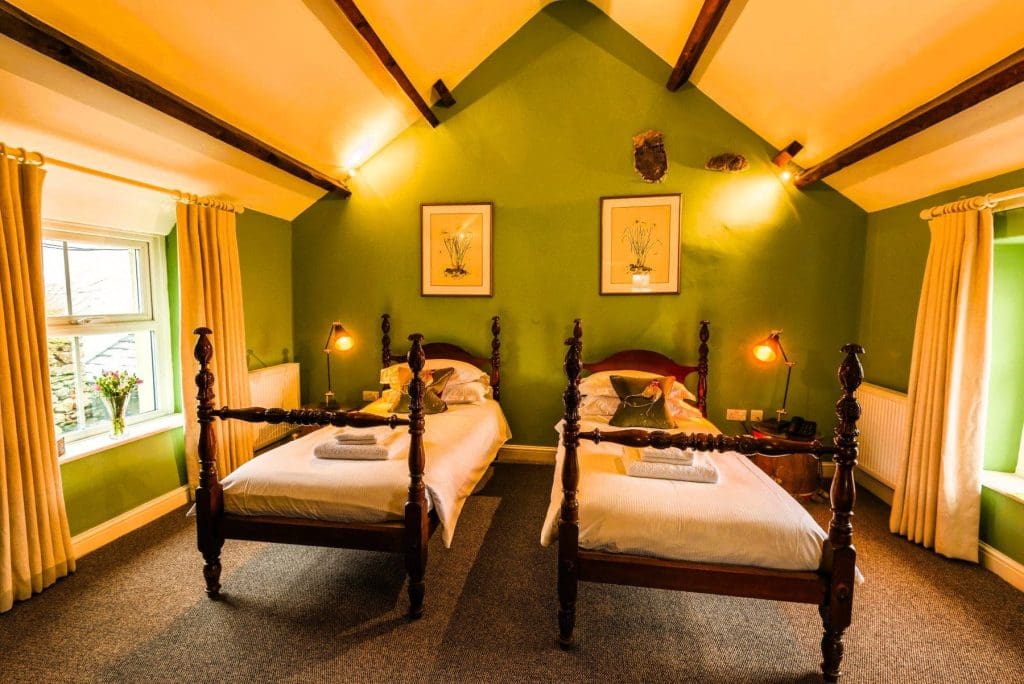 The lounge/bar comes alive in the evening when residents and locals stand and chat by the copper-topped bar. It's charming and full of character with stone walls, exposed beamed ceiling and an old fireplace where logs roar and crackle in the winter. The young, enthusiastic team are smiling and helpful.
Presentation is clearly an important element in the restaurant's seasonal 'posh' pub food  We savour tasty little amuse bouche appetisers. Then, across the table, the Chalk Stream trout tartare served stylishly with beetroot, apple and cucumber is declared a pleasantly light, fresh starter. I opt for a fluffy St Andrew's cheddar cheese souffle with summer truffle. My choice of tender Meaburn lamb, served alongside puy lentils, gherkin ketchup and Jersey royals forms a kaleidoscope pattern of colour and shapes on the plate. The Gigha halibut is perfectly cooked, but my travel partner feels the portion is a little on the small side for his healthy appetite. It comes with shrimp potato salad, peas, samphire and mace hollandaise accompaniments. Sweet treats include Lowther honey tart, nectarine and vanilla ice cream.
George and Dragon, Clifton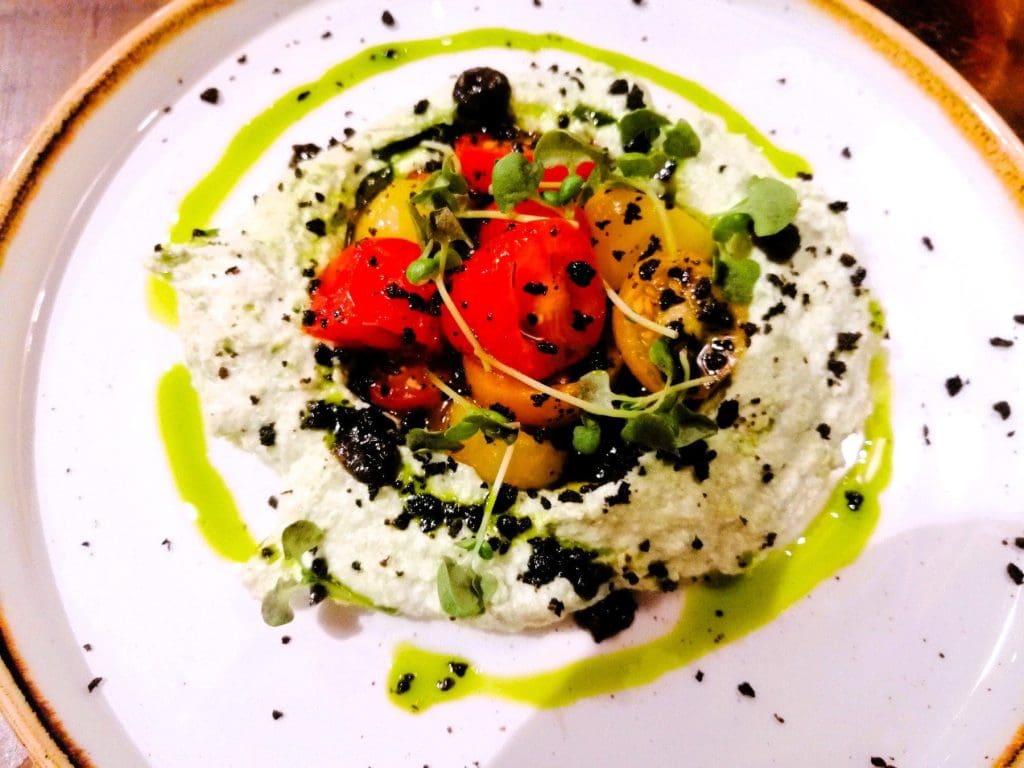 Also owned by the Lowther family, is the renovated George and Dragon residential country inn, only about 10 minutes' drive from the Queen's Head and situated at Clifton, near Penrith. It's popular with visitors and locals alike with a great atmosphere and an appealing menu. We share delicious starters of tapenade, hummus, marinated tomatoes, whipped basil ricotta, and scallop plus king prawn and crab café de Paris butter. Reportedly, the huge rib-eye steak is juicy and flavoursome. My slow-cooked beef is meltingly tender served with garden greens. The fig tarte tatin with wedge of blue Whinney cheese plus a sour apple chutney and thyme honey deserves a special mention.
Rheged Arts and Creativity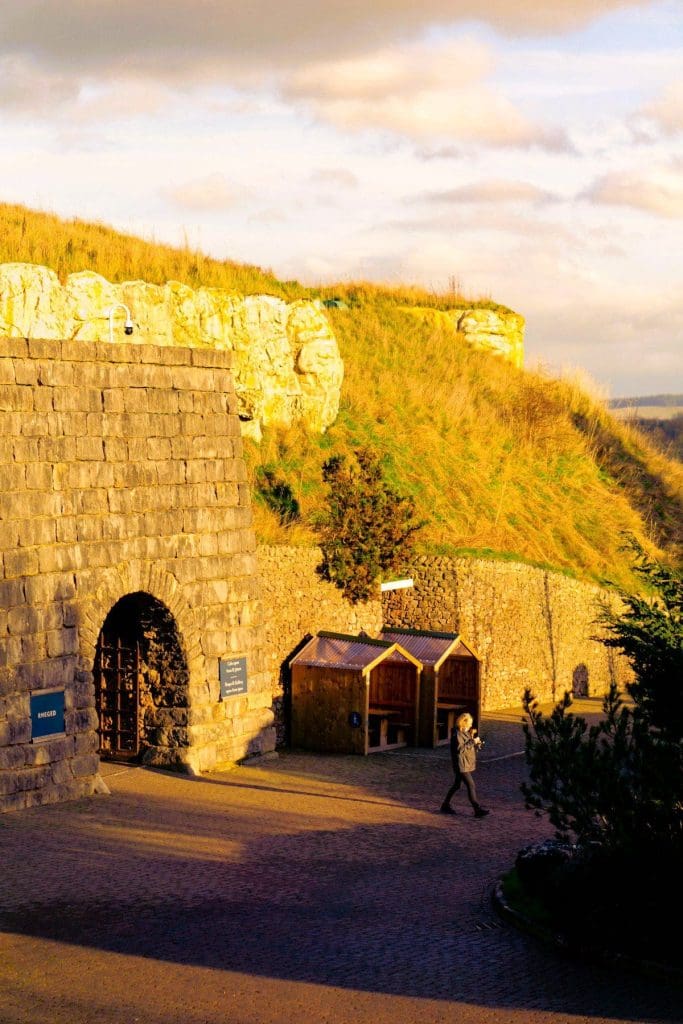 Built in 2000, nearby Rheged, Penrith, is the contemporary, year-round attraction which celebrates Cumbria's landscape, food and culture through a changing programme of films and talks, art exhibitions, independent shops, an indoor play area, a 'Making Space' area with a Decopatch activity plus cafe and deli. There's no entrance fee! Grass-roofed and constructed in a former quarry, it's one of the largest visitor attractions to open in Cumbria.
Rheged has a 60ft cinema screen, and the latest 4K laser projector has just been installed. The café and delicatessen offers delicious cakes and fresh food with a distinct Cumbrian flavour. There are workshops and other imaginative activities/events. The Great Print Exhibition is one of four gallery exhibitions which are held during the year.
Dalemain House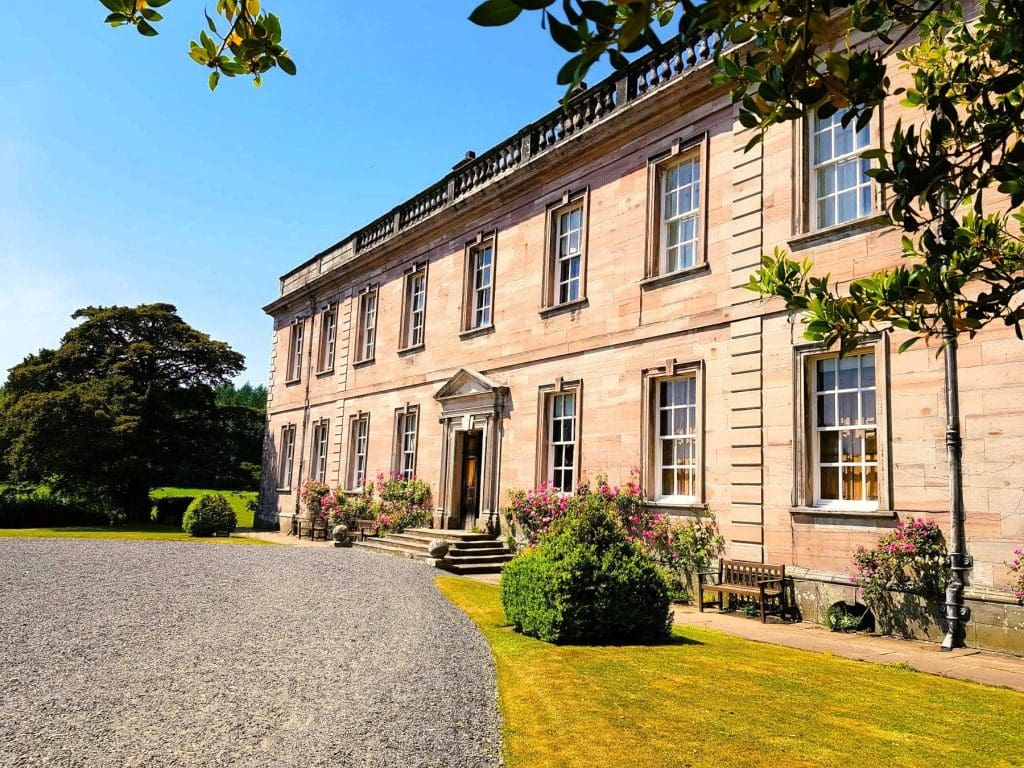 Dalemain historic country house has been owned by the Hasell family of Westmorland since the 17th century. During our guided tour, we see examples of Chippendale furniture, ceramics, family portraits, 18th century hand-painted Chinese wallpaper and a priest's hole. Dalemain rests in around five acres of stunning, award-winning gardens and a deer park within a Unesco Heritage Site about five miles from Penrith.
Hundreds of volunteers help to run the annual Dalemain World Marmalade Awards. The annual Marmalade Festival is held in April for tasting and judging, when marmalade spills out of every area of the mansion. We  exclaim over the glorious rhubarb version spread with clotted cream on the famous Dalemain home-made fruit scones in the cafe. The afternoon tea includes mini sandwiches, artisan tomato focaccia and marmalade-glazed sausage rolls. But oh, the cakes! Mini chocolate eclairs, cream and fruit-filled meringue nests, marmalade sticky ginger cake, sherry trifle and more! Afternoon tea and marmalade at Dalemain certainly gets my vote!
---
Things To Do in the Lake District
For further information on what to do in the Lake District, we suggest you go to www.visitlakedistrict.com. You can also read Mark Bibby Jackson's account when he stayed in Gilpin Lake House in the Lake District.
Queen's Head Askham, rooms from £130 to £180 per night.
Marion Ainge
Independent and ready to go! North West UK-based travel journalist (former newspaper women's editor/columnist) loves life and new adventures.