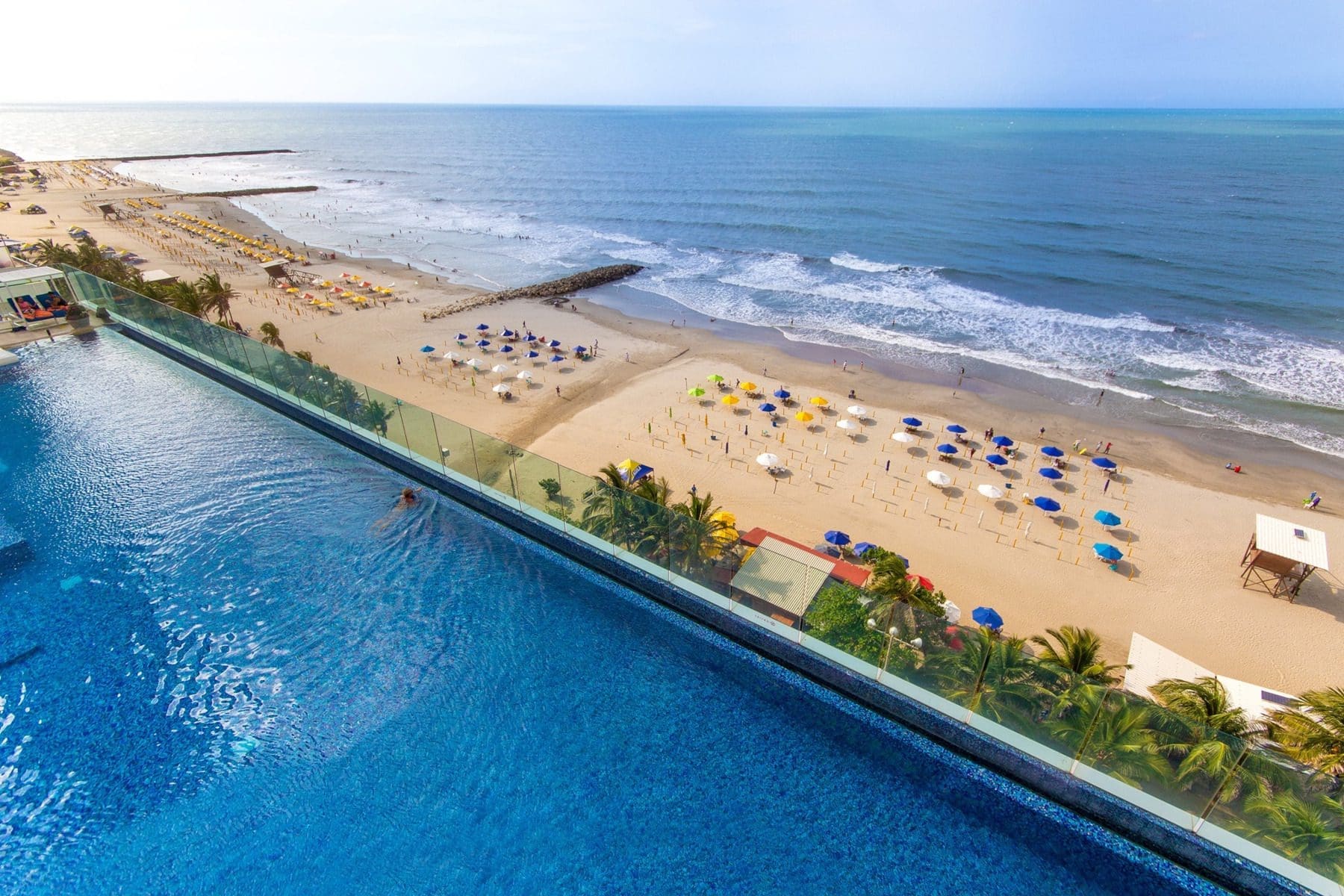 Celebrating the Local at the InterContinental Cartagena de Indias
Mike East
Posted on 10th Aug 2023
Mike East stays at the InterContinental Cartagena de Indias Hotel, Bocagrande Colombia and is impressed by the hotel's celebration of the local.
The Intercontinental Hotel InterContinental Cartagena de Indias is in Bocagrande, right by the beach, though it is only a short drive to the south of the old world magnificence of the walled city. The InterContinental may not have hosted the governors of Spain's once mighty empire, but it stakes its claim to its own slice of more recent history and glamour.
Arriving at the InterContinental Cartagena de Indias
Greeting you before you get to the doors and looking out to sea is a reclining Idan Zareski statue, striking and hinting at the pampering that I was about to experience. I paused, pleasantly surprised to find something with feet bigger than mine, until the heat and the drag of my bags on my arms drove me inside.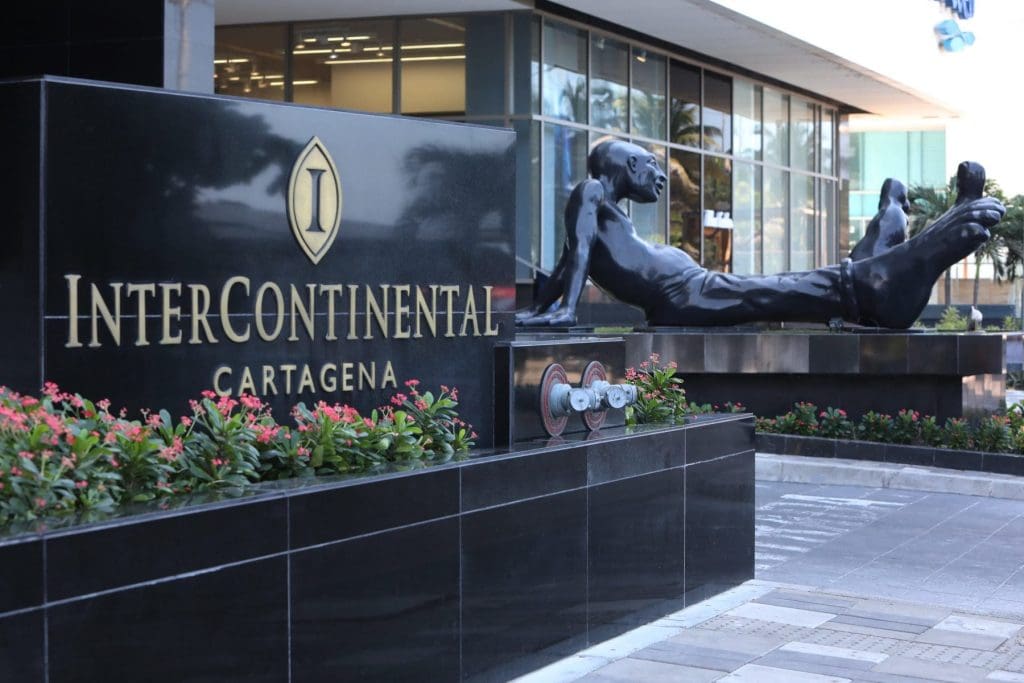 Out from the cooled reception area is a large sundeck and an infinity pool that stretches 50 metres, almost across the whole area, and offers great views down to the beach. Like all of us who love the water, this is where I began, burning calories, doing my lengths before buffet breakfast at the Kanuu International, just a few steps inside. Arranged at precise intervals, stations of hot and cold food and chefs waiting to prepare your eggs, exactly as desired, get you charged up for the rest of your day. It is open 24 hours and offers a wide range of meals and snacks from around the globe, along with excellent local dishes.
The hotel has 285 rooms. These include 26 suites; the bathroom of mine alone seemed considerably bigger than my own apartment. If you book a suite, you become a member of the club on floor 15, an expansive open plan lounge, with muted news channels, which always has a range of fruit and snacks available. When happy hour comes along, there is a greater range of food and free alcoholic beverages.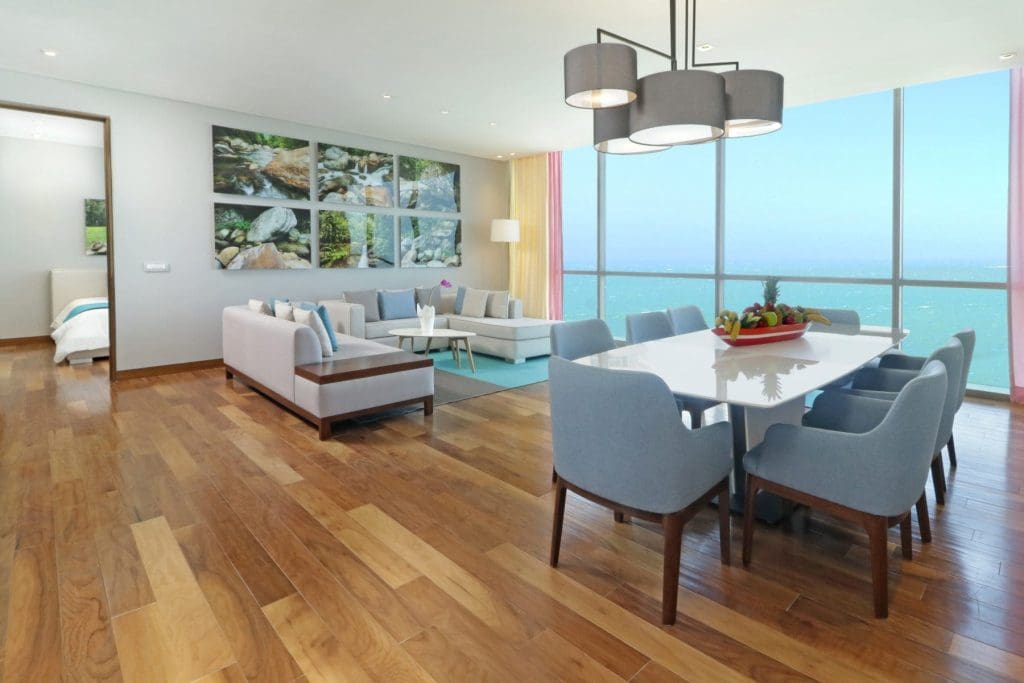 Celebrating the Local … and Famous
Staying at the InterContinental Cartagena gave me insight as to how some hotels are adapting to climate change by using smart solutions. Twenty of the rooms are now voice activated and the increased use of motion detectors is cutting wasted energy by 15 to 20%.
The InterContinental Cartagena celebrates the local. The Fundaciόn Indhyluna is hosted rent free and sells a range of products that help the victims of Colombia's long running civil conflict, whilst Lotto del Sur has a range of soaps and creams.
And that piece of history? Well, star watchers you can follow the greats here. The InterContinental hosted Will Smith in the Presidential Suite during the filming of Gemini Man, the 2019 science fiction action movie, where Will Smith fought against a ruthless villain sent to assassinate him — another Will Smith.
---
Things to Do in Bocagrande Colombia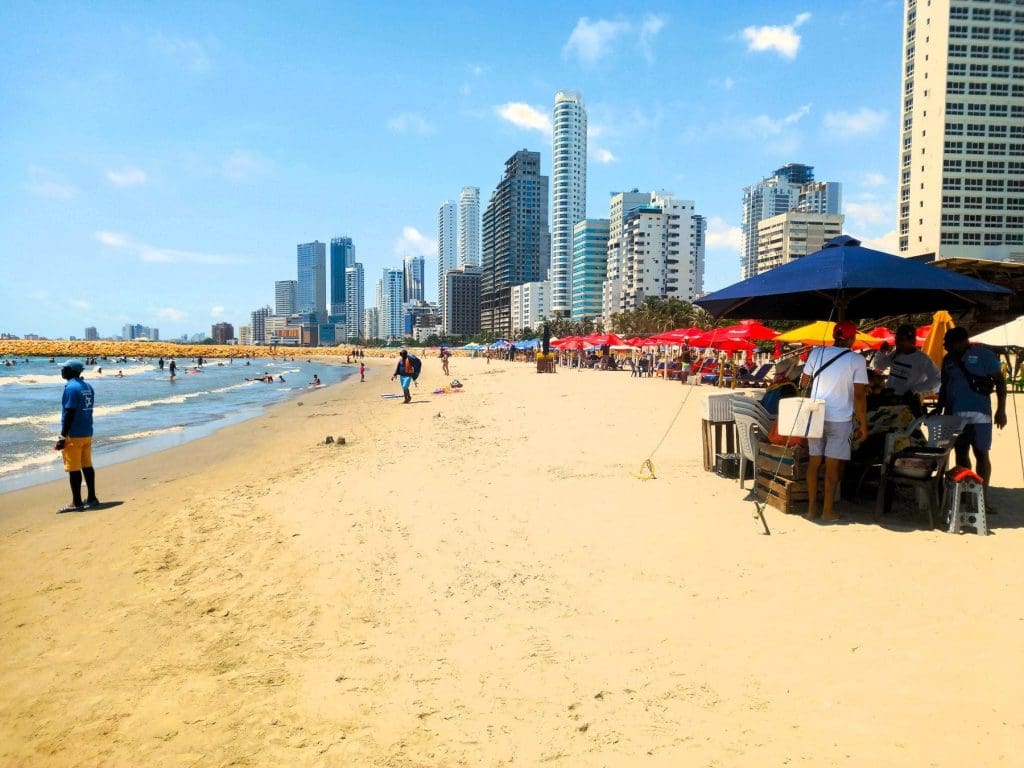 Bocagrande is the modern and the new, in contrast to the past glories of old Cartagena. It is also one long stretch of beach. In many sections there are beach umbrellas to rent, not a bad idea considering the strength of the sun. There are also jet skis for rent, if you wish, and hawkers will pass by, or perhaps not, so be ready to practice your polite but firm, "No, gracias".
Away from the beach road there are malls and a range of craft and touristy shops. To get to the old city look out for the fleets of yellow taxis that flow by, but also remember the local buses that will take you there for a few pennies.
The Walled City and Cartagena
For more on what to see in the historic centre of the city, read Local Tourism in Cartagena Colombia.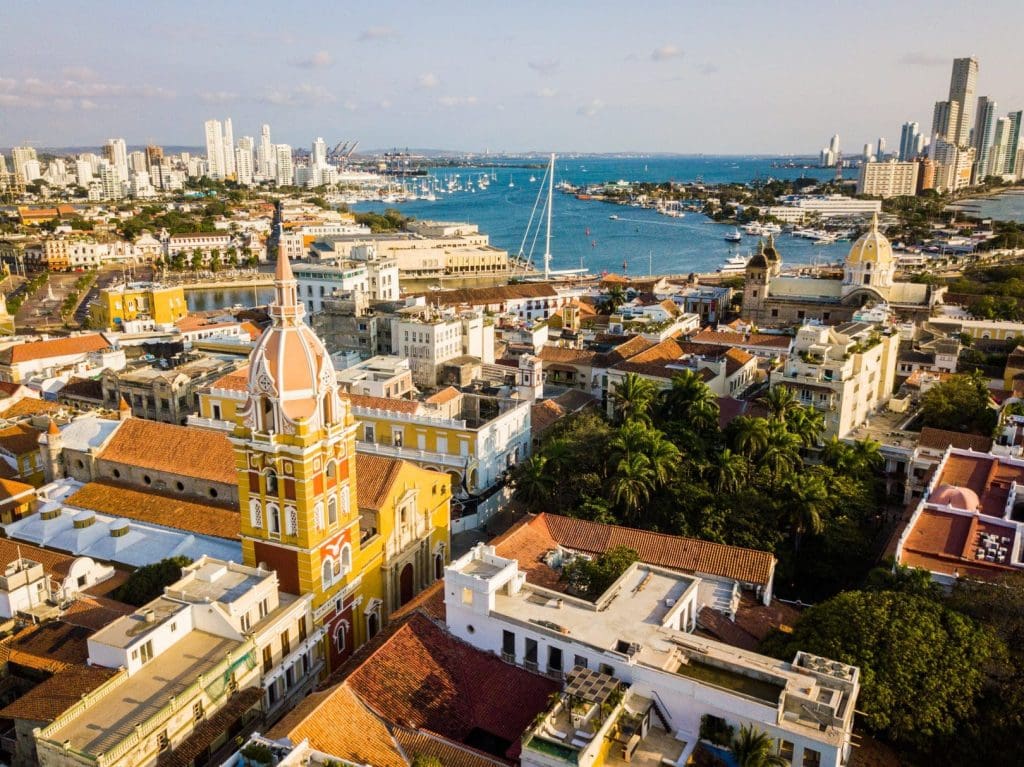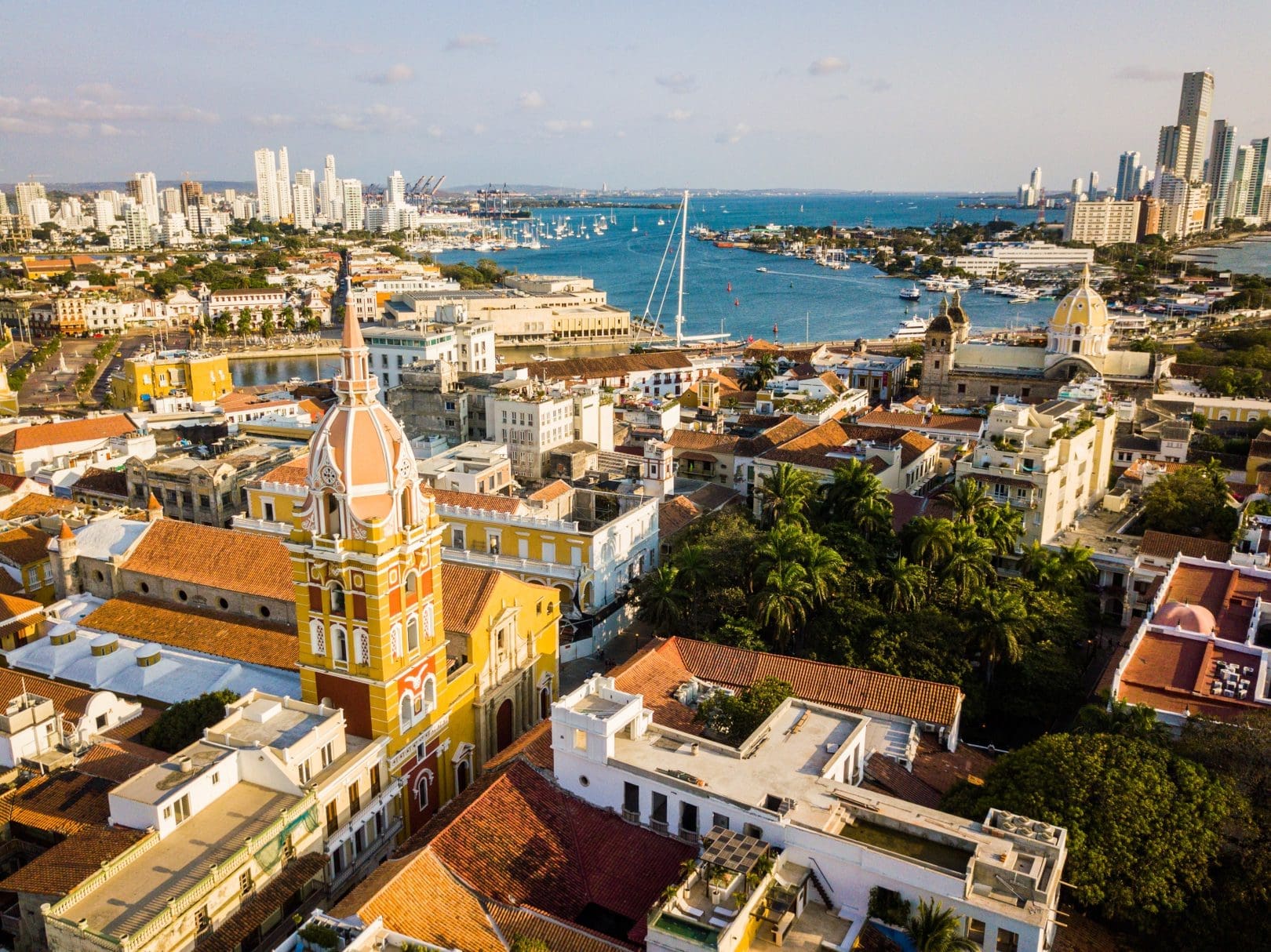 How to Get To Cartagena
Avianca fly direct from London Heathrow to Bogota. From the USA there are direct flights to Bogota from Miami, Fort Lauderdale, Orlando, Atlanta, New York, Houston, Los Angeles and Washington DC.
Avianca and Wingo have direct local flights from Bogota to Cartagena. Please use our comparison engine.
The InterContinental Cartagena de Indias
Book your stay at the hotel here, unless you wish to use our booking engine above.
Weather and the Best Time to Visit Cartagena
Cartagena is warm to hot throughout the year, but slightly cooler from December to April. There is a lot of rain in October.
Further Information on Cartagena
Go to https://colombia.travel/en/cartagena-de-indias.
---
All photos courtesy of the hotel unless stated.
Mike East
Mike began his career in travel writing by going overseas during his holidays and writing his own guide. He then sent this manuscript off to a range of travel guide companies and got a range of rejection letters — all except one. Getting a contract to write for Roger Lascelles Publications on the Caribbean islands of Trinidad and Tobago and The Bahamas was how his career began. With this opportunity came other pieces for British magazines and The Sunday Telegraph.