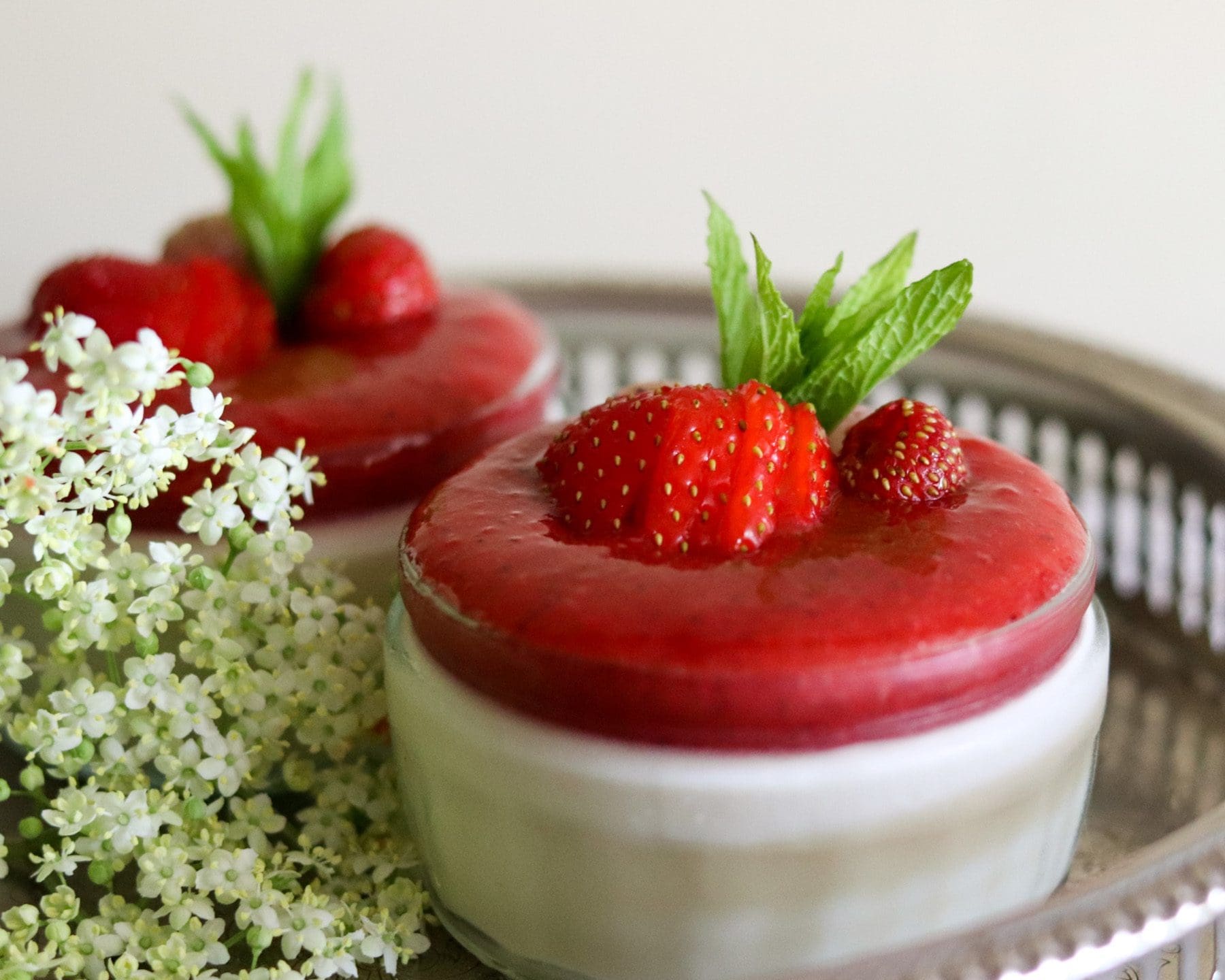 Cookery Course at Mrs Portly's Kitchen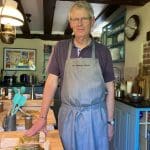 Roger Hermiston
Posted on 15th Aug 2023
Roger Hermiston takes a cookery course from Linda Duffin of Mrs Portly's Kitchen in Brockford, Suffolk.
It seems that there's a word for it – but I'll wager you've never heard of it. It's called mageirocophobia – fear of cooking. In good old Wikipedia it's a 'common social anxiety caused by negative reactions to common culinary mishaps'.
Now I don't really believe I have the 'M' word, even if I do very little, if any, cooking in our household (although I do pull my weight in many other directions!). But as I contemplated a whole Saturday taking part in a cookery course (chuntering to myself that I could have been on the golf course) I began to feel a little apprehensive.
Mrs Portly's Kitchen Cookery Class
Images of those poor, harassed amateur chefs on the myriad of TV cooking shows, castigated by their unempathetic masters for undercooked vegetables, charred meat or even just unattractive assembling on the plate, flashed through my mind. Horror of horrors, I imagined I would be entering a competitive cooking environment, my inexperience and flaws in the kitchen brutally, embarrassingly exposed for all to see.
Eileen, my partner in life, and I were heading to the village of Brockford, in pretty mid-Suffolk, for a day in 'Mrs Portly's Kitchen' cookery class. Would Mrs P – aka Linda Duffin – nourish the mind and whet the appetite of a culinary refusenik like me? Would the 'Plot to Pot' course simmer gently under her expert guidance?
Linda has built a strong reputation in the food world in recent years as writer, blogger and now teacher. A member of the Guild of Food Writers, she has a regular column in the Suffolk Magazine, pens her informative and amusing food blog 'Mrs Portly's Kitchen', comperes at events such as the Aldeburgh Food and Drink Festival, and is much in demand on radio and TV because of her previous broadcasting skills.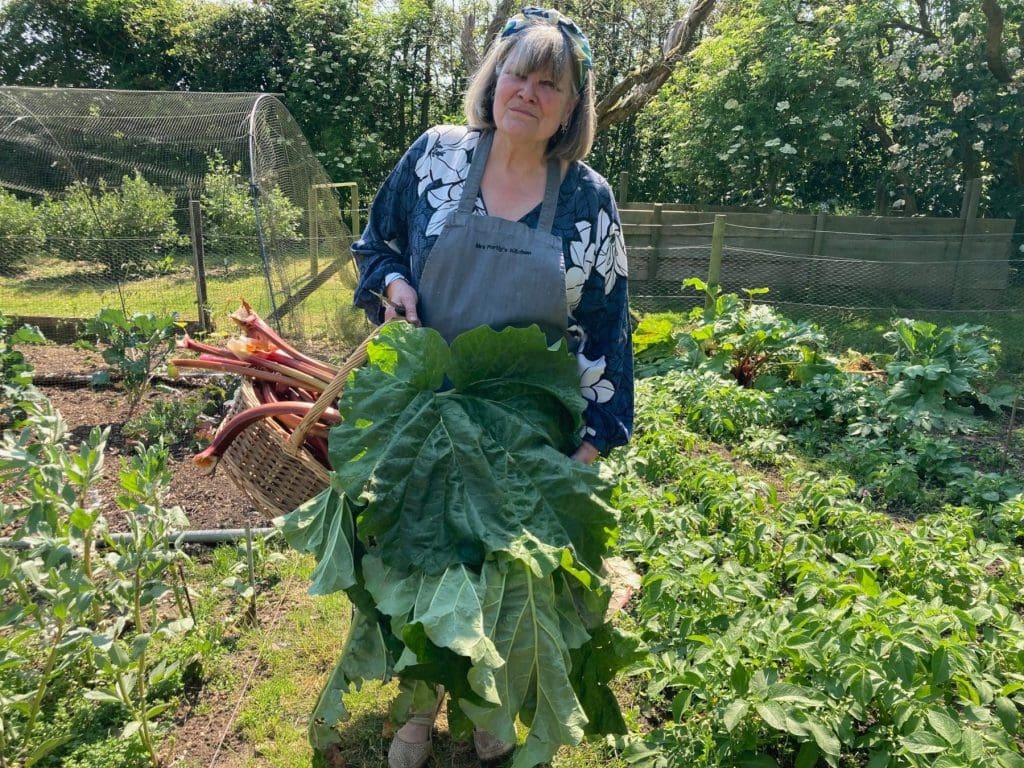 Linda Duffin
First, a resume about the latter. For most of her working life Linda has been a journalist, primarily a 'hard news' reporter, enjoying a stellar career which began in her teens on her local paper the Chelmswood and Castle Bromwich News, and reached the heights with reporting for Sky News TV and presenting The World Today on the BBC World Service Radio.
In between she 'worked everywhere' as she pursued her love of broadcasting – a stint at BRMB (now Free Radio Birmingham), graduation from the National Broadcasting School, spells at Radio Tees in Middlesbrough and Invicta Radio in Kent, then on to television with periods at London Weekend Television and ITN.
Linda generally preferred commercial radio and TV to the 'stuffier' BBC – although she did work continuously at the Beeb for a decade, with stints as both a radio and TV reporter. She also worked in the Business Unit, was courted by Today on BBC Radio 4, and, as already mentioned, co-presented the flagship news and current affairs radio programme The World Today.
As a reporter at Sky News she did 'everything from skateboarding ducks to wars', and was entrusted with establishing a new office in Dublin. All in all, then, an exhilarating, fulfilling career – but an exacting one too. Then things began to change thirteen years ago when Linda and husband Robert (both still working in London), contemplating a slower pace of life, bought a somewhat dilapidated five-bedroomed Tudor dwelling, Bridge House, in Brockford, near the town of Stowmarket.
A change of scene, and a switch of profession beckoned. Linda briefly considered the logical move, for a journalist, into the world of PR. 'But I'm really not good at being emollient', she admits frankly. Gradually the idea of building a new career combining her writing skills with her other great passion, food, began to form.
Mrs Portly's Kitchen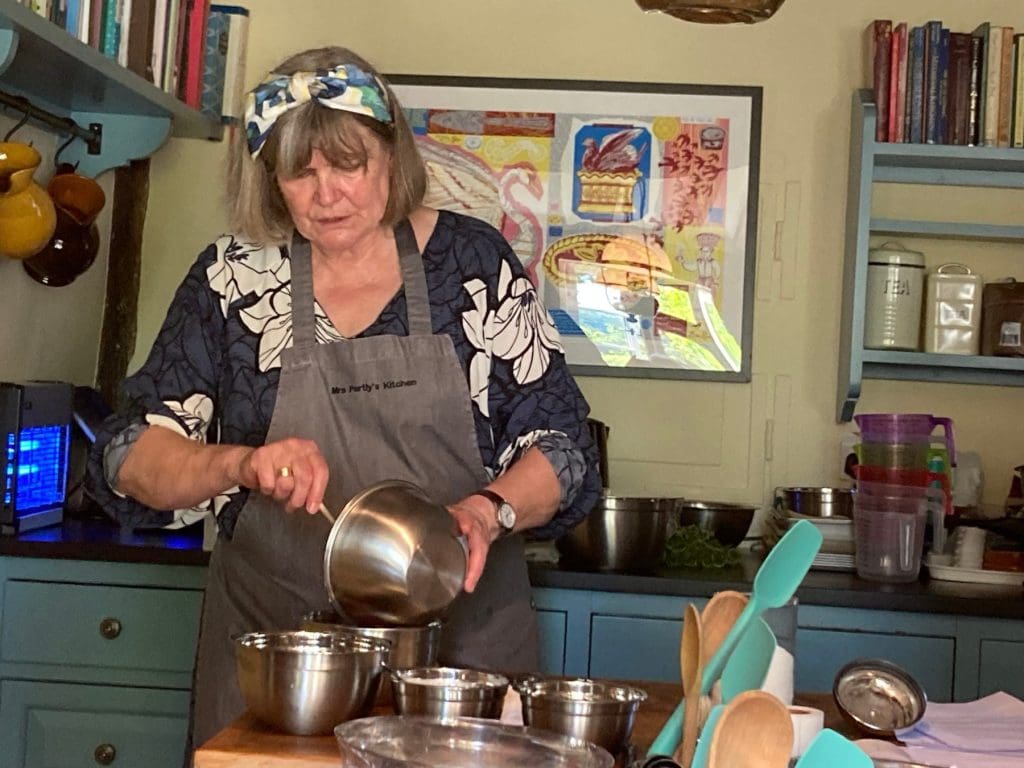 The blog, 'Mrs Portly's Kitchen – a Suffolk Aga Saga' (Portly is a play on Linda's married name of Paulley), came first. It was engaging and informative – often with contributions from local food producers in the area, who Linda had befriended – and it came to the attention of the editor of the Suffolk Magazine, Jayne Lindill.
Linda recalls, 'She came over to see me, and she said, 'I really like the way you write, you're very funny – would you like to write a cookery column for me?' I said, yes, absolutely, although I soon discovered it is much harder to be funny to order. Nevertheless, it has morphed successfully over the years and I have also written a lot of features for Jane, principally food-related, and mostly about local producers because we have such a lot of amazing ones in Suffolk'.
So, the writing was going well – Linda even wrote a gardening column, although she confesses she is on that front, 'what my friend calls a plonker – if I see a hole in the garden, I plonk a plant in it!' She concedes that the greater gardening expertise in the household comes from husband Robert – 'Him Outdoors', as she affectionately refers to him.
But with the generously-proportioned Grade 2 listed Bridge House now renovated, and the basis of a lovely garden already there thanks to the care of the previous owner, the idea of using both for cookery classes began to germinate in Linda's mind. The orchard was completely replanted and a substantial kitchen garden was also developed. The notion of hosting classes had now firmly taken root, and by early 2020 Linda decided to take the plunge.
She was nicely underway, with three classes under her belt, when Covid struck. She had to close for a year, a devastating blow with no immediate return on all the investment she had made into a website, photography, insurance, public liability and so on – and most importantly, missing the challenge and pleasure of teaching and developing people's kitchen skills.
But when she returned public interest in her courses quickly resumed. She runs an eclectic mix to cater for all tastes – including 'Plot to Pot' (vegetarian), 'Italian Cooking Experience' (pasta varieties), 'Cooking Under Pressure' (no, not ten minutes to make a meal but how to work with a pressure cooker), 'World Breads' (self-explanatory) and 'Game On' (a demonstration of preparation and butchery, before making your own venison Wellington or rabbit rissole). Linda adds new ones as invention takes her, and in addition interested parties can request their own bespoke course.
Plot to Pot Cookery Course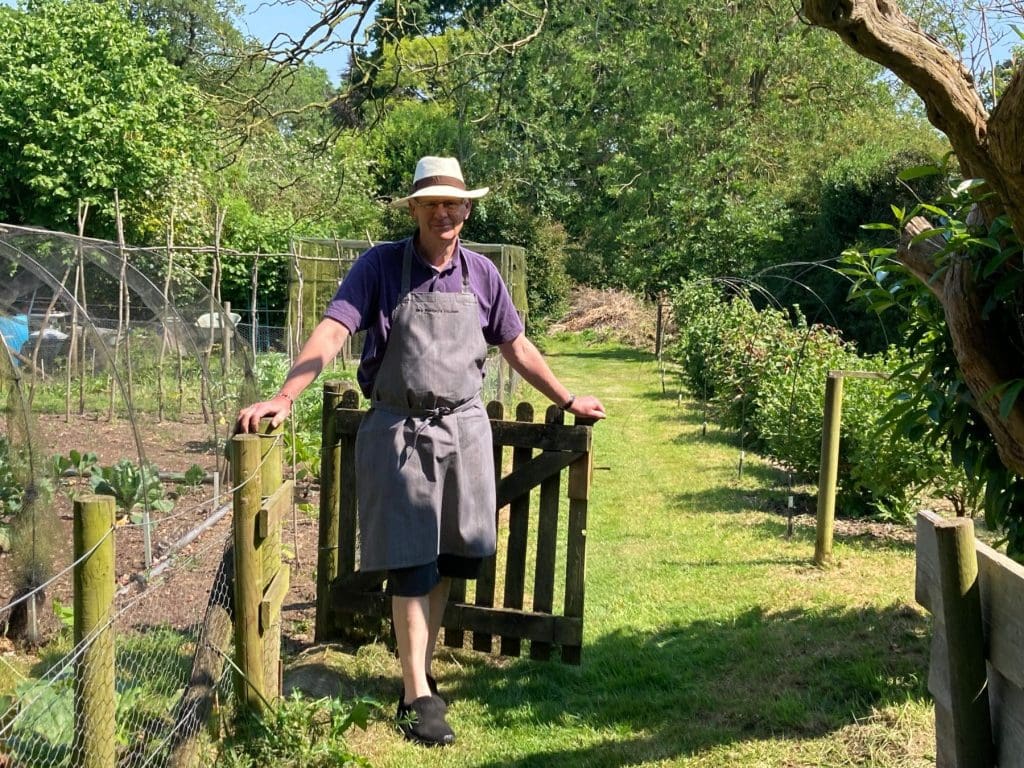 There were six of us with varying degrees of culinary competence on the 'Plot to Pot' course, four women and two men, and at 9.45 sharp on a glorious summer's day Linda first put us to work in her kitchen garden, gathering the potatoes, vegetables, herbs and fruit that would make up the ingredients for our dishes. Linda's hens Snowball and Speckle clucked disdainfully from their nearby run while black cats Vandal and Minnie, who hovered around the action for much of the day, wisely elected to lie in the shade.
I elected to dig for potatoes and was gratified to unearth a splendid crop. It was a satisfyingly communal effort for the group, breaking down any barriers – in fact we would be in excellent harmony throughout the day – and imbuing us with anticipation for the creative kitchen work ahead.
Once inside, I was continually drawn to two walls in Linda's spacious farmhouse kitchen. One contained the largest and most stylish spice rack I have ever seen, with the most amazing array of colourful jars. The other contained shelves with a widespread collection of cookbooks from all around the world, with my gaze continually drawn to one about Palestinian food.
The group's work for the next five or six hours, with a break for lunch – naturally of our own making – took place around an impressive pine table, with Linda at the head, conveniently close to the sink, and the six of us, three on each side, awaiting her guidance.
The esprit de corps established in the kitchen garden continued as we went about our activity – cutting, chopping, washing, kneading – in a relaxed, convivial atmosphere. We concentrated on Linda's instructions, which were concise and clear, and everyone assisted their next-door-neighbour if things went awry. Linda's friend and neighbour Rindy Cresswell was a vital presence too, clearing up, washing and helping keep the show on the road.
Proof of the Focaccia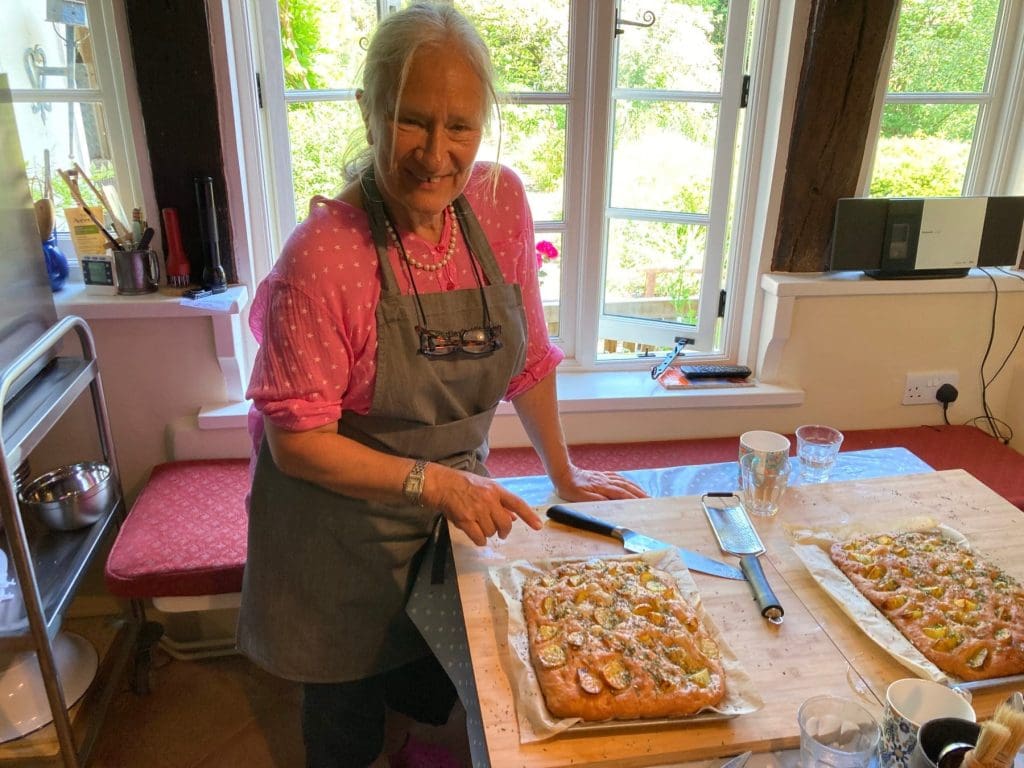 First of all, we set about making focaccia bread with potatoes, a task we would return to on and off throughout the day as the dough gradually thickened and rose. Lifting and stretching it, taking care not to break it, folding it at various intervals, mixing in the olive oil – it was a satisfying and strangely therapeutic experience. Later in the day we would use our fingers to create little indents so as to be able to push in the potato wedges – my potatoes, picked by my own fair hand! – before putting the bread in the oven. We then chopped the fresh rosemary we had gathered, added garlic and sea salt and scattered it over the baked bread, before finally pouring on a little more olive oil.
The end product was simply delicious. How do I know? Because at the end of proceedings the group was able to take home all the fruits of our day's labours. Within a couple of days, with a little help from family, Eileen and I had swiftly demolished the first of our focaccia breads, finding it went perfectly with some cheese and another of the dishes we made with Linda – an absolutely stupendous rhubarb and ginger chutney.
Our other bounty were tasty asparagus tarts and a delicious – and not too sweet – elderflower and buttermilk pudding with strawberry coulis. For lunch our radishes from the kitchen garden were a vital part of a smoked mackerel and pickled radish bruschetta, the recipe for which we took from the excellent Olive magazine.
It was an intense but extremely rewarding day. Just like the round of golf I was missing, you lose yourself in the experience and are immersed in your own little world. You learn new skills and come away with a sense of pride at the delicious food you have helped to create.
Linda is clearly in her element, and creates a relaxed working environment, taking the pressure off the nervous types like myself. 'As a journalist I was never able to deconstruct what I did in order to teach others', she admits. 'But I love teaching cooking, I like the give and take, the to and fro, and I love seeing people's faces when they have made something special'.
Staying in The Old Surgery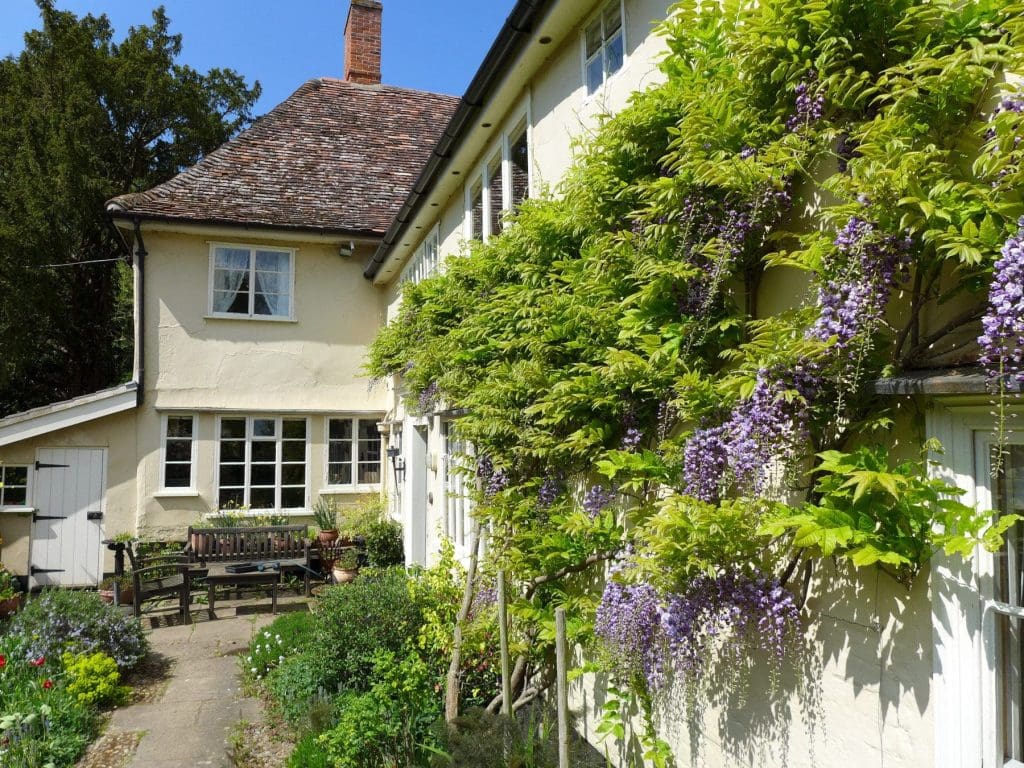 Those coming on the course – and anyone else – are able to book in for bed and breakfast in the main house, in the spacious, light, airy Georgian Room at the top of the building, complete with ensuite bathroom, king-sized four poster bed, comfortable armchairs and antique desk.
They can also enjoy a stay – as Eileen and I did – in the adjoining self-contained ground floor apartment, named The Old Surgery after its previous manifestation. We enjoyed a good night's sleep ahead of our kitchen labours, and – as bookworms – relished exploring the shelves in the comfortable sitting room. Linda and Robert's catholic tastes very much mirrored our own.
A complimentary basket of Linda's delicious home-made bread and preserves was provided for breakfast, a foretaste of what was to come. And outside, on our own outdoor terrace, it was most pleasant to sit out and enjoy the last sun of the day.
So, no Gordon Ramsey, nor that reproachful woman I remember from MasterChef a few years back. Any cooking ghosts were laid after an absorbing, stimulating day. And I will eat the rhubarb and ginger chutney till the cows come home….
Mrs Portly's Kitchen
If you would like to follow in Roger's footsteps and take some cookery course at Mrs Portly's Kitchen, then click here.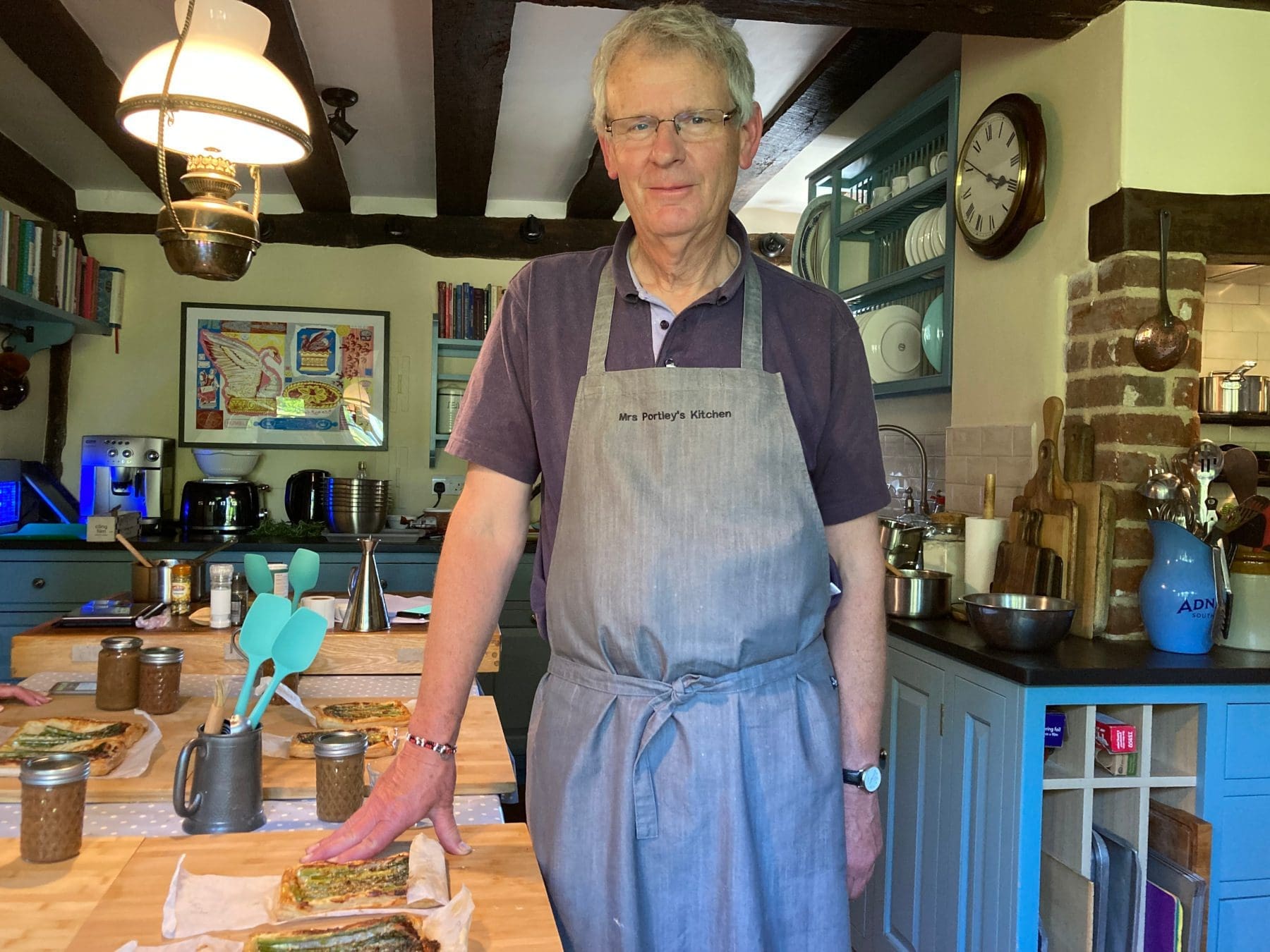 Roger Hermiston
Roger was Assistant Editor of Today on BBC Radio 4. When not travelling near and far, Roger writes narrative 20th century history books such as 'The Greatest Traitor' and 'All Behind You, Winston'.