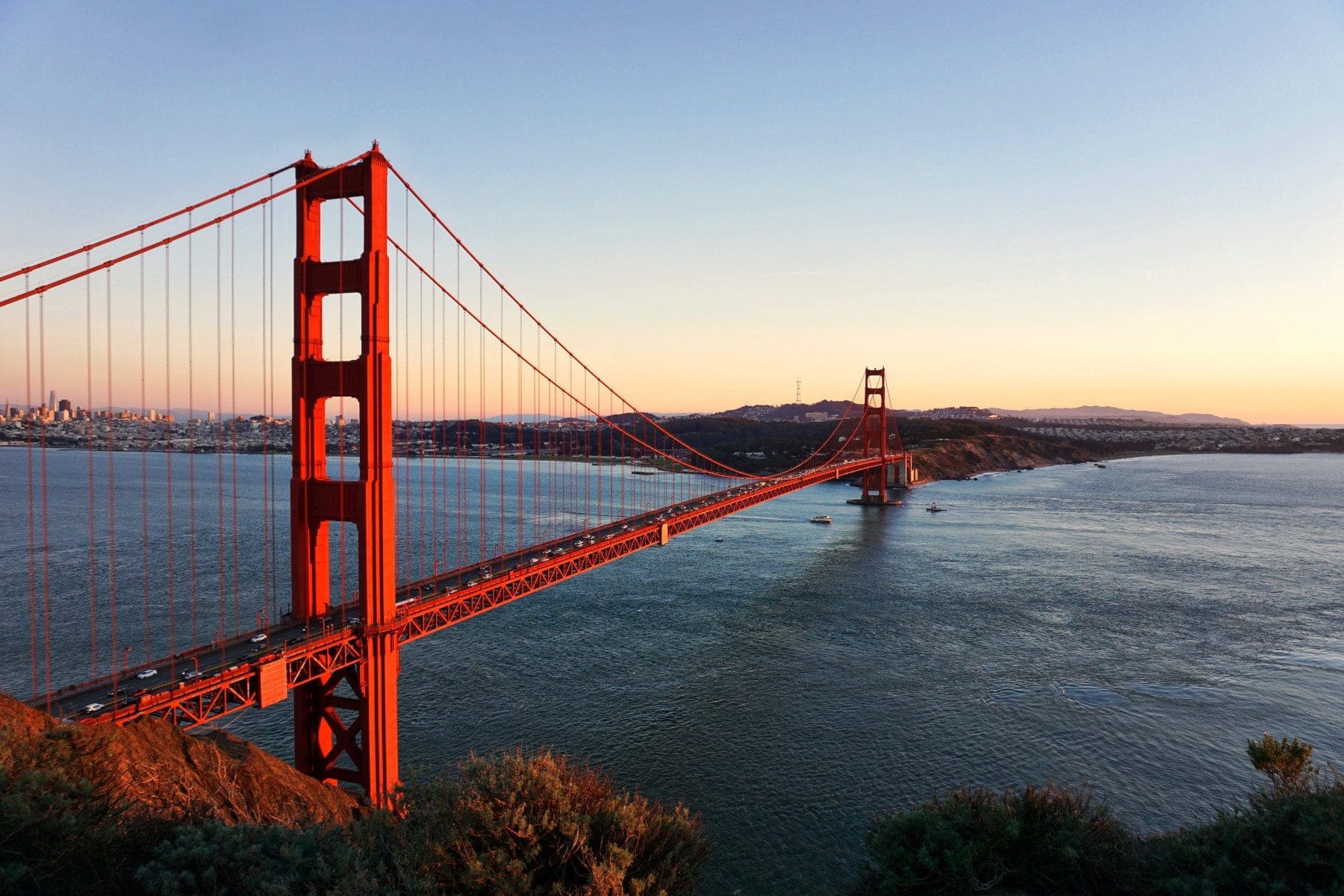 How to Enjoy a Queer Weekend in San Francisco
Travel Begins at 40 Editor
Posted on 8th Aug 2023
San Francisco proudly wears the crown as the gay capital of the US, where a vibrant local population of over 900K warmly welcomes nearly 17 million visitors each year. Quirk and charm is the very essence of San Francisco, woven into its people, politics, and even painted on its streets in vibrant rainbow hues. 
Everywhere you turn, you'll find gay-friendly bars, restaurants, and businesses, seamlessly blending into the city's unique fabric. 
Let's take you on a weekend tour through several neighborhoods and give you the gay vacation schedule of your life!
The Castro
In the heart of this edgy coastal sprawl, lies the Castro, undoubtedly the epicenter of San Fran's inherently gay nature. This historic district, the oldest gay neighborhood in the country, beckons with its compact size, inviting you to explore its wonders in just one unforgettable night.
Back in the groovy 60s and 70s, the Castro area was a hotbed of political turmoil, with waves of activism shaping its very core. Fast forward to today, and it proudly stands as the radiant hub of San Francisco's LGBTQ+ community.
This neighborhood has undergone a mesmerizing transformation since the days of activism of yore. Now, it's all about style and vibrancy, with chic shops, trendy bars, and the iconic Castro Theater welcoming visitors and residents alike.
Visiting the Castro means immersing yourself in a world of culture and diversity, where the past dances with the present, and the spirit of activism still echoes in the vibrant heartbeat of this iconic neighborhood.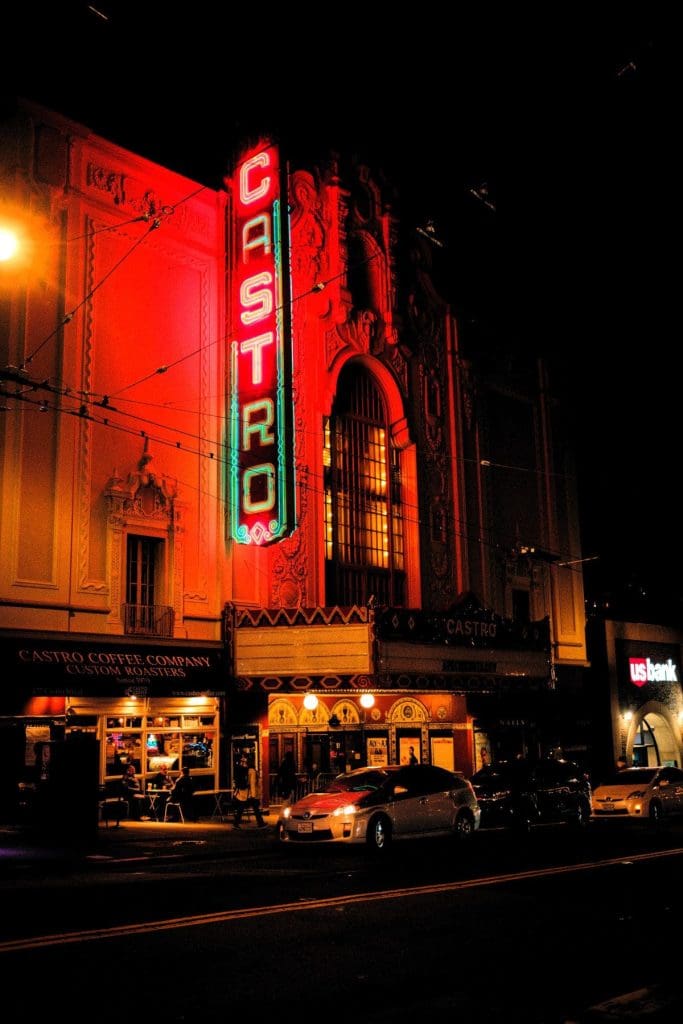 The Castro Theatre
Step back in time and bask in the glory of the San Francisco Castro Theatre, a true landmark steeped in history since its inception in 1922. This grand venue has seen it all – from captivating theatre performances and engaging sing-a-longs to thrilling movie screenings. 
With its extravagantly ornate décor and plush seating, this 1,400-seater theatre is a slice of old-school Americana. And guess what? It even boasts its very own pipe organ, setting the stage for grand musical productions that will leave you mesmerized.
Whether you're in the mood for a spectacular event or a joyous celebration, the auditorium's large stage hosts an array of performances that will have you cheering for more. And if films are more your thing, you're in for a treat! From film festival events to repertory cinema and foreign films, the Castro Theatre caters to all tastes. 
What's even better? Audience participation is always welcome, adding an extra layer of fun and excitement to your movie nights!
Twin Peaks Tavern
For those seeking the roots of gay culture in San Francisco, look no further than Twin Peaks Tavern. This historical gem proudly stands as one of the first gay bars in the city, and indeed, in the entire United States. With its laid-back vibe and welcoming staff, it's the perfect spot for socializing and meeting new friends.
Positioned strategically at the heart of it all, this SF gay bar proudly calls itself the "Gateway to The Castro." You'll find it right under the iconic rainbow arrow, perched confidently on the corner of Market Street and Castro, beckoning you to step inside and embrace the rich history and vibrant energy in this legendary neighborhood.
Marshall's Beach
Venture to the northern edge of San Francisco where you'll be swept up the enchanting Presidio area – a landscape that's nothing short of remarkable. As you explore this scenic haven, you can look down the hill and see a variety of naked beach-dwelling gays basking in the sun (to fully appreciate those sights, you might need to get a little closer).
To reach this idyllic spot, hop on a bus journey to the Golden Gate Bridge Toll Plaza and take a 15-minute stroll to the other side. Now, if you're feeling adventurous and ready to embrace the liberating spirit, follow the signs that lead to Marshall's Beach, the unofficial gay clothing-optional paradise.
Book a Gay Massage
Now that you've had some time to soak up the sun and feel Mother Nature under your feet, it's time to relax a bit and book that gay massage. Head on over Gay Wellness, and find the right treatment for you. You'll be in a state of bliss in no time.
Milk SF
To bring your experience to a close, you can go sip on a hot drink at Milk SF (the Mission), a lovely coffee shop where creativity oozes from the walls. Enjoy a pastry while taking in the local art that hangs on the walls, and prepare to be dazzled by fabulous drag shows that light up our stage. 
We hope you enjoy your San Francisco queer vacation, and now you don't even need to plan – just follow our little guide, and you're sure to come out golden.
Travel Begins at 40 Editor
Travel articles, news, special offers, festivals and events from the Travel Begins at 40 Editorial team and our global network of travel industry contributors.