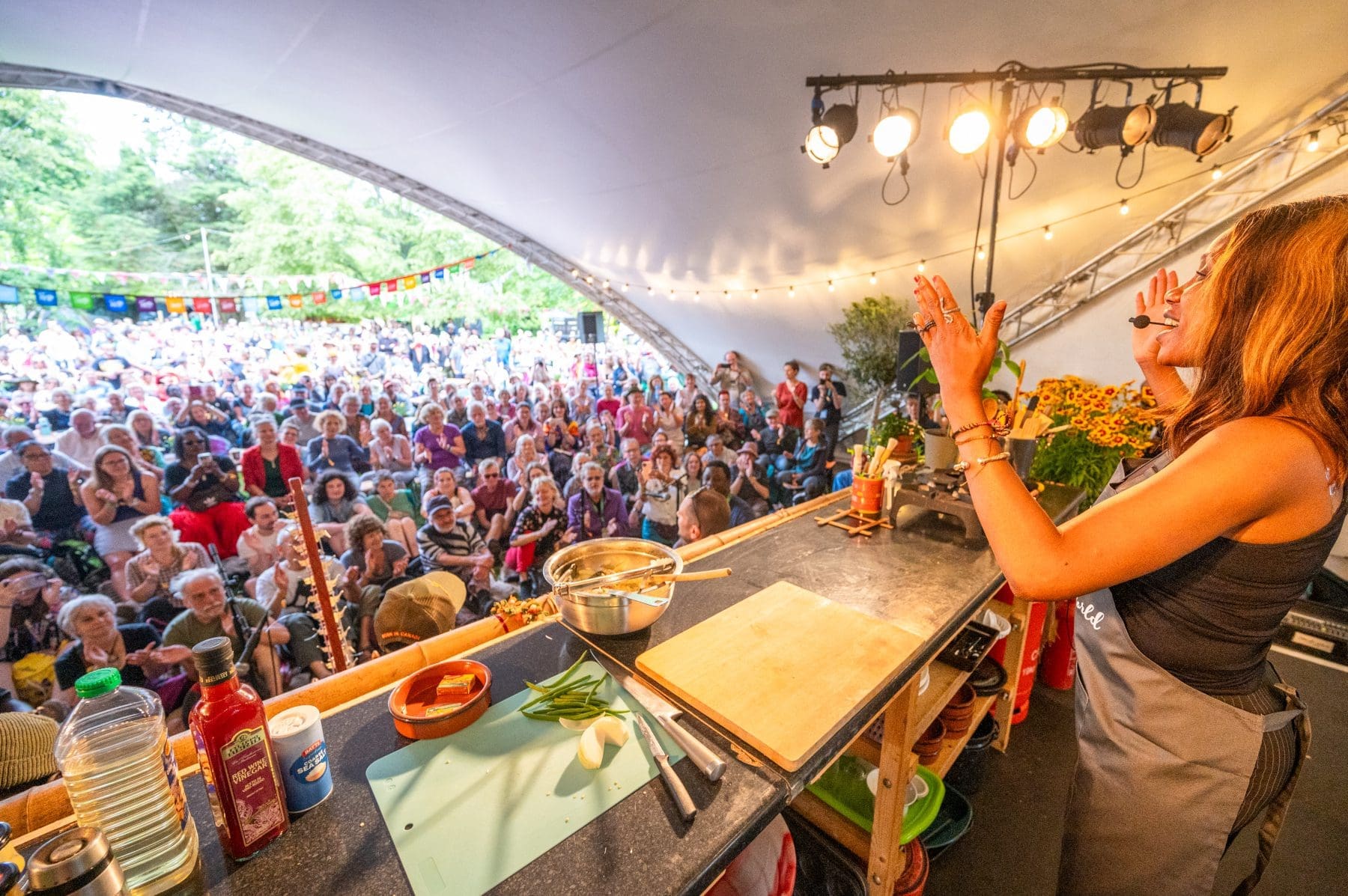 WOMAD 2023 Review : Sitting and Dancing
Robert Spellman
Posted on 11th Aug 2023
From Peru to Ghana, intermingling the UK's multicultural beat, this year's world music festival certainly lived up to its billing. Read Robert Spellman's WOMAD 2023 review.
"What acts are you looking forward to this year?" I ask the two elderly gentleman with whom I'm sharing a taxi. We're on the way to the Womad site in Malmesbury from Chippenham station. "Acts?" says one with a little smile. "Oh we're not interested in those, we just go for the vibe! Same spot in the arboretum every year, you'll find us there soaking it all in."
That's a lot of sitting I think but I get the drift. The arboretum is indeed delightful; a sprawling, lightly wooded garden devoted to the improvement of mind, body and soul or to simply laze. These wizened Womadians might not be the festival spirit made flesh but I can't count too many other places that would have them. And that vibe is special. Edgeless, familial. Womad is unity in diversity and this year artists from more than 40 countries have landed to support that – including Ghana, Serbia, Japan, Austria, Jordan, Cuba, Peru, Chile, Jamaica, Iran, South Korea, Israel and Estonia.
There are of course the little frustrations. One is acts of interest that play simultaneously vying for your attendance. So apps and maps lit, you dash between stages trying to absorb as much of everything as possible. Similarly, the placing of artists on different days means that horrible sacrifices have to be made.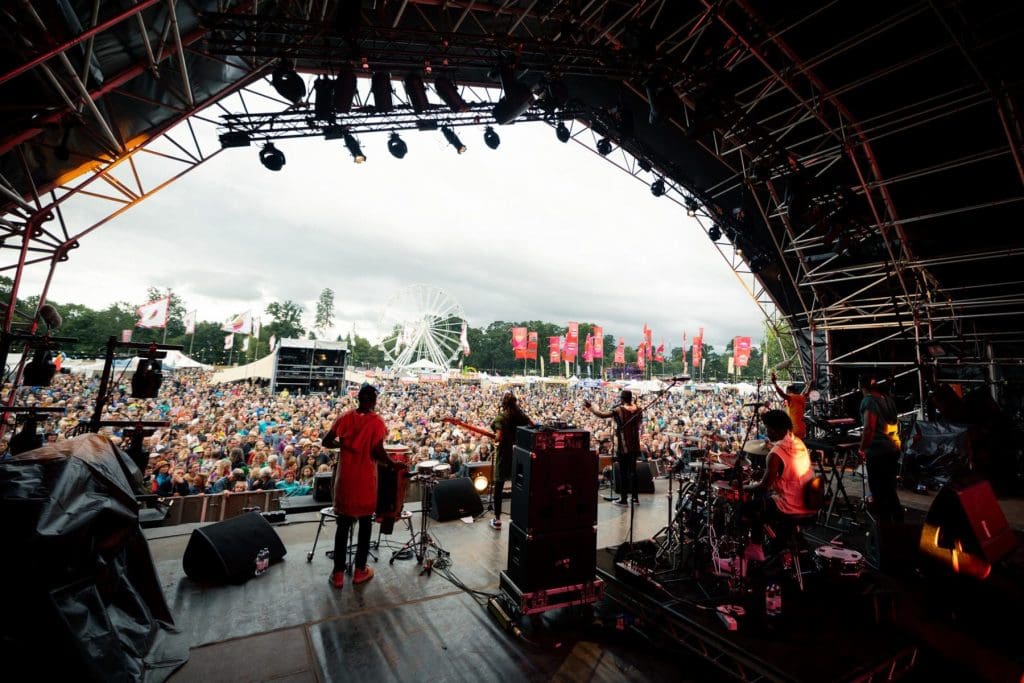 Unable to attend all four days this year, I missed hip hop elders the Jungle Brothers on Thursday night and Soul II Soul and reggae great Horace Andy on Sunday. But all wasn't lost, I caught some superb performances with one even causing the adrenalin to course like my rock gigs of old.
The band responsible was The Comet Is Coming, who packed out the vast d&b Soundscape tent on Saturday night. This drum'n'bass-powered jazz trio just went for it from the off, with hornsman Shabaka Hutchings spiking the great rhythmic waves with staccato jabs from his saxophone or playing fluid free-jazz runs. The Cinematic Orchestra, playing the main Open Air Stage at the same time, felt a mite restrained straight after, but they did extract some nice vintage moods from their equipment.
More in keeping with a classic Womad act was Alogte Oho & His Sounds of Joy in the Siam Tent at the other end of the festival site a few hours earlier. The Ghanian Troupe are led by gospel singer Algte Oho, and their hour was highlife-based with a shadowing of Afrobeat for added balast. The singing, playing, dancing and costuming were excellent and their slip into reggae on two beautiful songs Yu Ya Yumma and Zota Yinne created a fusion that was surely their own.
A similar treat was catching Briitish-Nigerian Dele Sosimi a few hours earlier. Keyboardist and singer Dele played with Fela Kuti's Egypt 80 band and later he appeared on the small Taste The World stage in the arboretum where featured musicians cook dishes from their native countries. Dele knocked up his mother's rice recipe to a full house and even performed Fela's immortal Zombie with a seated trio, in front of the stove. I've never seen so many seated people dancing.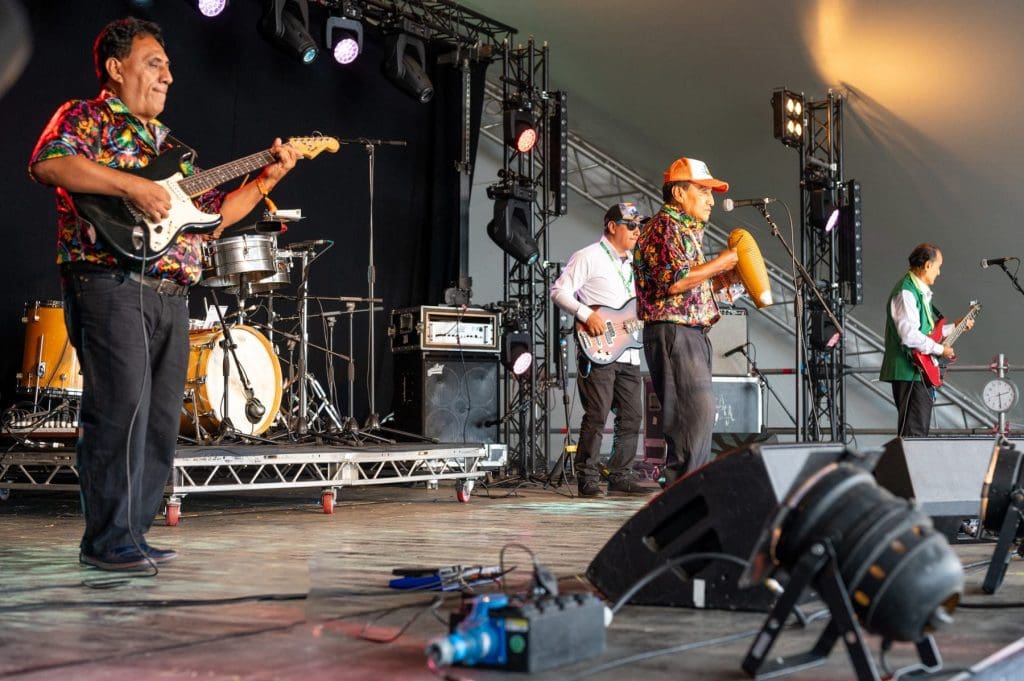 Another act impossible to keep still to was Peru's Los Wemblers De Iquitos on Friday afternoon. With Latin music from the 60s and 70s currently trending in some of London's clubs, it was fantastic to hear one form of it – "chicha" – played live. This is essentially cumbia, a hybrid of Latin American and African folk music, threaded with psychedelia and pop. And a little later on the main stage, Zimbabwean guitar group Mokoomba made a triumphant return to Womad after 10 years with their ultra-slick blend of soukous, rock and funk which was easily digested by the gently swaying families who had set up camp for the day.
My only disappointment was Snapped Ankles, one of Friday's headliners at d&b Soundscape. This London rock and performance art band disguise their individual identities with ugly and outlandish head gear (an idea maybe pinched from US band The Residents), trade big on shock and can really play, rooted as they are in psychedelia, post-punk and electronic noise. They are musical magpies and the night's offering was very like Krautrock, but it sounded ordinary.
The evening did end on a high note – or rather a sarod note – when we wandered into the Siam Tent where India's Amjad Ali Khan, Amaan Ali Bangash and Ayaan Ali Bangash were holding court with their masterful playing of this stringed instrument which is similar to a sitar, albeit deeper and more resonant. Over the hypnotic swirls ringing from their sarods, Hindustani words were sung with prayer-like repetition, creating aura around them of elegance and nobility. It was an awesome performance and so tranquilising to behold.
---
Details of WOMAD 2024 will appear here when announced. All images supplied by WOMAD. Main image: WOMAD Taste the World Rokia Kone 2.