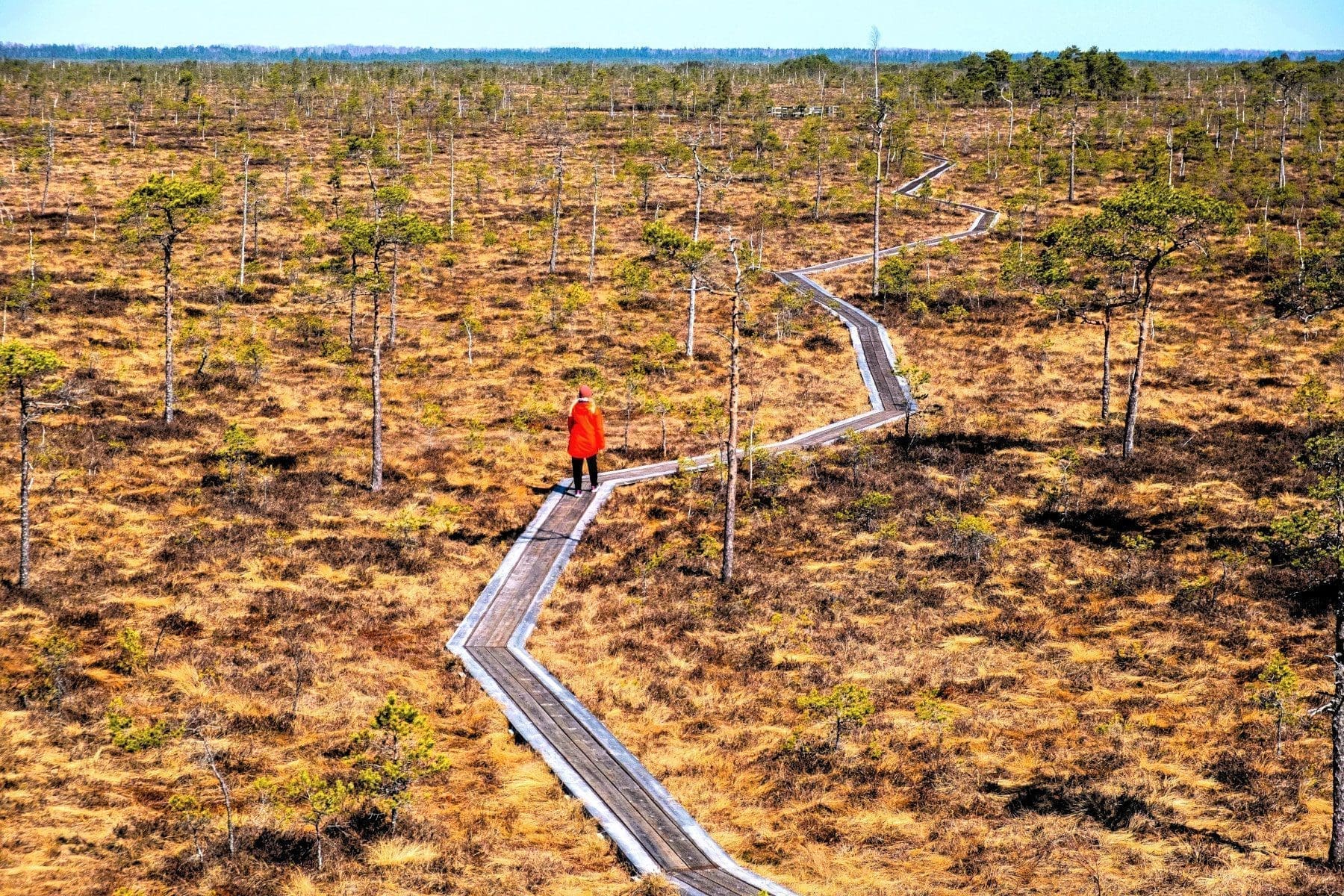 Bog Walking In Estonia and the European City of Culture
Robert Spellman
Posted on 11th Sep 2023
Robert Spellman goes bog walking in Estonia and visits Tartu, European Capital of Culture in 2024, and Narva on the Russian border.
Never had I heard the word "bog" uttered with such solemnity until I visited Estonia. They cover about a fifth of the country and are held as precious, not just for walking and canoeing, but as a living connection to the deep past, to a time before the country's 13th-century German rulers moved in, ending a good 10,000 years of more or less uninterrupted habitation. Estonia was the last European country to be Christianised, which has probably shaped its strong atheist bent today.
"Estonians have a personal connection with bogs," says Aivar, our guide through the Soomaa National Park, which is in the west and about 88 miles due south from the coastal capital Tallinn. Indeed, that connection is clear, as Soomaa (meaning "mireland") is a delightful place, and like nowhere I've ever been. As we walk, I'm getting a bogland crammer.
Bog Walking in Estonia : Soomaa National Park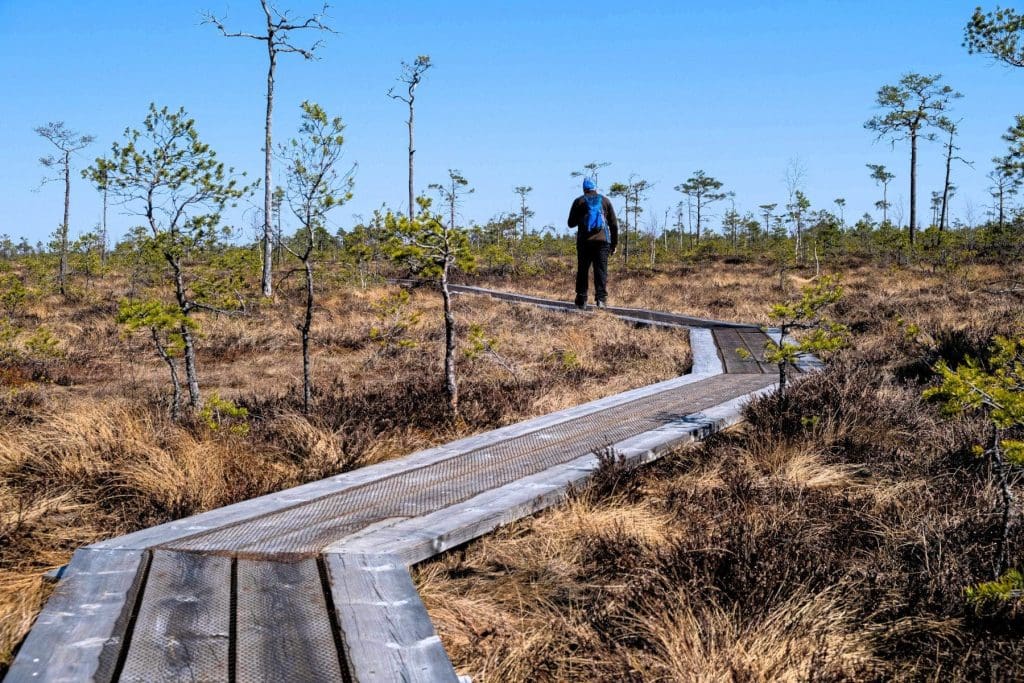 This is Estonia's largest protected bogland area and is best understood as two parts: the forest, a beat of wolves and bears which is thickly studded with spruce, sliver birch and aspen, and host to a variety of (mostly) edible mushrooms and berries in the summer, and the slightly raised bogland beyond, a plane suddenly wiped of most vegetation except for the odd, weedy tree.
"It's the peat," says Aivar, getting excited. "Trees can't grow here because of the acidity in the water." An involved explanation ensues but put simply, peat is decayed vegetation and the acidity of its high carbon content prevents such growth. However, the peatlands are highly effective carbon sinks as long as they aren't drained, or indeed dug up and burnt for fuel – a massive carbon emitter.
The stuff has a blancmange-like consistency, and so one traverses wooden runways to get about, unless you're tempted to strip off and leap into one of its natural pools, like a local. Aivar says that sphagnum (or peat moss) grows at around 1mm a year, meaning that 10metres down, there dwells peat as old as the first human habitation of these lands. When the forest floods, usually in late March, out come the canoes, which are carved from aspen, and one paddles through tree-lined avenues about a metre above ground.
History of the Nation at the Estonian National Museum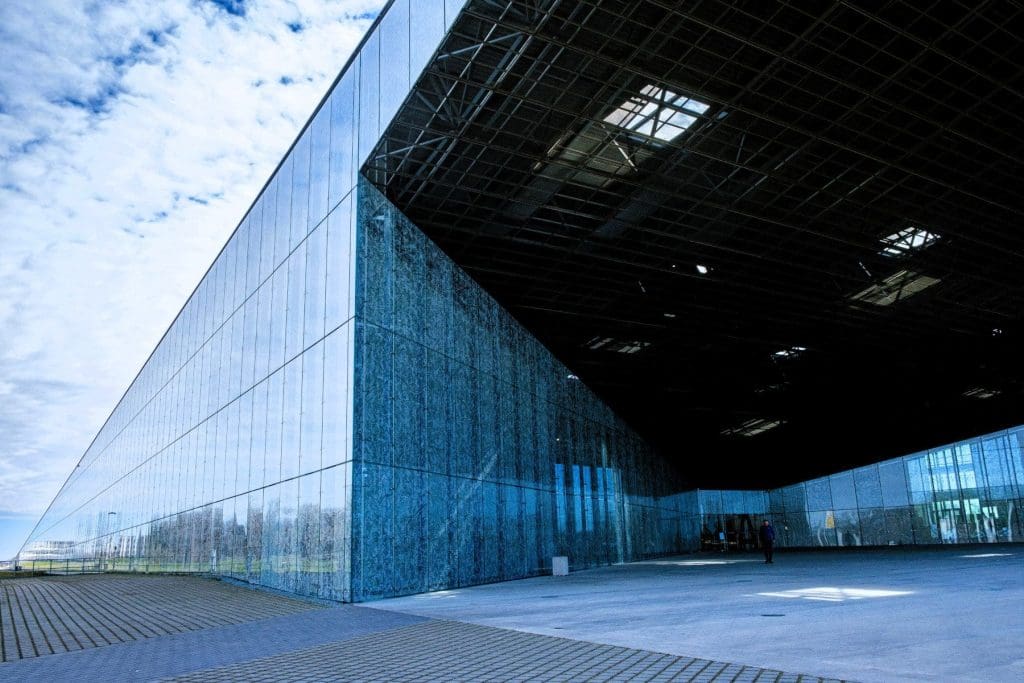 Directly east is another feature of national pride, the Estonian National Museum. Sitting a few kilometres outside the southerly city of Tartu amid flat fields, this 6,000-square metre glass slice is quite at odds with the picturesque farms and manors scattered about it.
Here you will find the Estonian story told through a million-plus items, from mappings of the Finnic-Ugric peoples, through German, Danish and Swedish invasions and up to and beyond Estonia's post-war absorption into the Soviet Union, which ended in 1991. Nothing, it seems, has escaped the curator's eye. One unforgettable wall display features rows of Soviet-era school knapsacks, with an explanation of how Moscow instructed Estonian pupils to wear them.
While the museum is a fantastic resource, the anticipated cultural moment is Tartu's status as European Capital of Culture in 2024. Home to Estonia's most reputable university, this pretty, easy-going town along with locations throughout the south will host numerous events next year.
Tartu : European Capital of Culture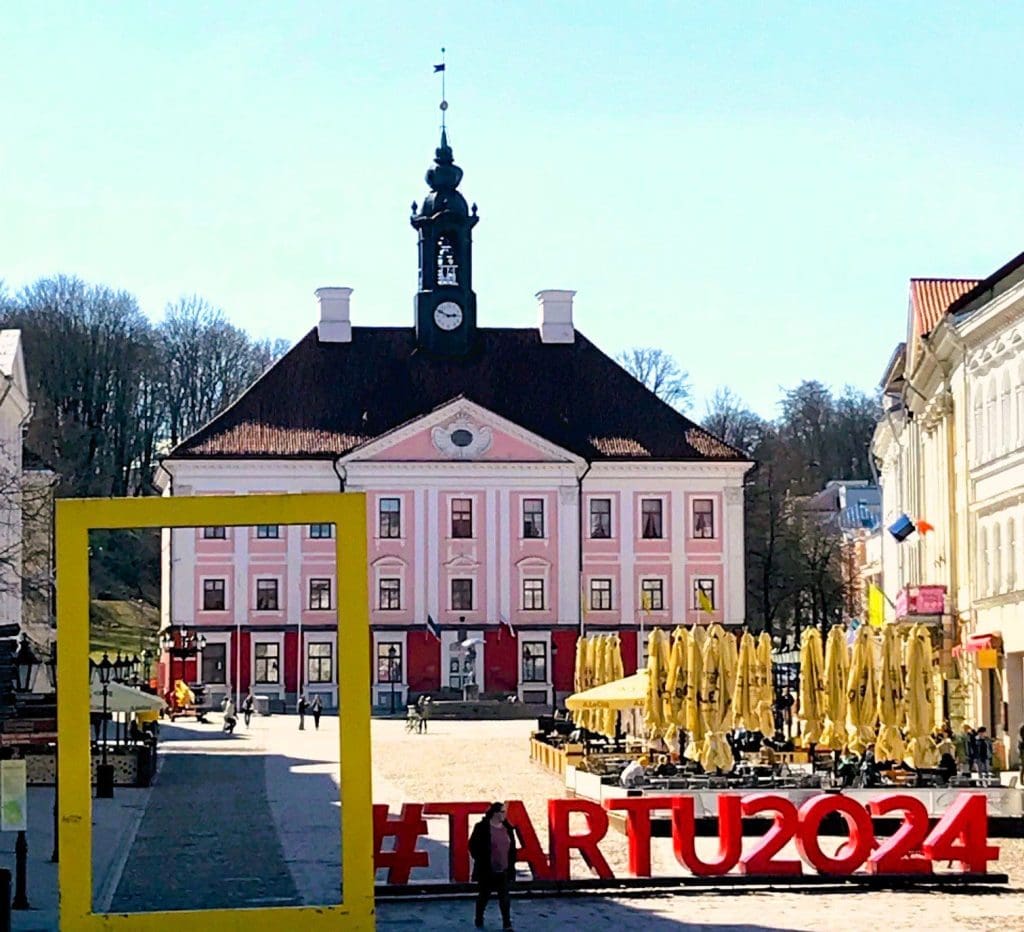 Epitomising, perhaps, the spirit of the European Capital of Culture is "Kissing Tartu", a mass smooching action inspired by The Kissing Students sculpture situated at the top of Town Hall Square. The simultaneous snog will be accompanied by Eurovision tunes and can be watched on TV. A "First Kiss" sexual health programme is also scheduled for schools. "Openness, humanity and respect" are the values organisers wish to promote – regardless of "race, age, gender or worldview". The umbrella theme of the European Capital of Culture is "Arts of Survival", a creative and sustainable approach to a diverse range of programmes to be finalised on 19 October.
The river Emajogi runs through Tartu and one European Capital of Culture activity likely to be popular is travelling on a Jommu barge, a commercial vessel that sailed the Estonian waterways from Hanseatic times to the middle of the last century. Local foods and crafts will feature at various stops, most notably along the Onion Route, a chain of small villages on the shore of Lake Peipsi, the easterly terminus of the Emajogi, half of which belongs to Russia. The route is home to the "Old Believers", Orthodox exiles from Russia who arrived in the 17th century and remain true to their faith.
Another place of significance in next year's festivities is Viljandi, 48 miles east of Tartu. With its curious little hills and green spaces, Viljandi is a town with a village feel, and has a pleasant lack of people and cars. It's a perfect setting for the late-July party that is the Viljandi Folk Music Festival, the biggest of its kind in the country, which attracts artists the world over. Very much in step with the slow vibe is the Schloss Fellin hotel with its boutique room designs and excellent subterranean spa. The hotel is named after Viljandi's impressive Fellin castle ruin that dates back to the Livonian Order on the early 1300s.
Narva and Kreenholm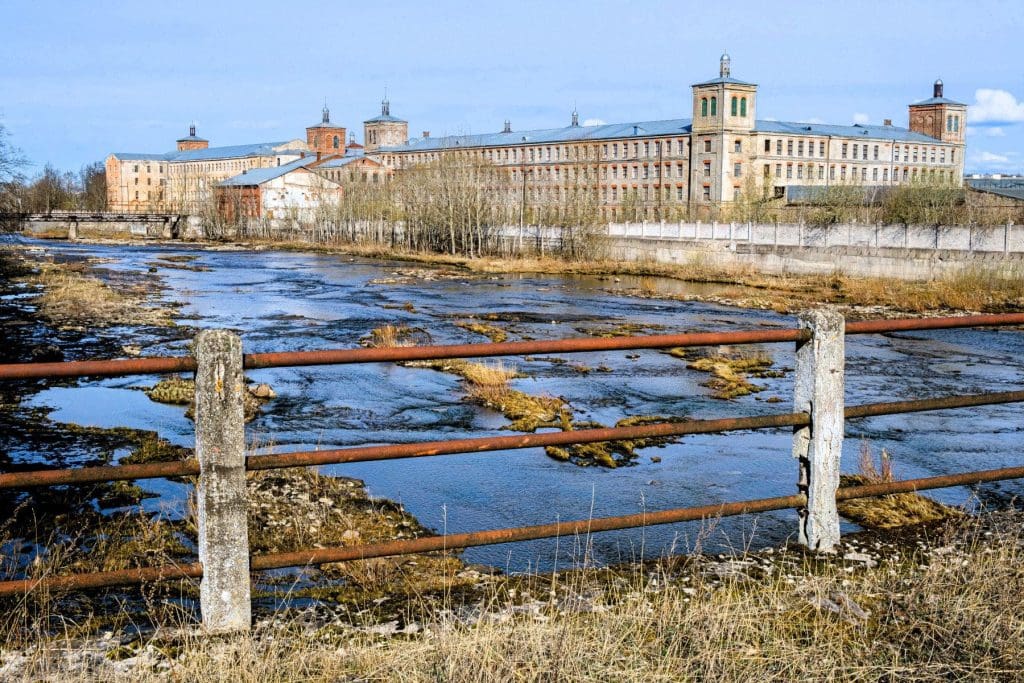 However, if you yearn for an experience not mediated by the European Capital of Culture, a trip to Narva is a must. Estonia's most north easterly province and city of the same name is a quaint sort of place that shares a river border with Russia. It has much attractive architecture dating back to the 17th century when Sweden ruled Estonia.
But walk to the city's easterly edge, cross the little Joala bridge to Kreenholm island sitting within the Narva river, and the spectacle changes completely. Before you is the Kreenholm Manufacturing Company, a derelict hulk of the industrial age that is terrifyingly vast.
Built in 1857, and taking inspiration from Manchester, this was once the largest textiles company in Europe and comprises of red-brick factories, quads and residential buildings spread over 32,000 acres. The place thrived when Estonia was a Soviet republic but, bar the occasional concert, this is now the loneliest of places, too expensive to develop or even pull down.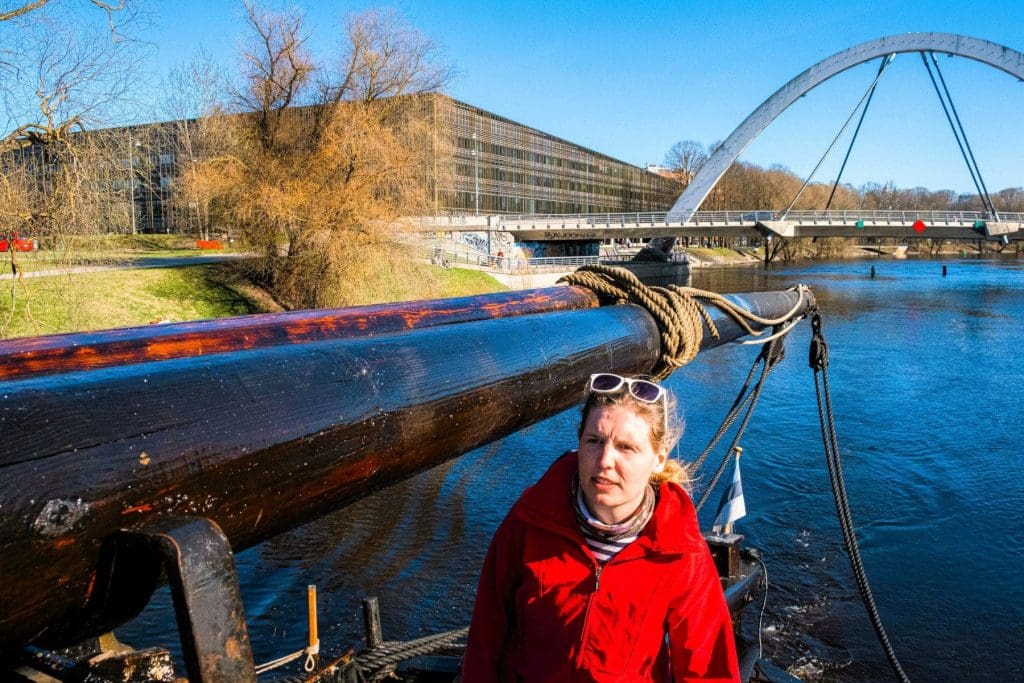 On the Russian side, accessible via a bridge that's been closed since the Ukraine invasion, one views the backs of buildings that once belonged to the same company. These are now flats. I feel a little unsure telling my Estonian guide Indrek that I find Kreenholm magical, but to my surprise he agrees.
Follow the north coast 17 miles west and you can extend this theme with a visit to the town of Sillamae. Once an upmarket 19th-century beach resort, by the end of the World War II it ceased to exist in any mappable sense when it was rebuilt as a top-secret uranium enrichment plant accessible only by its employees.
On the brilliant day I visited, the place looked deserted and felt very still. Before me were avenues of spotlessly white, neoclassical mansion houses leading down to the sea.
---
Things to Do in Estonia
Robert was invited to the country by Visit Estonia. If you would like to discover more things to do in Estonia, then visit their website.
All photos kindly supplied by Tim Bird (including main and background phots), except stated otherwise.