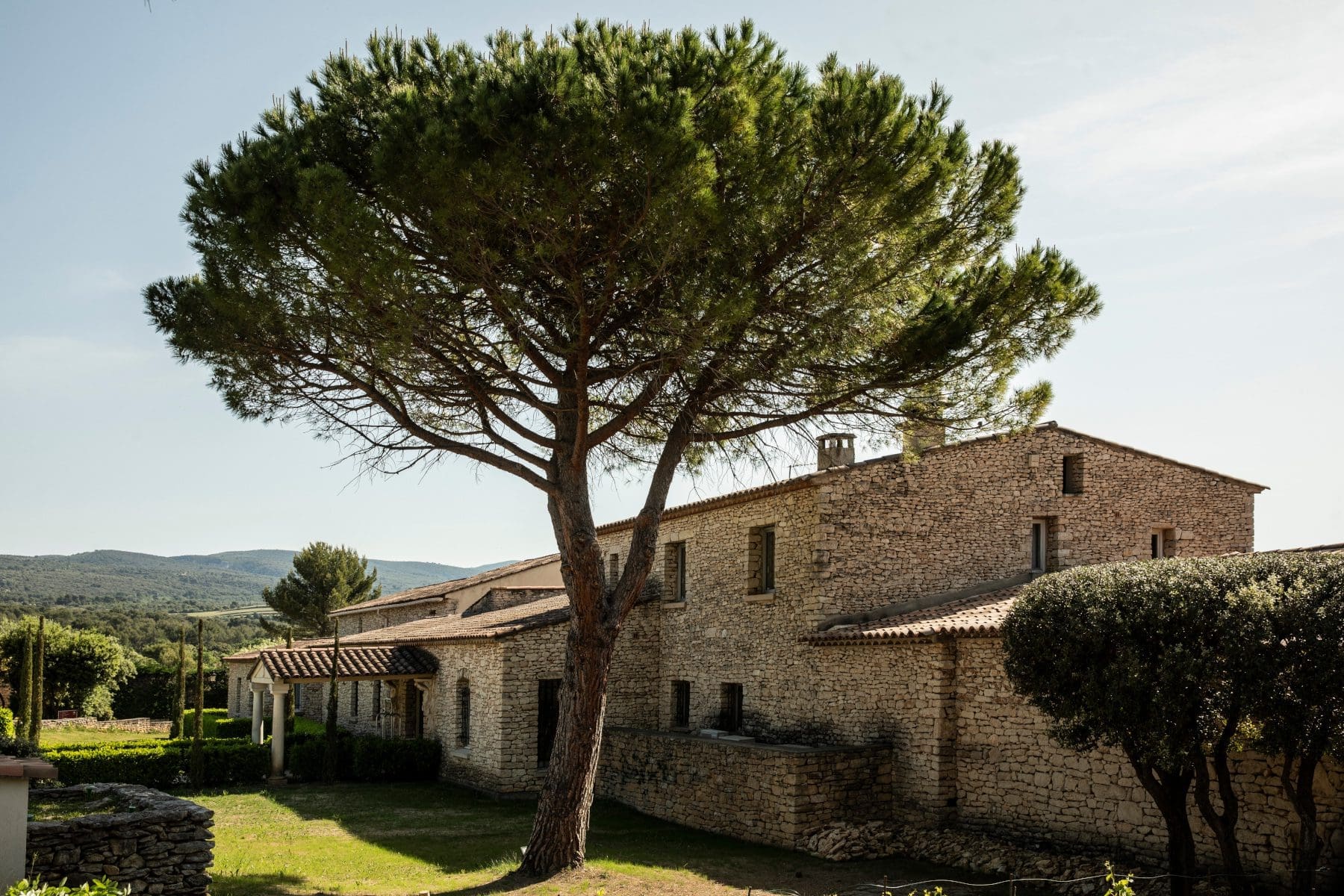 Le Phebus Hotel & Spa Provence Review
Roger Hermiston Eileen Wise
Posted on 6th Sep 2023
Roger Hermiston and Eileen Wise check in to Le Phebus Hotel & Spa in Provence France, a land of culture and beauty.  
To arrive in the heart of the Luberon region of Provence in July is to be transported to the land of the gods. Row upon row of vigorous looking grape-bearing vines, clusters of ageless, verdant olive trees, the delicate, sweet smell of lavender fields coming into bloom – all against a backdrop of ochre plains and craggy mountains, bathed in a beautiful, shimmering sunlight.
No wonder then that the first thing you see when you drive through the gates of Le Phebus Hotel and Spa is a full-length stone statue of a deity, above a trickling fountain, gazing out over the garrigue hills. This is – the evidence is the athletic build and the familiar pose – surely Phebus (Phoebus), better known as Apollo, in Greek mythology 'the bright light', God of the sun, but also (he has many roles on Olympus) patron of herdsmen and shepherds. It seems a most appropriate name for the place we're staying, paying homage to the glorious climate of this area but also its rich agricultural past.
Le Phebus Hotel
Le Phebus Hotel & Spa, on the outskirts of the delightful hilltop village of Joucas, has been in existence since the early 1980s, when it was built on remains dating back to the medieval knights of the Order of Malta. It is owned and run by the Mathieu family, who have been in the hospitality business for generations, and it is their welcoming, personal touch that sets it apart from other five-star, boutique hotels in Provence.
Our young, charming concierge Brieux was a case in point, escorting us to our deluxe room a short walk from the central lobby, and all the while giving us much useful information about the hotel's amenities. Our room – really it was a luxurious suite – is one of 24 (including a villa) dotted around in a cluster of converted stone farm buildings. Then there are swimming pools (one central, two others private), tennis court, and bicycles if you're feeling energetic before the heat of midday.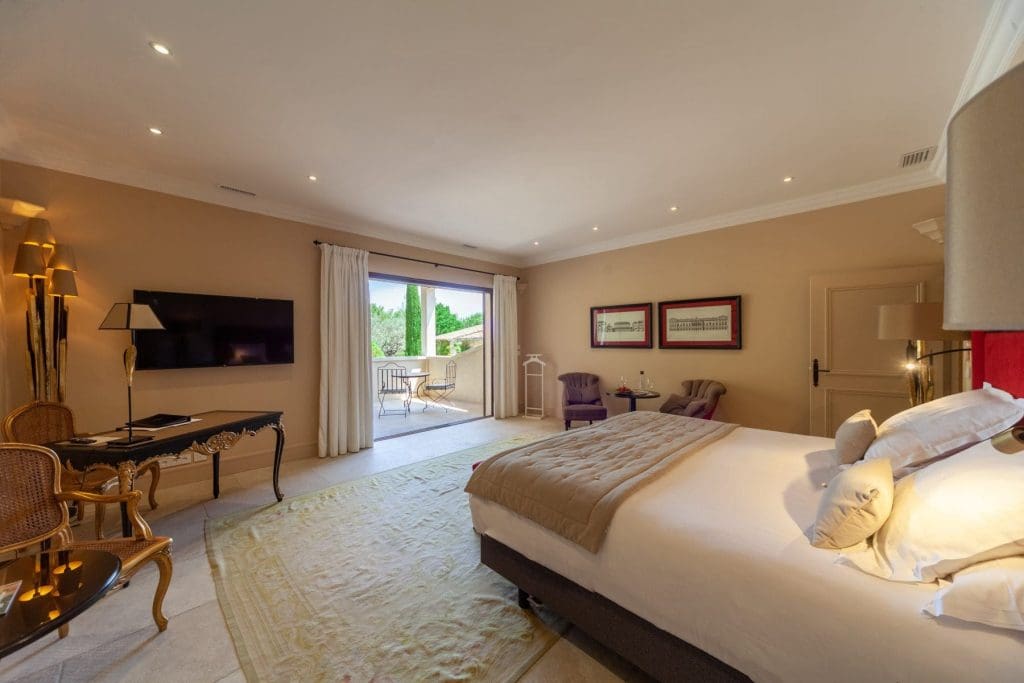 Our room, a beautifully cool haven in the middle of a very hot spell (although we didn't experience the 40-plus temperatures of the southern European summer), had everything you could wish for – a sumptuous king-sized bed, good bedside reading light, a pair of comfortable armchairs, a huge, impressive walk-in wardrobe, and an outside terrace with sun loungers.
The piece de resistance, however, was the stunning, marbled bathroom, with freestanding separate washbasins at one end, a roll top bath, and a superbly effective waterfall shower situated in the centre of the room's vast space.
A grouping of interesting paintings depicting ancient Chinese scenes adorned the walls of the bedrooms, while pictures of native birds were displayed in the bathroom. The room/suite as a whole transmitted cool elegance.
Le Phebus Spa
A visit to the spa revealed the great views it has through huge picture windows to the wooded grounds. The complex has three spacious massage booths, relaxation areas, a herbal tea room, swimming pool and outdoor jetted tub.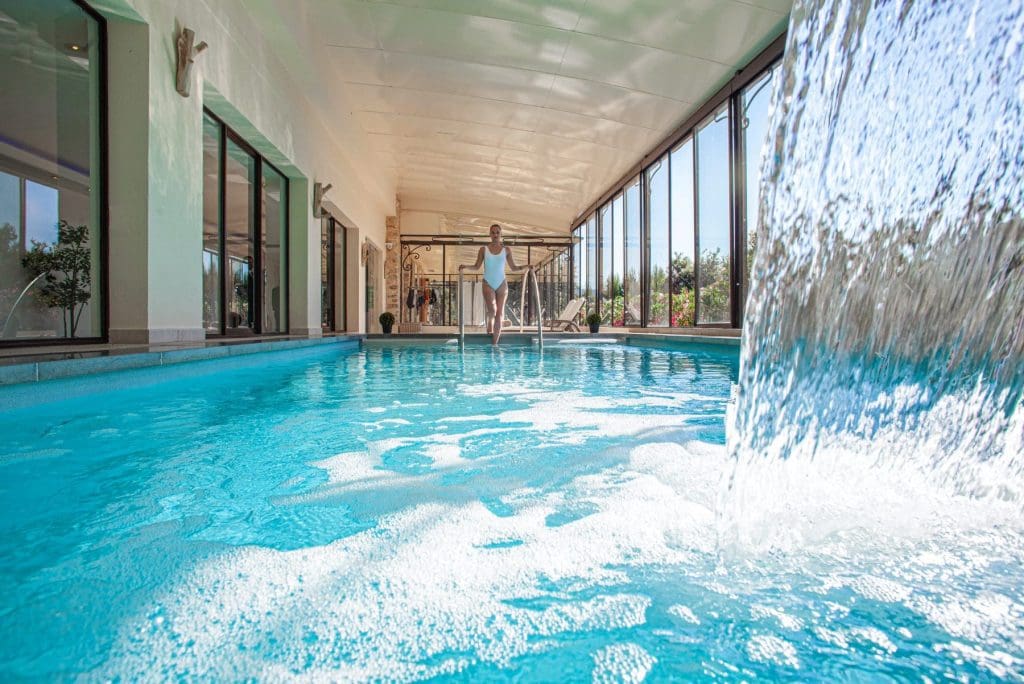 Relaxation and wellness are key ingredients of a stay at Le Phebus, but it is for the gastronomic experience that many beat a path to its door. It boasts a Michelin-starred gourmet restaurant (since 2001), La Table de Xavier Mathieu, and a bistro, Le Café de La Fontaine.
Dining at La Table de Xavier Mathieu
Xavier Mathieu, who sports a distinctive shock of white hair, was born and brought up in Marseilles and his cooking reflects Provencal traditions with his own added personal twist. None more so than his signature Pistou soup, with haricot beans, tomatoes, garlic and basil, the first of seven dishes we sampled on a mouth-watering tasting menu.
Among other highlights was fresh ratatouille sweetened with burnt onion syrup, a delicious cod with leeks ('like Grandma Rose used to cook'), and leg of lamb ('cooked in the warm sand of the dry garrigue'). We sampled a selection of superb cheeses – goat, sheep and cow – and it was all washed down with an array of white and red wines, chosen by our waiter. At the end of the evening Monsieur Mathieu came around the tables to exchange a word or two and receive the personal congratulations of the contented, sated customers.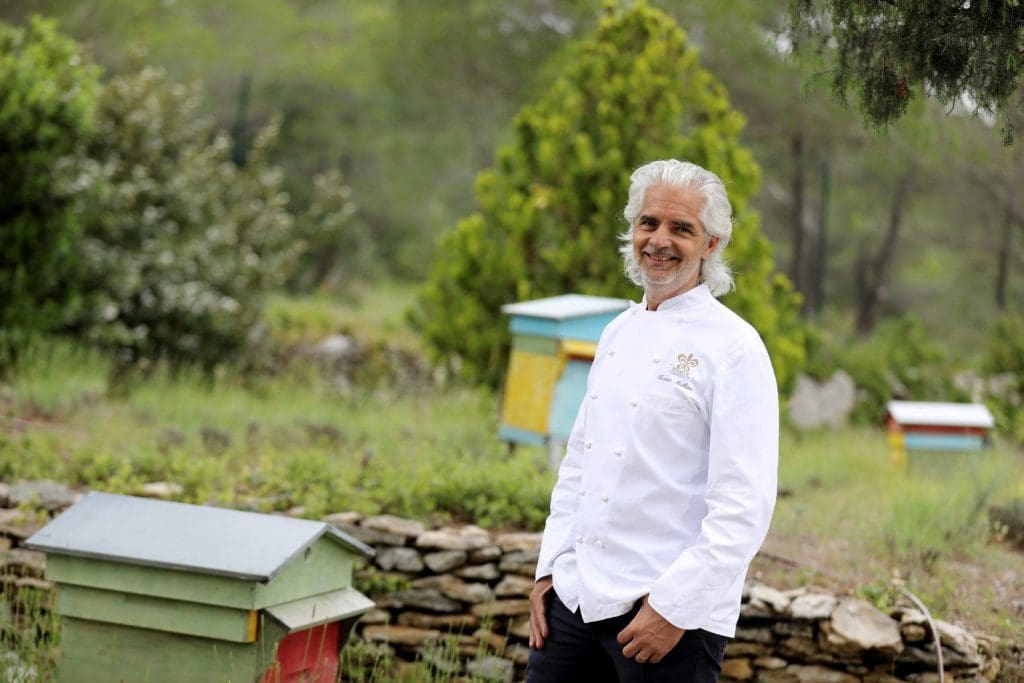 The following night we moved out of those refined, white-tablecloth surroundings and ate more informally down by the swimming pool in Le Café de La Fontaine, while enjoying the music of an excellent folk music trio Django-Charlie. After an assortment of starters – including a delicious tomato gazpacho – we tucked into an enormous mixed grill.
Strolling through Joucas
The pounds were starting to pile on but a lengthy early morning swim in the spacious main pool somewhat redressed the balance, followed by a half-mile stroll into the village of Joucas, which was waking up slowly in the mid-morning. No cars here, just a few hardy cyclists, as we meandered up winding, cobbled steps and around hidden alleys, marvelling at the neatness of the place. An old lady pottered far and wide with her watering can, seemingly taking responsibility for all the plants of her street.
Wandering around the stone pavements we stumbled upon some remarkable sculptures – 'Le Labyrinthe d'Art' – including a woman with auburn hair appearing as if to dive across the street, whilst outside the church the wooden figure of a man falls backwards, arms splayed outwards with an anguished face gazing at the sky.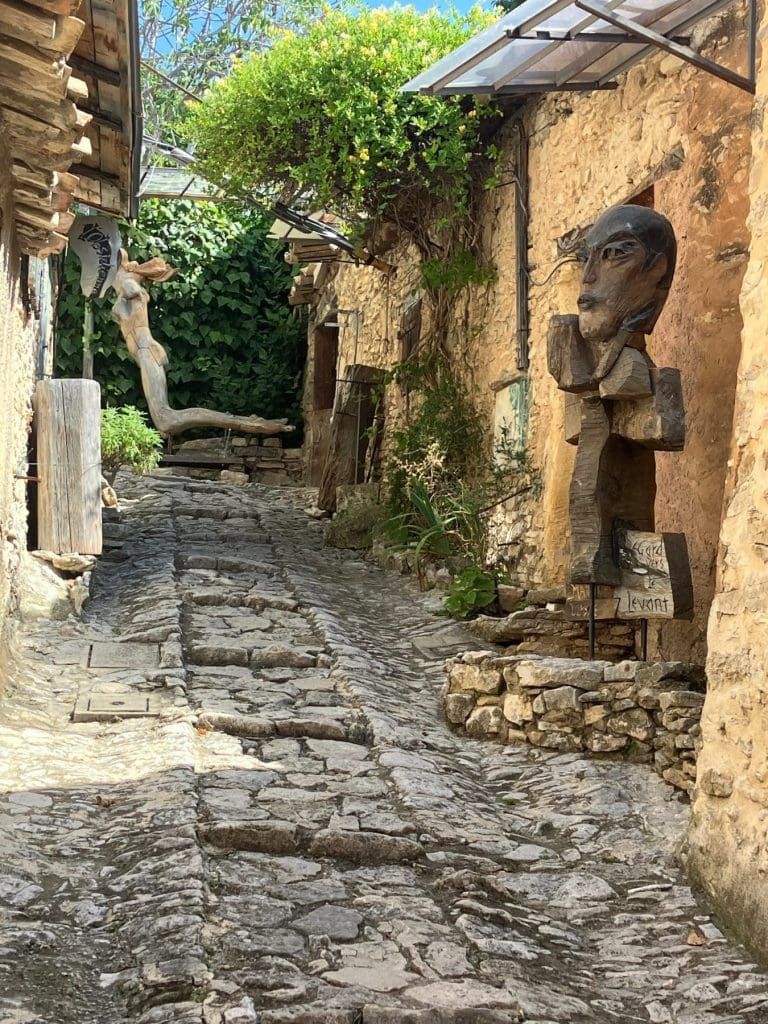 The church of St John the Baptist is a little gem. Relatively new – it was built in the 18th century to replace the village's Notre Dame which was destroyed during the Wars of Religion – it is a veritable museum of 'trompe l'oeil' style artwork on its pillars, arches and windows. The light blue ceiling above the altar depicts a celestial sky with the Sacred Heart at its centre, while behind the altar are three impressive paintings by an unknown artist depicting the Annunciation, the Crucifixion and the Beheading of St John the Baptist.
Sat by Le Phebus's pool, reading Amanda Craig's new novel The Three Graces (set in countryside very similar to this, albeit in Tuscany), was most pleasurable, but there are some treats to be had by way of a couple of nearby excursions – the first a familiar one, the second a brand new experience.
Carrieres des Lumieres
Familiar was a visit to the stunning Carrieres des Lumieres ('quarries of light'), located at the foot of the town of Les Baux-de-Provence. These former massive limestone quarries, with floor space of 7,000 square metres, have been turned into what seems like a vast underground city, hosting a monumental, immersive art experience. Images of the works of the great masters are projected via a hundred video cameras onto rock walls thirty or forty feet high, accompanied by a soundtrack of largely classical music.
It's a thrilling experience which we return to year after year on our annual visit to Provence. This summer it was the Dutch Masters, from Vermeer to Van Gogh with the likes of Rembrandt, Hals, Steen and De Hooch in between. It was excellent, if not perhaps reaching the heights of two previous exhibitions 'Van Gogh – Starry Night' (2019) and 'Picasso and the Spanish Masters' (2018).
Le Phebus is located in the Vaucluse region, whose wooded paths and mountain plateau made it ideal terrain in which the French Resistance could take the battle to the German invaders in World War 2. Plaques and memorials to the Maquis (guerilla bands) who fought heroically – and to those civilians who were murdered in acts of brutal repression – are dotted around this area.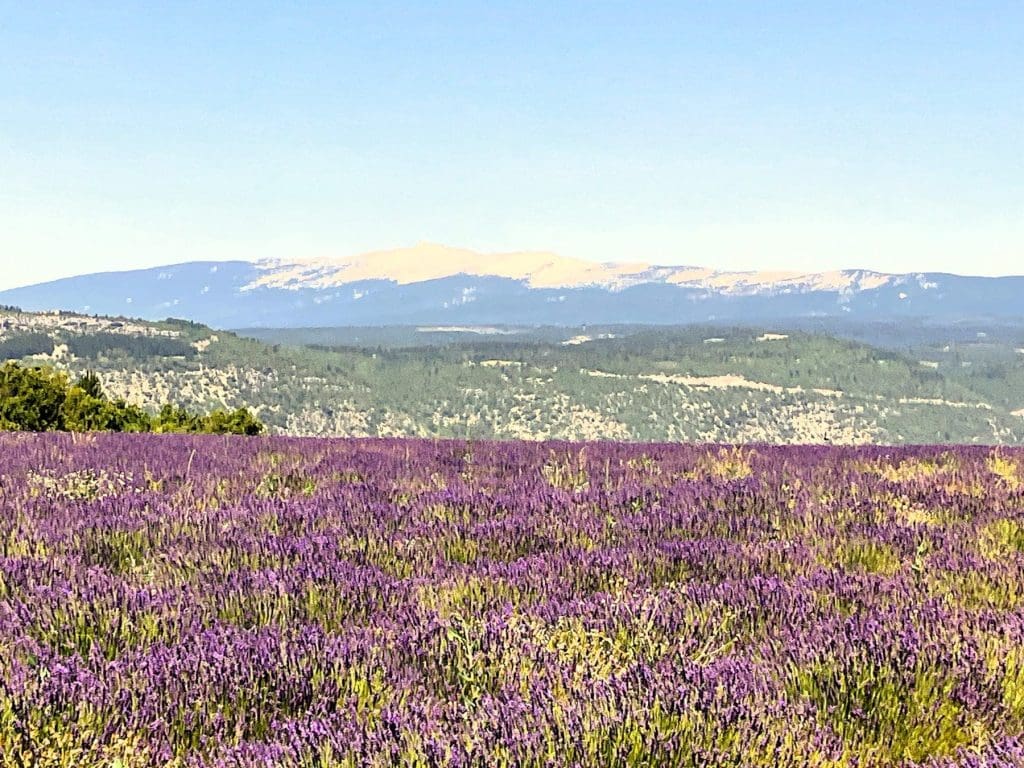 Musee Jean Moulin
We took a 40-minute drive to the quiet town of St Andiol to visit a relatively new museum – the Musee Jean Moulin, in memory of the enigmatic man who, before his murder in July 1943, had succeeded in carrying out De Gaulle's wishes to unite the warring groups of the French Resistance into one coherent organisation.
Driving towards the museum you are first greeted by a huge mural of Moulin on a street corner, taken from the iconic photograph of him in fedora, scarf and black overcoat, looking like a leading character in The Third Man. On a Saturday afternoon our group of four had the museum to ourselves, so we could take our time to admire a brilliant display of photos, letters, artefacts and videos of Moulin and his life (his family came from St Andiol, and he was a frequent visitor). There was even a simulated ride in a Whitley aircraft which dropped him and his two colleagues on the hillside in the Vaucluse on 1 January 1942.
It was exciting to discover from the museum that when Moulin set off for France on that day it was from an airfield in Suffolk, and subsequent research pinpointed his departure to RAF Stradishall (now closed), just a 15-minute drive from our own home.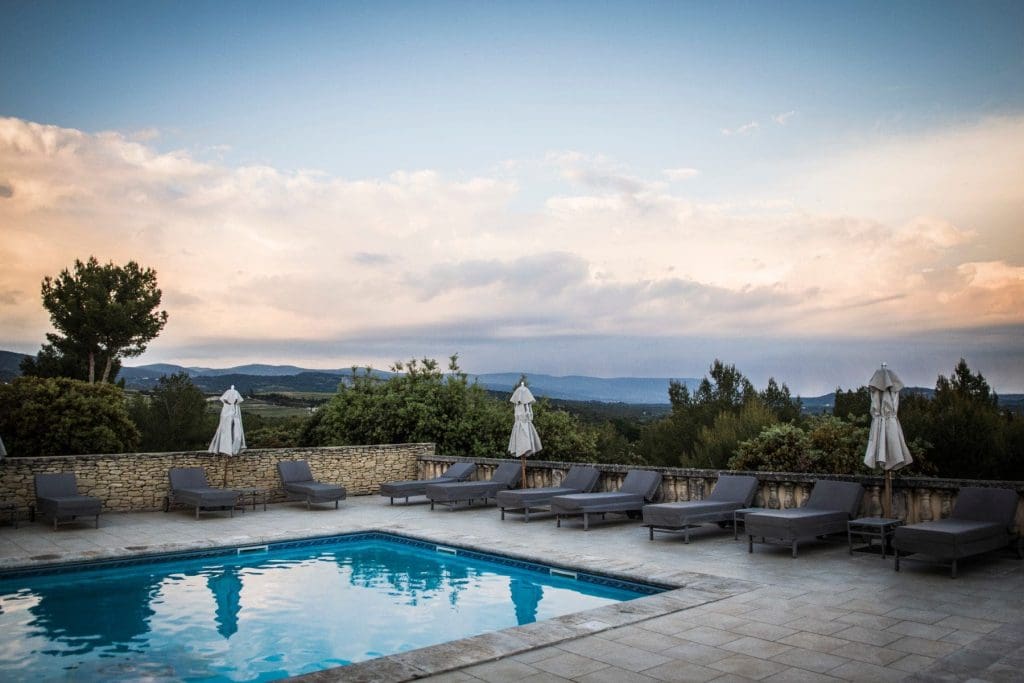 Moulin's wartime career is the stuff of legend, and one of the highlights of the exhibition comes at the very end, when you can watch a recording of the famous speech made by the writer and poet Andre Malraux at Moulin's induction into the Pantheon – the last resting place of French heroes – in December 1964.
You cannot fail to be moved by Malraux's emotional address, and his reflection on Moulin's death, his body broken by torture at the hands of Klaus Barbie, Gestapo head known as the Butcher of Lyons. Malraux asked the young people of France to think of "…his poor, unrecognisable face on that last day, to those lips that never let fall a word of betrayal: on that day, his was the face of France…".
Provence – land of culture, land of beauty, land of plenty. It always draws you back.
---
Le Phebus Hotel & Spa
For more information about Le Phebus Hotel & Spa, click here.
All images provided by the hotel unless stated.
Roger Hermiston Eileen Wise
Roger was Assistant Editor of Today on BBC Radio 4, while Eileen headed up the global PR for The Economist and Reuters. When not travelling near and far, Roger writes narrative 20th century history books such as 'The Greatest Traitor' and 'All Behind You, Winston', and Eileen now works as a counsellor from their Suffolk cottage. They have a remarkable menagerie including a pony, two donkeys, three cats, two peacocks and a guinea fowl.