Most Epic Gambling Destinations in the Whole of Europe
Travel Begins at 40 Editor
Posted on 26th Sep 2023
While Las Vegas may have earned its reputation as the gambling capital of the world, Europe, with its rich history and opulent casinos, offers a unique blend of gaming and cultural exploration. So, put on your lucky socks, and let's embark on a journey to discover the most epic gambling destinations in the whole of Europe.
Monte Carlo, Monaco – Where Luxury Meets Luck
Nestled in the French Riviera, Monaco is a playground for the rich and famous, and it's no surprise that it boasts one of the most iconic casinos in the world – Casino de Monte Carlo. This opulent establishment oozes royal wealth and grandeur – just imagine playing poker amidst an atmosphere of luxury and extravagance. However, what's interesting is that only tourists are allowed to test their luck here, as Monaco residents are not permitted.
The casino also prioritises responsible gambling, ensuring a safe and enjoyable experience. So, while you soak in the glamour of Monte Carlo, don't forget to try your hand at the tables and make a memory to cherish.
London, United Kingdom – Majestic Gaming Houses
Across the Channel, London beckons with its majestic gambling houses that cater to the most passionate of gamblers. From the iconic Grosvenor Casino and the highly esteemed Empire Casino to traditional bingo halls, which offer the most familiar bingo games, in addition to new party and themed versions, London offers a diverse range of gaming experiences.
Picture this: You explore the historical marvels of London by day – the Tower of London, Buckingham Palace, and the British Museum. Then, as the sun sets, you step into one of these remarkable gambling venues, where an array of games awaits, from blackjack to musical bingo. It's the perfect fusion of culture and entertainment, making your trip to the UK capital unforgettable.
Prague, Czech Republic – A Hidden Gem for Gamblers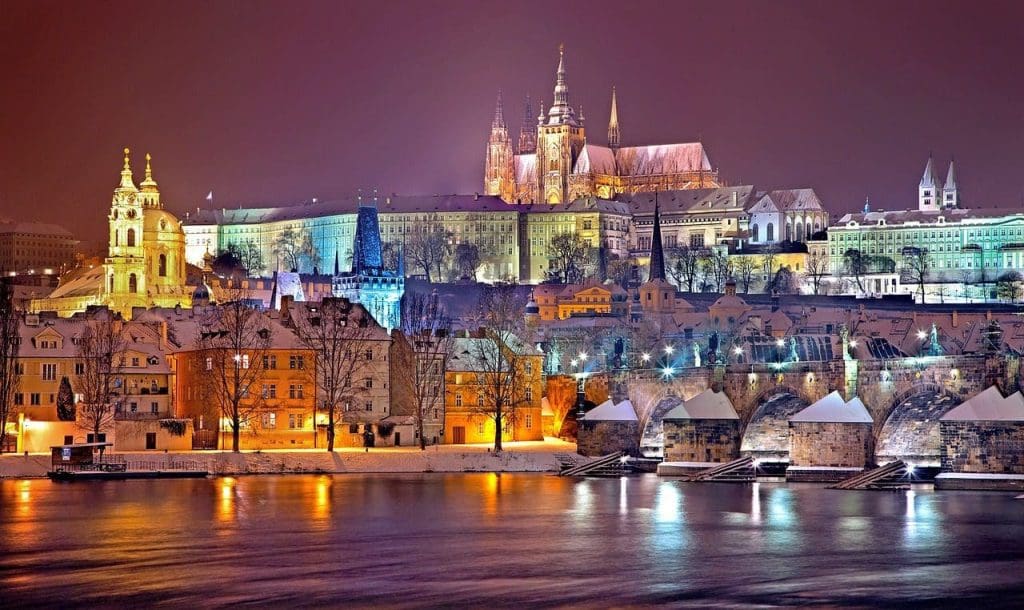 Prague, often celebrated for its history and architecture, also happens to be a hidden gem for gamblers. Beyond the stunning castles and charming streets, this magnificent city offers a range of gaming houses to cater to your every whim.
When you visit Prague, you can spend your day admiring Prague Castle and Charles Bridge and then have a thrilling evening of poker games at Casino Admiral, Ambassador, or King's Casino. Prague's casinos not only provide slots and poker rooms but also fantastic bars and restaurants, making it a haven for those seeking a vacation filled with sightseeing but also entertainment.
Amsterdam, Netherlands – Canals, Museums, and Casinos
Amsterdam, known for its picturesque canals, world-renowned museums, and delectable herring sandwiches, has more to offer than meets the eye. Though you may explore historical sites such as the Anne Frank House and the gorgeous Van Gogh Museum during the day, the city transforms into a vibrant nightlife hub at night.
One of the standout attractions in Amsterdam is the Holland Casino, renowned worldwide for its extensive gaming collection. Whether you're into poker, blackjack, punto banco, or slots, this casino has you covered. But it's not the only option – Casino City, Jack's Casino Amsterdam, MERCUR, and Play-In Casino await your visit.
In Conclusion:
Immerse yourself in the spirit, architecture, and culture of these remarkable European cities while indulging in a bit of gaming excitement. So, pack your bags, roll the dice, and let your adventure begin!
Travel Begins at 40 Editor
Travel articles, news, special offers, festivals and events from the Travel Begins at 40 Editorial team and our global network of travel industry contributors.