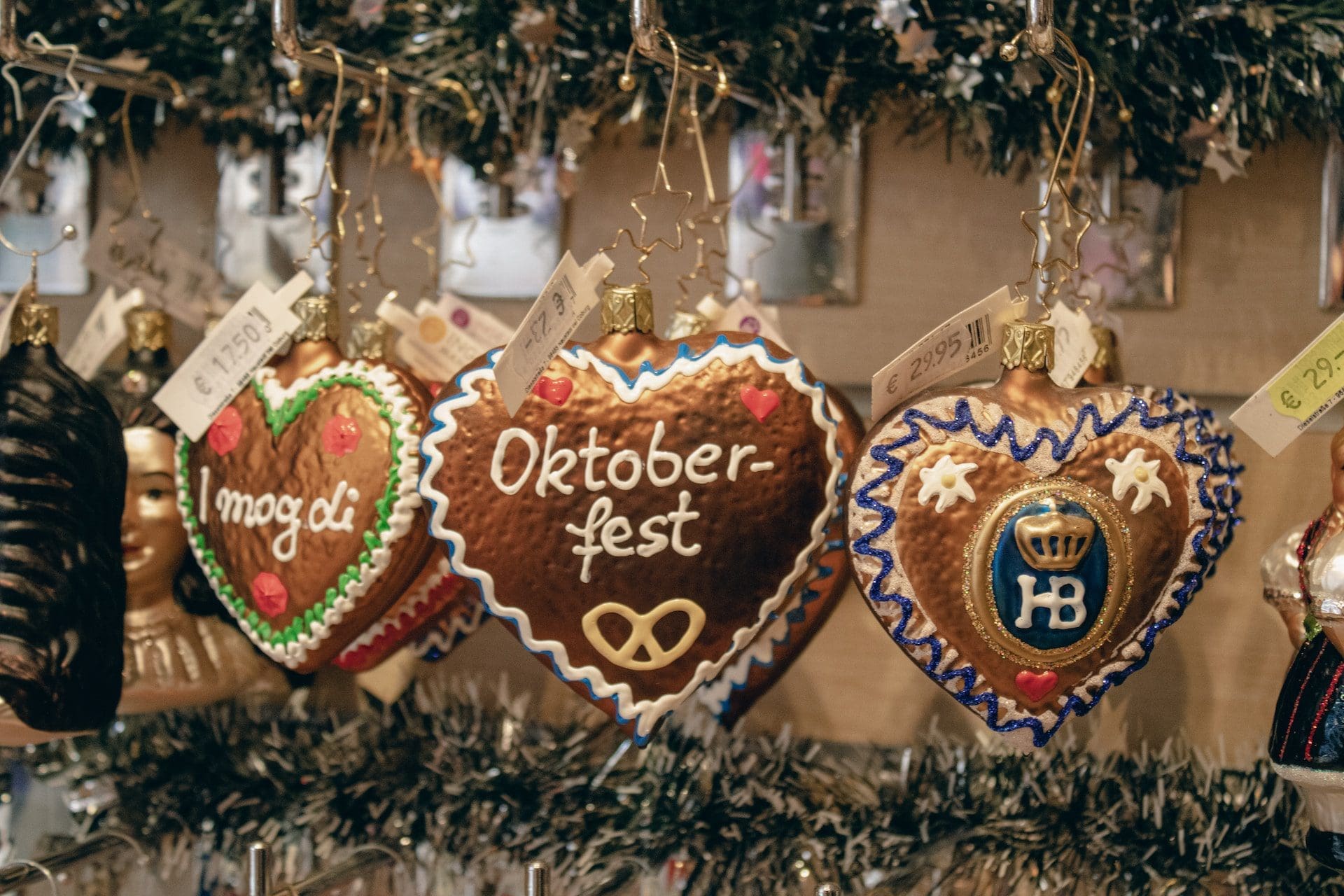 What To Wear To The Oktoberfest
Travel Begins at 40 Editor
Posted on 19th Sep 2023
A Full Guide to Dressing for Oktoberfest
For many tourists attending the famous Oktoberfest, dressing up in clothing that is closely associated with this festival is one of the best parts of the entire experience. For many locals, it represents their Bavarian culture and heritage, so ensuring you wear the outfits correctly is crucial to remain respectful while gaining the full experience.
Whether attending your first and only Oktoberfest or hoping to make it a yearly tradition, pack your most comfortable Dr Martens for the ultimate experience of traditional Bavarian culture.
For the Ladies
When attending Oktoberfest, there are traditional costumes that ladies can wear to match the theme of the event and fully embrace the culture surrounding the festival.
Dirndl
Dirndls are traditional Bavarian dresses that are commonly associated with Oktoberfest. They are typically sold in three parts: a blouse, dress, and apron, and can be purchased as a complete matching set. The bodice is designed to hug your figure and accentuate your best features, so ensure you try on your outfit beforehand to guarantee the perfect fit.
Traditional dirndls are meant to be knee-length or fall just below the knee, and it is vital to keep the appropriate length in mind when purchasing your festival fit. The color and pattern combinations are endless, giving you a chance to wear your favorite color in a feminine and stylish way.
Comfortable Shoes
Unless you want to find yourself hobbling home by the night's end, heels should be avoided entirely. It is important not to underestimate the amount of time you will be spending on your feet, walking around the festival grounds and dancing the night away, so wearing a pair of comfortable and sturdy close-toed shoes is a must.
A comfortable pair of tennis shoes, your favorite boots, or closed sandals are all excellent choices, guaranteed to keep you comfortable and active.
Crossbody Bag
One of the most important things to know before heading to Oktoberfest is that big bags over 3L are not allowed into the festival grounds. It is unlikely you would bring a bag that large, to begin with, but choosing a small crossbody bag to hold your essentials will make life far easier.
Although most dirndls have a pocket, carrying your phone, money, and other valuables in a hands-free bag will be safer. However, leave behind anything that isn't completely necessary to avoid the chance of misplacing them.
Accessories
If you want to add cute accessories to your outfit to enhance your overall look, there are a few simple accessories that you can turn to. At many stalls around the festival, you will be able to find dainty flower crowns, which add a touch of delicate whimsy.
It is common to see girls dressed up with creative braided hairstyles, which helps to complete the look. If you lack the necessary skills to achieve these elaborate styles, stick to simple and traditional choices or simply skip the braids altogether.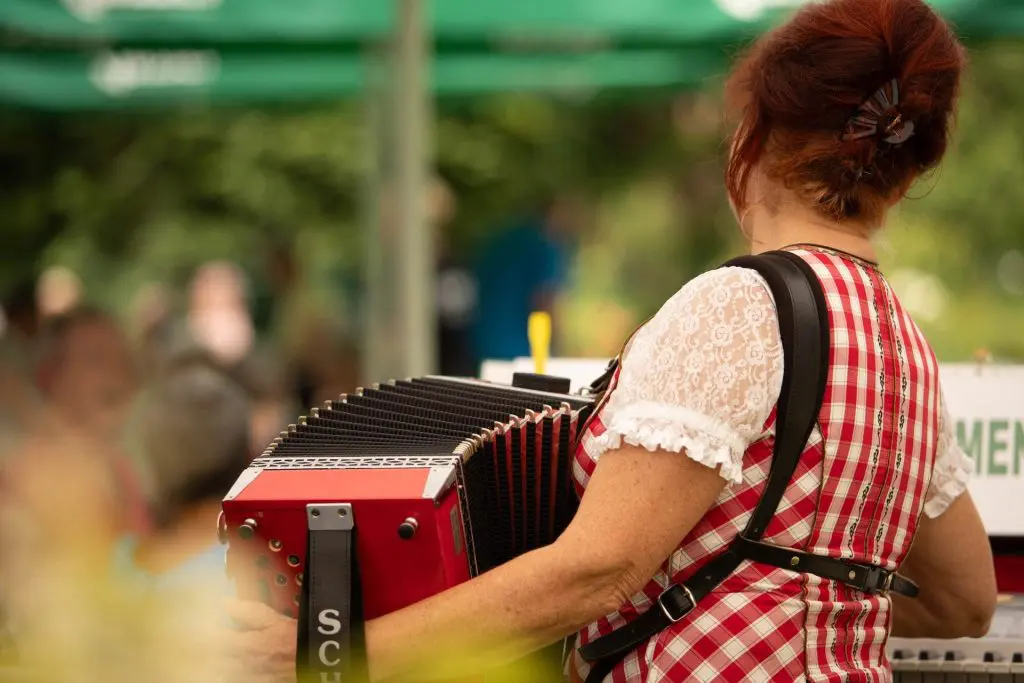 For the Gents
Alongside the ladies, men have traditional costumes to wear when attending the festival, offering them a full experience of this popular event.
Lederhosen
Most lederhosen look completely similar, but the difference becomes apparent when assessing the materials' quality. It is commonly claimed that men will only need one pair of lederhosen to last them a lifetime, and this is only possible by selecting a pair made with quality fabrics.
When making your decision, consider two main factors. Firstly, ensure they are the correct length. Typically, lederhosen comes in two sizes: shorts and ¾ leg length. Secondly, you need to decide whether you want to wear suspenders. While you can skip them, most people will encourage you to embrace them for a complete look.
Button-Down Shirt
Every Oktoberfest outfit should include a shirt of some kind to wear under the lederhosen. The most common options are checkered button-down shirts, typically in blue or red, or a crisp white shirt for a sharper traditional style.
It is essential to wear a dressier button-down shirt, not a T-shirt or polo shirt, as the latter could invite many unwanted stares and negative opinions.
Sturdy Shoes
If you are visiting Oktoberfest for the first time or are not planning on making it a yearly event, investing in pricer lederhosen shoes is unnecessary. Instead, you should bring along a pair of close-toed, expendable shoes that can comfortably carry you throughout the day while withstanding the occasional spilled beer.
Budget-friendly dress shoes or dressy sneakers in black, brown, or beige will be ideal. Choose materials that are easy to clean and simple to maintain.
Accessories
Suppose you want to look extra fancy and fit the theme to a tee. Consider adding a few accessories to your finished look. Class up your outfit with a traditional felt hat, allowing you to fit in nicely alongside the locals.
Another popular clothing option that is commonly seen on the locals is a dressy vest or waistcoat. It will complete your outfit and keep away the nighttime chill once the sun sets.
Things to Avoid
When attending Oktoberfest as a visiting tourist, it is vital to remember that these outfits are not dress-up costumes but are actual traditional clothes worn by Bavarian locals. Therefore, it is necessary to treat these garments with respect, avoiding tourist stereotypes that the locals could negatively receive.
Costume Hats
In the period leading up to and during Oktoberfest, you will see a lot of ridiculous, almost Halloween-styled hats on sale in and around Munich. Everything from beer glasses to the dancing chicken will be on offer and prove popular with drunk tourists.
Although you may get a kick out of donning one yourself, they are considered a massive red flag by the locals, causing you to stand out in an unflattering way. If you want to wear a hat, choose a traditional Bavarian style instead.
Overly-Short Dirndls
As mentioned before, traditional dirndls should be knee-length at a very minimum. The overly short varieties that are commonly available online are considered to be very inappropriate and are usually worn by tourists only. It is best to avoid these obnoxious styles and instead opt for the traditional look.
Travel Begins at 40 Editor
Travel articles, news, special offers, festivals and events from the Travel Begins at 40 Editorial team and our global network of travel industry contributors.