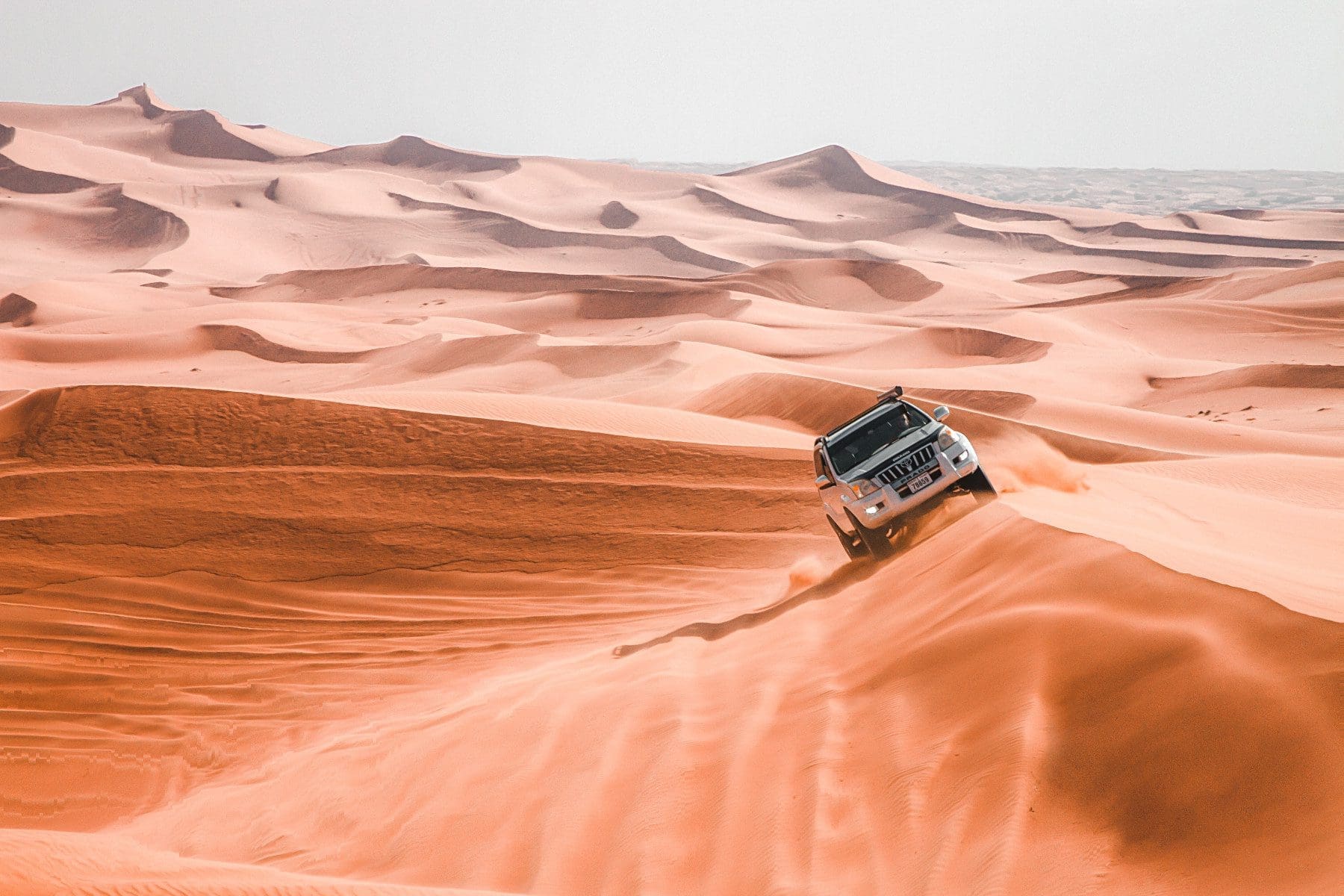 Dune Buggy Rental in Dubai: A Guide to the Most Popular Dune Bashing Routes
Travel Begins at 40 Editor
Posted on 2nd Oct 2023
Dubai, a city renowned for its luxury and sophistication, also provides exhilarating adventures in its extensive desert terrain. One of the most thrilling activities you can engage in is dune bashing in a dune buggy. These off-road vehicles are specifically made to navigate the difficult dunes, offering adventure enthusiasts an exhilarating adventure. This guide will go over the greatest dune-bashing trails in Dubai that guarantee you a fantastic desert trip. Additionally, we'll give you useful information on dune buggy rental in Dubai so that you'll be ready for your off-road adventure.
Understanding Dune Buggies: The Ultimate Off-Road Machines
Dune buggies are open-topped, lightweight vehicles that have robust frames made for off-road excursions. The vehicles have strong suspensions, strong engines, and large tires, which makes them ideal for traversing the ever-shifting desert sands. Dune buggies have a low center of gravity and are responsive, which makes them an exciting and safe means to explore the Dubai dunes.
Safety First: Preparing for Your Dune Buggy Adventure
Safety when dune bashing is very essential. Below are some key safety tips:
Put on the Appropriate Clothing: choose comfy, breathable attire and closed-toe shoes for protection against desert elements.
Buckle Up: ensure you have your safety belt on at all times, even when in off-road vehicles.
Follow Instructions from the Guide: be keen and follow the instructions of the expert guides if on a guided tour.
Stay Hydrated: Carry enough drinking water.
Inspect the Vehicle: check the dune buggy thoroughly before embarking on the experience.
Popular Dune Bashing Routes in Dubai
Al Marmoom Desert Conservation Reserve
The Al Marmoom Desert Conservation Reserve, situated just a few kilometers from Dubai City, provides an amazing setting for dune bashing. The conservation reserve is home to a wide variety of wildlife due to its pristine desert environment. The sprawling dunes provide an exceptional terrain for dune bashing with a dune buggy.
Hatta
Hatta, located in the Hajar Mountains, is a unique dune-bashing location that offers stunning views. The rocky terrain and the rolling dunes add an extra thrill to your dune-bashing experience. You will also enjoy the sceneries of the beautiful Hajar Mountains and the clear blue waters.
Liwa Desert
Liwa desert is part of the Rub' al Hali desert and is popular for its enormous dunes and stunning scenery. Dune buggy lovers surely have a great time here due to the vast, extensive undulating sand. The Liwa dunes, some as tall as 100 meters, offer a thrilling experience for adventurers looking for adrenaline-pumping activities.
Big Red (Al Hamar) Dune
The Big Red Dune in the Al Badayer area is one of the most renowned dunes in Dubai. Because of the dune's steep slope and fine sand, it has, over time, become a favorite spot for dune bashing. Enjoy the spectacular views of the dune during sunset, as it has a distinctive reddish color.
Fossil Rock (Jebel Maleihah)
Go to Fossil Rock, also called the Jebel Maleihah, for a unique dune bashing experience. This region is famous for its historical marine fossils embedded in the rocks, thus offering an amazing background when dune bashing. The rocky fossil outcrop, together with the sandy stretches, creates a diverse terrain for a memorable dune-bashing experience.
The Thrill of Dune Buggy Rental
Dune buggy rental in Dubai opens up a world of thrilling opportunities. One can experience the desert with the adaptable dune buggies thrillingly and securely. You get to create unforgettable memories as you go across the soaring dunes and are amazed by the breathtaking desert scenery. Put on your safety gear, take the necessary safety procedures, and get ready for an exhilarating dune-bashing trip at the core of Dubai's captivating desert.
Tips for an Unforgettable Dune Buggy Adventure
For a thrilling and safe dune buggy experience, follow the tips below:
Select the Right Dune Buggy: choose a dune buggy that is comfortable and suits your skill level. There is a wide variety of dune buggies ranging from beginner-friendly to high-performance buggies.
Master the Basics: learning how to control the dune buggy, how to steer, accelerate, and apply brakes before heading out for the experience is essential for a smooth ride.
Maintain Proper Tire Pressure: adjust the tire pressure by lowering it a bit to increase traction, which makes it easier to navigate the dunes. This ensures optimal performance on the sand.
Travel with a Guide: consider taking a guided tour if you are a beginner. Qualified guides have experience navigating the terrain and can, therefore, provide helpful tips for a safe and enjoyable adventure.
Time Your Adventure: Schedule your dune buggy adventure for the early morning or late afternoon when the temperatures are bearable, and the lighting is perfect for taking in the picturesque desert landscapes.
Pack Essentials: carry with you essentials like sunscreen, sunglasses, a hat, and a first aid kit. Also, bring enough water to stay hydrated while dune bashing.
Follow Leave No Trace Principles: discard waste responsibly and avoid harming the delicate desert ecosystem.
Stay Connected: even though the desert is a needed break from the hustle and bustle of the city, it's important to have a reliable means of communication in the event of emergencies.
Beyond Dune Bashing: Additional Activities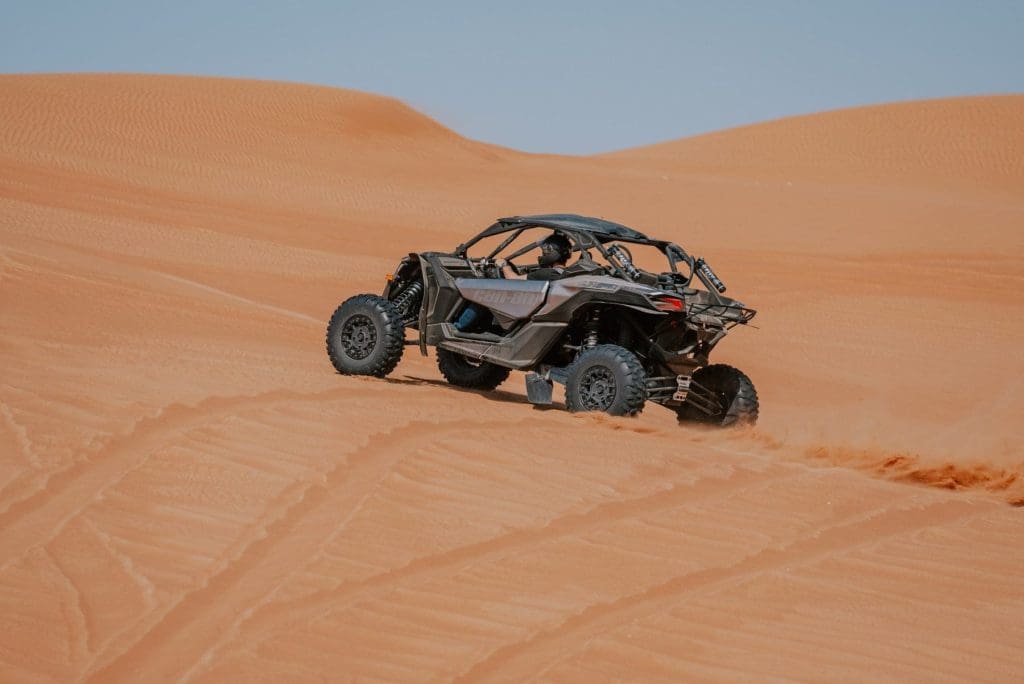 While dune bashing is the undisputed highlight of a dune buggy adventure, there are several other activities that you can engage in. These include:
Sandboarding
Sandboarding is an adrenaline-pumping activity similar to snowboarding and surfing, but you ride on the sandy slopes. If you are looking for an extra thrill, sandboarding down the dunes is the activity for you.
Sunset Photography:
The soft, golden light during sunsets creates a magical background perfect for photography. You will get beautiful shots of the desert and create lifelong memories.
Desert Camping:
Set up camp in the desert and spend the night under the star-filled sky while listening to the tranquil desert silence.
Stargazing
Head to the desert at night for amazing views of the starry sky. You get memorable vistas of celestial displays of stars and constellations.
A Lasting Memory
A dune buggy experience in Dubai is more than just an adrenaline-pumping activity; it also offers you a chance to connect with nature in a life-changing manner. As you drive through the enormous dunes and absorb the breathtaking desert scenery, you get to create long-lasting memories.
All you need to do is gear up, follow the safety precautions, and head for a dune buggy excursion that guarantees thrill, magnificent views, and unforgettable memories at the heart of Dubai's charismatic desert terrain.
Travel Begins at 40 Editor
Travel articles, news, special offers, festivals and events from the Travel Begins at 40 Editorial team and our global network of travel industry contributors.