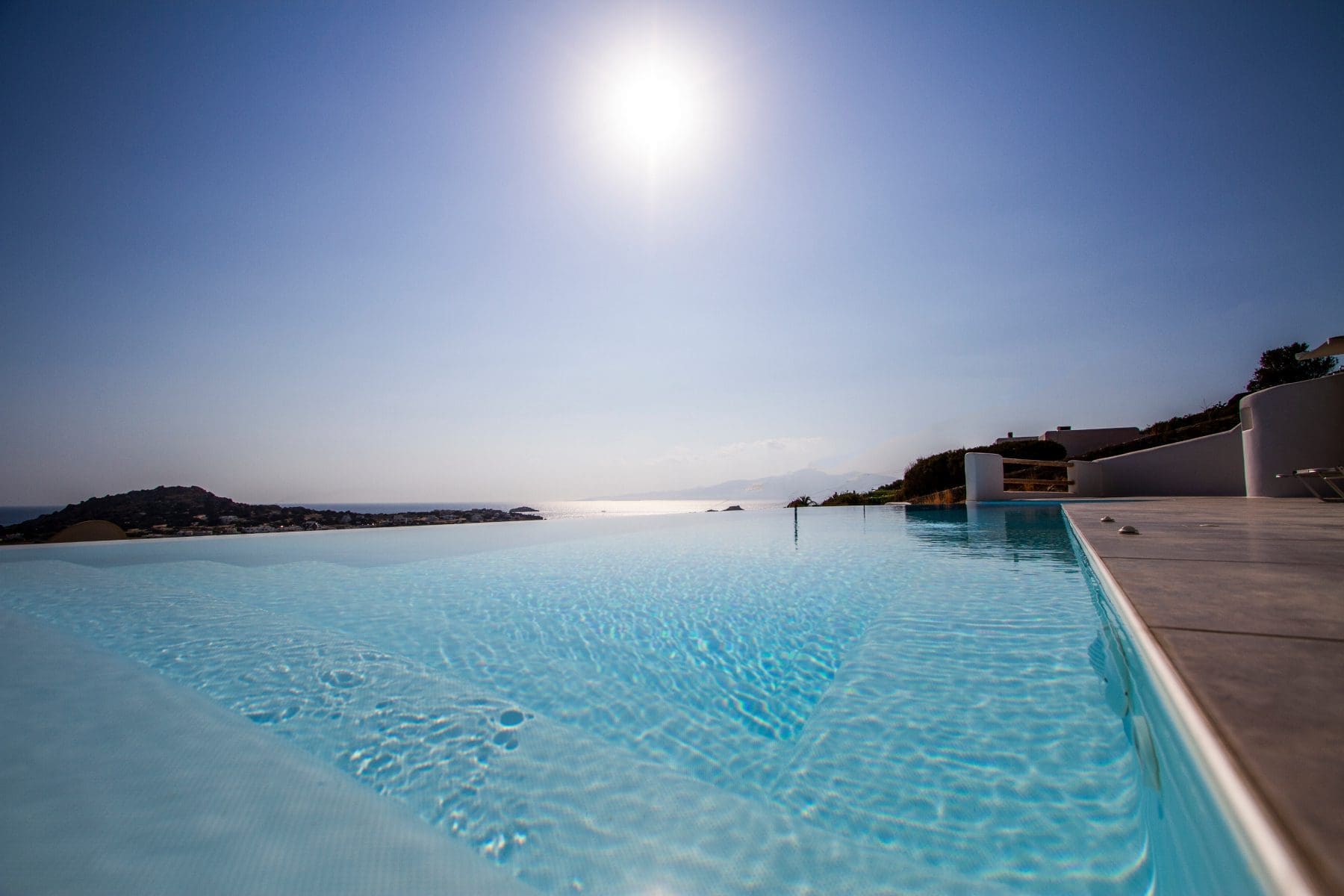 Greece Island Hopping Holiday in Style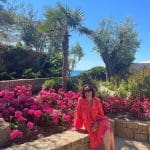 Maria Boyle
Posted on 19th Oct 2023
From backpacking to barefoot luxury, Maria Boyle retraces her first Greece island hopping trip in the Cyclades, this time with her family in tow.
One of the best summers in my early twenties was spent backpacking around the Greek islands with university friends. With a budget of £500 to cover travel, accommodation, food and going out, we survived on slices of Spanakopita pie (a Greek staple involving layers of crispy, flaky filo dough and a rich spinach and feta cheese filling), spent the days lounging on the beach, 'dined' on tzatziki and crisps, and then partied the nights away. Bliss.
Fast forward some 20 years, husbands and daughters in tow, we decided to revisit the islands, ditching basic backpacking accommodation for some the best places to stay on the Greek islands.
Greece Island Hopping : Santorini
Santorini was one of the main remnants of one of the fiercest volcanic eruptions in human history (circa 1,500BC) before it became a holiday hotspot 3,500 years later. The island is the most famous of the Cyclades, known for its plunging cliffs dripping with picturesque, whitewashed houses, blue dome churches, winding paths and incredible sunsets.
We decided to stay in Oia, the most northern part of the island, and booked in to Andronis Arcadia, located on the fringes of the village. The five-star hotel has Ibiza-eque vibes with its contemporary design, its 119 suites and villas each have earthy interiors and chic luxury touches (85 per cent of the furniture is hand made locally), together with outdoor seating and your own private pool. Serious luxury. It also has a beautiful spa and gym area, yoga classes and guided early morning hikes.
Andronis Arcadia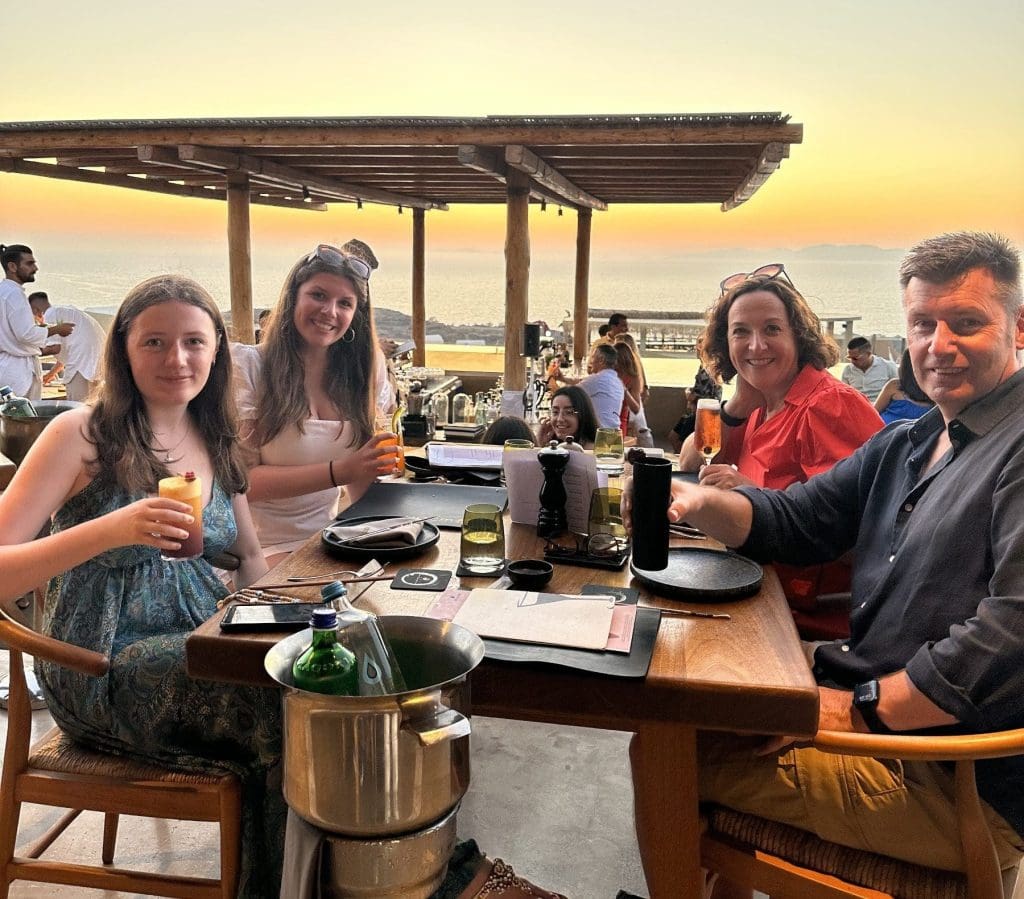 While space is at a premium in any of the hotels on the island, Andronis Arcadia boasts the largest pool on the island – some 450 square metres – as well as two other pool option, all perfectly positioned to capture 180-degree views of the Aegean Sea, the volcanic caldera and incredible sunsets. After seeing the accommodation options in Oia, we felt quite smug with our choice for our four-day stay.
Breakfasts at Andronis Arcadia are excellent. Our daughters devoured French toast made with brioche bread and caramel sauce, and waffles with chocolate sauce and bananas each day. My husband worked his way through the egg menu while the Greek yoghurt trolley with all its combinations and toppings were my favourite along with the freshest juices and homemade smoothies.
What's particularly wonderful about Andronis is that you do not even need to leave the hotel to see one of the island's famous sunsets as Pacman, where we enjoyed breakfast and lunches by its pool, cleverly transforms itself into a sunset destination each evening. Cocktails are served as the sun goes down, a DJ plays cool music, and the restaurant offers a delicious choice of Modern Greek, Mediterranean and Japanese dishes – the salt crusted sea bass was the best we have ever had, and the selection of ceviche and sushi were equally magnificent.
Akrotiri
Activity wise there is so much to do on the island. Wine tasting, visiting the historic site of Akrotiri, 'the Pompeii of the Aegean', now excavated from its ashen tomb – recommend going early before the temperate hots up).
On another morning we took a public bus from Oia to the capital Fira and visited the Museum Megaro Gyzi. Built in 1700s, the house belonged to a Venetian family and is one of the few that survived the 1956 earthquake. It is well worth the €3 entrance fee as it provides a fascinating insight into the history of Santorini.
Oia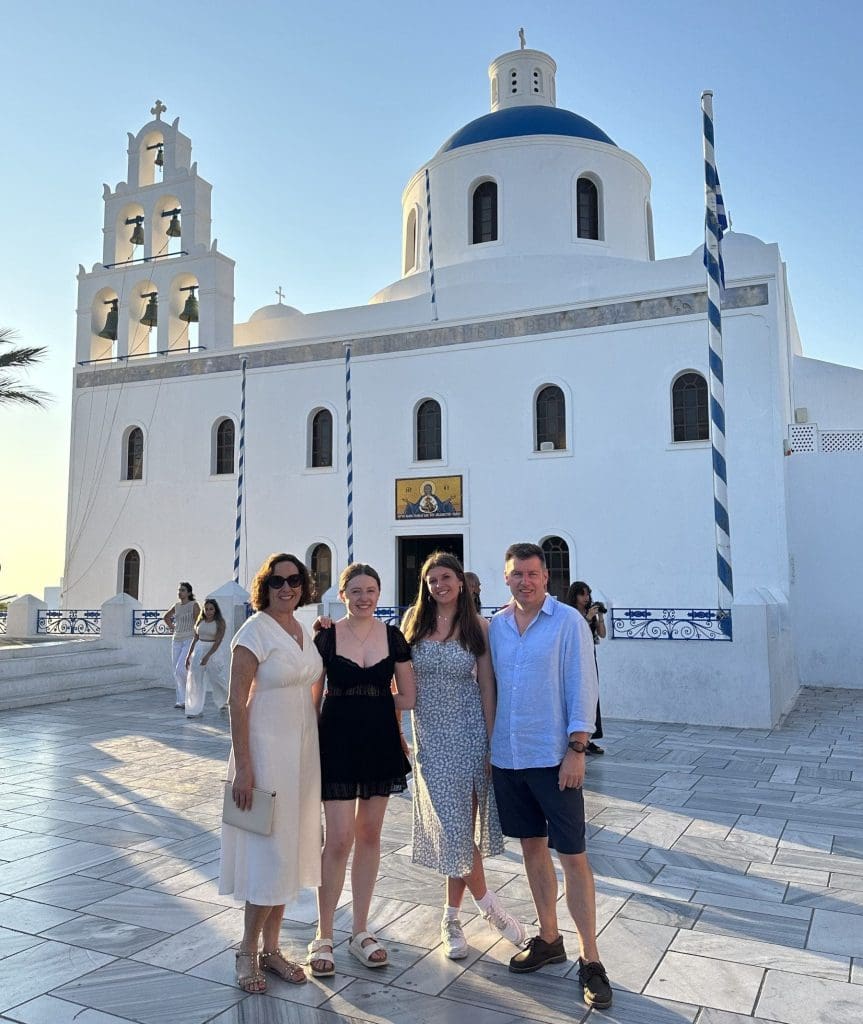 Andronis Arcadia is a two-minute stroll into Oia so we often visited first thing in the morning or later in the evening when we felt like we had the village to ourselves. The Church of Panagia with its incredible blue dome and six-piece bell tower located in Oia's main square is worth a visit and there's plenty of bars to enjoy a drink and admire the houses built in to the cliffs although now most have been turned in to hotels and restaurants.
Santorini Restaurants
Santorini's food offering is excellent. Our first night was spent in Roka following a local recommendation for fabulous Greek cuisine. But the foodie highlight of our stay on the island was dinner at Lycabettus Restaurant, where we enjoyed cocktails and mocktails in what has to be one of the best cliff top location in the world, and then devoured the tasting menu created by chef Chris Karagiannis.
This included red shrimp tartare, green gazpacho, cod in beurre blanc with yuzo kosho Garum emulsion, kohlrabi and caviar, followed by the melt-in-your-mouth chicken with ravioli and wild mushroom sauce, and equally incredible desserts. It was our daughters' first tasting menu and was a totally magical and memorable last evening in Santorini.
Greece Island Hopping : Naxos
Naxos is the largest of the Cycladic islands, known for its stunning Venetian castle, captivating history, traditional mountain villages, immaculate sandy beaches and great food.
Villa Flo
For this part of the trip, we hired a car to explore the island a bit more and booked Villa Flo, located 30 minutes from Naxos Town in Mikri Vigla on the south eastern side of the island.
The luxury air-conditioned villa was gorgeous and gave us a chance to relax and really feel at home – and catch up on washing. With beautiful interior designed, the villa is spread across two floors, with four en suite bedrooms, all of which have sea views, outside kitchen, bbq, bar and dining area, an infinity pool, shaded outdoor lounge and jacuzzi. Our highly efficient host Maria both welcomed us to the island and helped us discover some of its gems.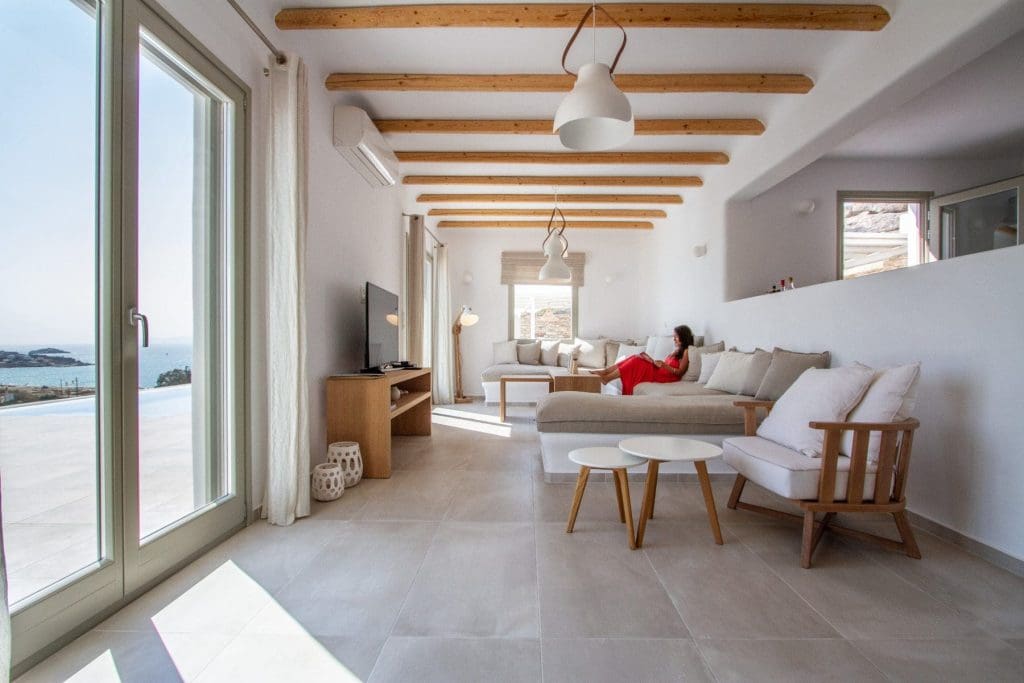 Chora
First, we visited the capital Chora, heading to the Old Market which is densely packed with restaurants and boutique shops tucked under archways, in tunnels and stacked over multiple levels. We dined al fresco at Kastro. Located just under the town's historic monastery, it serves traditional Greek fare and seafood with a contemporary twist as well as an excellent choice of vegetarian and vegan dishes; it was a real hit with all the family.
One of the coolest spots we went to was café and wine bar Avaton, located in the old Ursuline Monastery built in 1739. It served an excellent selection of creative cocktails on its rooftop in the evenings. In the day, the building houses the Archaeological Museum of Naxos, which is worth a visit as are the old kitchens of the Ursulines.
Naxos Beaches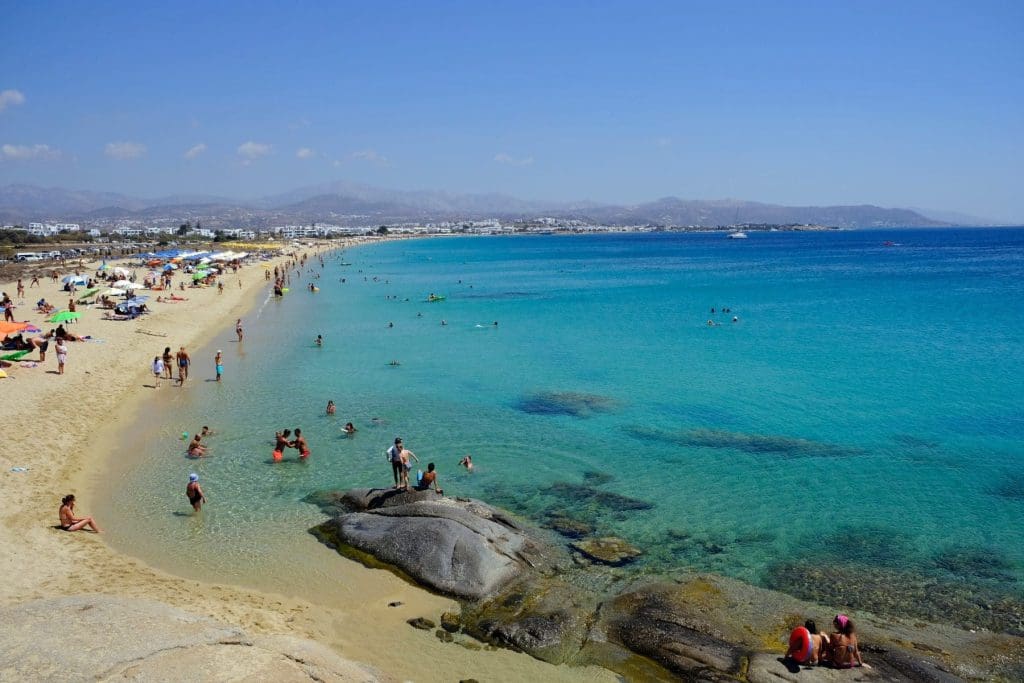 Beaches in Naxos are Caribbean like with crystal blue water and long stretches of golden sand. One of the best is Plaka Beach, just 10 minutes from the villa. We based ourselves at beach bar and club Tortuga, where we enjoyed an excellent lunch of fresh seafood, Naxian potatoes, guacamole with watermelon salad.
On our final evening, private chef Babis Tsamadias from No Reservations No Recipes came to cook for us.
The former fisherman and free diver is passionate about preserving regional heritage cooking techniques and we were keen to try. He and his team prepared a seasonal menu inspired by his knowledge of the island and its produce. It was simply magnificent. Dishes were tailored to suit all dietary requirements – nothing was too much trouble. Our selection included local salads, tuna tataki, squid carbonara (his inspired creation made with the freshest squid cut into thin ribbons, replacing the pasta), a mushroom "best ever vegan dish I've tasted" according to my daughter, followed by a range of desserts.
We left Naxos with full stomachs and heavy hearts, desperate to spend more time in the villa and discovering more of the island – we will definitely return.
Greece Island Hopping : Mykonos
A short 45-minute ferry trip led us to our third and final stop, Mykonos, otherwise known as the island of the winds. Our base was Harmony Hotel, a 22-room boutique hotel with a pool just located by the old port and a two-minute walk into Mykonos Town.
While the island has a reputation as the Ibiza of the Aegean, it is also incredibly laid back and fascinating to explore – that is as long as you can get a taxi when you need one –there are only 31 licensed taxis to cover the island.
Mykonos Old Town
Mykonos Old Town is worth a visit. It's easy to get lost in the narrow alleyways but this provides a reason to stop and enjoy a drink in the extensive choice of pavement bars.
Retaining its historic charm, the stone windmills of Mykonos Town are a must see as is Little Venice which you will recognise from the familiar images associated with the island.
By stop three, we had reached our limit of sightseeing so decided to do what is in Mykonos. Relax, eat, drink and enjoy some beach time.
The island once again delivers on all things foodie. Kalita, headed by chef Vaois Ntoutsias who has been in residence ever since the restaurant opened some 13 years ago, is located in a pretty courtyard in the heart of the old town. It serves modern Greek cuisine that is Michelin standard. As soon as we left the restaurant, I was recommending it to friends who were visiting in a few weeks' time. It's a must.
Our daughters were desperate for an alternative Mykonos experience so one night we decided to watch a film under the stairs at Cine Manto, a tree-shaded open-air space in the heart of the Old Town opened throughout the summer. No online booking available, you just queue and hope to get one of the 180 seats. It's a fun night out, and as there is an adjoining bar and restaurant all bases are covered.
Mykonos Boat Trip
Another day we bought a ticket and jumped on a wooden motorised boat service run by a co-op of local fisherman's family and stopped at a number of the island's beaches before chilling at Platis Gialos with its crystal-clear water and beach bars and cafes.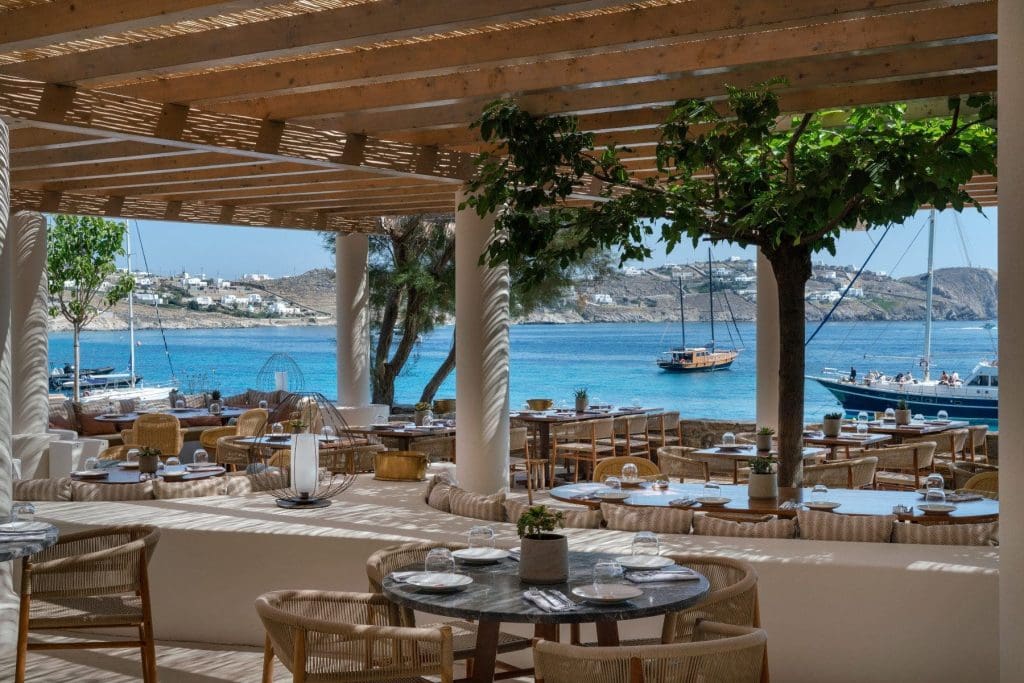 To enjoy the island vibe, we booked lunch at Zuma Mykonos which is a 10-minute walk from our hotel in a fabulous location with expansive sea views. As well two large restaurant spaces, it has a great bar and huge infinity pool. Guests can feast on excellent dishes such as freshly seared wagyu sirloin tataki with truffle ponzu or jumbo tiger prawn with yuzu kosho and lounge on the sunbeds, overlooking the Aegean Sea. It was a really fun day and both parents and daughters loved the resident DJ whose music choices appealed to all – quite a mean feat.
For our last evening, we visited Bill & Coo Beef Bar, located on Agios Ioannis Beach under the mulberry trees. The spacious restaurant has an excellent menu. Chef Yiannis Babalis has added fresh Greek inspired options including tarana tuna with yuzu, grilled fish and jumbo prawns, as well as the only Kobe beef gyros in the world. It was spectacular and a wonderful dinner to end our epic Greek odyssey.
We enjoyed three mini holidays in one and loved visiting every island. Now we just need to return to explore the other 223 inhabited islands……perhaps next year's holiday is already sorted.
---
Greece Island Hopping Tips
There are many ferry booking platforms, but the best one is Ferryscanner, as you can see all the different options of ferry companies, ferry routes, times, prices available for wherever you want to go versus booking with one ferry company.
Smile Rent a Car: portside pick up, book via [email protected]
---
Where to Stay on Greece Island Hopping
Santorini: Adronis Arcadia sunset suites from £560, including breakfast.
Mykonos: Harmony Hotel, rooms from €150.
Naxos: Villa Flo by Anamnesia Collection (travelstaytion.com) Price per night from £385.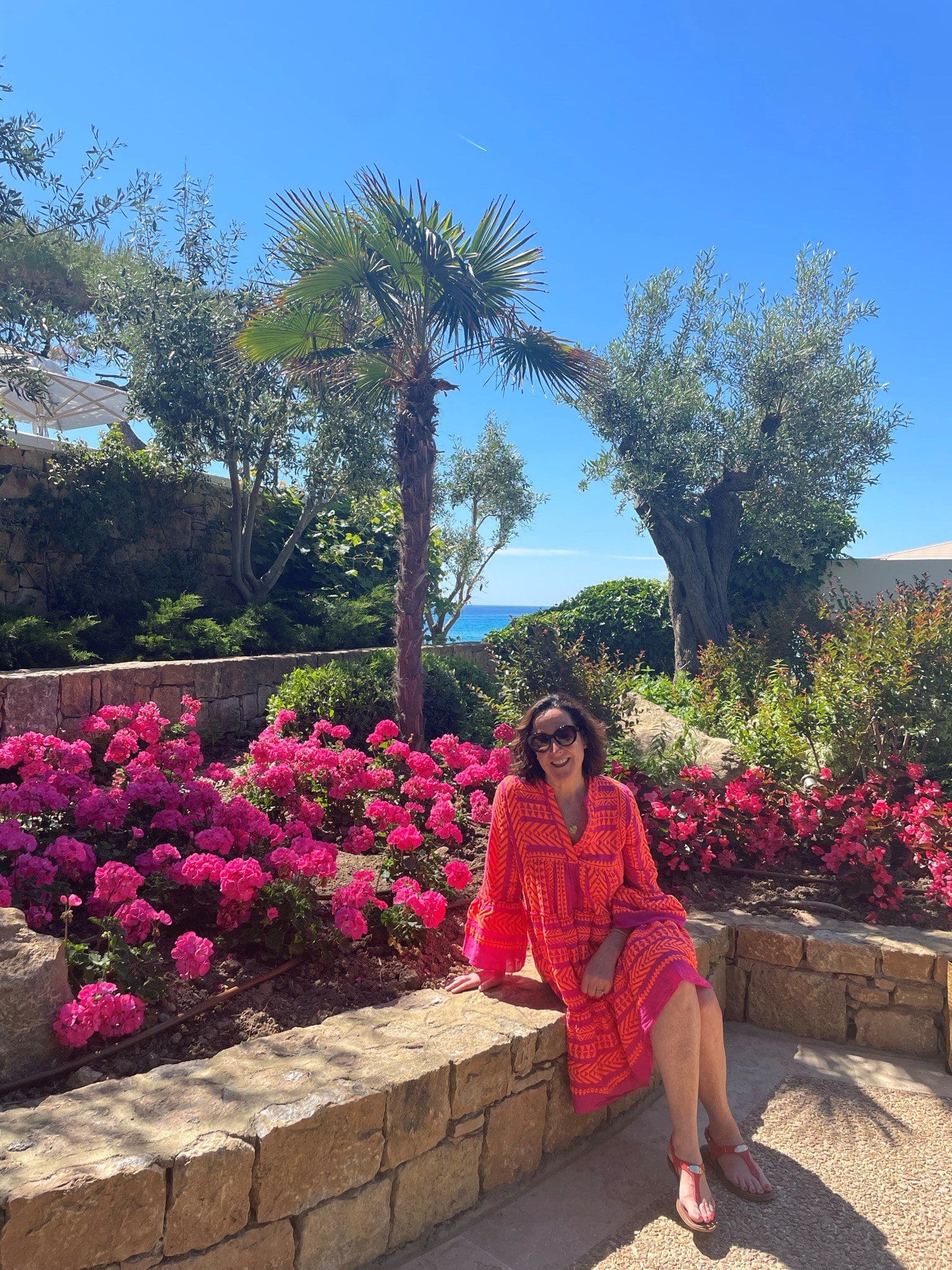 Maria Boyle
Maria is a luxury travel writer and also consults luxury brands on PR. Her passion for travel started in her teens and has taken her around the world. Favourite destinations include Costa Rica, South Africa and Italy.