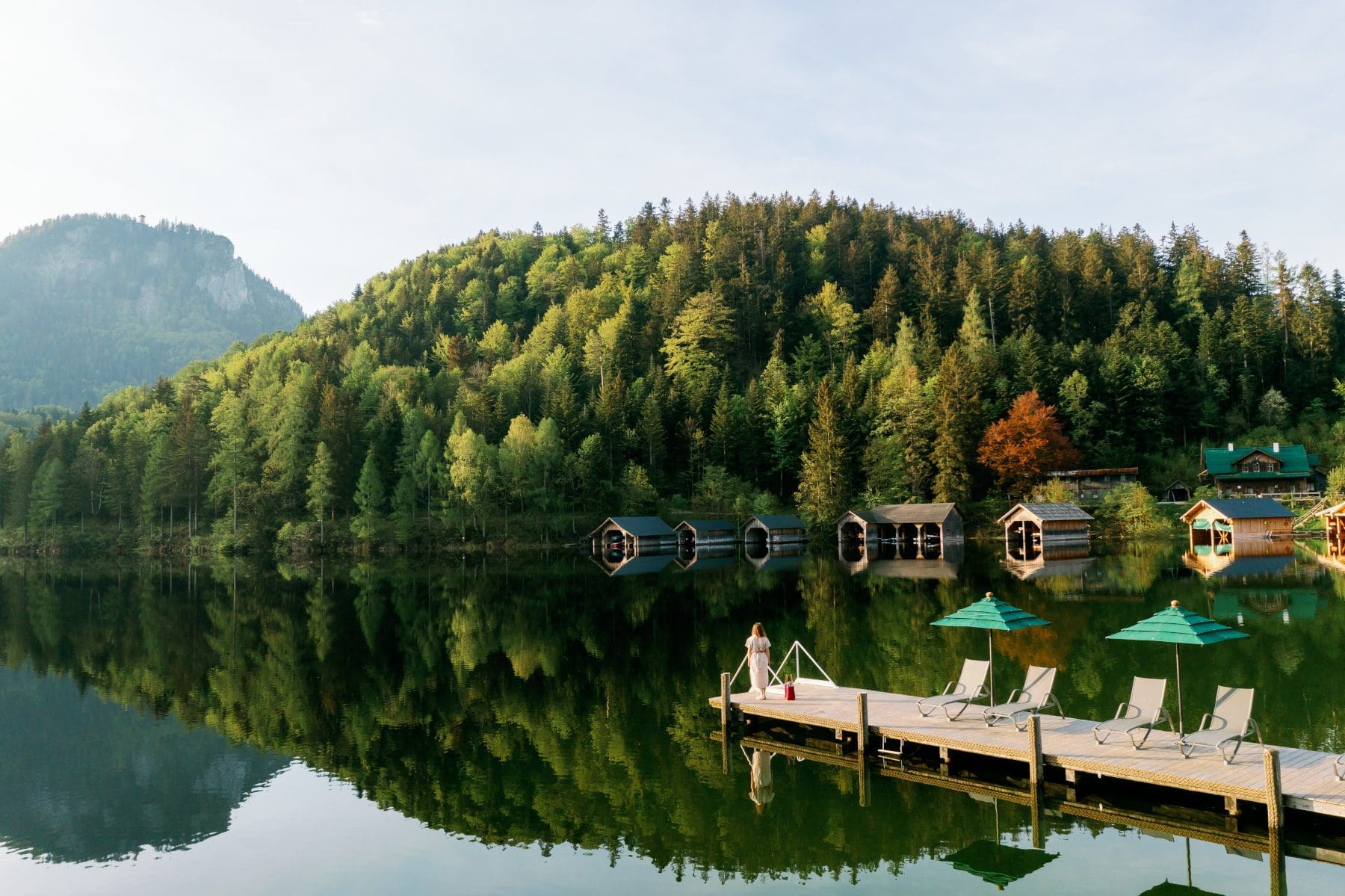 Reinvigorated at Mayrlife Health Resort Altaussee
Eileen Wise
Posted on 15th Nov 2023
Eileen Wise stays at the Mayrlife Medical Health Resort in Altaussee Austria and comes back rejuvenated and reinvigorated.
This is how it must feel to be back in the comforting, nurturing environment of the womb. I step down into a warm water indoor pool to float into the arms of Ursula, a strong and caring woman, and discover the soothing pleasures of watsu, a form of Japanese shiatsu (massage).
Ursula gently cradles me in her arms, my head nestling on her shoulders, before moving me across the water while gently stretching and massaging me. An extraordinarily pleasurable treatment, it's one of the most intimate and unusual I've ever experienced.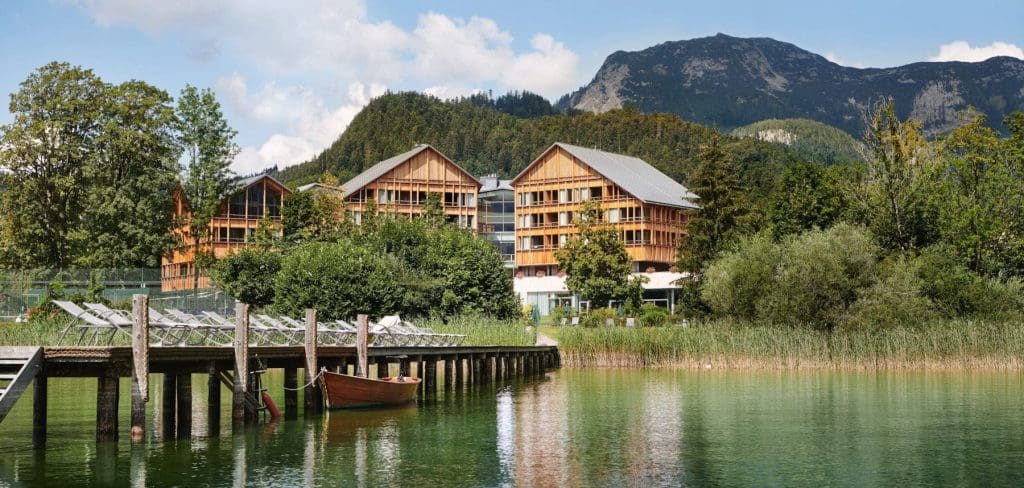 Mayrlife Health Resort
My treatment took place while I was staying at the world renowned Mayrlife medical health resort in Austria, on the shores of Lake Altaussee. This beautiful clear stretch of water – so pure that it is served in the clinic's restaurant – is surrounded by breathtaking mountains and a glacier.
It's a stunning setting. As Mayrlife's Chief Executive Dr Dieter Resch told me, "the beauty of our surroundings is so important to our guests and are as important as our treatments and regime – we want people to unwind, relax and enjoy the natural beauty of nature".
I stayed at Mayrlife for one week – on their detox programme. This wasn't as bad as it sounds as we were allowed to eat some delicious food for breakfast and lunch, albeit in small portions; dinner however did consist only of vegetable broth! Thankfully the broth also on offer all day, which was vital because other than that there was only still water.
I was surprised how quickly I adapted to such a limited diet – but not everyone is so lucky. Those guests who had not followed the advice of cutting out coffee, tea and sweet things ten days before arriving at Mayrlife suffered from headache and fatigue. I had knuckled down and obeyed the instructions, so I didn't experience any problems.
FX Mayr Cure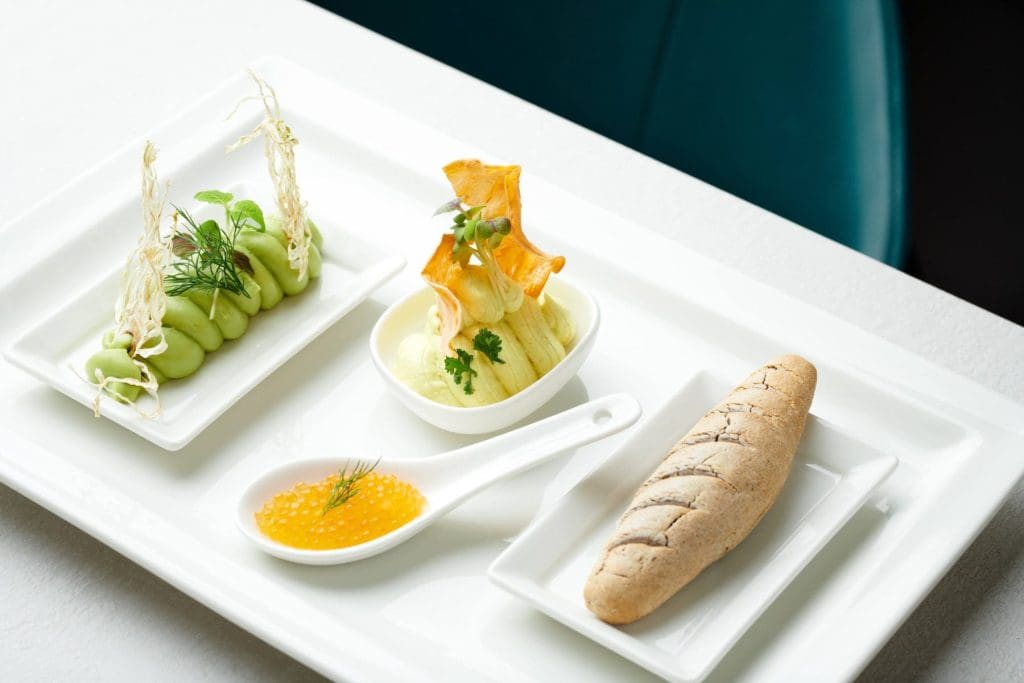 At its core, the resort's standard FX Mayr Cure teaches that the key to our health and beauty starts in our guts. The resort offers very personal and individually tailored programmes to their guests. What impressed me was that I saw a doctor every day for a detailed consultation.
My doctor Ingrid was a delight to work with – calm, reassuring, gentle and always cheerful. I felt she really cared about my wellbeing and wanted me to get the very best out of my stay.
The first time I saw her she took blood and urine samples and set up an array of other tests, while asking for my full medical history so she could draw up a comprehensive medical diagnosis. All this helped her to find any food intolerances I had, or anything else that might affect my gut and overall health. I found out I was intolerant to eggs, tomatoes and gluten – the former I knew, but the latter two came as something of a surprise.
I was then weighed and my height measured. After my first consultation Dr Ingrid advised what medications and natural supplements I should take during my stay, which I could continue when I got home. Each day she gave my tummy a massage to determine how things were developing with my digestion. The resort's mantra is the digestive system, detoxification and regeneration.
She explained the basic principles of healthy eating and living. Once you've chosen the right diet – which involves, sadly, cutting out sugar – eat smaller portions and chew very slowly, as much as forty times per mouthful. Exercise and rest, in equal measures, are crucial elements in a healthy lifestyle. Also vital is cleansing the gut of all the bad stuff that congregates there, with the aid of powders and Epsom salts which invite in "the good seeds".
Cleansing the Gut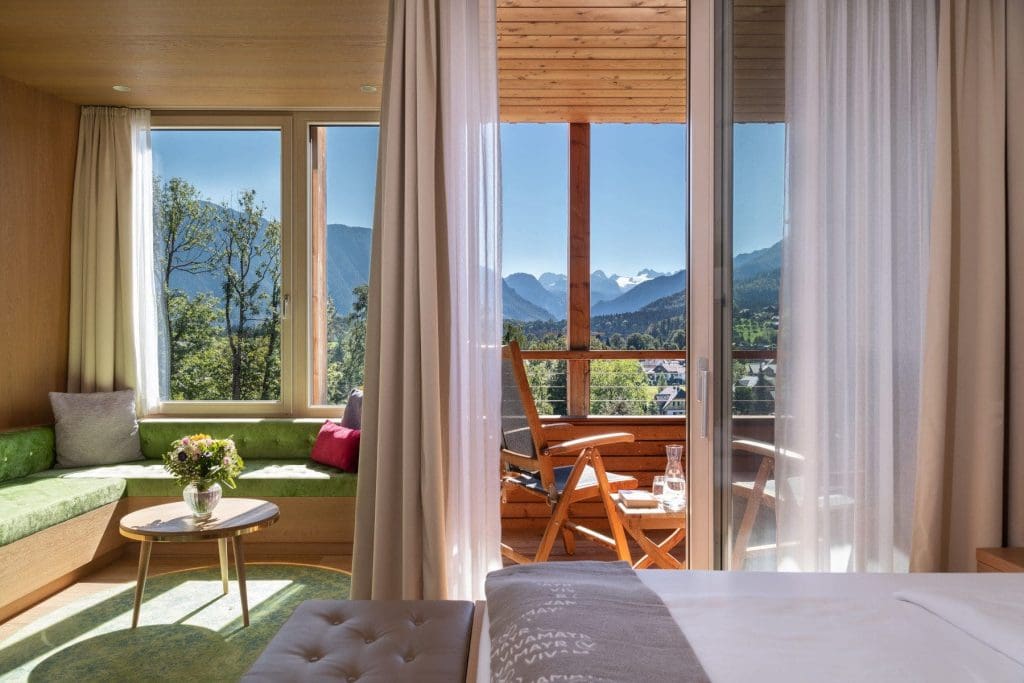 Most guests experience the Epsom Salts treatment which is not pleasant!
Epsom Salts help to cleanse the gut in a dramatically strong and effective way, so much so that you find that you need to make numerous toilet visits throughout the day. But along with the colonic irrigation treatment (I will leave that to your imagination but it is really not as bad as you may think!) my gut was completely cleansed by the end of the week, leaving me feeling much lighter and much more energetic.
There is no question of anyone feeling isolated. For any guest who feels they are struggling during in the night when the general staff have gone home, a doctor is always on call 24 hours a day, which is most reassuring.
Exercise classes, yoga and Pilates are offered every morning for the early risers, starting at 7am. My favourite activities were swimming in the crystal clear lake, and taking the long 4.5-km walk around it, enjoying the beautiful forest, flowers and fauna, and the abundant bird life. The walk was so peaceful and relaxing and something I enjoyed a few times during my stay.
Learning to Chew
As mentioned, one of the first things you are told about the Mayrlife eating regime is to chew your food thoroughly until it is quite paste-like. The recommendation that you chew each mouthful forty times was not something I found easy, as leading a busy life I often eat on the run and gobble up my food in a very greedy manner. But after a couple of meals with proper mastication, as well as eating my broth with a teaspoon to slow down, the process started to come naturally.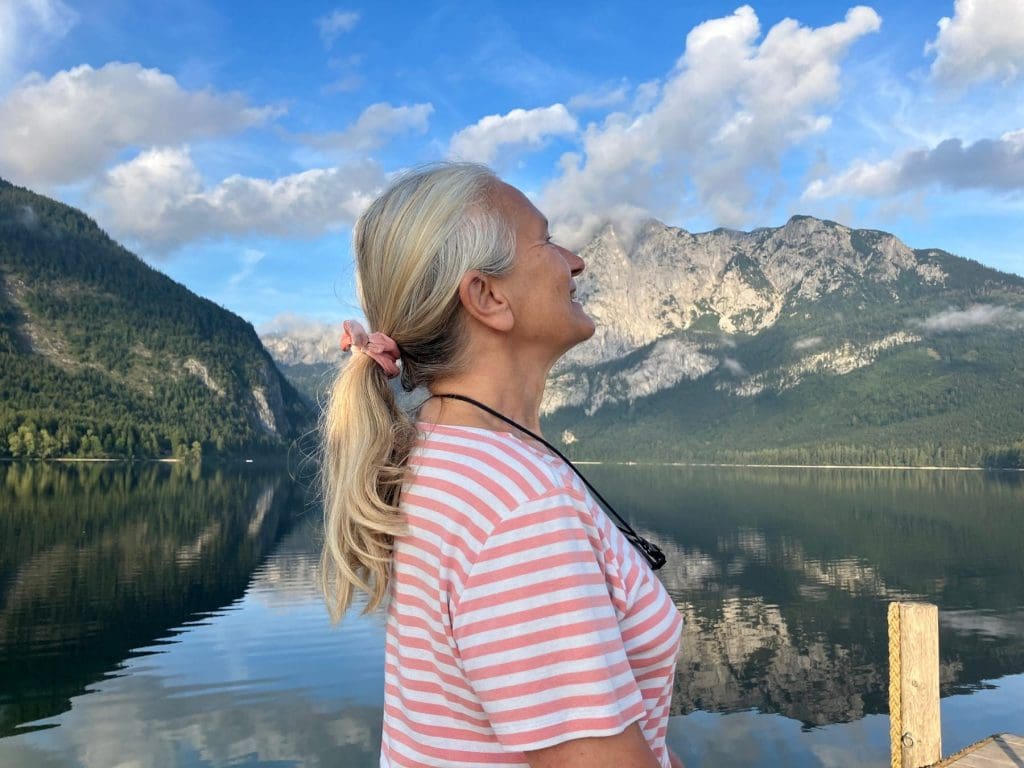 An additional aid to help it came with what is called a "chew learner", which consists of hard dry rolls or crackers; these are a challenge to chew and really do make you eat more slowly.
Before any meal there are various drops and supplements to take which your doctor has prescribed – it could be that you are deficient in certain minerals, or need something else to help with your digestion.
Then when the food arrives, it is always beautifully presented as you would expect in any five-star restaurant, and even though the portions are small the chef makes them look attractive and appetising. My favourite lunch was a delicious lightly whipped avocado mouse with a spoonful of caviar, served with strong, tasty hard goats cheese. It is recommended that you don't drink liquids for half an hour prior to and then after meals, as this aids digestion.
One of my biggest delights was to find the house cat routinely turning up on the terrace at breakfast, lunch and supper times. All the guests loved her and secretly fed her little titbits! I miss my own animals when I'm away so it is always a treat to make a new furry friend.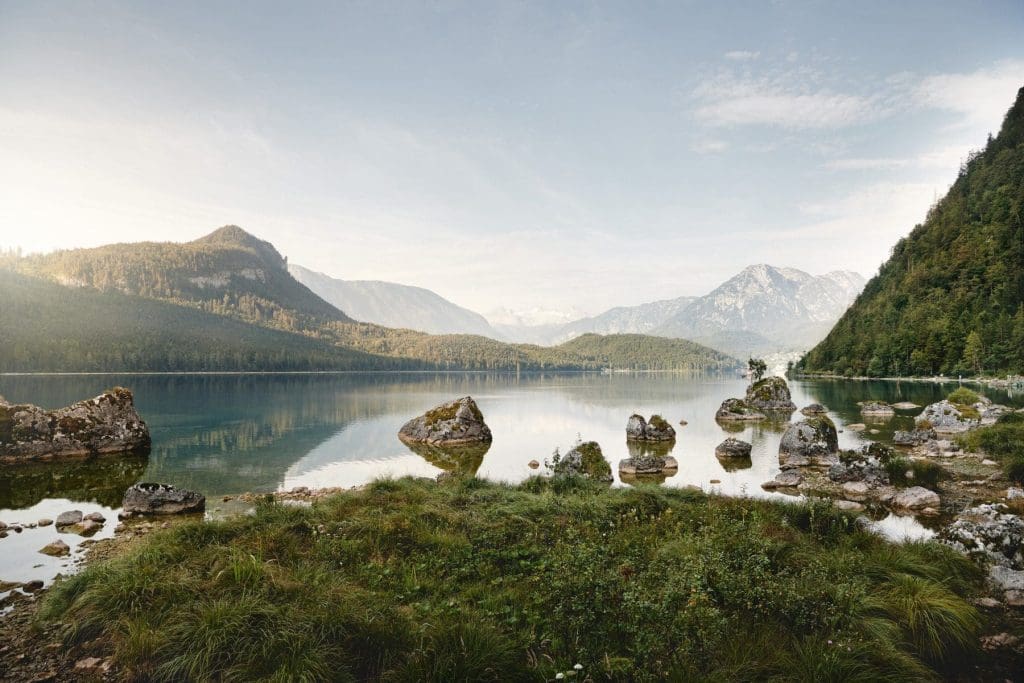 A quiet atmosphere is encouraged at Mayrlife Altaussee. Guests are asked to eat quietly and, if possible, not to talk to others but to concentrate on chewing their food and savouring it. This often proved difficult as the guests – of all nationalities – were generally a friendly and very social crowd! Away from the table, it was very easy to find quiet spaces in which to relax on your own.
But I had some really interesting chats during my stay with an array of different guests. I encountered solitary students, couples there to support each other in their efforts, a father and son who only lived a short drive away from me back home in Suffolk, a retired hedge fund financier from Dallas, and a fashion photographer and his charming mother.
Mayr Celebrities
The Mayr attracts many high profile people – politicians, captains of industry, an oligarch or two, and many an actor who has travelled all the way from the US.
According to media reports past guests have included a Rolling Stone, Elizabeth Hurley, Rebel Wilson, Kate Moss and even British politicians Theresa May and Michael Gove. The Mayr is a discreet place and those normally in the public eye are looked after like anyone else, left alone to relax and are not bothered by the other guests
Since the pandemic the Mayr organisation has offered programmes specifically tailored for those who have suffered from long Covid. Those sufferers who have stayed at the Altausee clinic have found that after just three weeks they feel much stronger and more energised.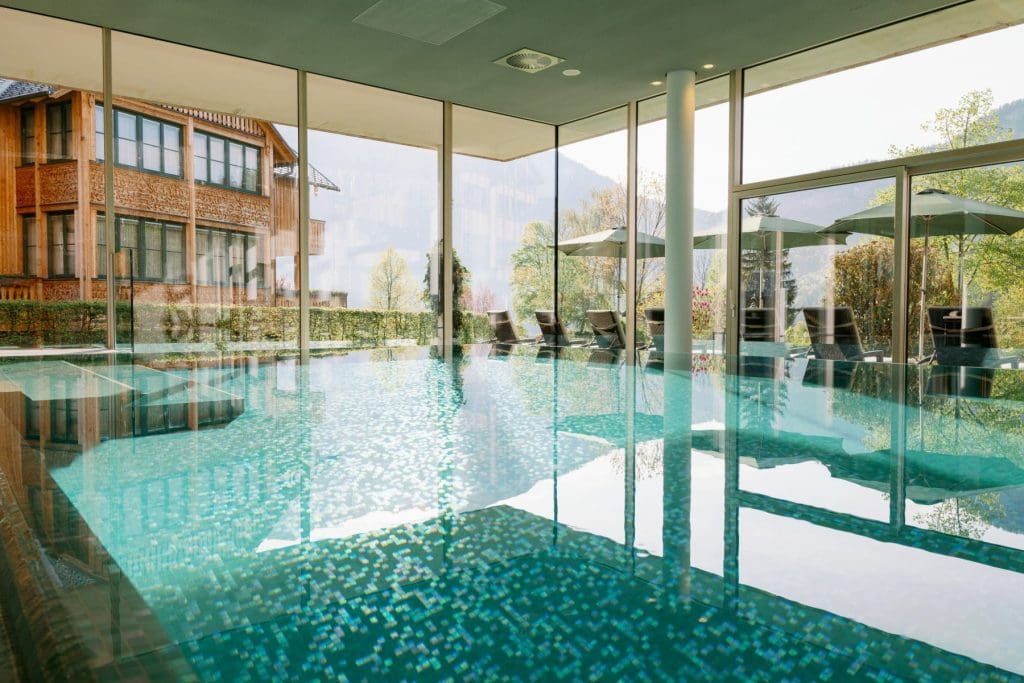 History of the Mayr Cure
So how did the Mayr Cure come into being? The ethos of Mayrlife stems from Dr F X Mayr, an Austrian who opened his first clinic in the spa resort of Karlovy Vary in Czechoslovakia in 1906. His work and research helped him to understand the importance of health-enhancing good nutrition in developing a good digestive system. Dr Mayr's principles for a healthy life endure, but over the years the organisation that takes his name has adapted them for a modern age and continues to improve diagnoses and develop even better treatments to enable its guests to lead healthier lives.
Treatments at the Mayr Clinic
During my stay I had a range of different treatments – most of them pleasant, some not so. The former included a delightful 50-minute Detox Massage which was deep and strong but left me feeling relaxed and full of energy. The hilarious experience of Ariel Yoga – yoga movements and poses performed in a hammock hanging down from the ceiling – was something in which I didn't excel, but it did make me laugh!
I enjoyed regular electrolysis footbaths, and a couple of times I had nasal reflex therapy which consisted of having scented cotton buds stuck up my nose. Not a great experience but my breathing did seem clearer afterwards. My programme also included a skin consultation followed by a wonderfully relaxing facial.
A herbal detox wrap was most relaxing. The therapist rubs salts all over you, wraps you up in sheets and then while cocooned you lie on a warm water bed which gently massages you for half an hour.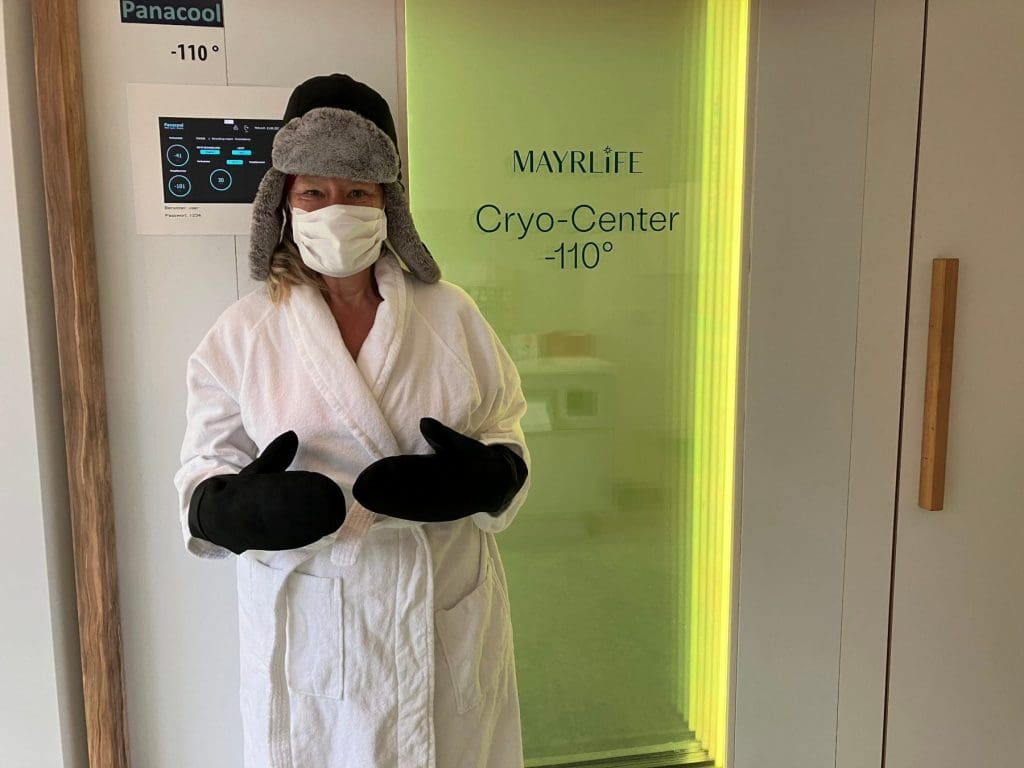 One of the more unusual and slightly nerve-wracking treatments was cryotherapy. It entailed getting wrapped up, putting on thermal gloves, socks and slippers and finally a fur hat more commonly worn in Moscow in the depths of winter. Then I stepped into a chamber with a temperature of -100 C!
I was encouraged to stay in there for three minutes, all the time moving and rubbing my hands and legs to prevent the ice forming on them. It was a real shock to the system, but once out of the chamber and warmed up I felt really energised and ready to take on the world.
What I like about the Mayr is that you can be as quiet or as busy as you please. The treatments and the medical consultations are an essential part of your package, but you can dip into all the exercise opportunities as and when you desire. For the more adventurous, there are guided walks around the lake and the mountains, and even horse and carriage rides in the town.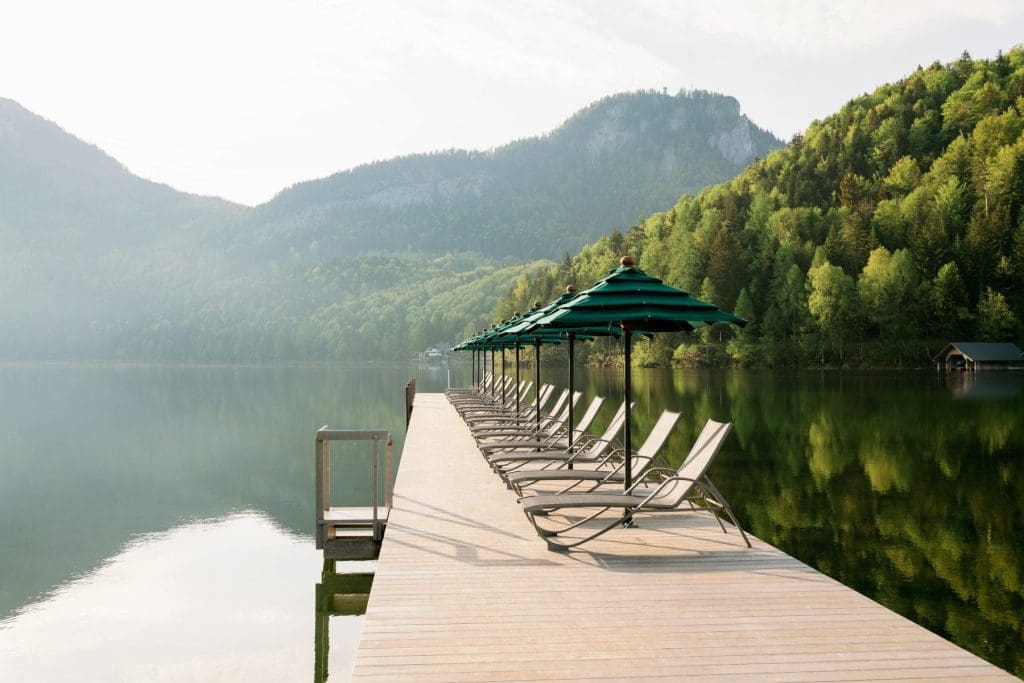 But none of all this is mandatory. You can simply take a book and sunbathe on loungers by the lake. I enjoyed this a lot, relishing the bird life flying all around, diving coots and noisy ducks splashing and quacking in the water. At home I have very little time to read so being able to sit on the jetty by such a beautiful lake and devour three books during my stay was a huge treat.
I should mention that each day talks/lectures were offered by the staff on subjects ranging from gut health, cooking, medical issues, to psychological problems. Group meditation was available too, and one rather special occasion was what was called a Circle Meeting, taken by the house psychologist, Erich, where a small group of us gathered around a spit fire on the side of the lake as the sun was setting. Erich gently played his guitar, and we all sang along. Afterwards we shared with the group anything we were comfortable talking about, knowing it was a safe and confidential space to open up.
Mayr Design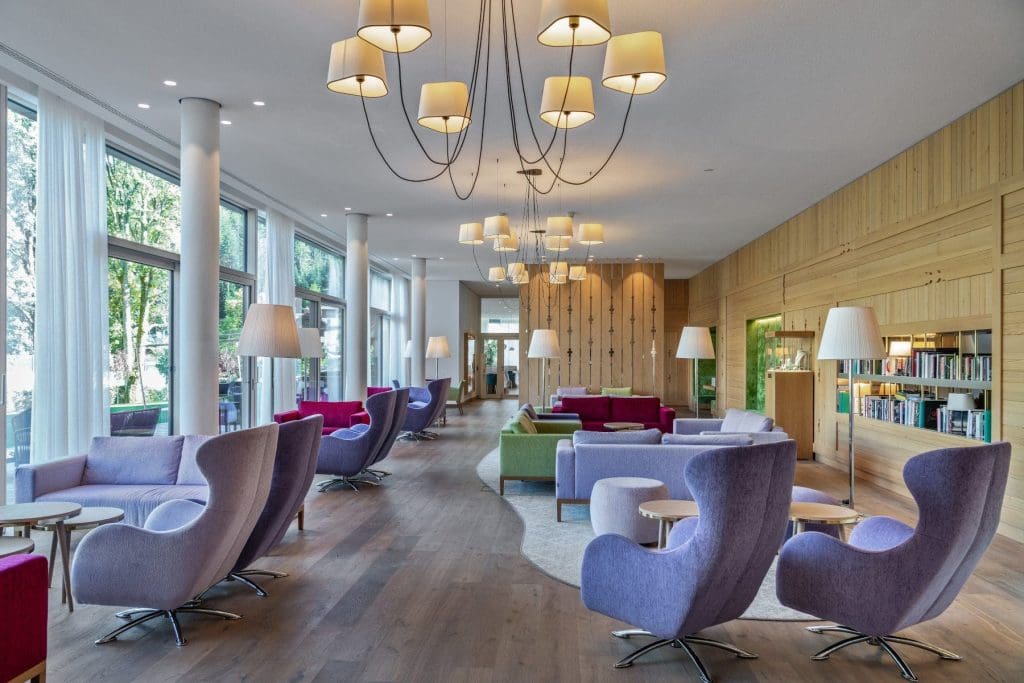 All areas of the Mayr are stylishly designed in soft relaxing colours. Each room has a sofa area arranged alongside the window so that you can snuggle down and take in the magnificent views of the mountains and lake. The king size beds are welcoming and comfortable, and the well-equipped bathroom offers you the choice of a deep relaxing bath or a generously spaced revitalising shower. The walls of the building must be extremely thick and sound-proofed as during my stay I barely heard a sound from other rooms or in the corridors – so important for serious relaxation.
Horst Mayer, Mayrlife's manager is proud of the fact that 55% percent of their guests are returnees and a good number of people come back within one year for a top up. There are 64 rooms and suites but the place never feels crowded – there are always quiet areas to sit and relax.
Now that I am back home, I am trying hard to keep to the regime, and although I find myself rushing my food and forgetting chewing, I am managing to pull myself up pretty quickly. I have lost a couple more pounds in addition to the 4.5 lbs during my stay, which I put down to everything I learned at Mayrlife and my determination to make some of the healthy lifestyle changes Dr Ingrid suggested.
Whether you want to relax, lose weight, de-stress, recover after an illness or merely rest you would be hard pressed to find somewhere more special than this magical place on a glittering lake amidst the beautiful Austrian mountains.
---
Mayrlife Medical Health Resort
For more information on Mayrlife Medical Health Resort, click here.
Getting to the Mayr Clinic
The nearest airport is at Salzburg, an hour away. You can fly to from London Stansted. Bad Aussee train station is 10 minutes from Mayrlife Medical Health Resort.
Eileen Wise
Eileen enjoys writing about her travels and in the past when she headed up the PR for organisations such as The Economist and Reuters she travelled the world. She now works as a counsellor and lives in Suffolk with her writer partner Roger and a menagerie of a pony, two donkeys, three cats, two peacocks and four guinea fowl.