Candle Festival Thailand, 2023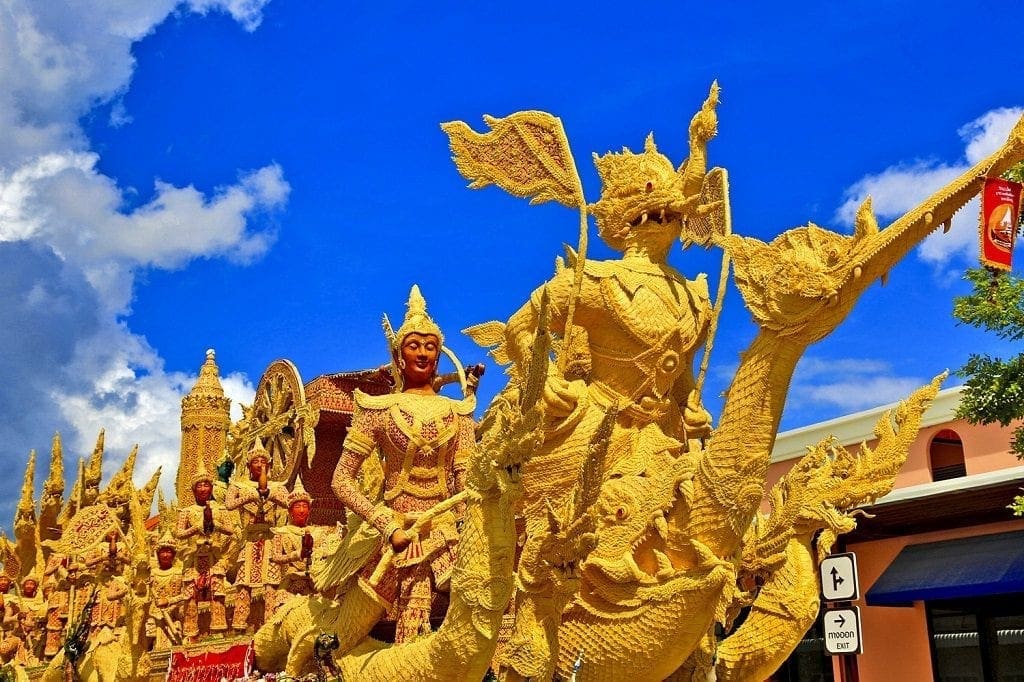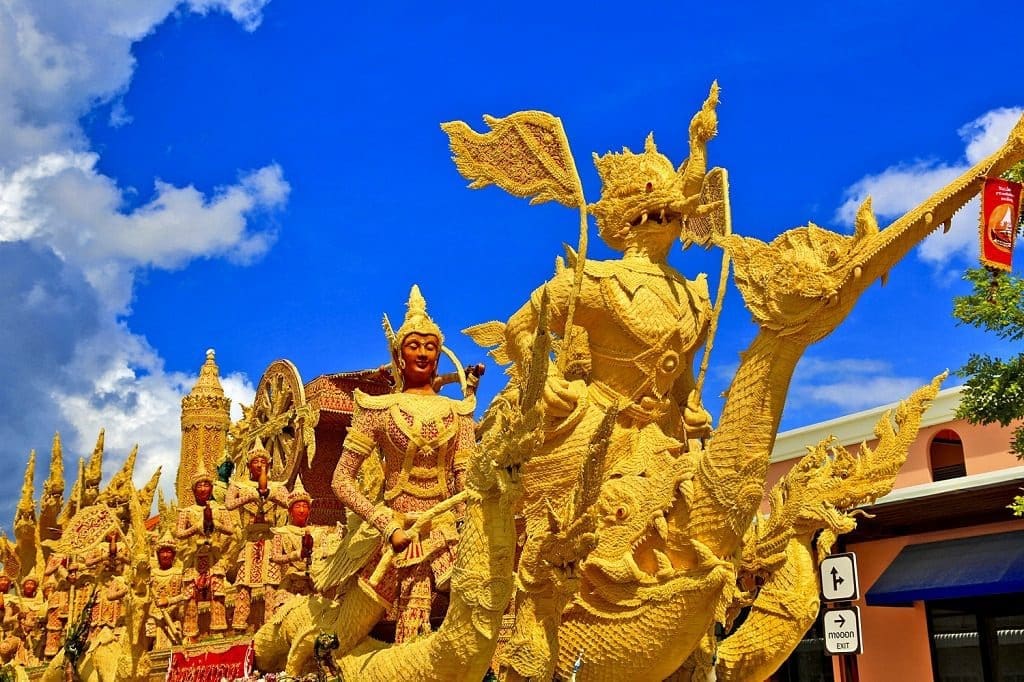 Marking the start of the green (or wet) season, the Candle Festival in July is amongst the most beautiful celebrations in Thailand. Extravagant, intricately-carved candle sculptures are shown off at colourful, fun parades with music, dance and lots of other festivities.
The traditional Candle Festival takes place during Asahna Bucha and Khao Phansa days, two important Buddhist events that celebrate respectively Buddha's first sermon and the beginning of Khao Pansa or Buddhist Lent which lasts for three months. The events are marked by ceremonies and processions in the form of large-scale, colourful parades of magnificent floats with huge, extravagant candlewax sculptures, Thai traditional dance and music.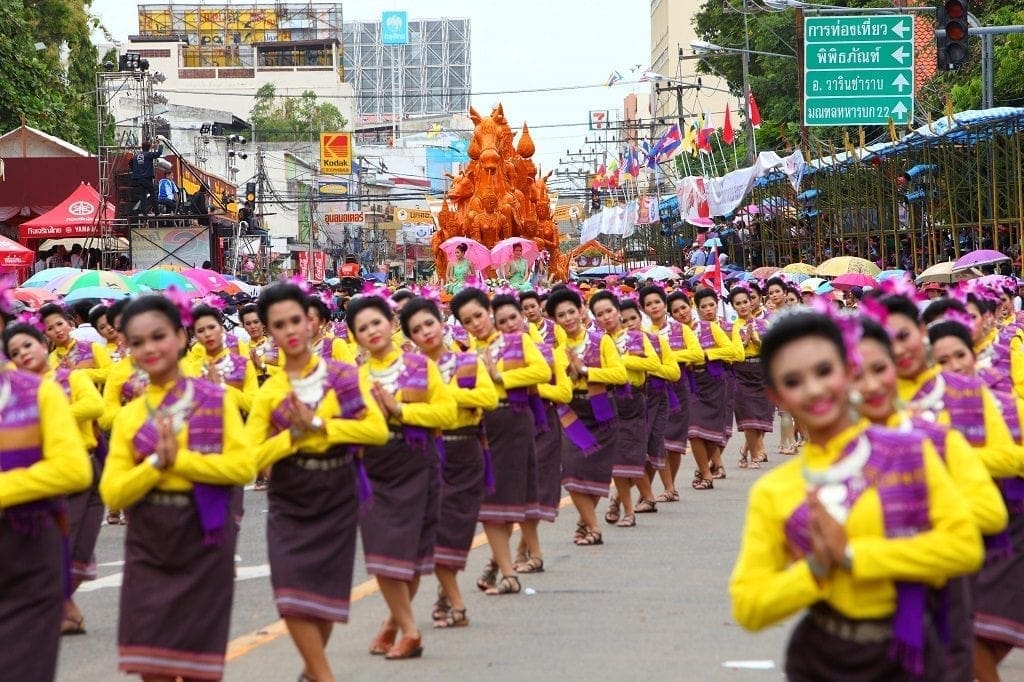 Although this is a religious, merit-making event, it does not prevent participants from injecting a healthy dose of sanuk for which Thailand is famous. The untranslatable concept of sanuk can be described as a sort of ethos where fun and satisfaction are integral parts in whatever you are trying to achieve.
During the Candle Wax Festival this does not mean alcohol-fuelled wild parties like during Thailand's famous Songkran (Thai New Year) celebrations – in fact, alcohol sales will be restricted during the two Asahna Bucha and Khao Phansa days, as is usual in Thailand during religious celebrations. Don't let this fool you into thinking that this somehow dampens the party atmosphere – lots of dance, music, food and other events such as theatre and muay Thai or Thai boxing contests will add to the festivities.
For monks in Thailand this also means the start of a period of retreat and reflection during which they largely confine themselves to their temples to study and meditate. Many Thai young men are ordained as monks during this time.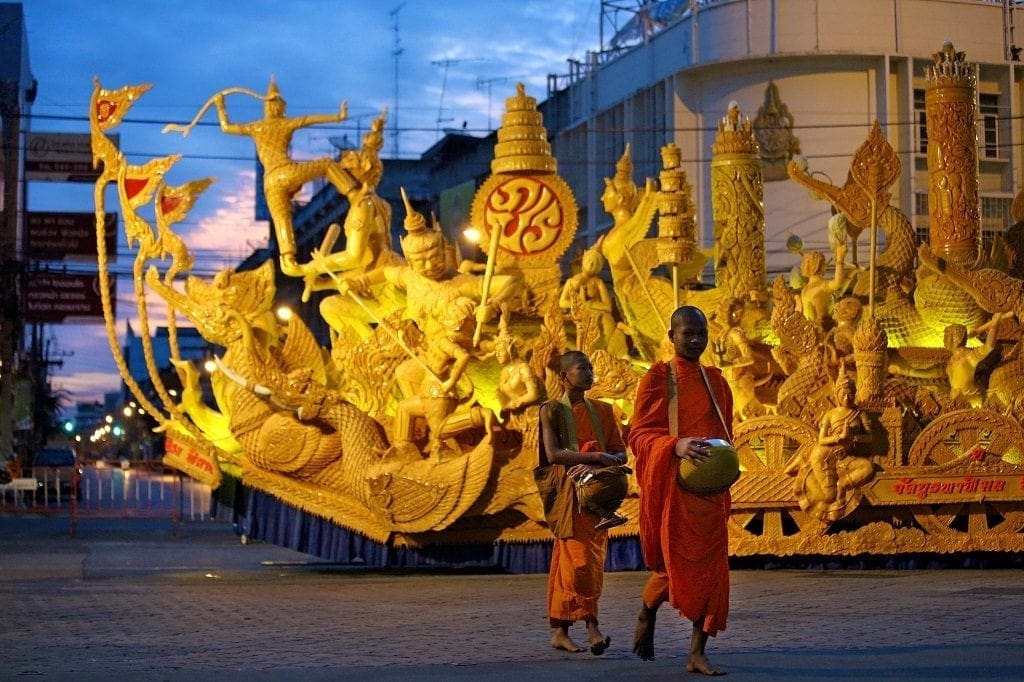 Ubon Ratchathani Candle Festival
The Candle Festival is celebrated in several places in Thailand, but the most famous – and popular – spot is Ubon Ratchathani, a major city in the Isaan region of Thailand, some 500km northeast of the Thai capital Bangkok. It is one of the kingdom's oldest festivals attracting thousands of people every year, of which the vast majority are Thai people coming from all over the country.
---
---
Many cultural and entertainment activities are programmed during the festival, among which the traditional candle floats parade is the most remarkable. In preparation for the festival, skilled artisans – both monks and laymen – use candles as the basic material to create incredible waxwork structures depicting scenes and figures from Buddhist mythology, following the tradition of Buddhist art.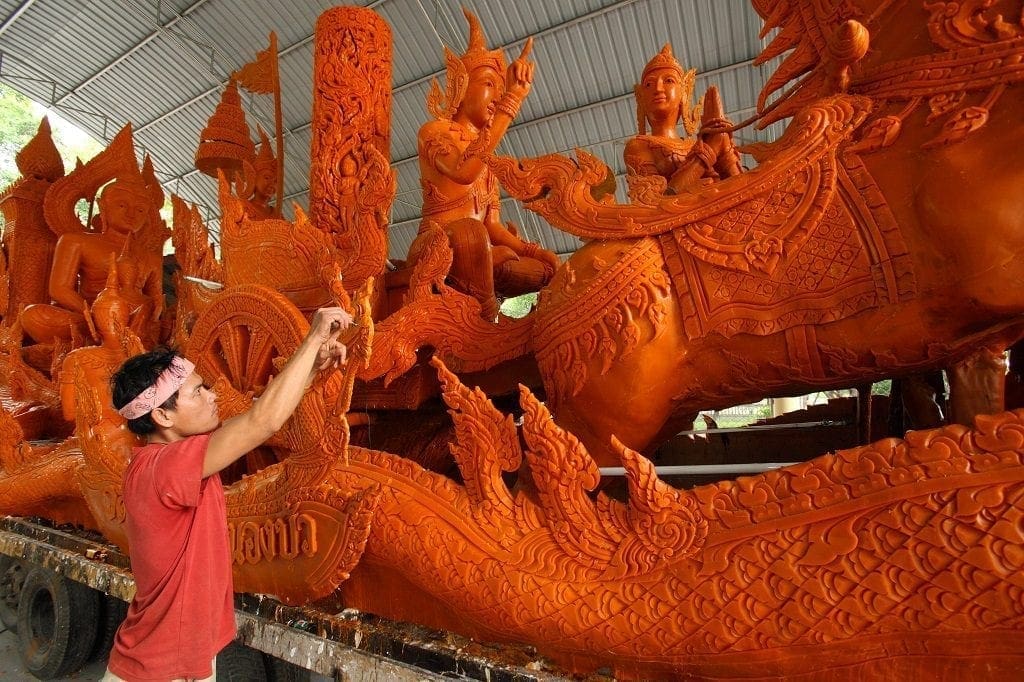 One of the festival's biggest highlights is the candle float parade through town on the morning of Khao Phansa day, accompanied by large groups of Thai girls and boys in traditional dress who perform Thai dance and music. The streets are crowded with spectators and the atmosphere is that of a mix of a summer carnival and a flower float parade. The elaborately decorated floats are very colourful, with contests and prices for the most impressive ones and most beautiful candle sculptures.
This is foremost a festival for Thai people but certainly a very photogenic event for foreign tourists too, with a unique window into authentic Thai culture. The Candle Festival is Thailand's last festive splurge before the three months of Buddhist Lent.
The festival's climax is the international sculpting competition on Asahna Buchna day in Thung Si Muang Park in the town's centre. Both local and international teams make large wax candle sculptures which can reach up to 20 metres in height and are decorated with Thai patterns and scenes from the Ramayana and other epics. They are exhibited throughout the evening while that same night there will be small processions with burning candles at different temples throughout town.
In previous editions, foreign artists have participated in the festival, including from South Korea, Japan, Nepal, Taiwan, Romania, Turkey, Germany, Argentina and other countries. This year will very likely again see many foreign participating artists. Later in the month, the candle sculptures can be admired in the Ubon Ratchathani National Museum.
Other places for the Candle Festival Thailand
Ladchado is a village in Phak Hai district, some 40km from Ayutthaya, one of Thailand's historical former capitals. Its hundred-years-old market is an awarded area of outstanding architectural conservation. Every year on Asahna Buchna day a beautiful fleet of more than a hundred sampans and other boats – decorated with flowers and colourful parasols – collect candles from riverside houses on the way before reaching the local temples. The Ladchado candle festival is allegedly the only waterborne candle procession in the world.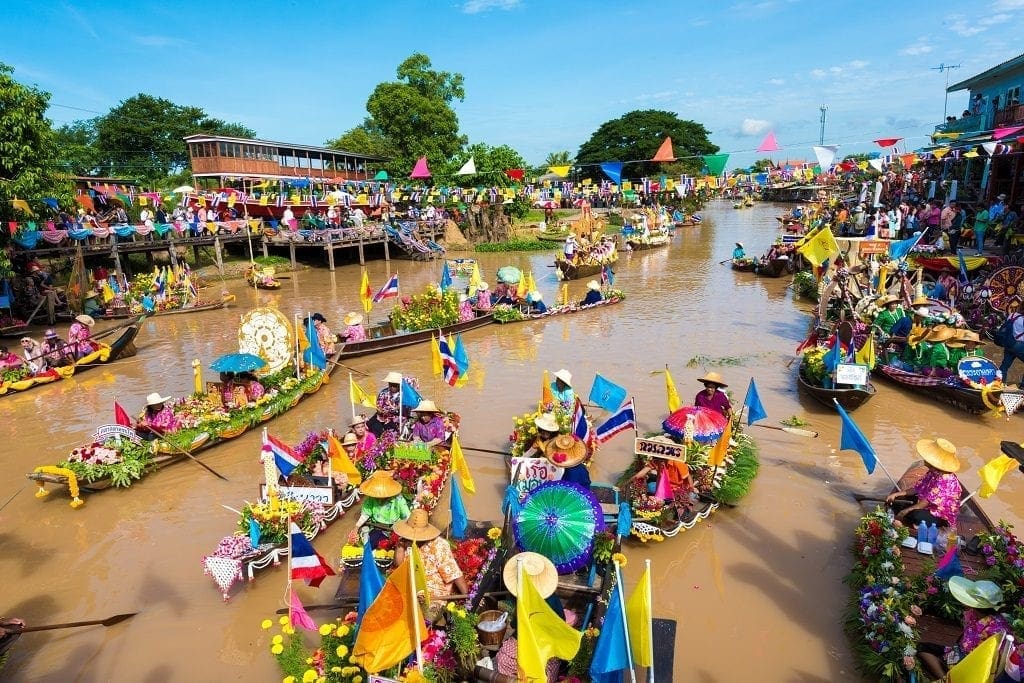 The Korat Candle Festival usually takes place at the Tao Suranaree Monument in Nakhon Ratchasima – more commonly known as Korat – a major city in the Isaan region of Thailand. Magnificently-carved candle sculptures depict scenes from the life of Buddha, Thai royal projects, and historical landmarks in Korat, while other activities include Thai traditional khon dances with masks.
In Nakhon Phanom, capital of the province bearing the same name, the Candle Festival will be held at Wat Phra That Phanom with a lively procession of large and exquisite candle sculptures as well as a Miss Candle beauty contest, traditional dances and Buddhist ceremonies to make merit. Nakhon Phanom's culture is influenced by Laotian culture which is also reflected in the activities.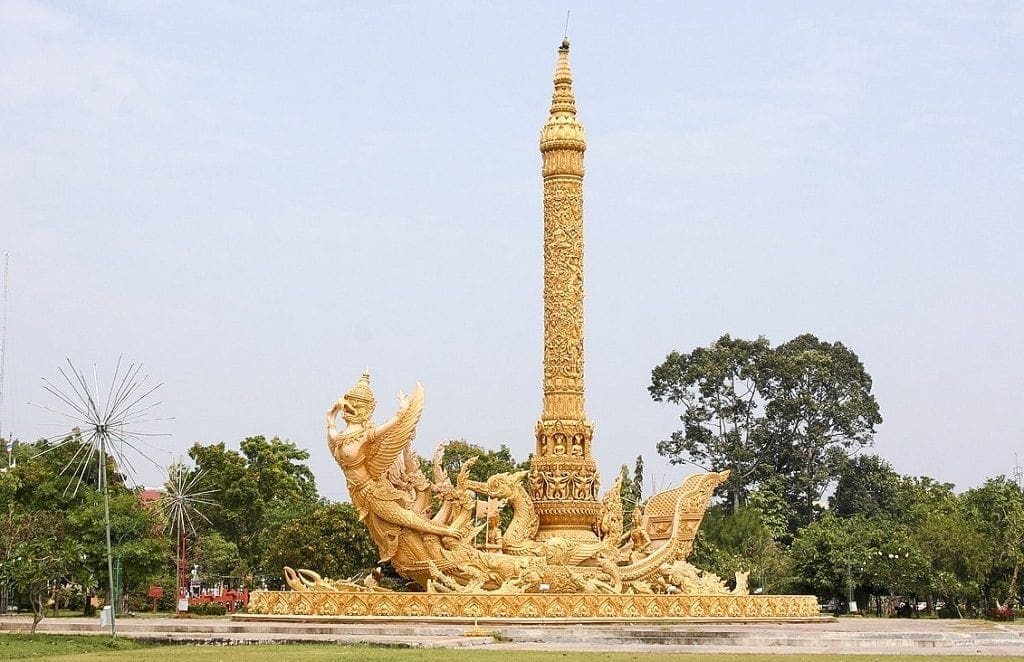 At the Pattaya Candle Festival, the candle sculptures procession takes place from Beach Road to Walking Street in Pattaya City, the coastal town some 100km from Bangkok. Highlights include the parade of floats as well as competitions of candle carving and candle floating.
The Candle Festival in Suphan Buri, a town in central Thailand, takes place at Wat Pa Lelai Woraviharain with a spectacular parade of candles, folk dance and music performances by ethnic groups, performing arts and a competition of decorating candle floats. Art academy students compete for the most artistic candle with designs based on Thai history and mythology.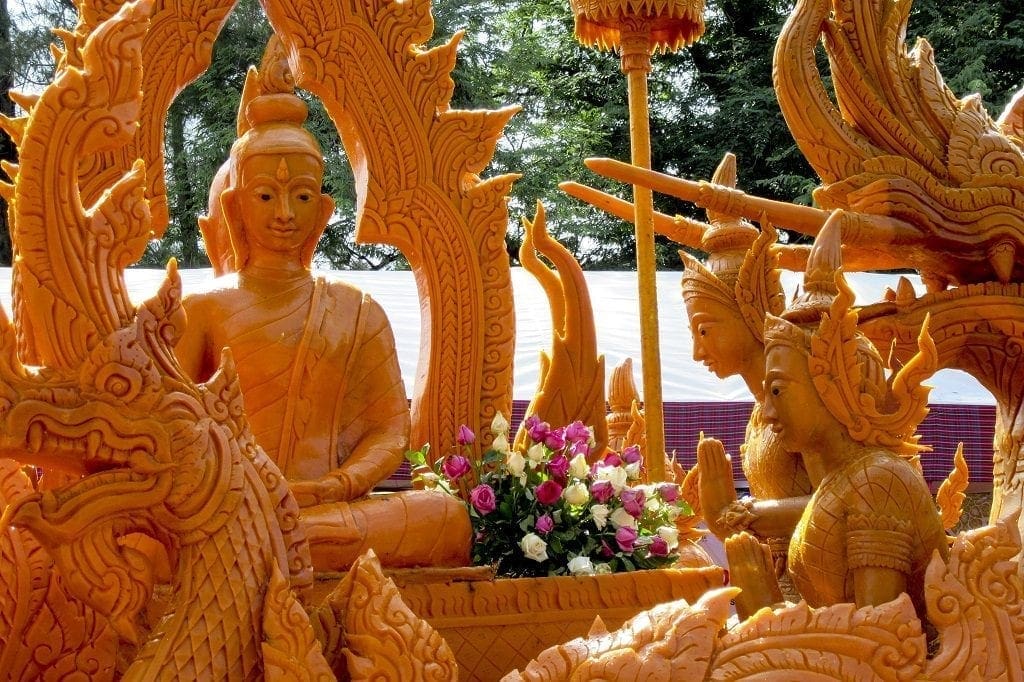 Origins of the Candle Festival Thailand
Long before the arrival of electricity, Thai Buddhists donated candles to their local temples to ensure the monks had light to study during the three-month long period of Buddhist Lent. Originally a merit-making tradition, the donation of candles became more symbolic after the arrival of electricity, and the candles themselves more decorative and elaborate. At some point local communities began outdoing each other in friendly contests for crafting the largest and most intricate candle wax statues.
When is the Candle Festival Thailand?
The dates of the two Buddhist holidays – Asahna Bucha and Khao Pansa – are set by the Thai lunar calendar and vary each year.
In 2023, the Festival will be held from 1 August and 2 August.
The times of the parades and other events are often subject to change so check with your hotel or the local TAT tourist office upon arrival (in Ubon Ratchathani there's an information counter in the airport arrival hall). Tip: arrive a day in advance and visit the local temples to see the artists finishing decorating their candle floats.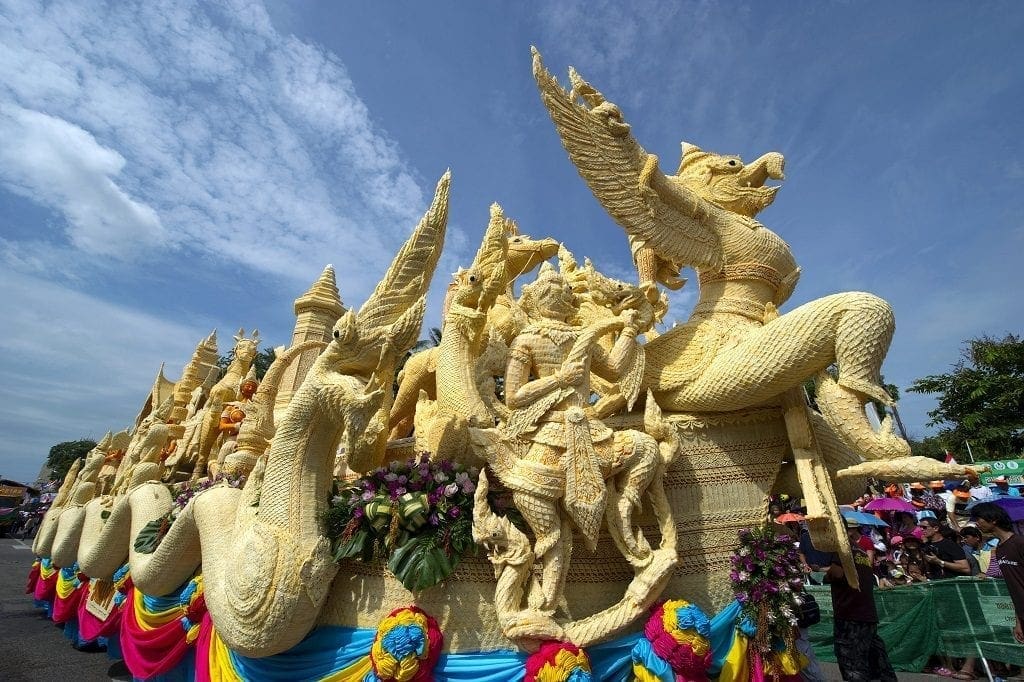 Hotels in Thailand during the Candle Festival

This is a popular event with local Thai tourists so book your hotel and flights well in advance. Please use our Hotel Booking Portal which searches and compares all major booking sites to find you the best deals on accommodation and flights. The small commission we earn helps to support this website but doesn't cost you a penny extra.
---
More information and travel inspiration for Thailand holidays:
Browse the Tourist Authority of Thailand (TAT) website.
The TAT office in Ubon Ratchathani is at 264/1 Khuenthani Road. Tel. +66(0)4524 3770, +66(0)4524 0714. E-mail: [email protected]
Details
Start:

August 1

End:

August 2

Event Categories:

Topics:
Venue
Different locations across the country

Thailand
Johan Smits
Freelance writer, translator, web content developer, author of the novel Phnom Penh Express and Tommy, a short story. Loves trying out local brews, avoids noise. Chronically indecisive about where to lay down his hat. Shortlisted AITO Travel Writer of the Year 2018.