Day of the Dead Festival, 2019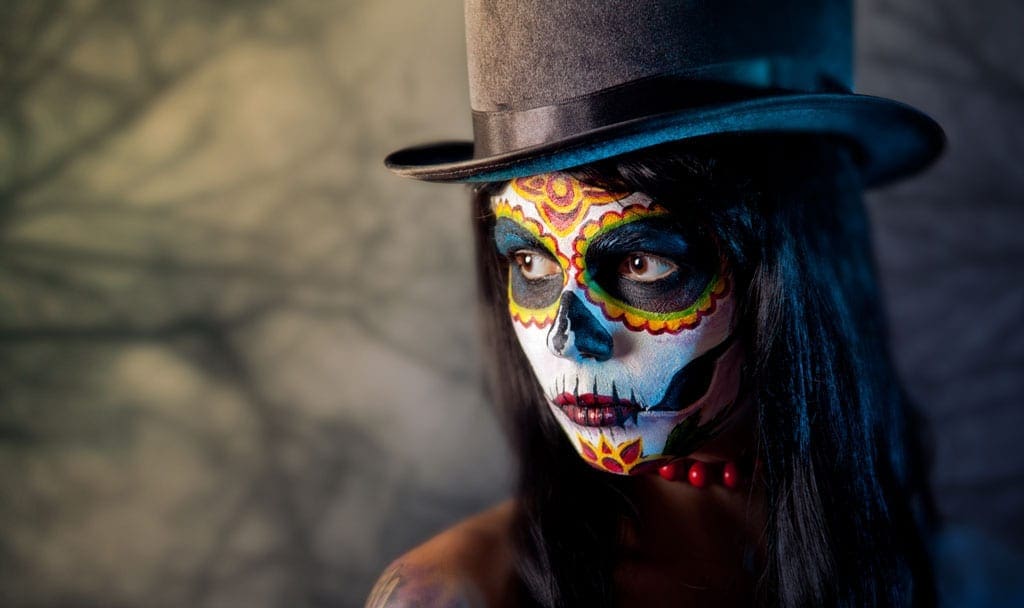 Many people associate the Day of the Dead Festival with Mexico, but actually it is an equally important part of the culture of Guatemala (on 1 November) and El Salvador, as well as Brazil, where it is known as Finados.
The Day of the Dead has nothing to do with the zombie apocalypse. Essentially it is a time for families to remember dead relatives. It often involves a visit to the cemetery to tend the graves of deceased family members whilst sitting around reminiscing and sharing the favourite food and drink of the departed. Ceremonies and customs vary from region to region and town to town.
The ceremony's roots are in the Aztec traditions of worship towards the goddess Mictecacihuatl, but as it falls on 2 November every year, the Catholic Church absorbed into All Saints' Day.
In Mexico City the event is now celebrated with a procession to the Zocolo, the square in the heart of the city. It takes on a commercial carnival-like atmosphere and moves away somewhat from the traditional celebrations, though it is still very interesting.
Day of the Dead Festival in Film
In this, life is imitating art, as the James Bond film, Spectre, was an imagined Day of the Dead procession that the city then chose to do for real, using volunteers and some of the props from the film.
Many citizens paint their faces and dress up as skeletal-like figures, often female with big hats. Some know these as the Catrina, or 'the lady of the dead'. Another way of visualising these figures is by looking at the art of Frieda Kahlo.
When is the Day of the Dead Festival?
The Day of the Dead is celebrated on 2 November in Mexico, Brazil and El Salvador, but on 1 November in Guatemala.
Flights to Mexico
British Airways flies direct from London to Mexico. From the US, there are flights to El Salvador direct from Los Angeles, Washington and Houston. Similarly, from the US to Guatemala direct, you can choose from the following cities: Los Angeles, New York and Atlanta.
Accommodation for the Day of the Dead
If you are looking for accommodation for the Day of the Dead, please try our Hotel Booking Portal. It will cost you nothing extra, but the small commission we make helps with meeting the cost of running this website.
---
For other festivals around the world, visit our Events page.
Mike East
Mike began his career in travel writing by going overseas during his holidays and writing his own guide. He then sent this manuscript off to a range of travel guide companies and got a range of rejection letters — all except one. Getting a contract to write for Roger Lascelles Publications on the Caribbean islands of Trinidad and Tobago and The Bahamas was how his career began. With this opportunity came other pieces for British magazines and The Sunday Telegraph.
Upcoming Events

Subscribe to our newsletter