Durga Puja Festival 2020, India
October 22, 2020

-

October 26, 2020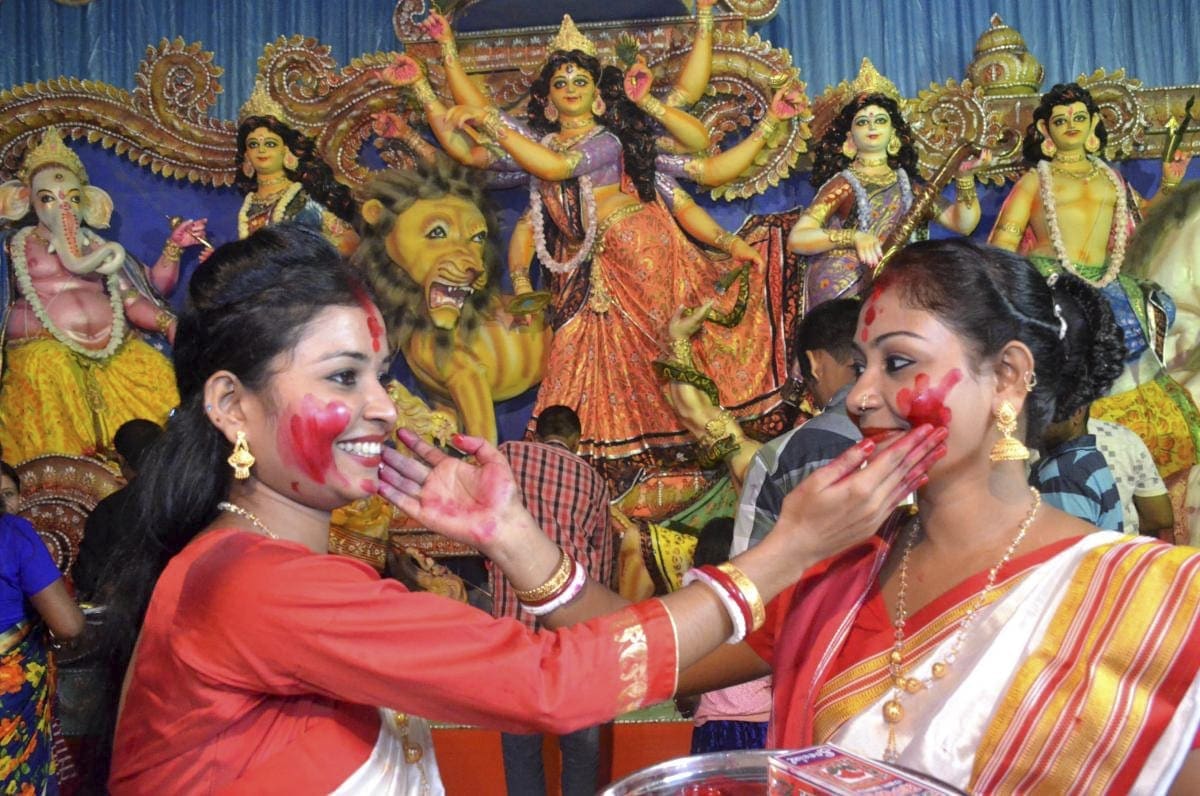 Durga Puja, one of the most important festivals for Hindu Bengalis, is the biggest yearly event in Kolkata and known as the Carnival of the East. Usually taking place in September or October, this multi-day festival celebrates the victory of good over evil with elaborate displays of the goddess Durga, colourful processions, artfully crafted clay idols and sumptuous meals.
It is understood that although the celebrations this year will be scaled down due to COVID-19, the 2020 Durga Puja Festival will still go ahead.
Reminiscent of the spectacular Ganesh Chaturthi Festival, people place elaborately crafted idols of the 10-armed goddess Durga at prominent places in their homes, as well as giant statues of the goddess on dazzlingly colourful theatre-like stages called pandals. Towards the end of Durga Puja, the statues are carried through the streets with much fanfare before being immersed into a river or lake.
Durga Puja COVID-19 Measures
Organisers are hopeful that the 2020 festival will still go ahead albeit on a scaled down version, according to India Today. They are to recommend a series of precautionary measures to the West Bengal Chief Minister Mamata Banerjee. These include thermal screening of visitors, mandatory use of face masks, limiting numbers of people in a marquee to a maximum of 25, and regular sanitisation of all structures.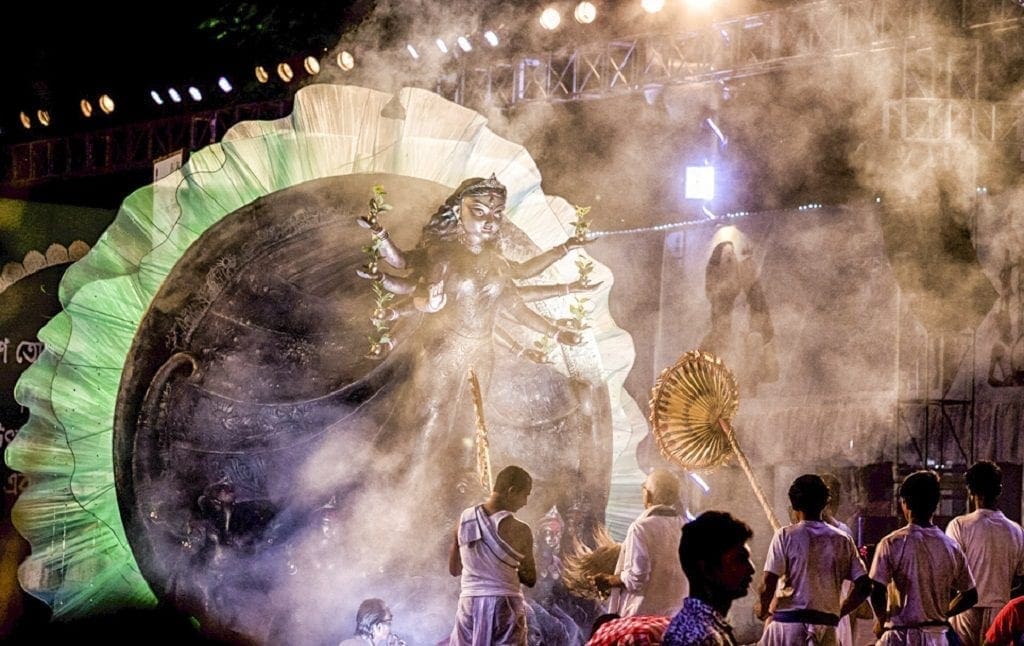 Because of these large and exuberant parades of giant, decorated statues, Durga Puja is often called the Carnival of the East with lots of singing, dancing and sweets to accompany them. Although Durga Puja is a very important social event, its deep religious and spiritual roots make it much more than just a carnival.
---
For more Bengali culture, join Johan Smits on his exploration of Dhaka, Bangladesh – the world's most crowded city.
---
In villages and cities, people dress up in their best and honour Durga with music concerts, dances, dramas and elaborate parades. Friends and family exchange gifts and domestics are given new clothes. People cook festive meals, make special sweets and give their houses a thorough cleanup. In Bengal cities such as Kolkata, small and large pandals are erected and lavishly decorated while months in advance statues of the goddess Durga are available in shops all over town.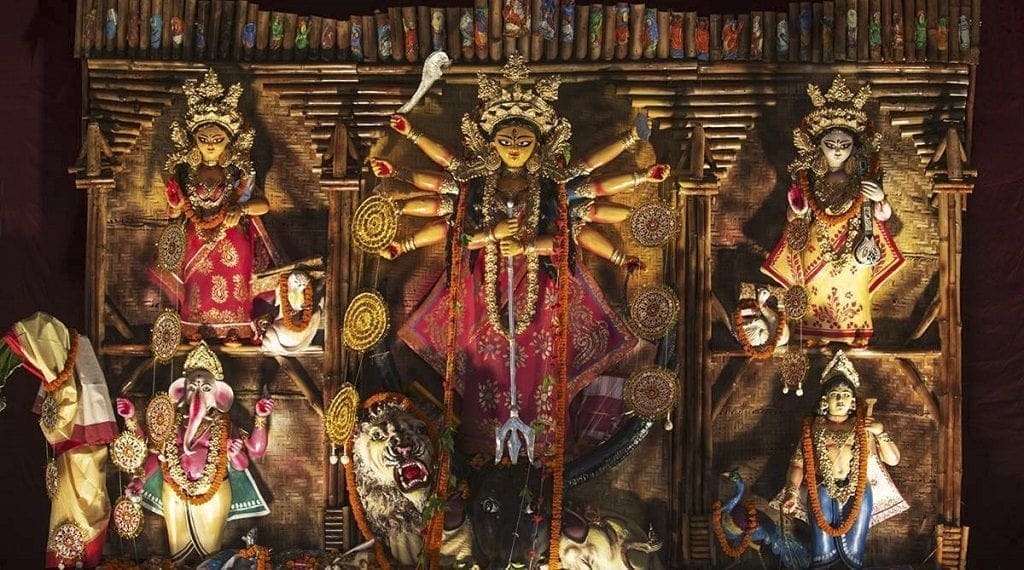 When is Durga Puja 2020
The official Durga Puja holiday is from 22 to 26 October. However, the festival is celebrated over a period of 10 days starting with the first day called Mahalaya on 17 September when the goddess Durga is believed to descend on earth, this year an unusually long period of 35 days before the start of the official festival.
The festival ends on the last day called Bijaya Dashami which is on 26 October this year, when the idols are immersed into water (see below). However, please note that unlike in Kolkata and West Bengal, most states in India will this year celebrate Bijaya Dashami one day earlier, on 25 October.
As the dates are based on the lunar calendar, they vary every year.
How Durga Puja is celebrated
On Mahalaya, the festival's first day, people commemorate their ancestors with prayers, while the personal ritual with which Hindu devotees honour the goddess Durga is called a puja. The main puja rituals of the festival take place over three days and are long and complicated. During these days people recite and sing mantras, shlokas or old Indian verses, and aratis or prayers, while offerings are being made to the goddess.
The most spectacular day is Dashami, the festival's last day, when people bid farewell to the goddess. This day is devoted especially to married women where individual women visit the pandal to apply sindoor or red powder to the forehead and feet of the goddess statue, before smearing it on one another as a way of wishing each other a happy, married life. This day ends with small and large parades where, to music and dance, the statues are carried to a nearby river or pond and immersed in water. As the clay dissolves, the goddess is believed to merge again with the cosmos.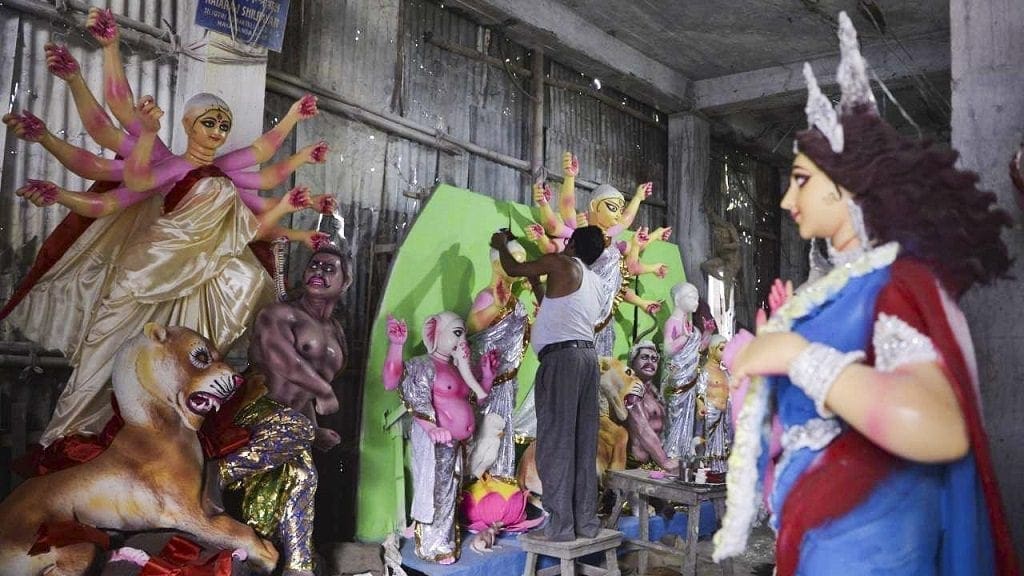 How to experience Durga Puja in Kolkata
In Kolkata (formerly Calcutta), often called the cultural capital of India, Durga Puja is the most anticipated and biggest event of the year with plenty of dance, drama and Bengal food stalls lining the city's streets. Some of the best ways to experience Durga Puja as a visitor are:
Chokkhu Daan: if you have the possibility, then visit Kolkata a few days before the festival to see the artists applying their final touches to the elaborately crafted Durga statues. Most of them are made in an area called Kumartuli in the north of Kolkata, a half-hour drive from the city centre. Kumartuli literally means "location of potters" and is home to some 150 potter families. Go there on Mahalaya, the festival's first day (17 September this year 2020), to see how the eyes are painted onto the statues in a ritual called Chokkhu Daan.
Pandal hopping: another popular thing to do is to go pandal hopping, visiting the many theatre-like displays of the goddess Durga. There are thousands of them all over the city, many of them with a unique theme and decorative style. The most famous ones are usually located in the north and south parts of the city which are connected by metro. Since the most popular time for people to visit is at night when the pandals are lit, consider going during daytime if you want to avoid massive crowds. Tip: take the Kolkata tram to go pandal hopping.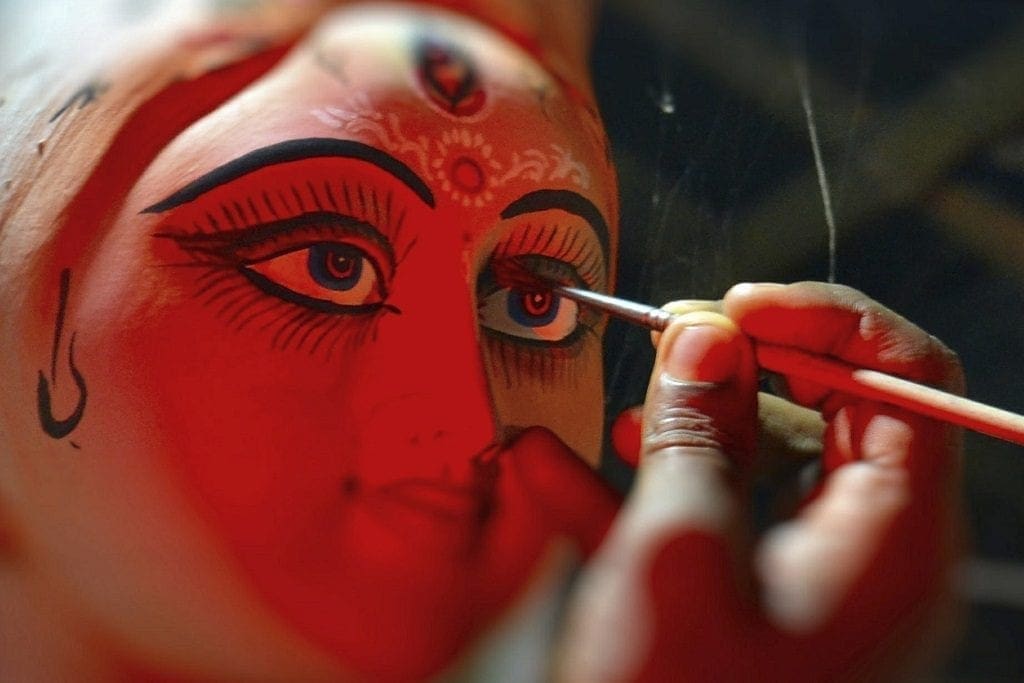 Food: there probably isn't a better time to sample the famous Bengal kitchen in Kolkata than during Durga Puja. Without the elaborate meals, the festival isn't complete. Bengal food can be found everywhere – at food stalls on the streets, at pandals and in specialty restaurants. The food that is being served to visitors at pandals is called bhog (blessed meals) and usually consists of mixed vegetable curry, a sweet dish, fried items and chutney. Kolkata's Bengal restaurants will have special Durga Puja menus offering local delicacies, while Bengal sweets are also consumed in great quantities.
The grand immersion of the idols: these take place on the festival's last day called Dashami (see above). One of the most popular spots to witness this spectacular event is Babu Ghat which is located centrally near Eden Gardens, but you can see the immersion of idols at almost all ghats (= steps leading down to water) alongside the river. Tip: one of the best ways to view this is by taking a boat trip on the river.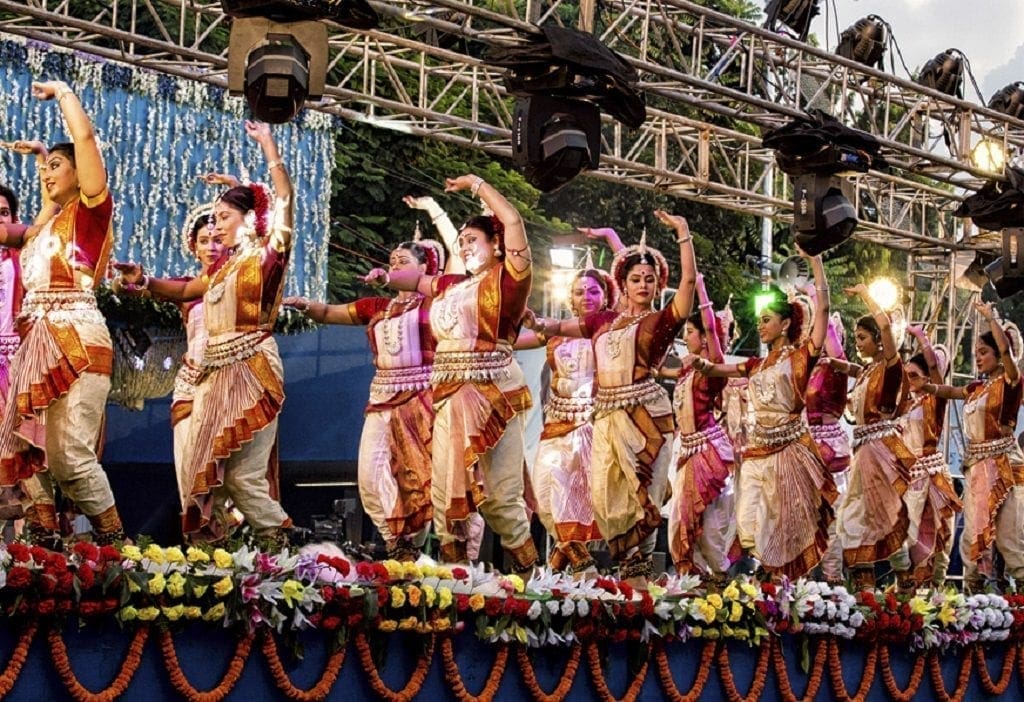 Where is Durga Puja celebrated
This Bengal festival is celebrated all over the Indian subcontinent but in particular in the Indian states of West Bengal, Tripura, Assam and Odisha; by Hindu minorities in Bangladesh; and in Nepal where it is known as Dashain. Outside of the Indian subcontinent, Durga Puja is also celebrated by the Hindu Bengal Diaspora the world over.
Where to stay during Durga Puja
To find the best accommodation in Kolkata, try our booking portal which searches and compares multiple websites to find you the best deals on hotels:
For other Indian festivals later this year
Celebrate beautiful Diwali 2020, festival of light, on 14 November; head to Rajasthan to watch the colourful Pushkar Camel Fair from 22 to 30 November; or join indigenous warrior tribes in Nagaland state for the traditional Hornbill Festival from 1 to 10 December.
---
For more information on Durga Puja

Visit the official website of the tourist office of West Bengal.
Details
Start:

October 22, 2020

End:

October 26, 2020

Event Categories:

Topics:
Venue
All over the Indian subcontinent
Johan Smits
Freelance writer, translator, web content developer, author of the novel Phnom Penh Express and Tommy, a short story. Loves trying out local brews, avoids noise. Chronically indecisive about where to lay down his hat. Shortlisted AITO Travel Writer of the Year 2018.
Upcoming Events
October 24, 2020

-

May 31, 2021
Subscribe to our newsletter