Fête du Citron Menton (Lemon Festival) 2019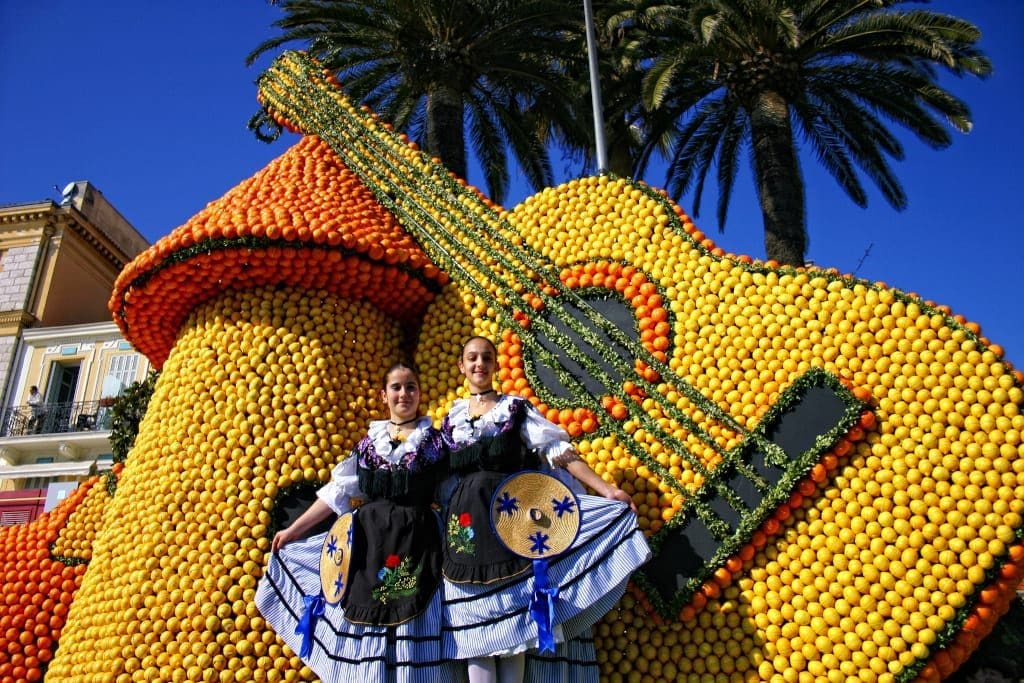 Situated on the Côte d'Azur in the Alpes Maritimes, the town of Menton could be forgiven for just becoming a playground for the rich, like neighbouring St Tropez and Monaco. Instead, however, it came up with the highly innovative and colourful La Fête du Citron (Lemon Festival), which attracts thousands of visitors annually and is an intensive labour of love for its citizens.
The region of Menton is a producer of high quality lemons thus was the lemon festival conceived by a Menton Hotelier in 1929. The first festival took place in the grounds of the Hotel Riviera in Menton in 1934. It has continued annually since then, except for World War II and also in 1991 because of the Gulf War.
La Fête du Citron has become a feast of colour and imagination. With stunning displays, floats and sculptures from the outset, the ever increasing popularity of the festival has amplified its imaginative themes, with shows introduced in the evening as well as during the daylight hours.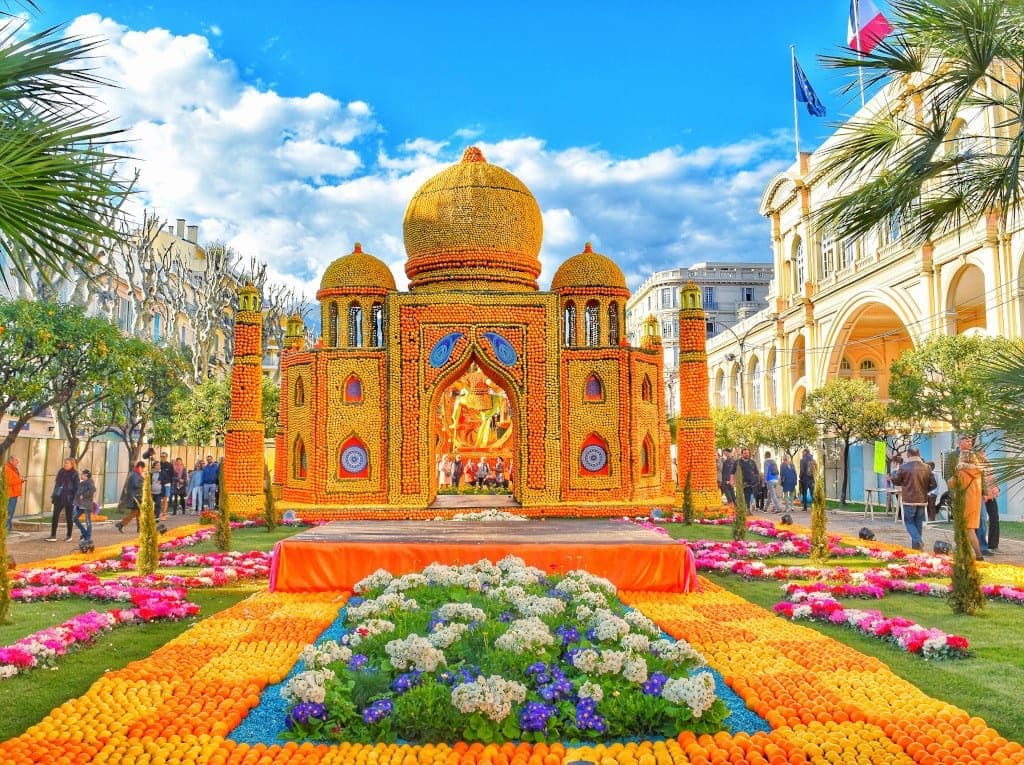 The Gardens of Light, which allowed visitors to walk around the Biovès Gardens for the first time, was introduced in 2007, and has proved popular ever since.
At the end of the last decade, such subjects as the Menton Lion King, displayed at Paris Disney after the Fête du Citron, Tintin and Alice in Wonderland were great successes and delighted thousands of children. This century, such themes as Carnivals from around the World with a particular emphasis on India, together with Broadway and Bollywood have proved very popular.
As can be imagined, an event of this complexity involves many hours of commitment from those contributing to the festival and a great many kilos of citrus fruit – 140 tonnes of fruit for the gardens and flowers, and 18 tonnes for the displays. Two hundred artists, dancers and musicians take part throughout the event and, of course, there is a strong police contingency for security.
La Fête du Citron 2019 Programme
The theme for the 86th Fête du Citron is Fantastic Worlds. The planners want to create a universe of fantastic imaginary creatures and characters including dragons, centaurs, leprechauns, elves, werewolves and magicians. The scenic Biovès Gardens with its 1,000 year old tree, will be pivotal. Expect a potent mix of Aladdin, Scheherazade, magic carpets, gingerbread houses and dragons. There will also be concerts and other events organised throughout the festival.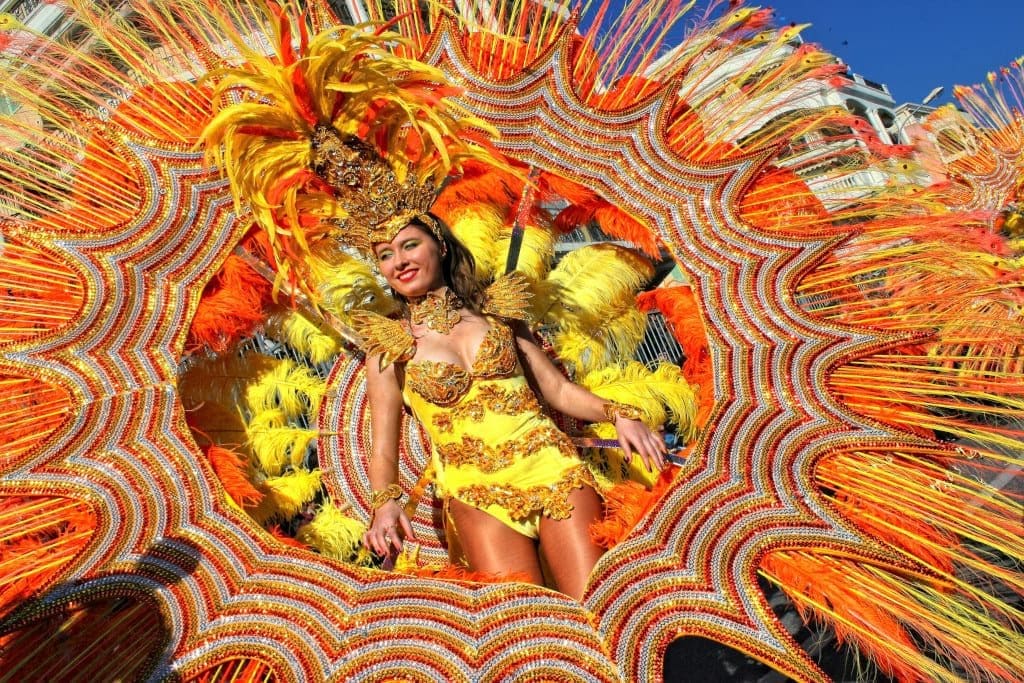 The Gardens of Lights will take place on 16 and 22 February, and 1 March from 8:30pm, with the Golden Fruit Parades at 2:30pm on 17 and 24 February and 3 March, and the Night Parades, with accompanying firework display, at 9pm on 21 and 28 February.
Parades of floats accompanied by the sounds of wild dancers and music will delight.
Try not to miss this stimulating and fantastic festival, often held under blue skies and with mild temperatures.
---
When is La Fête du Citron 2019
The exhibition in the Biovès Gardens will run from 16 February to 3 March.
Where is La Fête du Citron
Menton in Provence-Alpes-Côte d'Azur, France
Getting to La Fête du Citron
Several budget airlines fly to Nice and are very reasonably priced. Menton is 30km from Nice. Flights to Monaco are also very well priced and the distance to Menton is only 12.6 kilometres.
Accommodation for La Fête du Citron
If you are looking for accommodation in Menton please use our Hotel Booking Portal.
La Fête du Citron (Lemon Festival) Photo Gallery
---
More information on La Fête du Citron (Lemon Festival)
Further information can be found here. All photos on this page c. Ville de Menton.
Details
Start:

February 16

End:

March 3

Event Categories:

Topics:

Website:
Festivals by Category
Latest Travel News
Upcoming Events
September 18

-

September 29
Subscribe to our newsletter