Fiestas Patrias Chile (Independence Day)
September 18

-

September 19

Free
Event Navigation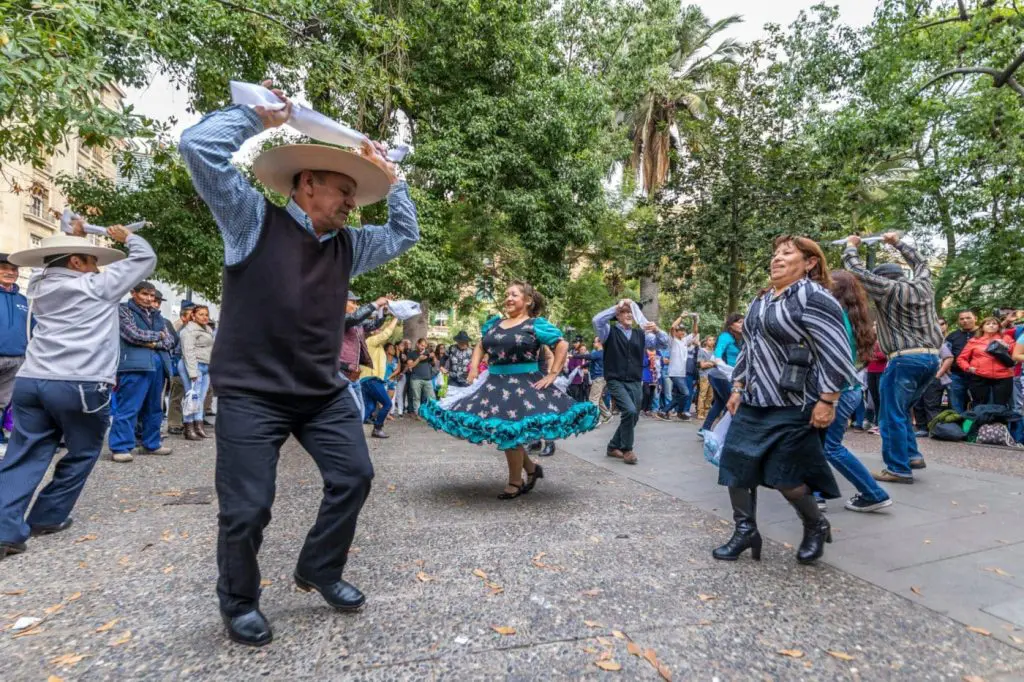 Fiestas Patrias, as its name suggests, is a patriotic celebration, but it is much more than that. It commemorates throwing off Spanish rule in Chile, but — as it is so close — also the spring equinox. Mixed in too are parallel religious celebrations by the Catholic Church and many cultural expressions of Chilean life, such as music, dance, the rodeo and food special to the occasion.
A very literal translation of Fiestas Patrias would be holidays for the homeland, but Independence Day better explains the context of the celebrations.
History of the Fiestas Patrias Festival
Just to confuse you early on in the article, Independence Day is not celebrated on the day Chile officially declared independence from the Spanish Empire. That was on 12 February 1818. Independence Day (known as El Dieceocho in Chile), celebrates the forming of the First Governing Body in 1810, which was the start of a chain of events leading to the war of independence.
When are the Fiestas Patrias Chile?
Though Monday 18 September is the main event, of almost equal importance is Army Day (really a day for all the armed forces), on Tuesday 19. In addition, there are smaller events on Sunday 17 and Wednesday 20.
What to Expect at Fiestas Patrias in Chile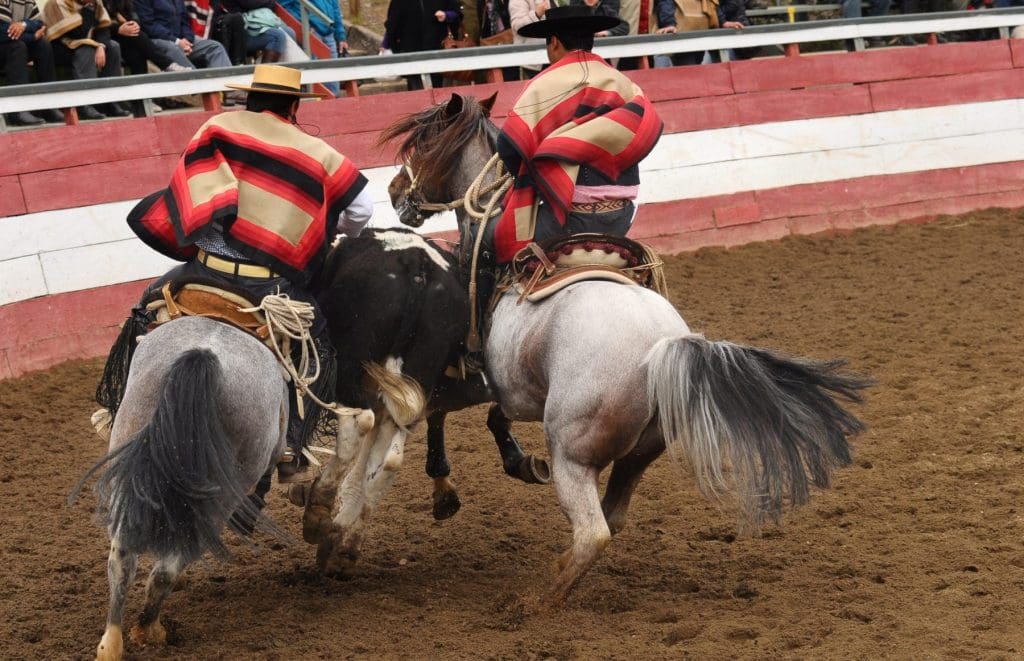 The official events include a lot of flag waving and marches. The biggest one is on the 19th at O'Higgins Park, Santiago where the combined armed forces parade in front of members of the government and a large crowd of spectators. Civic or military marches occur around the nation in provincial cities.
Following on from this are the fondas and armadas (literally 'inns' and 'shelters made from branches'), which nowadays are fenced off areas, enclosures or large tents, where events are organised in local communities. These tend to have live bands and dancing of Chilean folk music or cueca (see main image), as well as foreign imports, such as cumbia. To accompany this, there will be a range of food and drinks (see below).
Chilean rodeo and football are the nation's most popular sports and September welcomes the start of rodeo season. The rodeo is different to that of North America, as here you will see pairs of riders in traditional costume compete against other teams to steer a calf around the corral.
In addition, as many as two million Chileans travel during this festival, which overwhelmingly means heading to the coast, so expect the roads and beaches to be busy.
Where are the Fiestas Patrias?
This is a nationwide party, though Santiago hosts the most impressive events.
What to eat and drink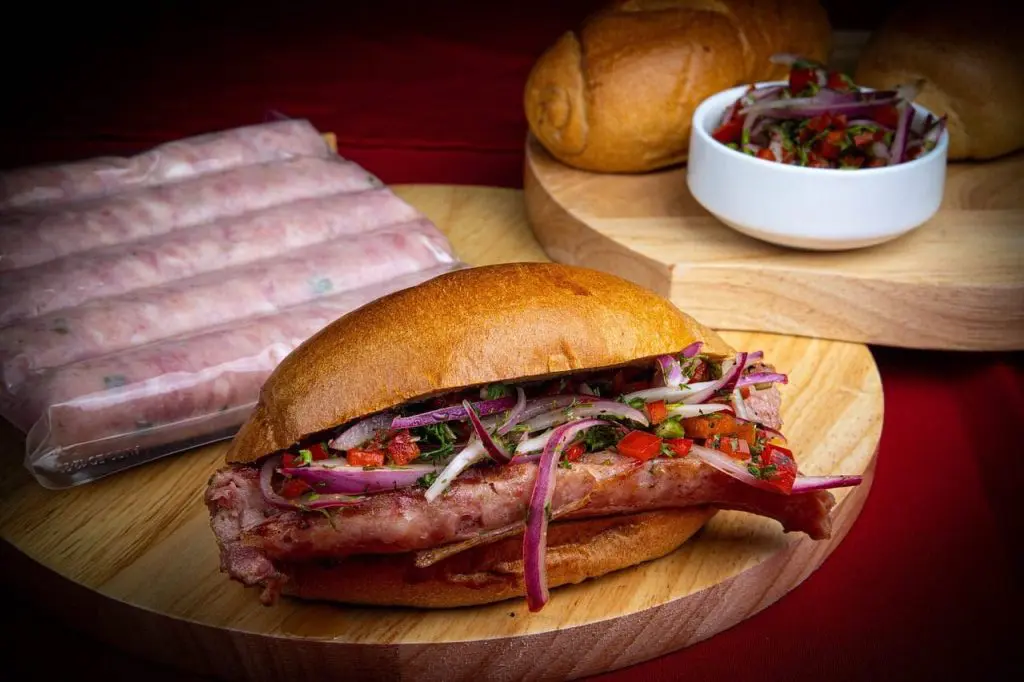 Fiestas Patrias is a time to light up the barbecue and cook some anticucho: beef, pork, chicken or sausage cooked on a stick with onions and peppers. Expect empanadas, or semi-circular wheat pastries, baked or fried, filled with minced beef, onion, olives and perhaps boiled egg or raisins as well. There will likely be choripanes, or Chilean-style hotdogs. Pebre sauce has a tomato and onion base with spices and hot chilli powder.
For dessert there are alfajores, or biscuits with a filling such as caramelised milk or chocolate. A nectar-like non-alcoholic drink of peaches and cinnamon called mote con huesillo is also very popular.
Alcoholic drinks include grape or apple chicha and (of course) Chilean wine. However, the winner, if only by name, is the terremoto, or 'earthquake', which is white wine, rum or pisco (fermented grape spirit), with pineapple ice cream and grenadine. If you order subsequent ones, they are called 'aftershocks'.
So, TBA40 advises you that earthquakes with a lot of aftershocks can be a risky proposition in Chile.
---
Flights to Chile
There are no direct flights from London to Santiago, but it is possible to fly with Avianca via Bogota or via Sao Paulo with Latam. According to Skyscanner, British Airways and Iberia flights are the Greener Choice, emitting less CO2.
From the US, Delta fly direct from Miami. According to Skyscanner, these flights are also the Greener Choice, emitting less CO2.
Domestic flights will then link you to all other regional cities.
Accommodation during Fiestas Patrias
To find the best accommodation in the cities you visit, as well as international flights, please search via our comparison engine, which scans all the major booking sites, so you don't have to.
---
More information on Fiestas Patrias
Click here.
Details
Start:

September 18

End:

September 19

Cost:

Free

Event Categories:

Topics:
Mike East
Mike began his career in travel writing by going overseas during his holidays and writing his own guide. He then sent this manuscript off to a range of travel guide companies and got a range of rejection letters — all except one. Getting a contract to write for Roger Lascelles Publications on the Caribbean islands of Trinidad and Tobago and The Bahamas was how his career began. With this opportunity came other pieces for British magazines and The Sunday Telegraph.
Event Navigation