Winter Golden Eagle Festival 2022, Mongolia
March 3, 2020

-

March 4, 2020
At Mongolia's Winter Golden Eagle Festival, ethnic Kazakhs show off the breathtaking skills of their trained hunting eagles, alongside cultural displays of Kazakh traditional costumes, handicrafts and food.
Started only in 2018 near the capital Ulaanbaatar, the Winter Golden Eagle Festival is a spin-off of the original version held in October in western Mongolia, making this spectacular heritage of Kazakh nomadic life more accessible to western visitors.
What to expect at the Winter Golden Eagle Festival
Proud Kazakh eagle-hunters clad in thick fur and traditional attire descend to the capital to demonstrate the hunting performances of their trained eagles. Aged between 15 and 80, they compete against each other with their hunting bird's speed, accuracy and agility. Prizes are awarded for things such as best trainer, fastest bird, most beautiful traditional attire and other competitions.
---
The Winter Golden Eagle Festival is one of the many Mongolia festivals throughout the year, from the Khövsgöl Ice Festival and Tsagaan Sar or Mongolian New Year in winter, to the Camel Festival in March, and the Nadaam Festival in July.
---
Additional highlights of the festival include cultural performances such as music and dances, as well as handicrafts and other traditional Kazakh games involving horses and camels. It's a great opportunity for photographers to capture the animals in action and to get a flavour of this age-old tradition.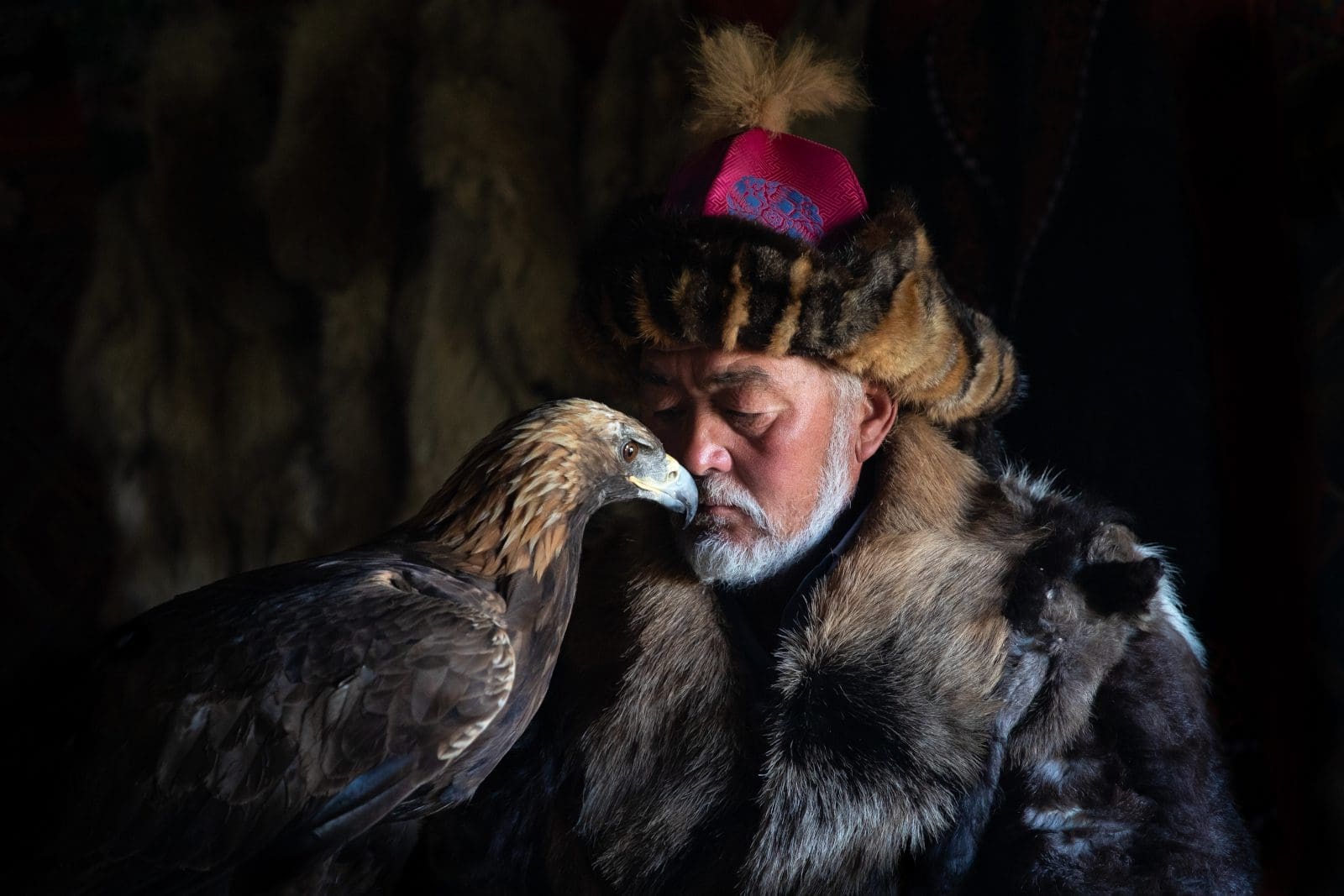 The Golden Eagle tradition in Mongolia
Deep in the Altai Mountains in western Mongolia lies the country's only ethnic Kazakh-majority province where the centuries-old tradition of hunting with golden eagles is kept alive. Local Kazakh eagle-hunters known as burkitshi train their eagles to catch wildlife such as hares and foxes.
The eagle, which is a proud symbol of Kazakh culture, is considered as a family member with whom the hunters develop a special bond. It is estimated that only less than a hundred authentic eagle-hunters are left in Mongolia. The wild eagles are caught when they are around four years old, then domesticated and trained. Even though they live for up to 40 years, true eagle-hunters keep them for about 10 years after which they are released back into the wild when they are still of breeding age.
It is the female eagles that are most prized. They grow bigger than their male counterparts and with a wingspan of often more than two metres and a weight of 10 to 14 kilograms, they make for truly impressive birds of prey.
Origins of the Golden Eagle Festival
First held in 2000, the origin of the festival is to raise awareness of the Kazakh hunter's traditional culture, to celebrate the Golden Eagle, and to stem the decline in interest by younger generations while raising tourism revenue.
Since the success of the 2016 award-nominated documentary film "The Eagle Huntress" about a 13-year-old Kazakh girl preparing for winning the competition, the Golden Eagle Festival in Mongolia has become increasingly famous with locals and foreign visitors alike. The same year Unesco inscribed falconry on their list of Intangible Cultural Heritage of Humanity. Apart from Mongolia, it lists 17 other countries from across the world, from South Korea to Belgium and Hungary to Syria.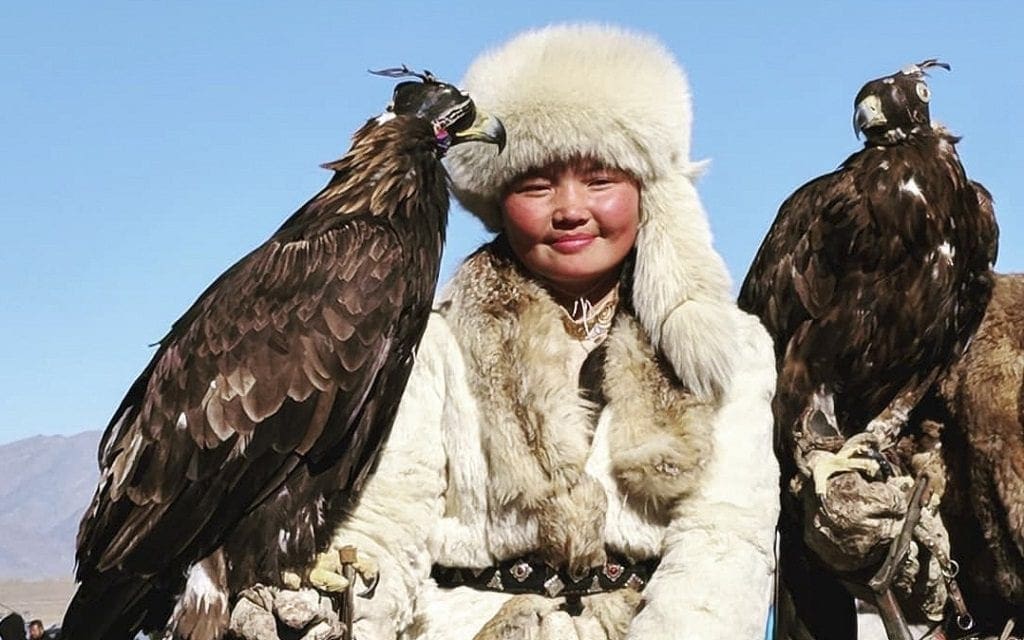 Ethically Responsible Travel to the Golden Eagle Festival in Mongolia
While the Golden Eagle Festivals have been credited with increasing an interest in eagle-hunting with younger generations and with keeping the tradition alive, there have also been noted some concerns.
With an increased interest by foreign visitors, hunters can more easily earn an income with showcasing traditional demonstrations without needing – and passing on – the intricate skills required for hunting in the wild, which may threaten the authentic eagle-hunting tradition in the longer term. There has also been some concern about the potential threat to the wild population of golden eagles. Because of the success of the festivals, the eagles are becoming more of a commodity for use in interactions with tourists, while some now keep the animals in captivity for the rest of their lives.
When attending a Golden Eagle Festival in Mongolia, choose an ethically responsible agent or, when travelling independently, try to attend demonstrations only by genuine eagle-hunters and avoid spending money on anything where the eagles are clearly used as merely tourist-luring props.
When and where is the Golden Eagle Festival
There are three main Golden Eagle Festivals in Mongolia. It was first founded in 2000 and this original version still takes place every October in the remote western province of Bayan-Ölgii where the eagle-hunters are from. A few years later, a second and smaller festival was established in the same region and is held in September.
In 2018, a third one was established in March near the capital Ulaanbaatar, making the attendance of a Golden Eagle Festival in Mongolia more accessible to foreign visitors.
This newly established Winter Golden Eagle Festival will be held at the Chinggis Khaanii Khuree Complex, a somehow kitschy but fun and friendly tourist ger camp. The camp is located about 27 km from the capital and easily accessible in a day trip. It's about a fifteen-minute drive from the international airport.
The other two Golden Eagle Festivals take place in September and October in Bayan-Ölgii, Mongolia's westernmost province bordering Russia and China, about three hours by plane from Ulaanbaatar.
Uulaanbaatar hotels

Stay where the action is at the Chinggis Khaanii Khuree Complex, or enter your dates in our hotel comparison engine to search hundreds of sites for the best deals:
---
Tours for the Winter Golden Eagle Festival
It's an idea to book a tour to the Golden Eagle Festival through a registered company, such as Stone Horse Expeditions & Travel, who have kindly supplied the images used (unless otherwise stated) on this page.
Details
Start:

March 3, 2020

End:

March 4, 2020

Event Categories:

Topics:
Venue
Chinggis Khaanii Khuree Complex

Chingisiin Khuree Tsogtsolbor




Ulaanbaatar

,

Mongolia

+ Google Map
Johan Smits
Freelance writer, translator, web content developer, author of the novel Phnom Penh Express and Tommy, a short story. Loves trying out local brews, avoids noise. Chronically indecisive about where to lay down his hat. Shortlisted AITO Travel Writer of the Year 2018.
Subscribe to our newsletter