Harbin Ice Festival China Extravaganza
December 20, 2023

-

February 29, 2024
Event Navigation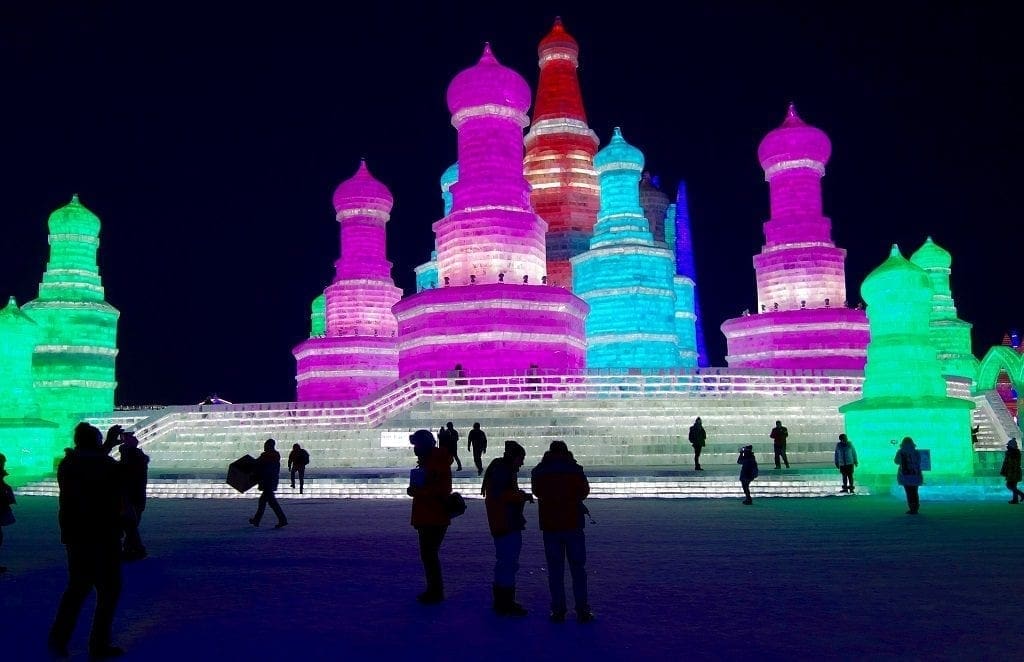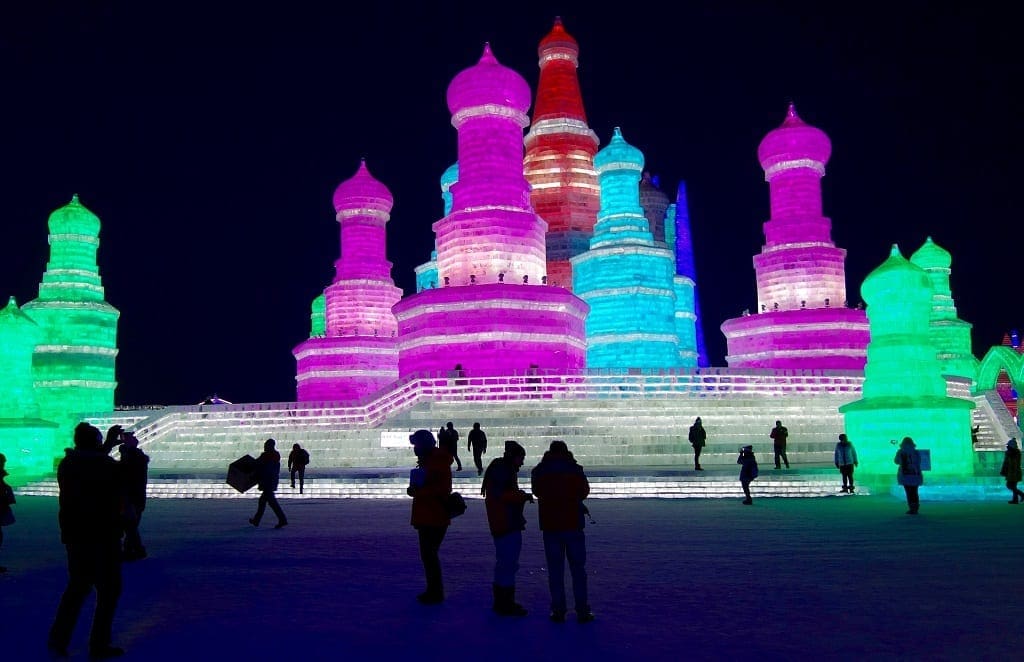 Once mostly a regional affair, the Harbin Ice Festival, China – or the Harbin International Ice and Snow Sculpture Festival as it is officially known – has grown into the world's largest ice and snow event. 
From around Christmas to the end of February, an epic city built from 180,000 cubic metres of ice and 150,000 cubic metres of snow, will rise and fall like it has been doing every winter for decades. About 15,000 workers will help create a magical and at times surreal ice and snow world spread over more than 800,000 square metres.
From shimmering snow sculptures of animals and mythical creatures to famous tropical landmarks carved out of translucent ice, here you can wander around in an elaborate illuminated ice castle, visit Bangkok's Temple of the Emerald Buddha or march on hard-packed snow to the top of the Athens Acropolis.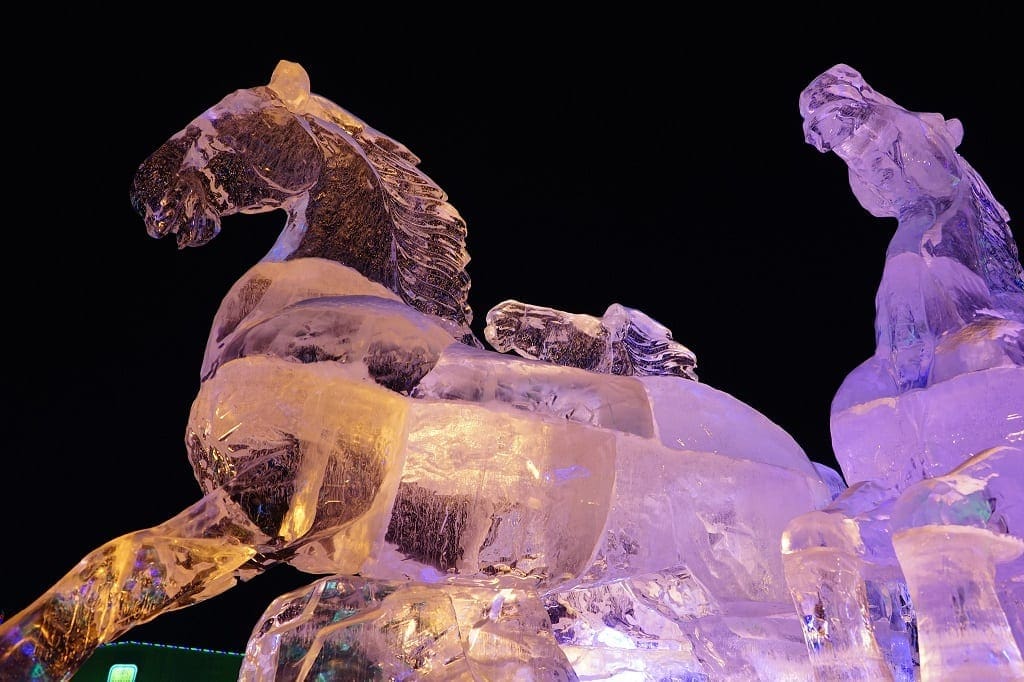 The 2020 edition – the Harbin Ice Festival's 36th – is themed "Pearl on the Crown of Ice and Snow" and features five categories – tourism, culture, fashion, trade and sports. With ice sourced from the Songhua River – famous for its transparency – ice artisans use ice picks, chisels, swing saws and various types of other saws to carve out their intricately designed sculptures. The large-scale masterpieces are then illuminated at night from both inside and outside into a mesmerizing, otherworldly spectacle.
---
For more winter fun in Asia, join Johan Smits ice skating and skiing in Kazakhstan: Shymbulak and Medeu.

---
During the Harbin Ice Festival, also the major avenues throughout the city as well as several parks host large snow sculptures, massive ice buildings and festival food and drinks. Activities include anything from international ice sculpture competitions, skating, skiing, sledging, ice football, ice hockey and swimming to photo and calligraphy exhibitions, dance performances, trade fairs and more.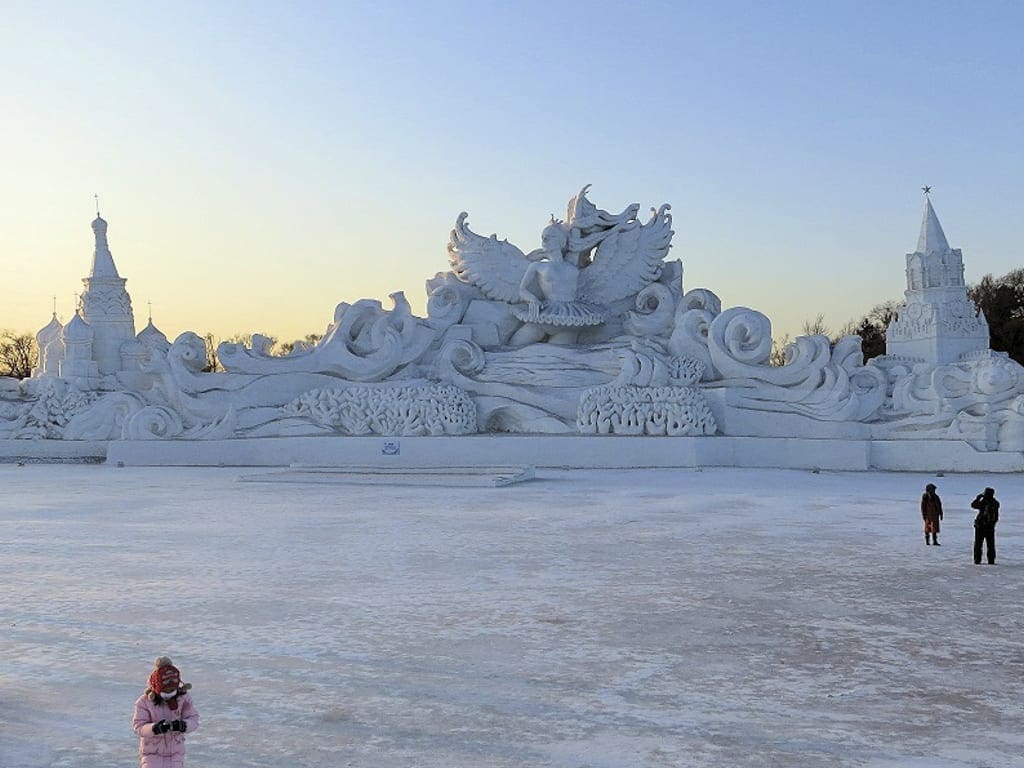 History of the Harbin Ice Festival
When Harbin was founded in 1897 it was nothing more than a Russian-built outpost for workers constructing the Trans-Siberian Railway. Now it is China's northernmost major city with a population of over 10 million, and its Russian influence – especially by White Russians who escaped the newly born Soviet Union after the 1917 revolution – can be found in its architecture and cuisine.
The Harbin International Ice and Snow Sculpture Festival, which began in 1963, originated in the city's traditional ice lantern show where local peasants and fishermen would make windproof lanterns out of ice for use on the lake. During the Cultural Revolution the festival was, yes, put on ice, but resumed again by 1985. Organisers estimate that about 1.5 million tourists visit the city every year.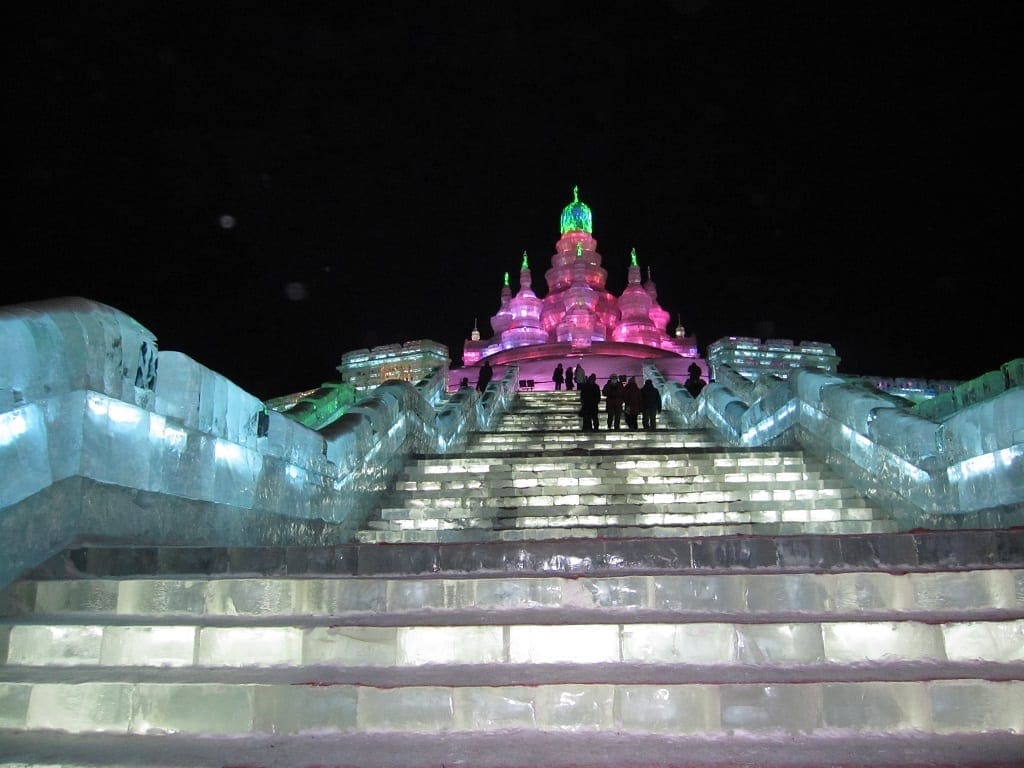 The four main venues of the Harbin Ice Festival
Harbin Ice and Snow World: Located north of the Songhua River and west of Sun Island, this is where the huge ice city made of large ice buildings and sculptures is. It's best viewed after sunset when the dazzling colours and light effects of a computer-controlled lighting system adds a high tech dimension to the masterpieces. Many of the creations are big enough to walk in them or climb them. In 2014 a replica of an Icelandic church stood 46 metres tall with a 240-metre-long slide for visitors to zoom down again. Open from 11am to 9.30pm.
Sun Island International Snow Sculpture Art Expo: After the Harbin Ice and Snow World, this is the festival's second-biggest venue. Located on Sun Island, north of the river, here you will find the artistically carved snow sculptures and the competition area. Just as with the ice sculptures, many of them are massive in size and a sight to behold. Not lit up at night, they must be admired during daylight. Open from 8am to 6.30pm.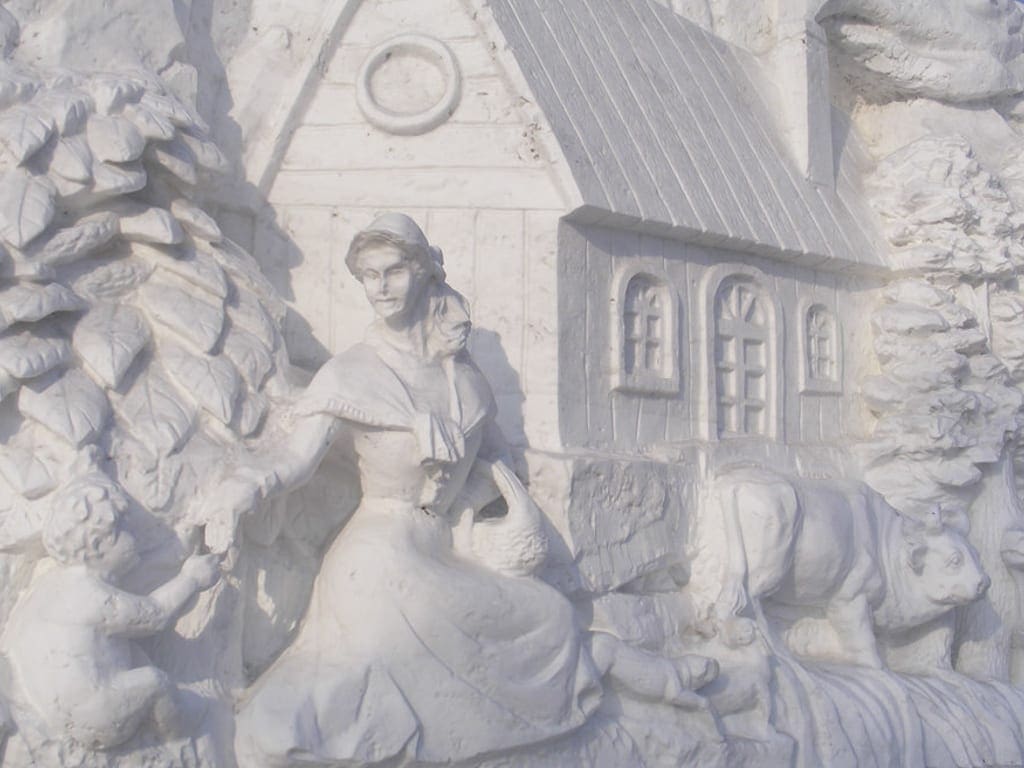 Zhaolin Park Ice Lantern Fair: This is the display area for the ice lanterns and is located in the city centre's Zhaolin Park, south of the river. Although the smallest display site, over a thousand ice lanterns are displayed here. Smaller creations compared to the massive ice and snow sculptures, the tradition of making ice lanterns dates back to the Qing Dynasty (1644 – 1911) and are a must-see part of the Harbin Ice Festival. They're lit up at night so best to visit after dusk. Open 10am – 9pm.
Songhua River Ice and Snow Happy Valley: The youngest addition to the Harbin Ice Festival since 2011, here's where you go for all the ice and snow activities such as skating, ice bicycling, sledging, ice football and many others. You can also find food and snacks here, and of course more ice and snow sculptures. It's located on the frozen Songhua River and stretches some 1.5 kilometres from Jingjie Street in the east to Jiuzhan in the west.
Opening dates of the Harbin Ice Festival 2021

The Harbin Ice Festival's official opening date is usually 5 January but traditionally it opens around 24 – 25 December and lasts until the end of February when weather temperatures begin to rise. Exact opening and closing dates depend on the weather and hence keep changing.
When we mention "rising temperatures", it's all relative. Harbin is China's coldest city where temperatures can plunge below -30C so bring plenty of clothes to layer yourself up till you look like the Michelin man.
---
Can't get enough of all the ice fun? After the Harbin event is finished, you can start all over again in Mongolia at the Khövsgöl Ice Festival.
---
The batteries of your electronic cameras and smart phones will deplete much faster than usual in this cold weather so bring extra batteries or try warming them regularly to make them last longer.
Beware of the period around Chinese New Year when the Harbin Ice Festival will be very crowded and hotels expensive, so best to avoid this period.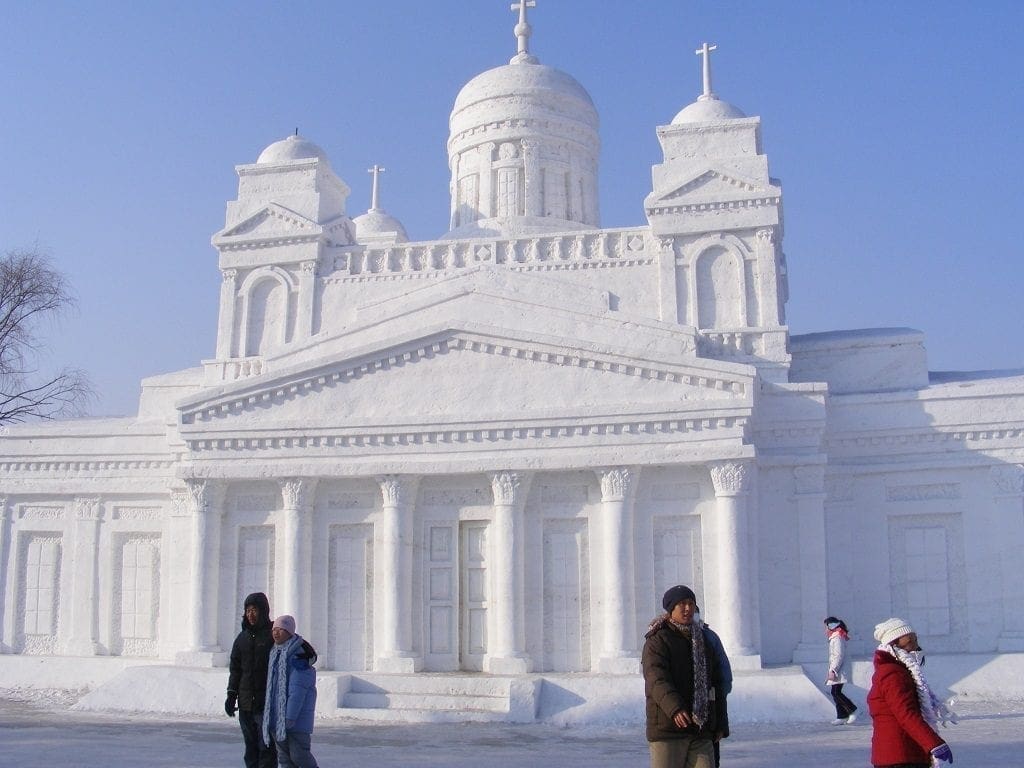 Hotels in Harbin, China and flights & train

To find the best accommodation in and flights to Harbin, please search via our comparison engine, which scans all the major booking sites:
Alternatively, inject some adventure and fun by travelling more eco-friendly by train. The Trans-Siberian Railway will bring you all the way from Europe to China.
---
More information on the Harbin International Ice and Snow Sculpture Festival
Both Ice Festival Harbin (www.icefestivalharbin.com) and Harbin Ice (www.harbinice.com) are local travel websites that specialise in trips to Harbin.
Details
Start:

December 20

End:

February 29, 2024

Event Categories:

Topics:
Johan Smits
Freelance writer, translator, web content developer, author of the novel Phnom Penh Express and Tommy, a short story. Loves trying out local brews, avoids noise. Chronically indecisive about where to lay down his hat. Shortlisted AITO Travel Writer of the Year 2018.
Event Navigation