Holi Festival 2023 India and Worldwide
Event Navigation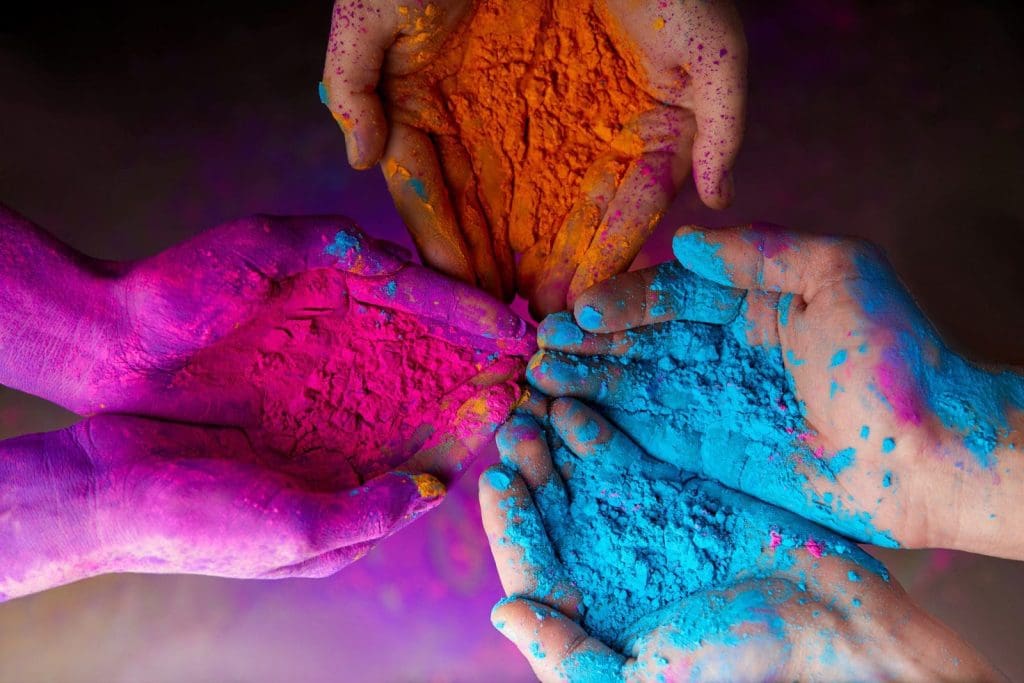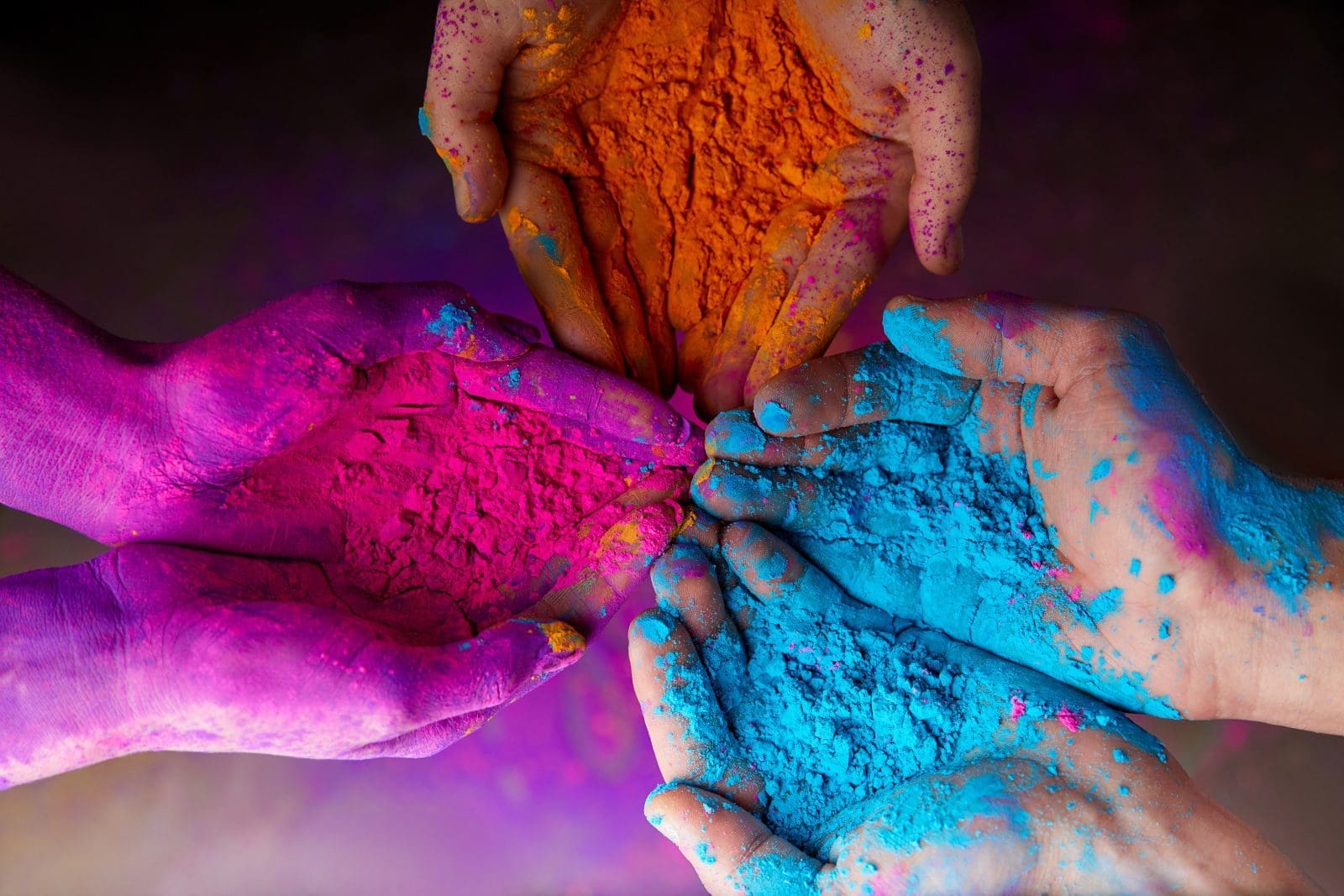 Holi festival India 2023 is a riotous Hindu celebration where crowds douse each other with colour and water – and is probably India's most vibrant and fun festival. 
Holi sees family, friends and strangers come together to dance, laugh and feast, celebrating the triumph of good over evil and the arrival of the spring harvest season. Most often associated with getting drenched in water and throwing coloured powders or gulal at one another, Holi Festival actually consists of two parts: Holika Dahan and Rangwali Holi.
While Rangwali Holi is the famous colour throwing extravaganza – simply a day of having cheer good fun – Holika Dahan is a Hindu mythology-inspired event that takes place on the eve of Holi when the moon is full. That night, wood and dung-cakes are burned on large bonfires in a ritual symbolising the burning of evil and the triumph of good.
What to expect during the Holi festival India 2023

Everybody is fair game during Holi – young and old, poor and rich, friend and foe, men and women, family and strangers. Small bands of musicians roam around and play the dhol – a traditional wooden drum common in South Asia – while people chase each other in the streets, parks and outside temples. Most of the day is spent smearing coloured powder on people's faces, throwing water and partying. Water guns, water-filled balloons and water sprinklers are all part of the fun, while the intoxicating bhang – a paste made from cannabis plants – is quite popular.
Come evening, and after sobering up, friends and families visit each other's homes and share Holi delicacies such as gujiya or fruit-filled sweet dumplings; thandai – a creamy, delicately spiced milk drink; kachoris or fragrant-spiced, lentil-filled puffed pastry; and other desserts and drinks.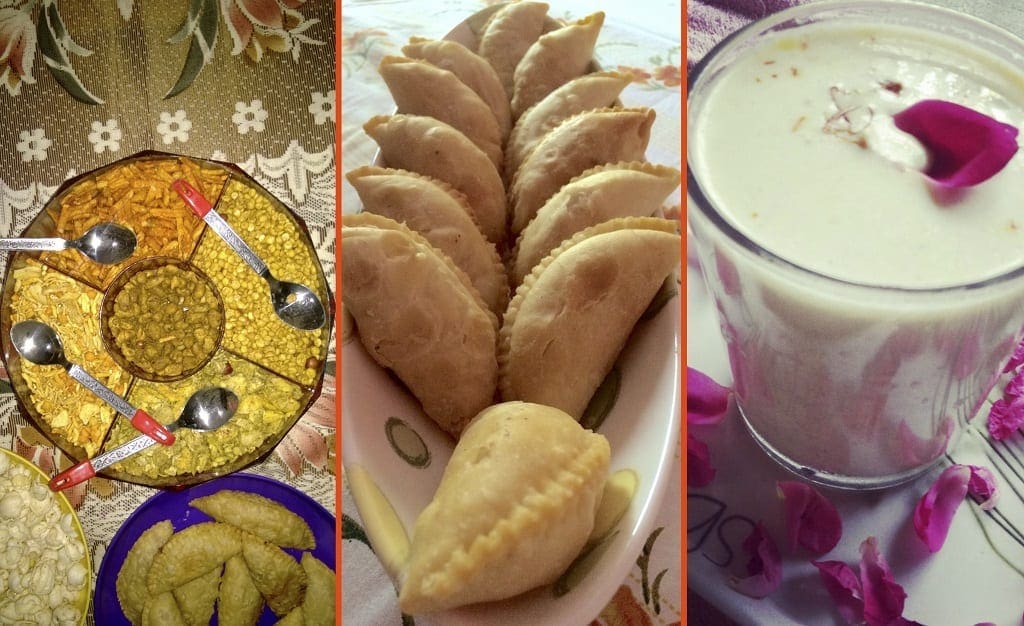 The meaning of Holi
The celebrations of Holi draw on various Hindu mythologies and can be dated back to the fourth century. Mentions of it occur in old Sanskrit writings and poetry while the seventh-century play Ratnaval also describes Holi.
---
For more festivals of India, check out our guides on Ganesh Chaturthi, Diwali, the Pushkar Camel Fair and Ardh Kumbh Mela.

---
"Holi" itself refers to Holika, a female demon who, according to Hindu Vedi scriptures, was burned to death with the help of the god Vishnu. The legend goes that Holika's demon brother King Hiranyakashyap told his sister to burn his son Prahlad for worshipping Lord Vishnu instead of him. Holika, who is invulnerable to fire, tricked Prahlad into getting onto a bonfire. When Prahlad stepped into the fire he chanted Vishnu's name and was unharmed, whereas Holika burned to death since her invulnerability to fire would work only when she walked into fire alone.
Next Lord Vishnu killed the demon Hiranyakashyap and the following day people smeared their faces with the ashes left in the fire, symbolising the conquering of evil by good. The smearing of each other's faces with the coloured powder is sometimes believed to derive from this legend.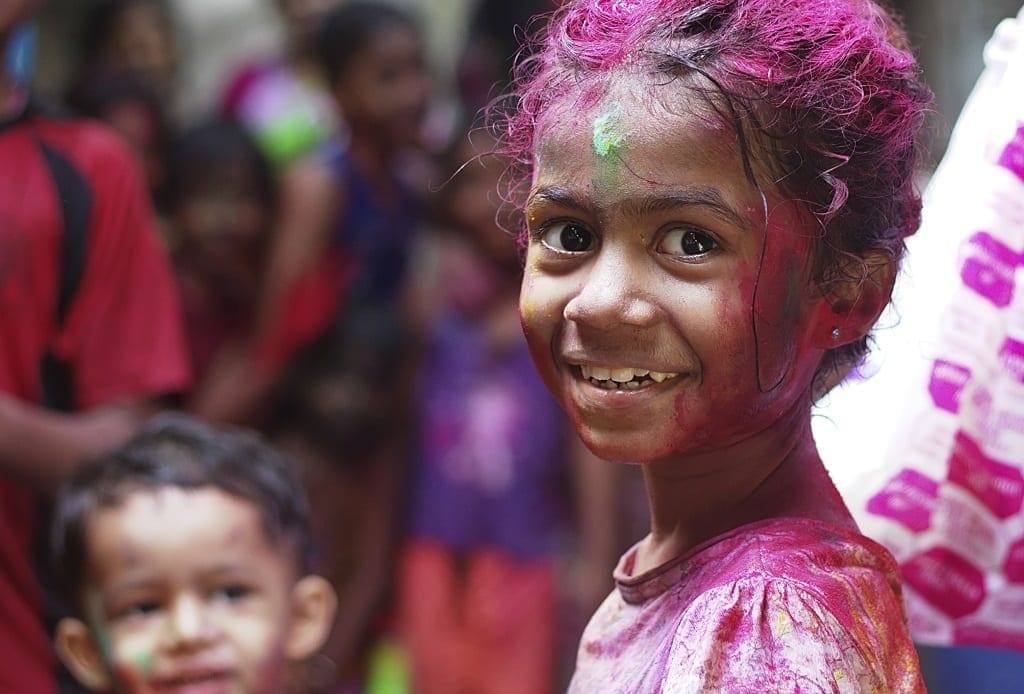 However, the Hindu god Krishna with his blue-coloured skin – often seen as a reincarnation of Vishnu – is often also believed to be associated with Holi in a separate legend. When he was young, Krishna felt anguished about his skin colour worrying he would be disliked by the girls. After falling in love with Radha he playfully coloured her face so they'd become equals, leading to colouring people's faces during Holi festival as an act to honour their relationship.
Whatever myth or legend forms the basis of the tradition, Holi festival India is mostly seen as an opportunity for friends and family to get together and have fun.
Where in India to experience the Holi festival 2023?
The full moon day of Phalguna – or the Hindu calendar's twelfth month – marks the beginning of Holi.
Finding the best locations to experience Holi depends on what you're most interested in. Holi activities take place across all 28 states in India and range from traditional rituals in temples to vibrant parties with DJs and an explosion of colour.
Some of the top locations include:
In Barsana, a village in the state of Uttar Pradesh, the women are decidedly in charge. They chase the men with sticks to re-enact Radha fending off the advances of the young Lord Krishna with the help of her companions.
As respectively the birthplace and childhood home of Krishna, the neighbouring temple towns of Mathura and Vrindavan focus on the more traditional aspects of Holi. Old rituals and colourful processions happen here.
Purulia, a rural district in West Bengal, is famous for its folk celebrations of Holi festival. Over a three-day-period, musicians and dancers liven up the festival with traditional performances, including chhau – a tribal dance involving acrobatics and martial arts – as well as songs performed by the wandering Baul musicians.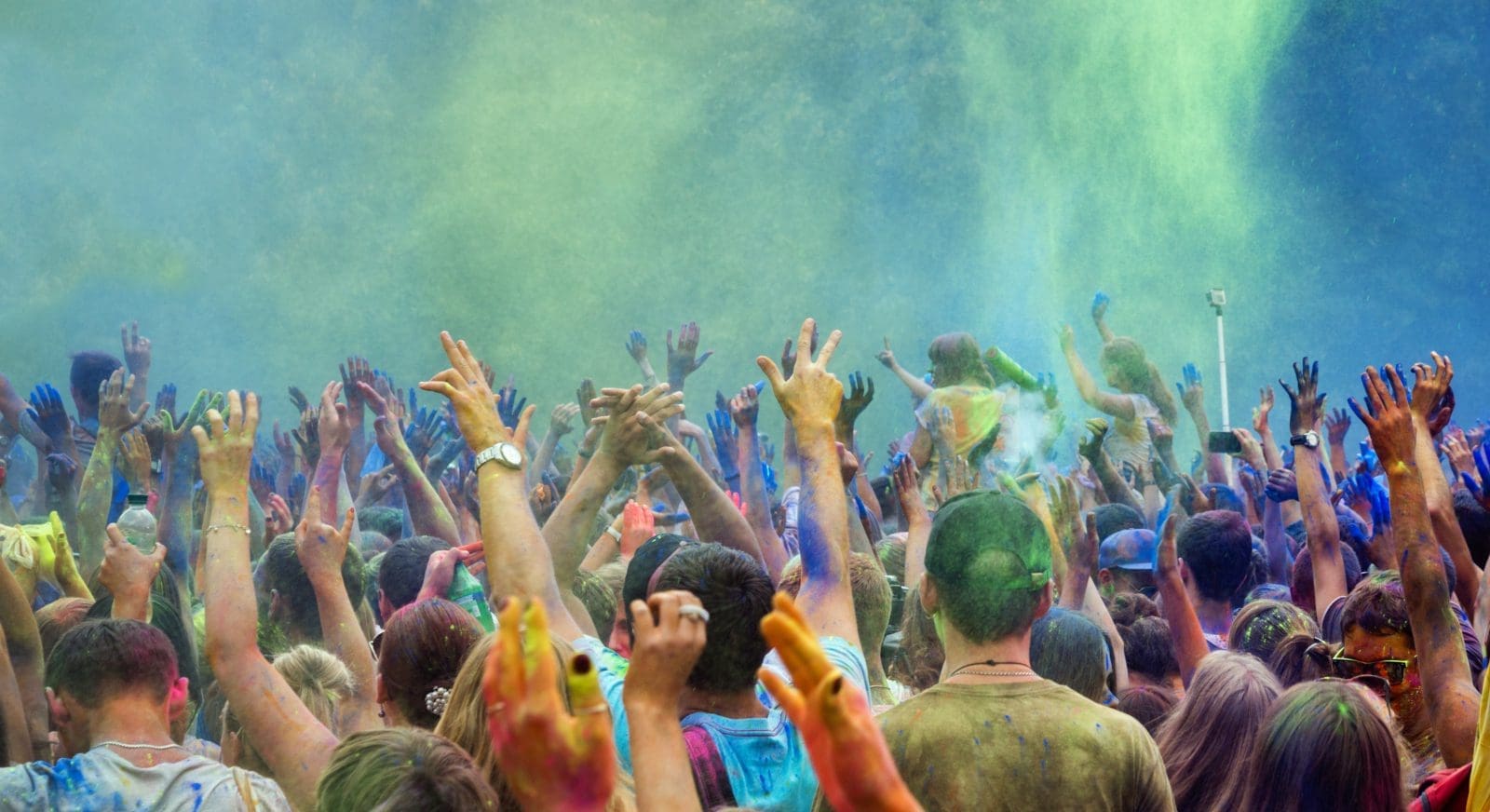 Also in West Bengal, the town of Shantiniketan is known for its cultural activities during Holi festival India, started by the famous poet Rabindranath Tagore, the first non-European to win the Nobel Prize in Literature. Expect an extensive cultural programme for visitors and, of course, lots of colour.
For a more regal experience, head to Udaipur, the historical capital of the kingdom of Mewar, that will see magnificent palace processions with bedecked horses, and performances by court dancers and musicians.
If you're looking to party till dawn, the capital Delhi is a good spot to try. Most popular is the Holy Moo Festival where dozens of international and Indian music artists perform on multiple stages, turning Holi into a big carnival of music, party and colour.
Another exuberant Holi festival India takes place in Hampi which is a former Hindu capital and now a favoured destination with tourists. With the evocative ruins of the erstwhile powerful Vijayanagar empire as a backdrop, the whole town turns out to beat drums, dance and douse each other in rivers of colour.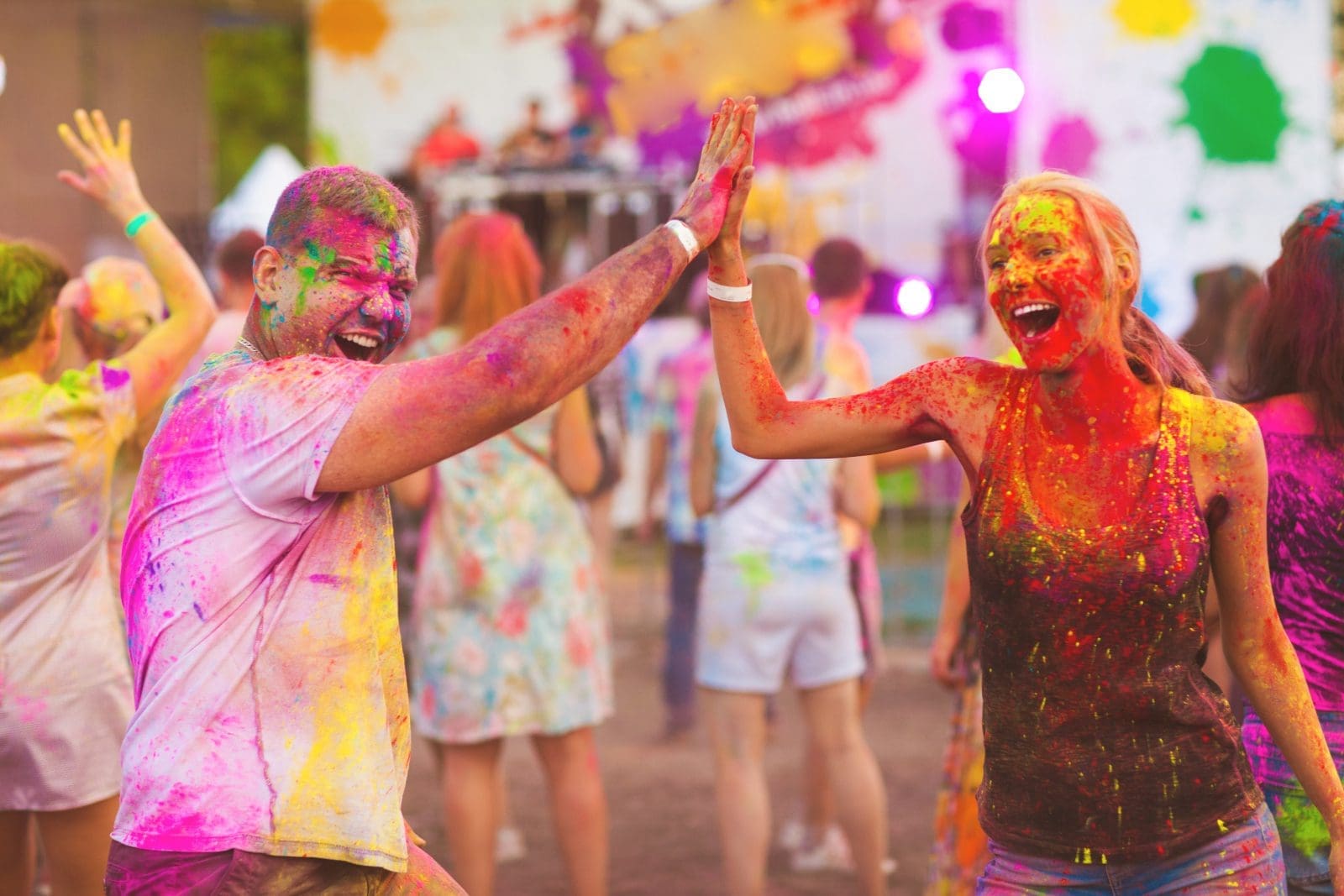 The coastal town of Goa is ideal if you'd prefer a more mellow Holi celebration and laid-back beaches. At this time Goa also hosts Shigmo, a festival with buoyant processions of dance and music groups and huge playacting of Hindu myths.
Holi in Nepal
Holi is celebrated by Hindu communities all over the world but mostly in India and Nepal. In Nepal too, Holi festival celebrations include lots of water, coloured powder and loud music, especially amongst youngsters. The famous, UNESCO-protected Durbar Square is a good and somewhat surreal spot to partake in the festivities. Download Travel Begins at 40's Essential Travel Guide to Nepal Holidays before you visit the Himalayan republic.
Some practical advice for making your Holi festival 2023 a fun, unforgettable experience
Holi festival India is a very fun event to participate in if you don't mind getting wet and looking like a human rainbow. However, as with any event involving large crowds, you should bear in mind some safety precautions, especially if you are a solo female traveller.
Some men will have consumed excessive amounts of the cannabis-based bhang and other drugs. Whether intoxicated or not, some may behave aggressively and see Holi festival as an opportunity to grope women, or worse. If you are female and travelling solo, then it's best to join a group of other travellers and avoid the peak celebration times when things can get quite rowdy. Several of the bigger hotels also organise their own Holi events within a safe and fun environment.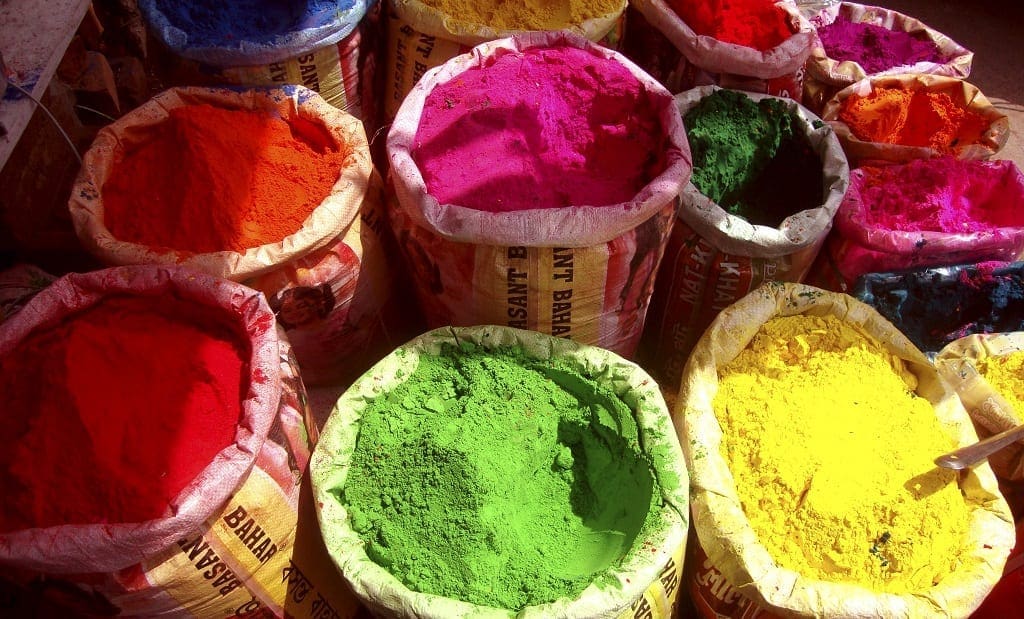 Not everyone uses naturally dyed powders so protect your skin and eyes. A good way of preventing the powder from absorbing into your skin and hair is to rub coconut oil on it, or another moisturiser with an oily base. Wear sunglasses to protect your eyes.
Don't wear your best clothes as the colours will stain. Buy some cheap white clothes locally as they will make the colours stand out and increase your photogenic factor.
Cover your camera carefully, or better, use a cheap, disposable camera for the occasion. Don't carry your valuables with you. Whatever you do take, wrap up well in plastic.
When is Holi 2023?
In 2023, Holi will fall on 8 March.
Where to stay during Holi festival India?

Find the best hotel deal in India through our hotel booking portal. It costs you nothing extra, but the small commission we earn helps to support this site.
More information on India
The official tourism website of India is in its beta testing phase with limited information. However, India has also regional and sub-regional tourism offices with an online presence. Click here to apply for an e-Visa to India.
---
Cover image: Deposit Photos.
Details
Date:

March 8

Event Categories:

Topics:
Johan Smits
Freelance writer, translator, web content developer, author of the novel Phnom Penh Express and Tommy, a short story. Loves trying out local brews, avoids noise. Chronically indecisive about where to lay down his hat. Shortlisted AITO Travel Writer of the Year 2018.
Event Navigation