Hua Hin Jazz Festival 2019, Thailand
June 7, 2019

-

June 8, 2019
Event Navigation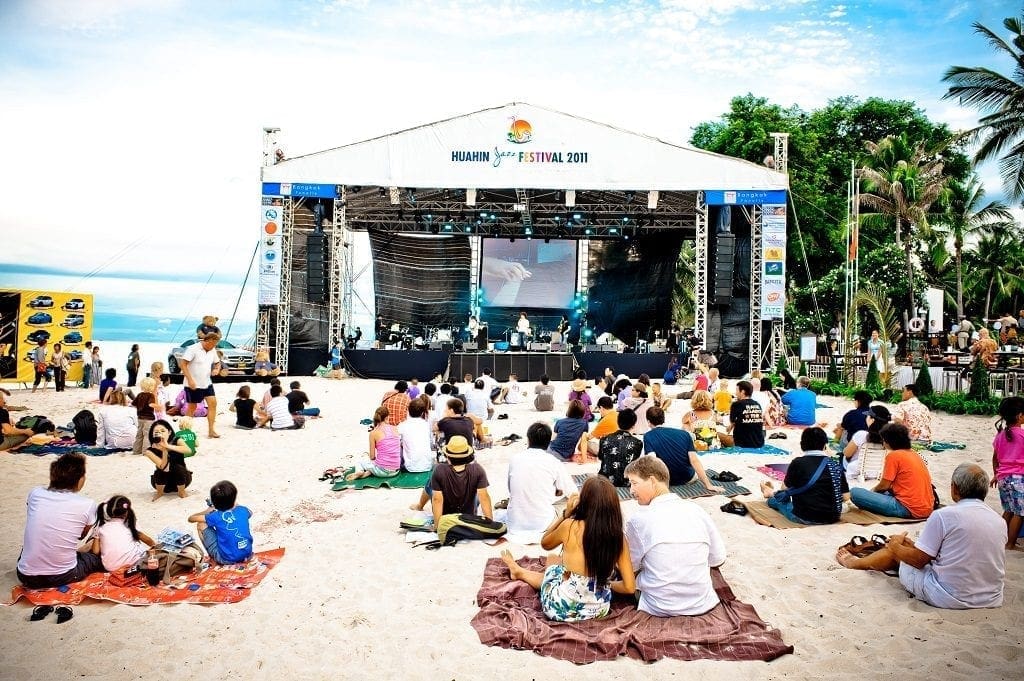 It could hardly get any better when you combine a beach and Thai food with world-class live jazz. The Thai royal seaside resort of Hua Hin, a three-hour drive from Bangkok, will once again host the annual Hua Hin Jazz Festival in June.
Over 100 Thai and foreign performers are expected to fill the two stages at this 2019 edition. Thailand's premier saxophonist Koh Mr. Saxman has been announced to perform once again this year,while foreign artists lined up include The Kings of Samba delivering for the first time in Hua Hin their Brazilian jazz tunes as well as the Brazilian Rubem Farias, one of the world's best bassists and currently living in Sweden.
Hua Hin Jazz Festival 2019 lineup:
Friday 7 June
5:30 – 6:30 pm: Latin Jazz with Mitch Frohman from the USA and Chiang Mai home-grown band Del Ritmo.
6:30 – 7:00 pm: opening ceremony.
7:00 – 7:50 pm: Jazz Bigband with Deborah Brown from the Netherlands and New York Round Midnight featuring Izaline Calister.
8:15 – 9:00 pm: Shanghai Jazz with Malaysian Shanghai Sister.
9:20 – 9:50 pm: Jazz Fusion with The Waltz and Frank Herrgott featuring Richard Jackson and Rubem Farias.
10:00 – 10:40 pm: Pop Jazz and Fusion with Pom Autobahn, Patchara Dila, Wiyada Makarakul, Patchara Dela, The Glass Chiraphan Angsawanon.
11:00 pm – midnight: Fusion Jazz and R&B with ETC. featuring Denzo Hines (Australia).
Saturday 8 June:
5:30 – 6:10 pm: Jazz Bigband with Wang Klai Kangwon School.
6:20 – 6:45 pm: Mitch Frohman, Marat Yuldybaev, Krit Buranawittayawut, Hua Hin International Saxophone & Jazz Summit featuring Alexander Beets.
7:00 – 7:40 pm: Brazilian Jazz with The King of Samba from Brazil featuring Rubem Farias and Filo Machado.
8:00 – 8:40 pm: the Beets Brothers featuring Deborah Brown.
9:00 – 9:50 pm: Fusion Jazz with J. Jazz Super Project.
10:00 – 10:50 pm: Fusion Jazz, R&B and World Music with Sound of Siam & Pui Duang, Richard Jackson.
11:00 – 11:45 pm: Ska Reggae with T-Bone.
Last year, the line-up of international and local jazz artists was one of the most memorable to date. Performers included British jazz funk group Shakatak, Japanese instrumental group Dimension, Grammy-nominated act recording artists Ulf & Eric Wakenius who are a father-son duo from Sweden, Veronica Nunes & Ricardo Vogt from Brazil playing samba and bossa nova, French jazz-blues singer Nina Van Horn, Austria's blond jazz diva Simone Kopmajer, American classic jazz pianist John di Martino, and one of the festival's highlights the Thai band The Sound of Siam led by Koh Mr. Saxman. They performed on the beach stage, while there were also open stage performances by newcomers including Funktion, Sax Pack Girl, and Sincharoen Brothers. Apart from concerts on the beach, the programme included music workshops as well.
---
To discover more about Thailand, read Travel Begins as 40's 'Essential Travel Guide to Thailand Holidays for the Over 40s'.
---
Hua Hin Jazz Festival Theme
Last year the Festival was held under the theme 'Open to the New Shades, a marketing concept initiated by the Tourist Authority of Thailand (TAT) that focuses on gastronomy, arts & crafts, nature, culture and Thai way of life. Presented by Hitman Company in collaboration with Hua Hin Municipality and TAT, the festival was part of an effort to turn Hua Hin into a city of music. The theme of this year's festival has not been announced yet – stay tuned to the festival's Facebook page.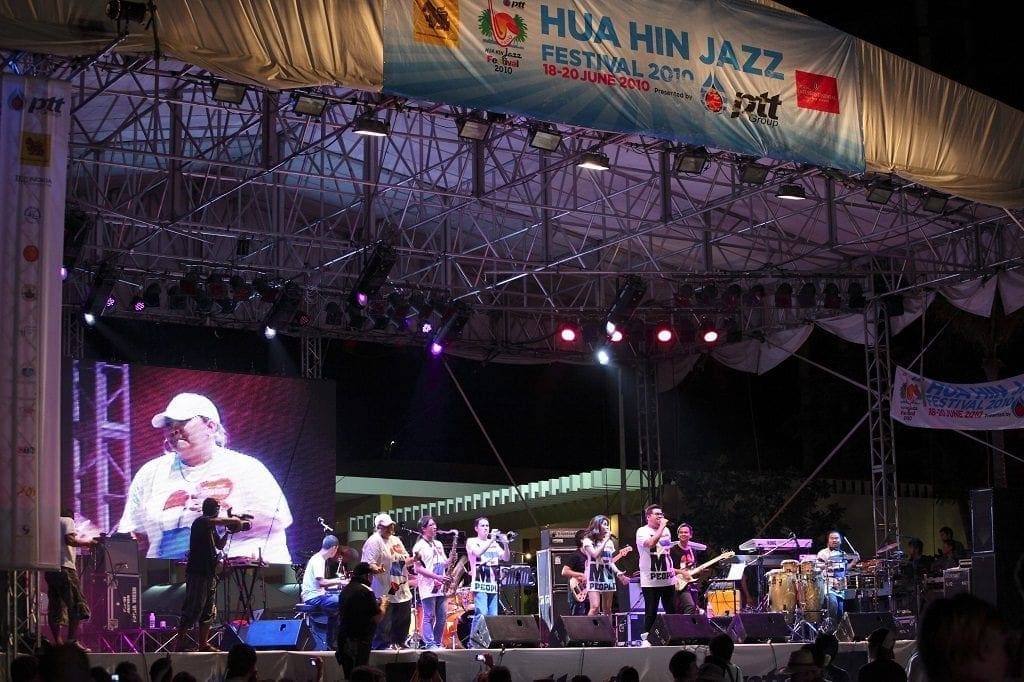 Where and when will the Hua Hin Jazz Festival take place in 2019
This year the event will take place on Hua Hin beach daily on 7 and 8 June. There will be two stages on which the more than 50 concerts will be held: the Art Stage is where Thai artists will be performing with over ten concerts per night, and the Beach Stage is the international and main stage with musicians from the Americas, Africa, Europe and Asia, with varying music ranging from reggae, ska pop and bossa nova to smooth jazz, R&B and classic jazz.
Accommodation during the Festival
Make sure you book your accommodation well in advance. To find the best accommodation in Hua Hin and flights to Bangkok, please search via our comparison engine, which scans all the major booking sites:
.
Alternatively, try out this special offer at Amari Hua Hin and Amari Watergate Bangkok.
---
For more details on the Hua Hin International Jazz Festival
Visit the festival's Facebook page.
---
Cover image by Prachuap Khiri Khan
Details
Start:

June 7, 2019

End:

June 8, 2019

Event Categories:

Topics:

Website:
Johan Smits
Freelance writer, translator, web content developer, author of the novel Phnom Penh Express and Tommy, a short story. Loves trying out local brews, avoids noise. Chronically indecisive about where to lay down his hat. Shortlisted AITO Travel Writer of the Year 2018.
Event Navigation