Iemanjá, Montevideo, Uruguay 2024
Event Navigation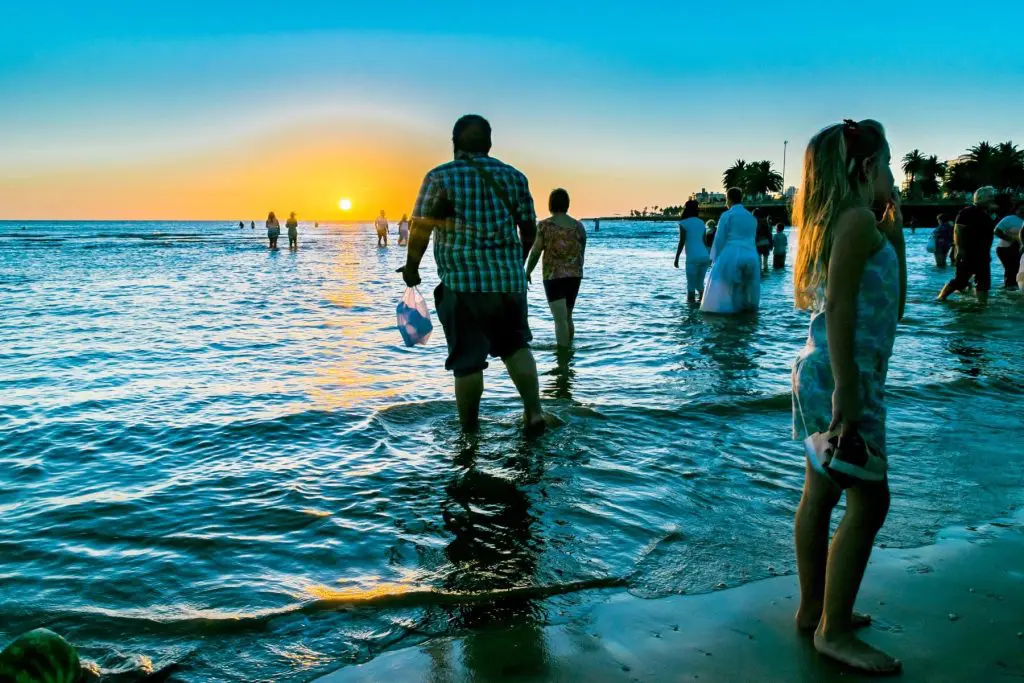 Iemanjá is a testament to the peculiarities of human culture and the way some strands of its web wither away, yet others, despite time and distance, remain strong. A case in point is Iemanjá; a goddess of the Yoruba religion of western Africa who has become a key part of popular life in far away Uruguay.
History of Iemanjá Festival
Iemanjá is a major water spirit of the Yoruba peoples of Nigeria, Togo and Benin. She is the mother of other spirits and associated with bodies of water, women, fertility and children, frequently she is portrayed with mermaid-like images.
It is a testament to the enduring power of Yoruba culture that their beliefs survived the horrors of chattel slavery and the trans-Atlantic crossing and remarkable that they grew in Uruguay, a country with only around 4% of the population being of African descent (and the majority of those would not be of Yoruba descent), but grow they did and they also mixed with indigenous and Catholic culture (especially through the close associations with the Virgin Mary), which is a hybrid set of beliefs known as Umbanda from Brazil to Argentina.
When is Iemanjá?
Friday 2 February. It is a day-long festival, though more people will be there in the afternoon to enjoy the southern hemisphere summer.
What to Expect at Iemanjá
To honour the goddess, many people dress in her colours of blue and white. Sacrifices will be placed on altars build in the sand, typically food, especially fruit, arrangements of flowers and candles. There can also be models of boats as sailors also give offerings to Iemanjá, to protect them from storms.
Legend has it that if Iemanjá grants your wishes, then you should return the next year to make the sacrifice again.
Many stay around their altars as the sun sets and the celebration continues into the night. Musicians are an important part of the celebrations and they will either play Uruguayan country-style songs or they will be drumming as they pass from group to group, or set up in a specific area to play.
Where is Iemanjá?
It is celebrated on Ramirez Beach in Montevideo, near the Jose Enrique Rodo Park and the National Museum of Visual Arts. This beach is a westward facing strip of sand on the southernmost point of land in the capital, so it is especially well-located for sunsets.
Smaller celebrations may take place on other beaches.
---
Flights to Uruguay
There are direct flights from London to Sao Paulo with British Airways and Latam then there is a change of planes for the Montevideo leg. Other ways of going are with Iberia, via Madrid and Avianca, via Bogota.
From Miami, you can find direct flights to Sao Paulo and Lima then change for the flight to Montevideo, or you can fly with Avianca and change in Bogota.
Accommodation during Iemanjá
To find the best accommodation in the cities you visit, as well as international flights, please search via our comparison engine, which scans all the major booking sites so you don't have to.
More information on Iemanjá
For general information on Uruguay, visit https://www.welcomeuruguay.com/index_i.html
For information on Iemanjá (in Spanish), click here.
Details
Date:

February 2, 2024

Cost:

Free

Event Categories:

Website:
Mike East
Mike began his career in travel writing by going overseas during his holidays and writing his own guide. He then sent this manuscript off to a range of travel guide companies and got a range of rejection letters — all except one. Getting a contract to write for Roger Lascelles Publications on the Caribbean islands of Trinidad and Tobago and The Bahamas was how his career began. With this opportunity came other pieces for British magazines and The Sunday Telegraph.
Event Navigation