Monkey Buffet Festival, Lopburi, Thailand 2022
Event Navigation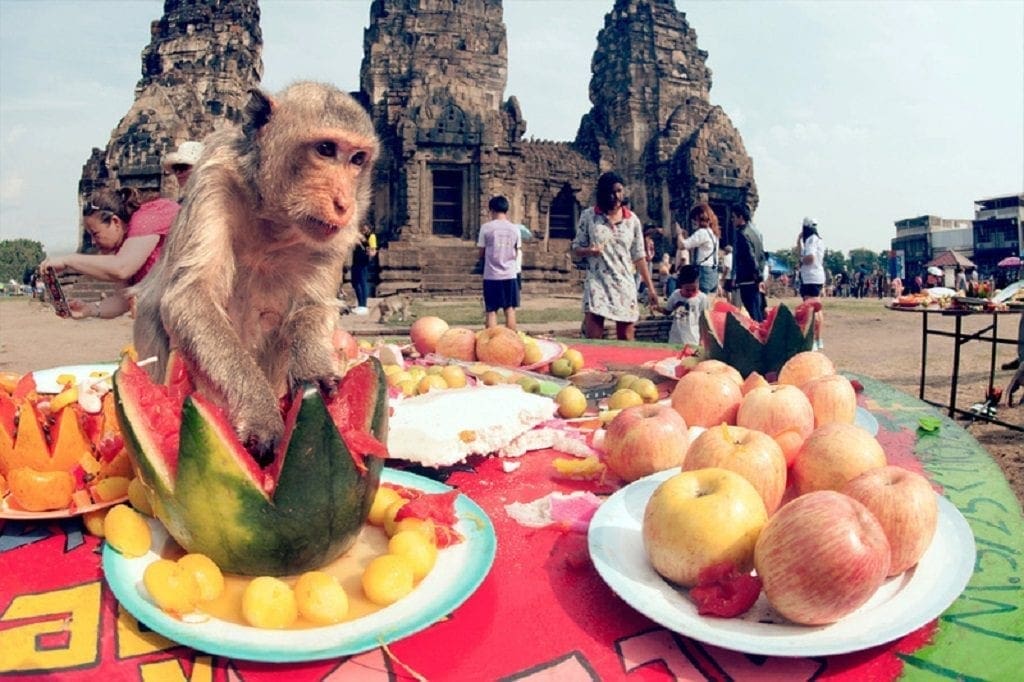 Lopburi, in central Thailand, is already famous for its Khmer temple crowded with monkeys, but every year in November the whole town goes ape when visitors from Thailand and beyond come to watch 2,000 macaques feast on a lavish buffet laid out in their honour during the Monkey Buffet Festival.
Origins of the Monkey Buffet Festival of Lopburi
Long-tailed macaques are the most famous inhabitants of the Thai town of Lopburi where hundreds of them roam freely amongst locals and visitors. According to the Thai version of the Hindu epic Ramayana, the deity Lord Rama built the old town of Lopburi with the help of his friend Lord Hanuman, a deity that looks like a monkey. As most of the town's macaques live in and around the ancient temples, some of Lopburi's residents consider them as holy animals and descendants of Hanuman. Despite their antics such as biting through utility cables, the monkeys are fed throughout the year by local inhabitants in the belief that it will bring good fortune to Lopburi and its residents.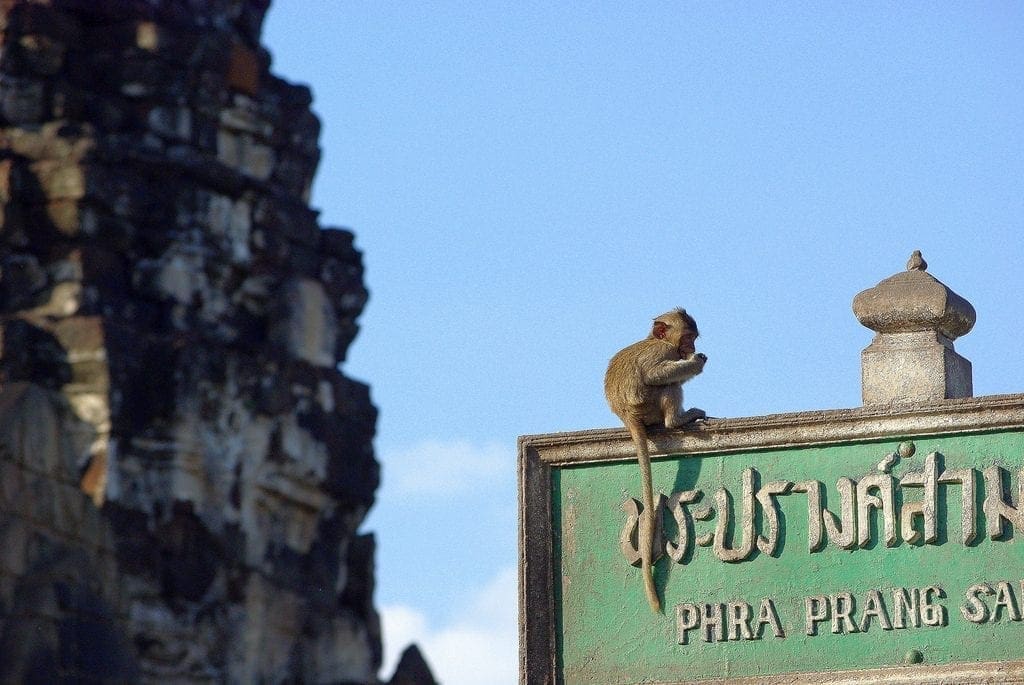 In order to lend a hand to that elusive good fortune, the first Monkey Buffet Festival was organised in 1989 by a local Thai businessman to attract more tourists to the town. It worked, as the festival with the monkeys' antics has grown into an important attraction for the local population, as well as Thai and international visitors. Activities include dances, live performances and, of course, a lavish monkey tea party where the animals are spoiled with two tonnes of food, including bananas, cucumbers, eggs, sweets and soft drinks.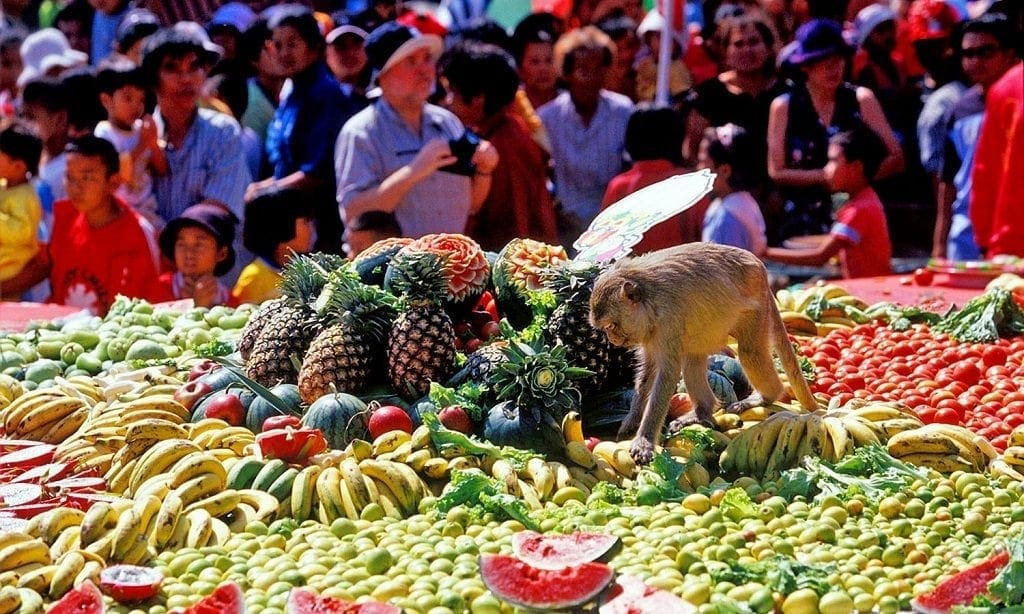 Where is the Monkey Buffet Festival?
Lopburi is located some 150 kilometres north of Bangkok, and the buffet and its impressive fruit towers are located near the historical Khmer ruins and the Phra Prang Sam Yot temple. You can go there on a day trip from Bangkok by train or bus, but if you intend to stay overnight during the festival then you better book your accommodation in advance.
---
Heading to Thailand in spring? Check out Songkran or Thai New Year.
---
The Lopburi Monkey Buffet Festival may not be every traveller's cup of tea – the town's macaques are very used to humans and to being fed. They're bold and won't hesitate to snatch away your bag or food if you don't pay attention. However, if you take enough precautions against it then watching the animals stuff themselves is quite a sight to behold, even with a monkey on your back – literally.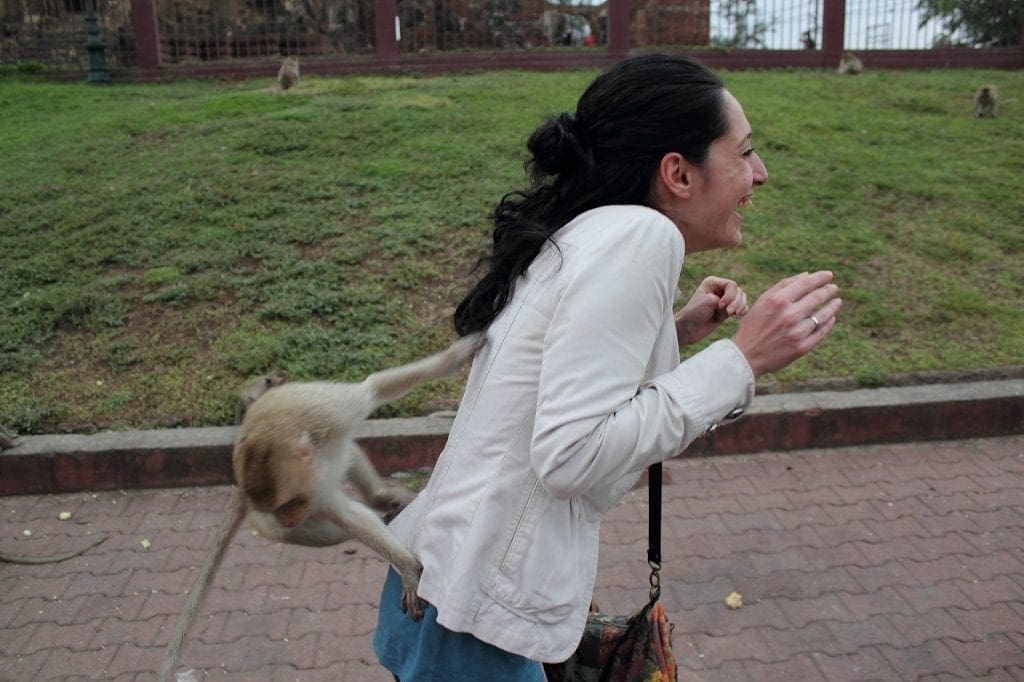 Lopburi is more than just the Monkey Buffet Festival
Dating back more than 1,000 years, Lopburi is one of Thailand's oldest towns and worth a visit for its own sake. Even Marco Polo described it in his travel accounts, when the town was still known as Lavapura.
---
First time visitor to Thailand? Download our free Essential Thailand Travel Guide to get up to date with all the essentials.
---
When the Khmer empire ruled Lavapura during the 11th century, they constructed several important buildings. The historical Khmer temple of Phra Prang Sam Yot and the Khmer holy shrine Sarn Phra Karn are splendid icons of those ancient times. The structure contains three prangs or tower-like spires that represent the Hindu deities Brahma, Vishnu and Shiva. Later it became recognised as a Buddhist shrine.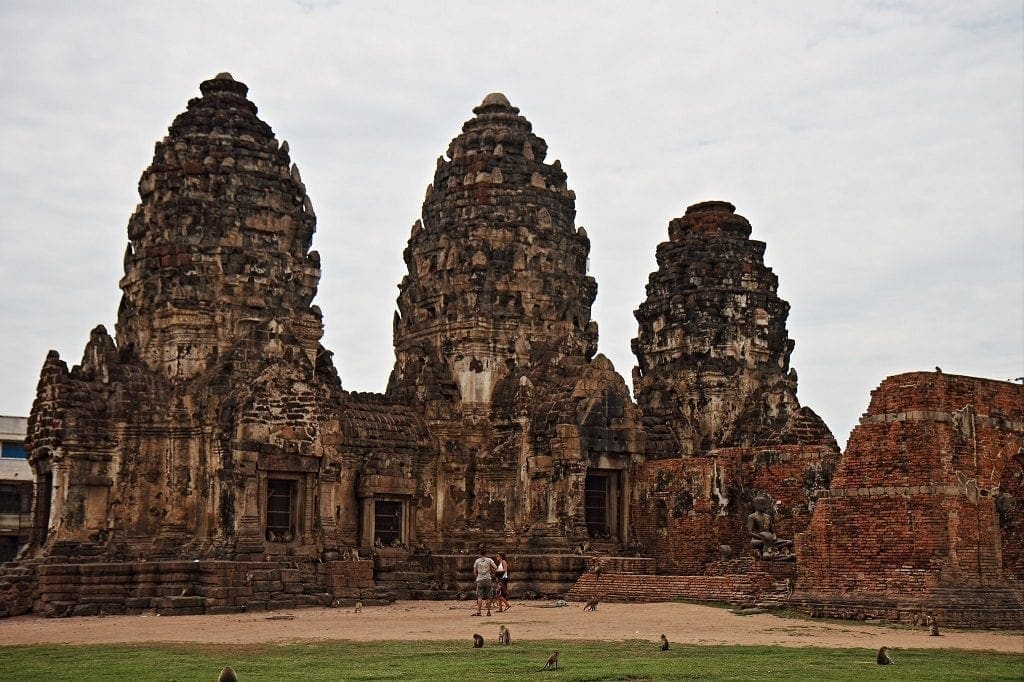 When does the Monkey Buffet Festival take place?
The festival is held every year on the last Sunday of November which is the 27 in 2022. Usually there are four banquets that day which take place at four different times, at 10am, 12am, 2pm and 4pm after an official opening ceremony.
Hotels in Lopburi
If you are looking to book one of the hotels in Lopburi, enter your dates in our hotel comparison engine which searches and compares hundreds of sites to find you the best deals:
---
For more travel ideas in Thailand
Browse the official website of the Tourism Authority of Thailand.
---
Cover image by Diwerent

Details
Date:

November 27, 2022

Event Categories:

Topics:
Venue
Phra Prang Sam Yot temple

Tha Hin, Mueang Lop Buri District




Lopburi

,

Lopburi

15000

Thailand

+ Google Map
Johan Smits
Freelance writer, translator, web content developer, author of the novel Phnom Penh Express and Tommy, a short story. Loves trying out local brews, avoids noise. Chronically indecisive about where to lay down his hat. Shortlisted AITO Travel Writer of the Year 2018.
Event Navigation