Mothman Festival 2022, West Virginia, USA
September 16

-

September 17
Event Navigation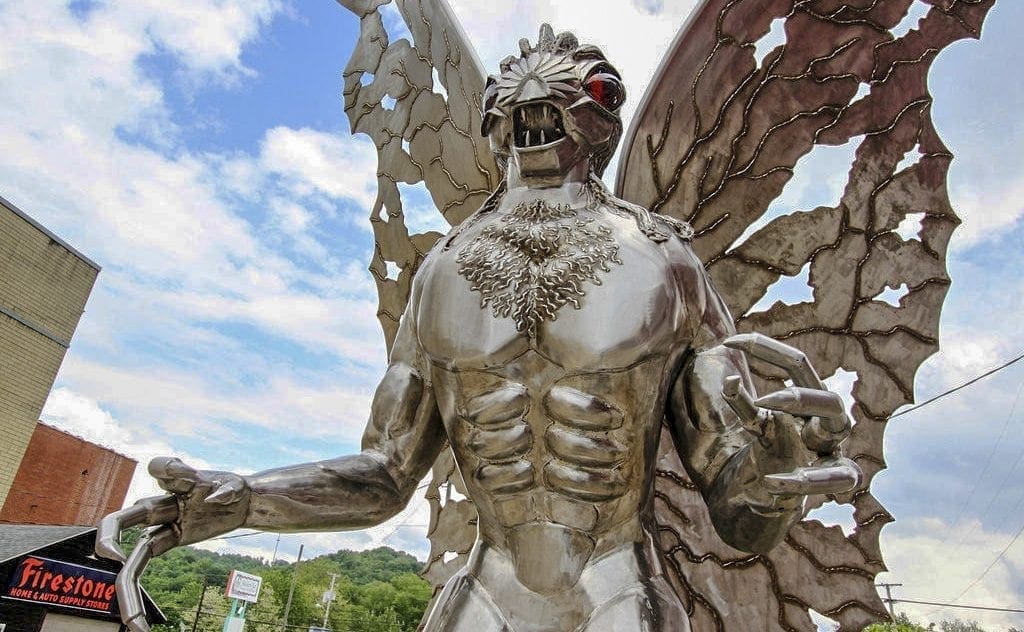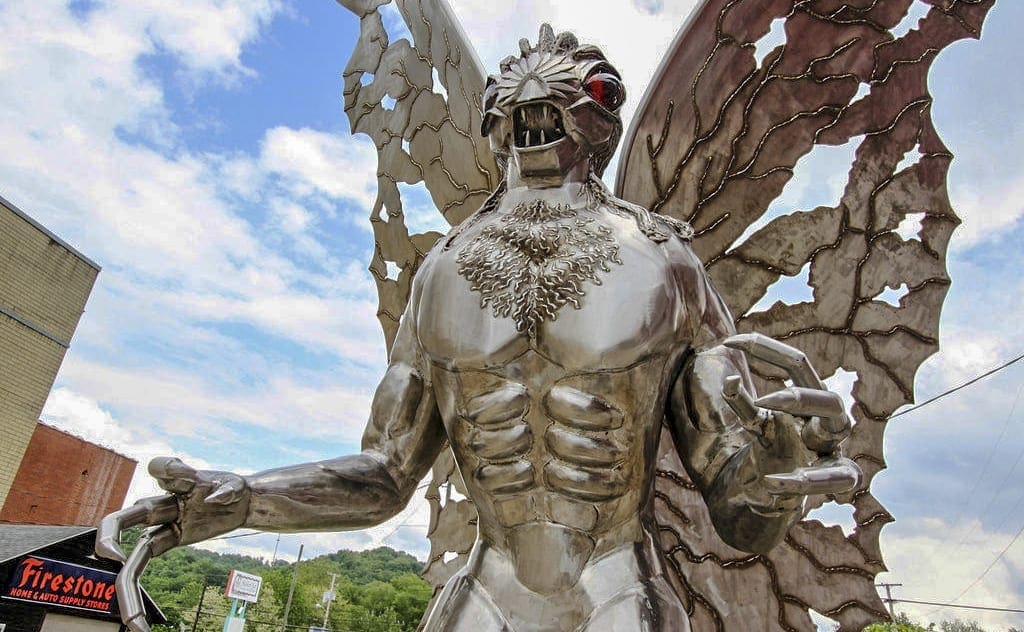 During the third weekend of September, the annual Mothman Festival attracts thousands of revellers to celebrate the Mothman mysteries with two days of music concerts, artists, guest speakers, a charity run, fun exhibits and more, while food vendors offer their Mothman-inspired delicacies all over town.
Point Pleasant, a little town in West Virginia, is most famous for its perceived 1966-67 sightings of a giant, flying moth-like humanoid. After the deadly collapse in December 1967 of the Silver Bridge, which connected Point Pleasant with Gallipolis in Ohio, locals believed the red-eyed winged creature had come to warn people about the tragedy, and over time more sightings were claimed all over the world.
Since then, a new Silver Memorial Bridge was constructed while Point Pleasant has embraced the Mothman legend (see below) with a nearly four-metre-tall statue of the legendary cryptid, and a proper Mothman Museum and Research Center. There was even a Hollywood blockbuster movie released in 2002 called The Mothman Prophecies, based on a book by John Keel and starring Richard Gere. It's also in that same year of the movie release that the Mothman Festival saw the light of day with its first edition. Over the years, the unusual festival has kept growing in popularity and attracts over 4,000 enthusiasts these days.
What to expect at the Mothman Festival
While several self-proclaimed paranormal professionals descend to the town as guest speakers to entertain interested audiences, the Mothman Festival is foremost about having a good time with friends and family. Click here for more details.
---
For a list of more upcoming festivals on the continent, browse our Festivals in America.
---
The centrepiece of all this is Point Pleasant's famous Mothman Museum, proudly – and somehow unnecessarily – billed as the only Mothman museum in the world. Browse here through its enormous collection of relics and collectibles including historical documents recording the eyewitness accounts, police reports, press clippings and of course memorabilia from the The Mothman Prophecies movie. For details on the museum including opening times, click here.
The Mothman legend
When on 12 November 1966, five gravediggers described a dark human-like creature that flew over them while they were working, it became the first official sighting of what would later be known as The Mothman. The second account came when, a few days later, four young adults drove back home at night and spotted two red lights in the shadows of the West Virginia Ordnance Works, a former WW2-era TNT factory. They claimed they saw a two-metre-tall humanoid with large wings and red eyes, and when they fled home, the creature pursued them.
After this news came out, more people in the Point Pleasant region claimed to have spotted the Mothman in the course of the following year. However, a biology professor thought that what people really had seen was a rare Sandhill Crane that had abandoned its usual migration route.
On 15 December 1967 the Silver Bridge of Point Pleasant collapsed during peak traffic time, killing 46 people. After that, the Mothman sightings suddenly stopped, prompting local people to believe that the Mothman creature had tried to warn them about the pending disaster, or might even have been responsible for it. However, Mothman sightings have now been appearing all over the world, and although there have never been any photos of him, he's always been described as about two metres tall, red eyes and bat-like wings. Thanks to the Mothman Festival, the folk legend is thus kept very much alive…
---
For another close encounter, read New Mexico Road Trip: UFOs, Ghost Towns and Country Music.
---
Where is the Mothman Festival?
The festival is held at the heart of Main Street in the town of Point Pleasant in West Virginia.
When is the Mothman Festival 2023?
The festival happens on the third weekend of every September which falls this year on the 16 and 17 September. For those who arrive on the Friday before, there's a Kick Starter event beginning at 6pm at the State Theatre. On Saturday and Sunday the festival usually starts around 10am and finishes around 5 to 6pm while food vendors continue till later with music ongoing till about 8pm.
Other Things to Do in Point Pleasant
While in town, make sure to visit some of the other things Point Pleasant has to offer, including the visitor centre of the 1921 Blenko Glass Company and its artistic hand-blown glass; check out the steel statues of Point Pleasant historical figures and the river murals that tell the story of the town's history; more history can be found at the Silver Bridge Memorial; and for a bit of outdoor activity, visit the Tu-Endie-Wei State Park.
Hotels during the Mothman Festival
If you're looking for a hotel in town where the action is, then book as soon as possible. Failing that, nearby Gallipolis, Ohio is a good alternative just a few minutes away. Other options include hotels in Jackson and Athens in Ohio, or Ripley, Charleston and Huntington in West Virginia.
Use our flight and hotel comparison engine to search hundreds of sites for the best deals:
---
For more details and updates about the Mothman Festival 2019
Browse the festival's official website or Facebook page.
---
Cover image by Ozinoh on Flickr
Details
Start:

September 16

End:

September 17

Event Categories:

Topics:

Website:
Venue
Point Pleasant

Main Street




Point Pleasant

,

West Virginia

United States

+ Google Map
Johan Smits
Freelance writer, translator, web content developer, author of the novel Phnom Penh Express and Tommy, a short story. Loves trying out local brews, avoids noise. Chronically indecisive about where to lay down his hat. Shortlisted AITO Travel Writer of the Year 2018.
Event Navigation