Oktoberfest Munich 2023, Germany
September 16

-

October 3

Free
Event Navigation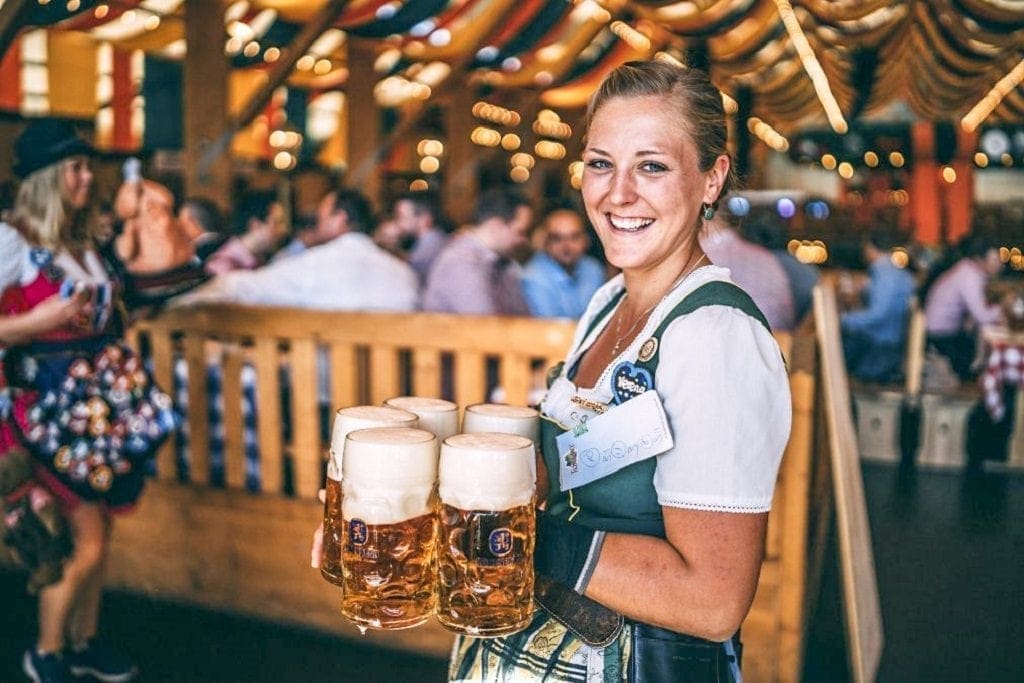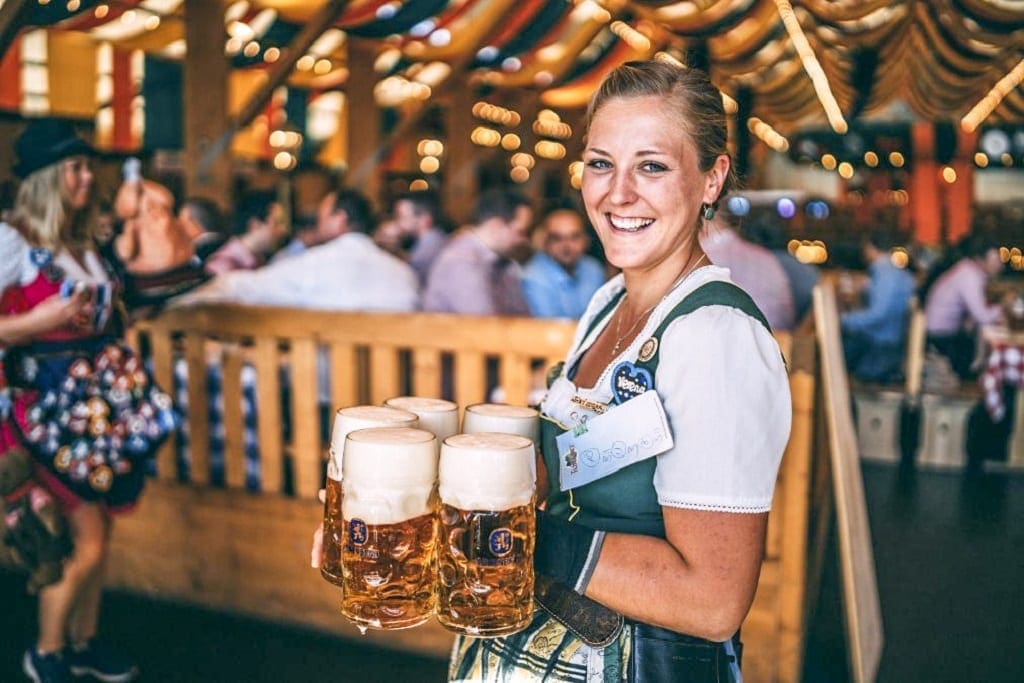 Dust off your lederhosen or dirndl for the world's largest and most famous beer festival, the Oktoberfest in Munich. The iconic Volksfest will feature live music, funfairs, parades, traditional German cuisine and of course millions of litres of German beer.
Many thousands of visitors from all corners of the world will descent upon Munich to celebrate its traditional Bavarian culture and enjoy the best beer of the entire region. Every year, over six million enthusiasts visit the legendary Oktoberfest during which time the German city comes to a standstill.
What is Oktoberfest?
Oktoberfest is German for October festival and is a traditional people's celebration that dates back to the early 19th century (see below, History). Most of the action happens on the Theresienwiese, a large fairground with at its border a big bronze statue of Frau Bayern, the goddess of Bavaria. The fairground, which is located just outside of the city centre, is free to enter.
There will be 17 large and 21 smaller decorated tents at the Oktoberfest, with some 2,000 – 8,000 people per tent. Often there's also an outside biergarten with lots of seats so that it's not unusual to have some 10,000 revellers at the bigger tents.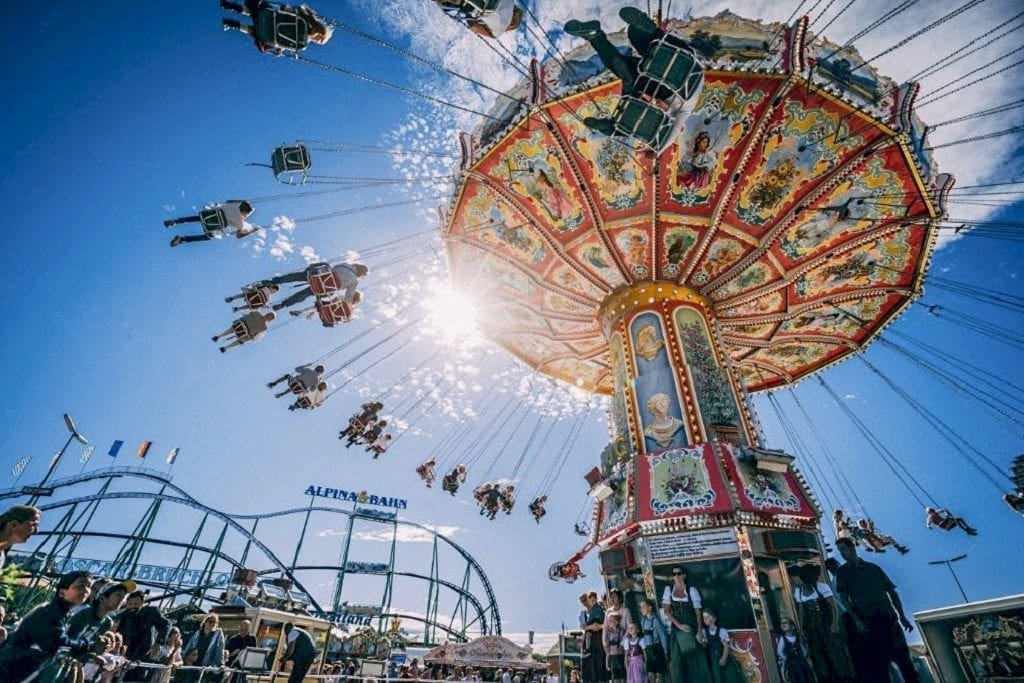 Expect lots of men clad in their traditional Bavarian lederhosen outfit and women likewise in their colourful dirndls – you even might want to hire one for the occasion so you don't stand out too much. There are also about 200 funfair attractions, from a big wheel and haunted houses to water slides and roller coasters. It's probably not unwise to visit these first, before filling yourself with beer inside one of the tents.
---
For all our Germany-related travel features, news and offers, click here.
---
All this culminates into one big party with lots of singing and dancing inside the beer venues, in addition to the drinking and eating, while the live playing brass bands and oompah music make for an unbeatable atmosphere. Despite the combination of big crowds and lots of beer, it's a jovial, friendly and safe happening where strangers sit packed alongside each other at long tables, together drinking, singing and laughing. Locals and tourists of different ages mix here with families from all over Bavaria, with every Tuesday of the Oktoberfest a special family-friendly day – but children below six are not allowed after 8pm so that adults can have their own inebriated fun in the evening.
If beer is not your thing, don't despair, there are two special wine tents, while non-alcohol drinks can also be ordered in all tents. Zum Wohl!
And remember to book your accommodation well in advance as Munich fills up, but don't worry there are plenty of awesome hotels in Munich.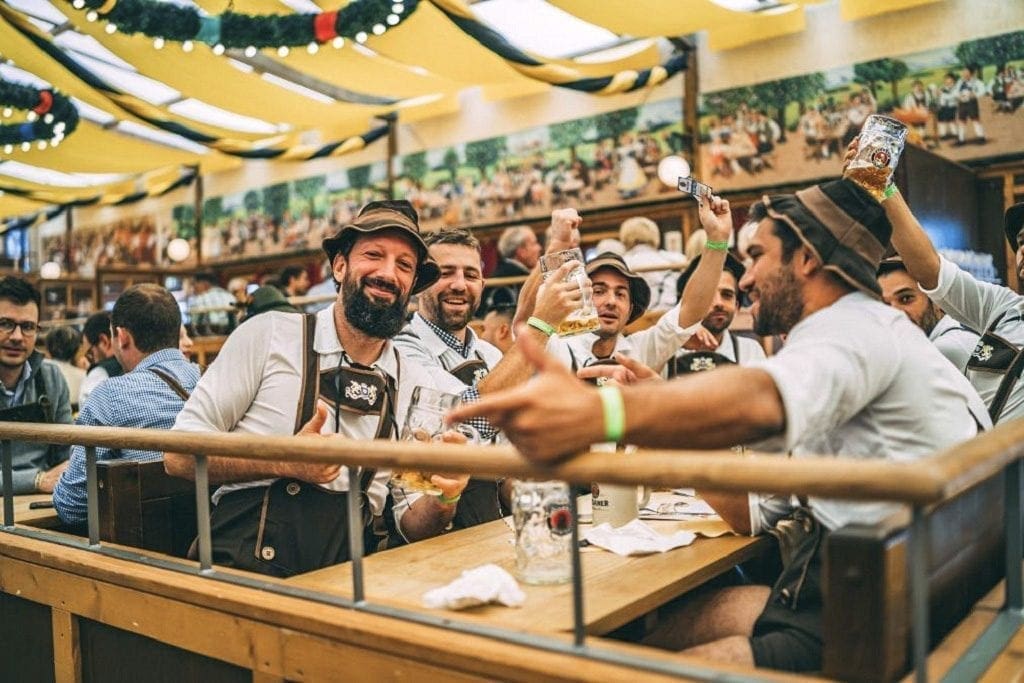 Oktoberfest 2023 Activities and Programme
Saturday 16 September: before the official opening of the Oktoberfest at noon this same day, there's a traditional parade of the Oktoberfest 'Wiesnwirte und Brauereien' (landlords and breweries) featuring the brewers' magnificent horse-drawn carts, decorated floats with Oktoberfest waitresses and the brass bands that will play in the beer tents. Dating back to 1887, the parade involves some 1,000 people, lasts about 45 minutes and leads from the Sonnenstraße-Schwanthalerstraße to the Theresienwiese which is the location of the Oktoberfest.
Saturday 16  September: at noon the Oberbürgermeister (head mayor) of Munich taps the first barrel and calls out "O'zapft is!" ("it is tapped") after which immediately riflemen fire 12 saluting shots. The first litre of beer is then offered to the Minister-President of Bayern. This ceremony takes place in the Schottenhamel-Festhalle and is broadcast live on the national TV channel ARD.
Sunday 17 September: the first Sunday of the Oktoberfest is filled with traditional activities. On this day the two-hour long famous 'Trachten- und Schützenzug' (costume and riflemen) procession takes place over a distance of seven kilometres and involves some 9,000 performers. Expect everything traditional from riflemen in different historical uniforms, horse-drawn carriages, marching brass bands and decorated floats to flag-throwers, dancers, trumpeters on horseback, and many other performers. Also broadcast live on national TV, the procession runs from the Max II monument to the Theresienwiese.
Sunday 24 September: about 400 musicians of all the bands of the Oktoberfest put on a big band concert in the open air. This takes place at the big bronze statue of Frau Bayern near the Theresienwiese.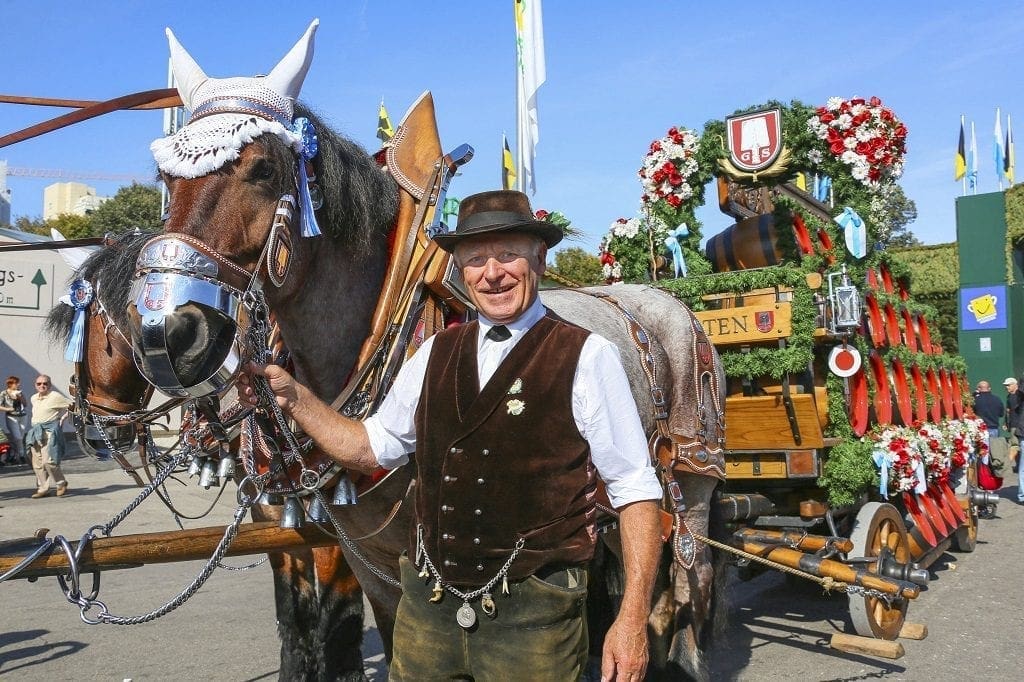 Oktoberfest Beer
All the beer at the Oktoberfest is exclusively brewed in Munich and under strict conditions called the Reinheitsgebot (purity law) to which only six breweries conform, which are HofBräu München, Spaten, Augustiner Bräu, Hacker-Pschorr, Löwenbräu and Paulaner. The beer is served in the iconic one-litre stone or glass mugs and on average contain 6% alcohol, so not to be sniffed at. Every year some six million litres of beer are served during the Oktoberfest.
---
---
Oktoberfest 2023 Beer Tents
With a total of 38 tents, making a choice can be daunting. Every tent is different and has its own characteristics, whether it's another kind of music, a famous traditional interior, special food, different atmosphere or a reputation for partying. Click here to check out the different tents.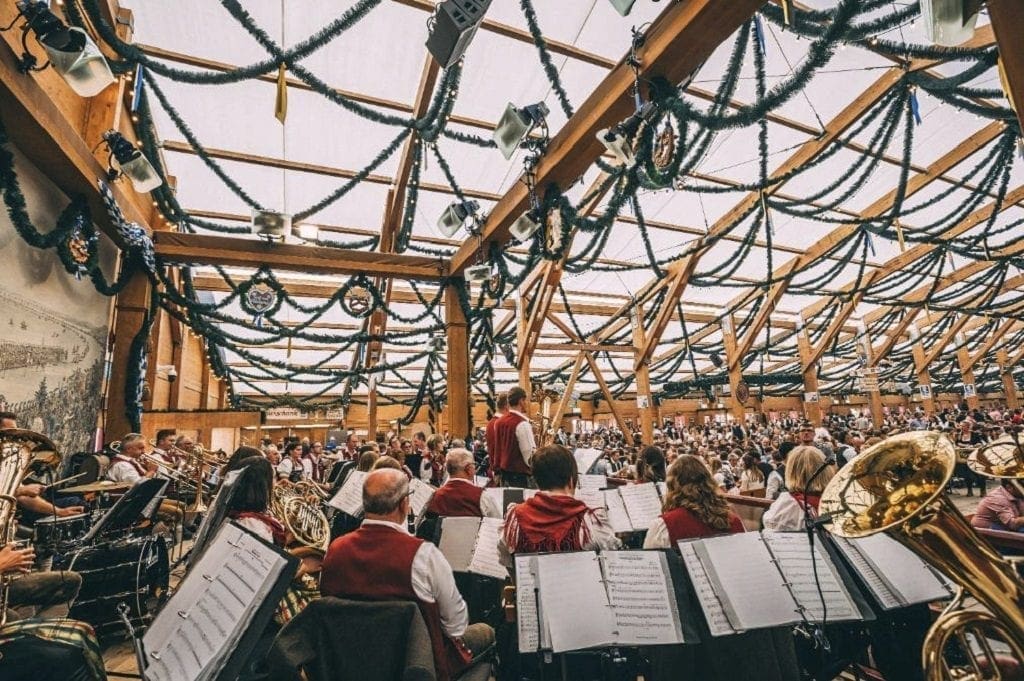 Oktoberfest History
The Oktoberfest dates back to 1810. When Prince Regent Ludwig of Bavaria was going to marry Princess Therese of Saxony-Hildburghausen, they threw a big party. The celebrations took place over several days on the grounds of what is now called Theresienwiese, after Princess Therese. The whole of Munich came out to witness the event, which over time has grown into a massive folk fest.
Gradually, other German cities started to organise their own Oktoberfests too, and today you can celebrate it in many German cities. Each Oktoberfest in Germany has its own characteristics but two things always stay central: traditional dress and beer.
When is Oktoberfest 2023?
In 2023 the Oktoberfest starts officially at 12am on Saturday 16 September and lasts until 3 October.
During the festival, the tents open at 10am during weekdays and 9am on weekends and public holidays. Last beers are served at 10:30pm with the tents closing at 11:30pm. Exceptions are the Käfer Wiesn-Schänke (or Käfer tent) and Kuffler's Weinzelt (one of the wine tents but where you can also get beer) which stay open till 1am with last calls at 12:30am.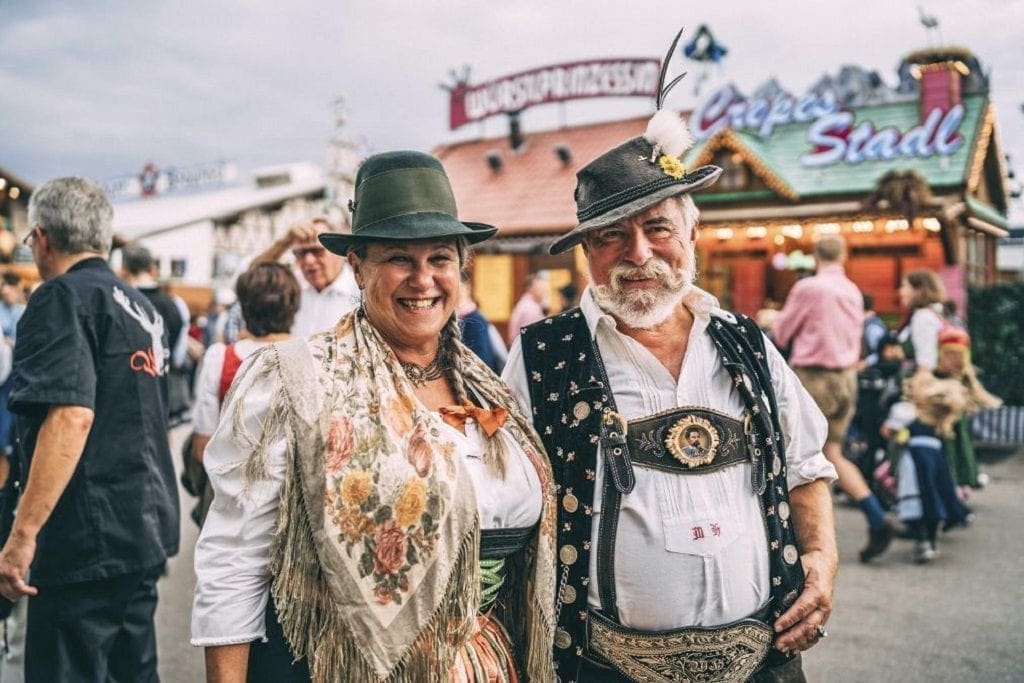 Oktoberfest Location
The Oktoberfest takes place on the grounds of the Theresienwiese which is located just outside Munich's city centre. Click here for detailed information of how to get there from the city and different travel options to Munich.
If you're keen on experiencing the Oktoberfest in its Heimat Germany but you prefer a smaller-scale alternative, then rest assured, between the end of September and mid-October there are Oktoberfests all over Germany. Some stand out more than others including the ones in Berlin and Hannover.
If you plan to sample several of the one-litre beers, it may be prudent to leave anything you don't need at your hotel – except perhaps your partner. Every year the Oktoberfest's Lost & Found office is inundated with thousands of lost objects, which last year included 1,056 passports, 520 wallets, 320 mobile phones, 300 bags, and 50 cameras, while some of the more unusual items included two wedding rings, a hearing aid, dentures and a Segway. You have been warned.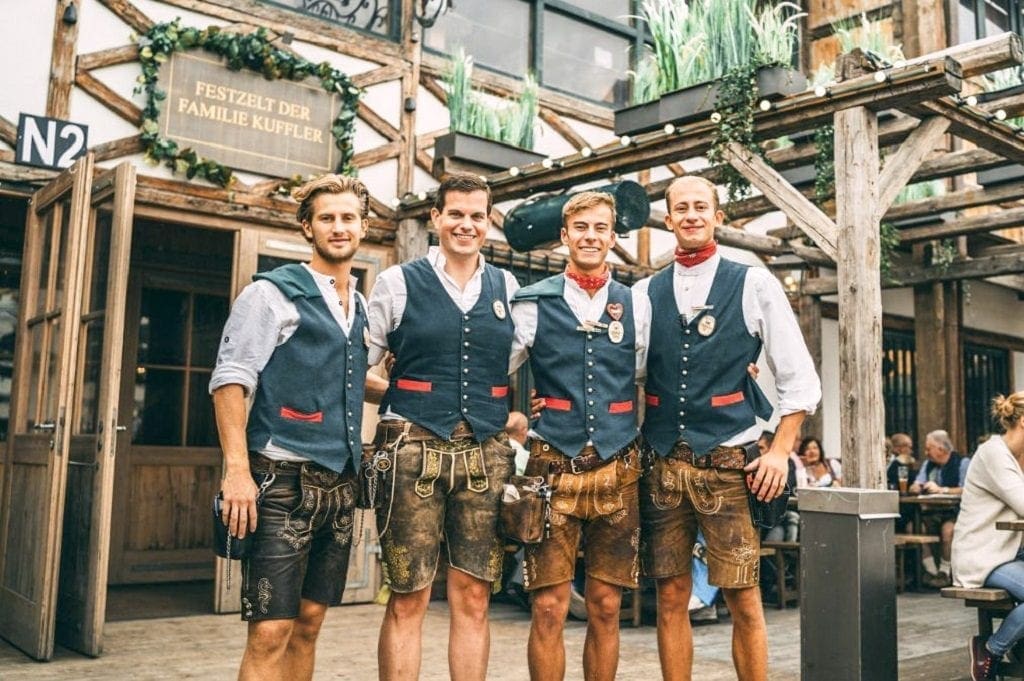 Oktoberfest around the world
If you can't make it to Munich this year, then check out our article A Global Beer Trip: Is There and Oktoberfest Near Me?
Hotels in Munich, Germany
If you are looking to book one of the numerous hotels in Munich, enter your dates in our hotel and flight comparison engine to search hundreds of sites for the best deals:
---
For more information
Visit the Oktoberfest Munich 2023 website for further details. The official website of the city of Munich also contains loads of practical information.
---
All photos credit Sebastian Lehner / München Tourismus, except mentioned otherwise.
Details
Start:

September 16

End:

October 3

Cost:

Free

Event Categories:

Topics:

Website:
Venue
Theresienwiese

Bavariaring




Munich

,

Bavaria

80336

Germany

+ Google Map
Johan Smits
Freelance writer, translator, web content developer, author of the novel Phnom Penh Express and Tommy, a short story. Loves trying out local brews, avoids noise. Chronically indecisive about where to lay down his hat. Shortlisted AITO Travel Writer of the Year 2018.
Event Navigation