Olney Pancake Race 2019
March 5 @ 11:55 am

-

12:30 pm

GMT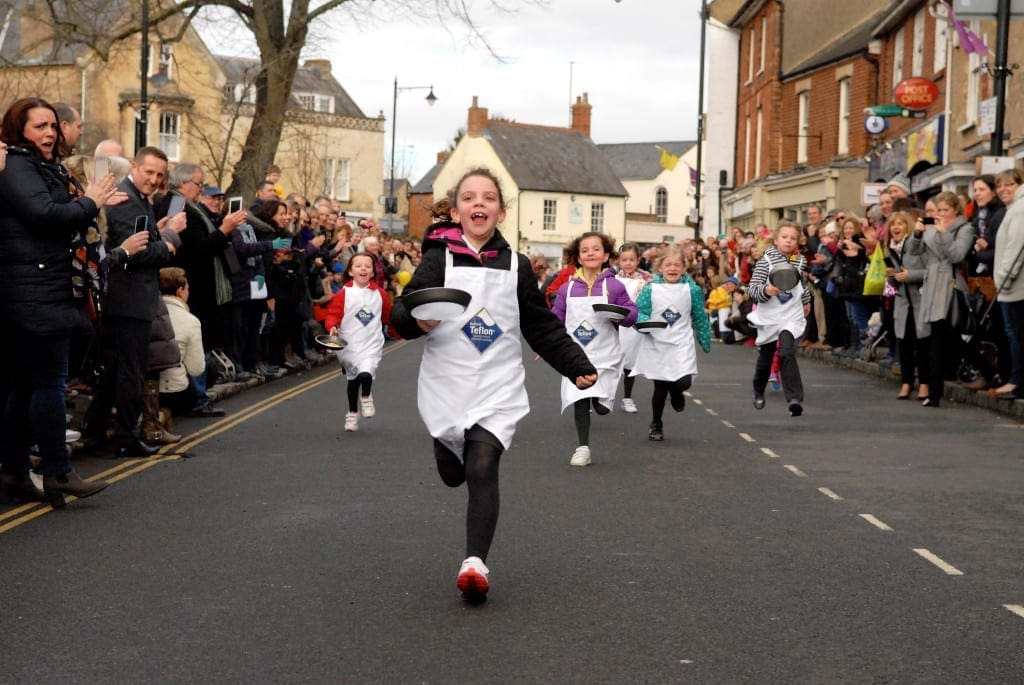 While people around the UK are celebrating the approach of Lent by tossing pancakes in the warmth of their own kitchen, the gentlefolk of one Buckinghamshire town take to the streets for the Olney Pancake Race.
History of the Olney Pancake Race
Dating back to 932 and mentioned in the Domesday Book in 1086, the town of Olney was originally not only famous for its lace-making but its annual pancake race, which has been run in the town since 1445 on Shrove Tuesday, the day before the beginning of Lent.
According to the records, a local Olney woman ran out of her house, dressed in her apron and headscarf, tossing a pancake in a pan to prevent it from burning, as she had heard the church bell ring for the beginning of service.
One can only guess the motivations of these 15th Century town women who emulated this first pancake-tossing event annually. Relief from the tedium of the kitchen, the exhilaration of running down the street in an apron and headscarf or a momentary sense of freedom, but they have left their mark over the ensuing centuries.
Now, people come from all around to watch the spectacle.

When is the Olney Pancake Race 2019
On Tuesday 5 March, 2019, the women of Olney, follow the tradition of their ancient predecessors and compete in the pancake race, which starts at 11:55am.
The Pancake Race
Unfortunately, only Olney residents can attend. In keeping with tradition, the rules are strict and require that each contestant wears an apron and a headscarf. The course is over 415 yards and the contestants must carry a frying pan and toss the pancake at the start and the finish of the race. Children from the local school now take part in their own races.
The Town of Olney
Olney is a small English market town in the county of Buckinghamshire, fifty-nine miles north of London, home to historic Georgian town houses and twice-weekly markets are held there weekly.
The town offers a range of independent shops, galleries, pubs and restaurants. Famous residents include the poet William Cowper and John Newton, the church curate, who collaborated to write the hymn 'Amazing Grace'.
Getting to the Olney Pancake Race
If you want to view this engaging, historic spectacle you can catch a train from London. The Bull Hotel on the Market Place, a 17th Century coaching inn, is a good place to watch the race. If you want to eat lunch, you will need to reserve a table in advance due to the popularity of the event.
Accommodation for the Olney Pancake Race
If you are looking for accommodation in Olney or London, please consider our Hotel Booking Portal.
---
More information on the Olney Pancake Race
For more information on the Olney Pancake Race click here.
Details
Date:

March 5

Time:

11:55 am - 12:30 pm

Event Categories:

Event Tags:

Website:
Venue
Olney

Olney

,

Buckinghamshire

United Kingdom