Onam Festival 2023, Kerala, India
August 20

-

August 29

Free
Event Navigation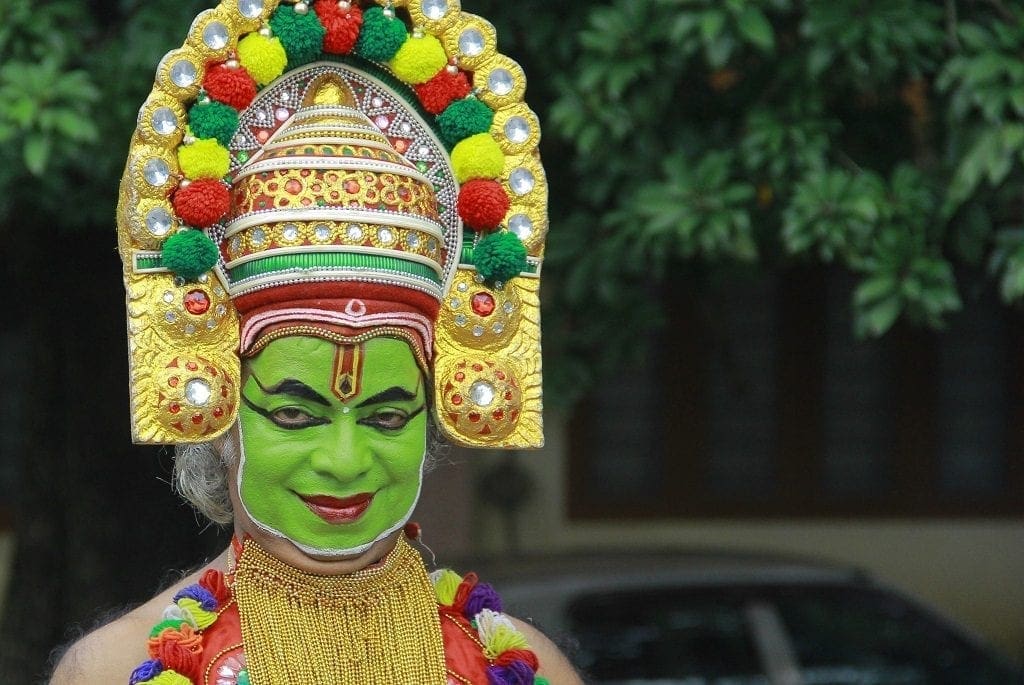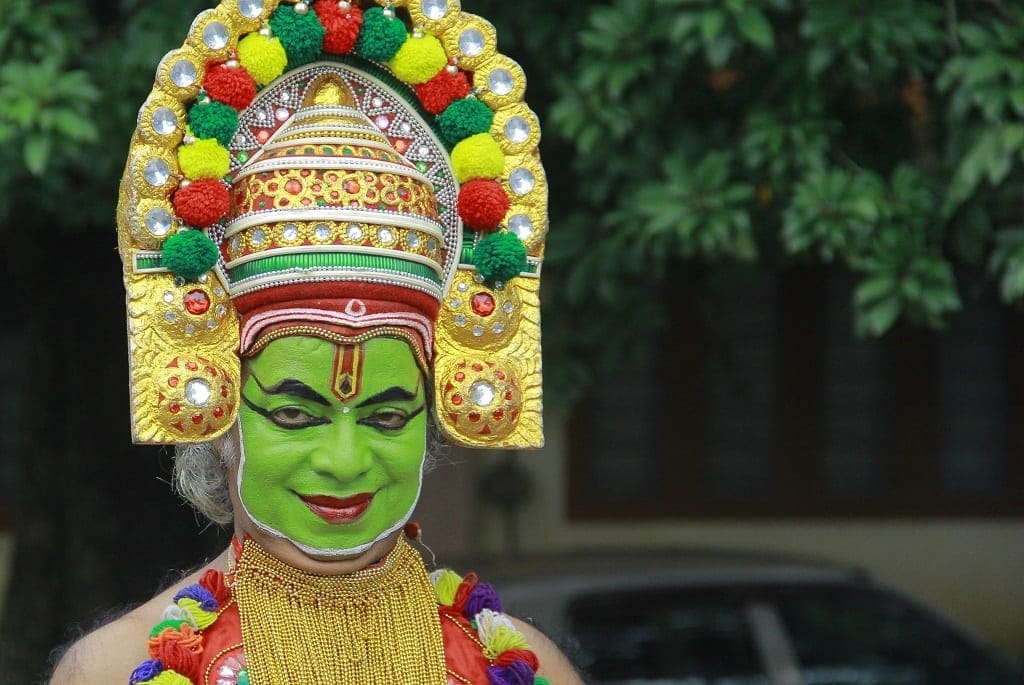 During the days of the Onam Festival, the biggest and most spectacular festival of Kerala, the entire Indian state goes on a spree of celebrations, music and dance performances, elaborate banquets, flower carpets, rowing competitions, and many other happenings. Usually taking place during August – September, this ancient Hindu event is also called the Festival of Harvest when nature is in full bloom and festivities are in the air everywhere.  
The Onam Festival is the most significant harvest festival in Kerala, celebrating Nature's reward after a whole year of hard work and attracting thousands of local and international tourists. For cultural buffs, this is the best time to travel through this Indian state and sample the diversity of its culture and its colourful traditions.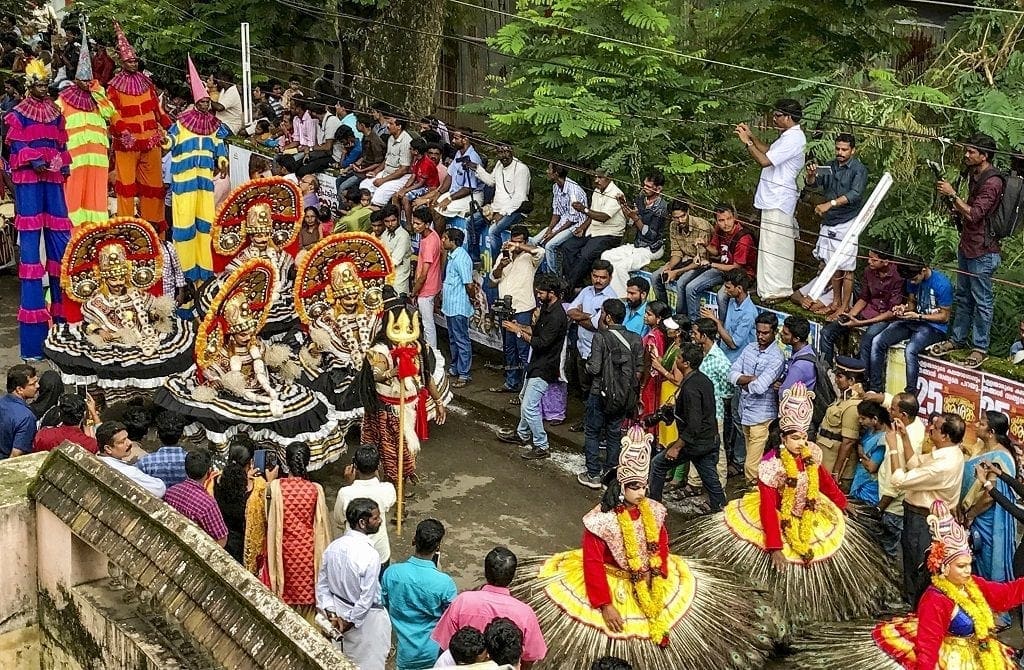 What to expect during the Onam Festival in Kerala
During the festival, the days are filled with folk performances, traditional dances and all kinds of celebrations. Local people dress in new and colourful attire while in Hindu households in Kerala images of Onapottam – the symbolic form of King Mahabali (see below legend) – are put up, just like Hindu families elsewhere in India install Lord Ganesha statues during the Ganesh Chaturthi Festival. In more rural parts of Kerala, youngsters dressed in their best Onam clothes push each other on tall swings while people participate in various dances and games.
Highlights amongst the many traditional dances on display include the famous Pulikali or Tiger Dance where the participants are body-painted in bright colours to resemble tigers dancing to the beats of traditional drums. The best time and place to watch the Pulikali performers in action is on the fourth day of the Onam Festival in Thrissur, a district capital in central Kerala. Another popular and not-to-be-missed dance form is Kathakali, a peculiar classical performance where opera, mime, elaborate costumes and bold make-up mix into a mesmerising spectacle. The Kathakali dance is accompanied with a small orchestra and singers who double up as narrators. One place to watch a performance is in the Kerala Kathakali Centre in Fort Cochin.
Enthusiasts of floral design will regale on the many pookkalams or flower carpets laid out at the entrances of houses and temples. The decorative pookkalams are one of the highlights of the Onam Festival and its most prominent ritual. The making of pookkalams begins on Atham, the first day of the festival, after which new rings of flower petals are added every day until Thiru Onam, the festival's most important day. By then, the usually circular pookkalam has reached a size of four to five metres in diameter with an intricate design and exquisite colours. There are also contests for the most beautiful and impressive pookkalam during Onam all over Kerala.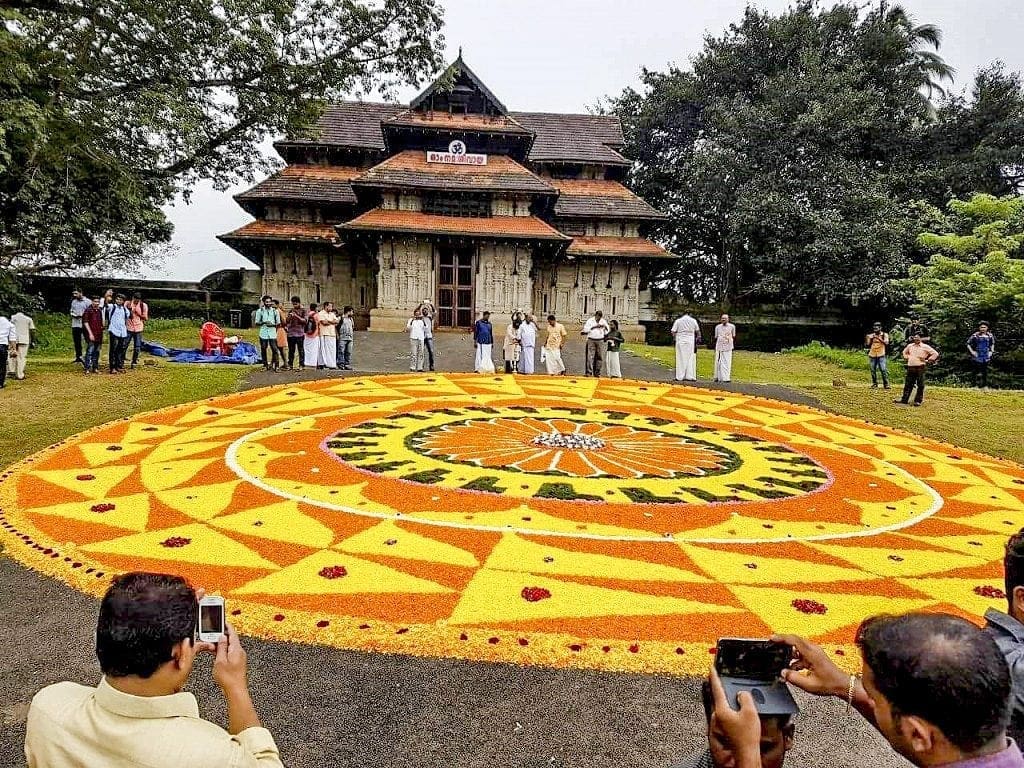 For sports lovers, Onam's boat races are not to be missed. Named Vallam Kali – which literally means "boat game" – they are a traditional form of canoe races in paddled longboats called chundam vallams or snake boats. They start in mid July and run well into September with the most famous and popular one, the Nehru Trophy Boat Race. For more details read our article on the Nehru Trophy Boat Race in Kerala.
---
---
Of course, food also occupies a major part of the Onam Festival with the strictly vegetarian Onam Sadya as its centrepiece. This is a nine-course meal eaten off banana leaves by hand without cutlery. It's usually held on Thiru Onam, the most important day of the festival, in the most prominent room of the house. The courses are made up of over two dozen different dishes, and if you have your Onam Sadya in a restaurant or at your hotel, that number may go up to no less than 30. The list of possible ingredients is endless, from all kinds of seasonal vegetables, different curries and thick gravies to soups, sweet and sour pickles, chutneys, yoghurts and a series of sweet and savoury desserts.
To conclude all these festivities, spectacular fireworks brighten up the skies of Kerala.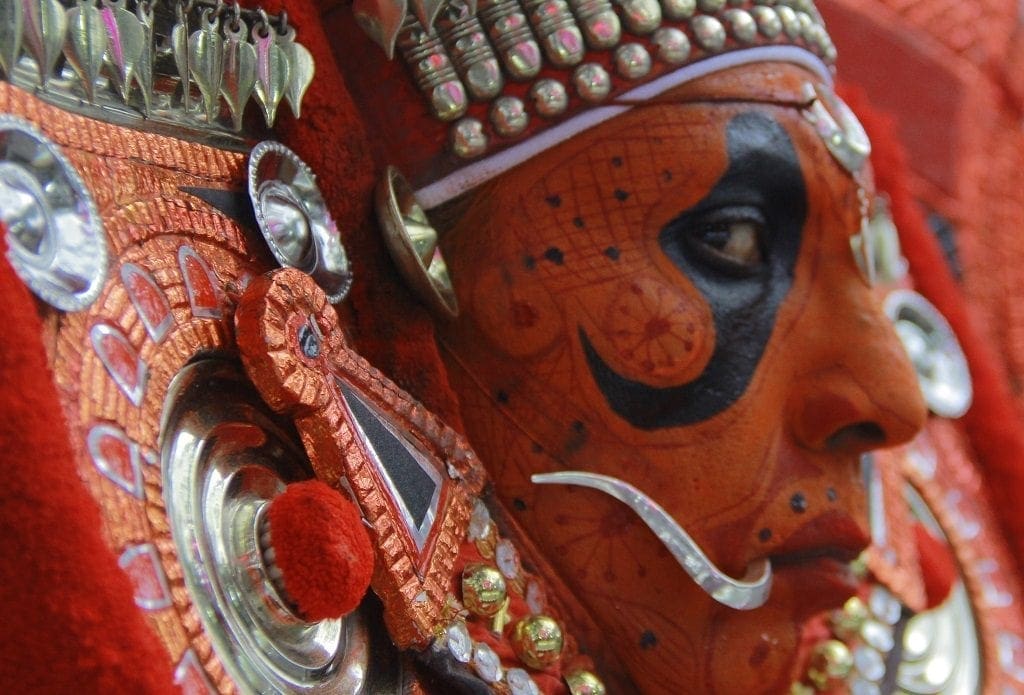 The Legend behind the Onam Festival
According to legend, Kerala used to be reigned by the mighty but benevolent king Mahabali. His fame spread so far that some of the gods feared he may become too powerful and thus pleaded with Lord Vishnu to reign him in. Lord Vishnu took on the form of a small boy called Vaamana and asked king Mahabali for land that measured three strides. The king was so confident that he advised Vaamana to ask for something larger but the boy declined, and the king granted him his wish. Lord Vishnu then grew so much in size that in just two steps he covered all the land that king Mahabali ruled. When, for the third step, king Mahabali offered himself, Lord Vishnu realised that Mahabali was a good and devotional king. As a reward Vishnu offered Mahabali the chance to return once a year to the lands he used to rule. This yearly visit marks the Onam Festival and stands as a symbol of humility and virtuous rule.
When is Onam 2023?
The 10-day Onam Festival starts on 20 August with the main day on 29 August.
Flights and where to stay in Kerala during the Onam Festival
The Onam Festival is celebrated throughout the entire Indian state of Kerala. To find the most suitable accommodation in Kerala and the most convenient flights, please try our booking portal which searches and compares multiple websites to find you the very best deals on hotels and flights.
---
For more details about Onam
Have a look at the official website of the Kerala Department of Tourism. Another website with loads of information is a dedicated Onam website by the Society for the Confluence of Festivals in India (SCFI).
---
Cover image by Unni Nalanchira
Details
Start:

August 20

End:

August 29

Cost:

Free

Event Categories:

Topics:
Johan Smits
Freelance writer, translator, web content developer, author of the novel Phnom Penh Express and Tommy, a short story. Loves trying out local brews, avoids noise. Chronically indecisive about where to lay down his hat. Shortlisted AITO Travel Writer of the Year 2018.
Event Navigation