Pchum Ben Festival in Cambodia
October 13

-

October 15

Free
Event Navigation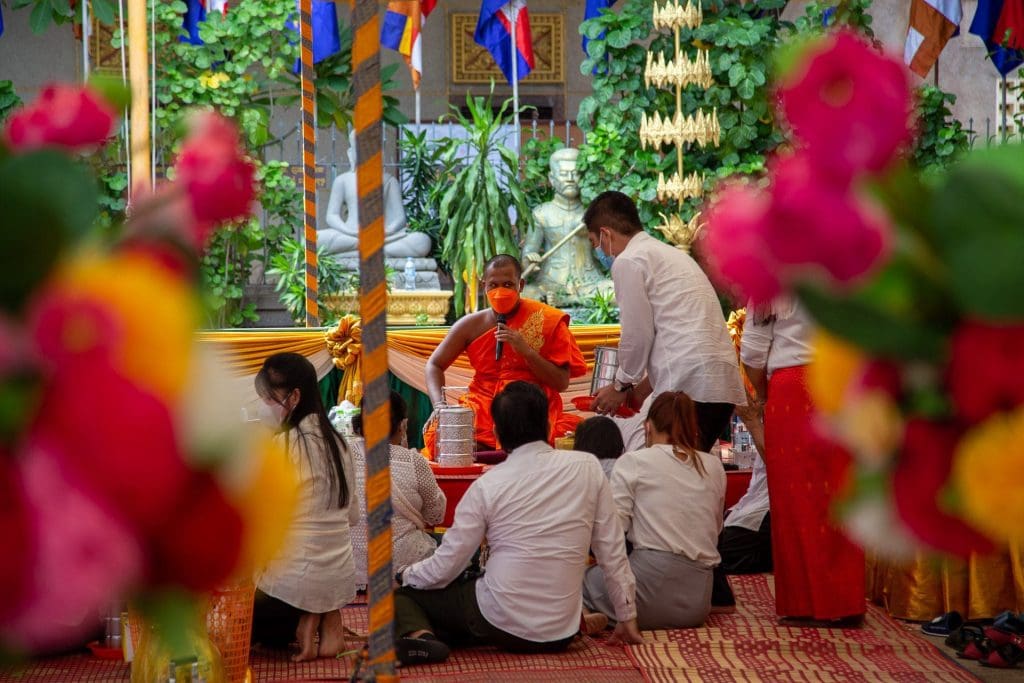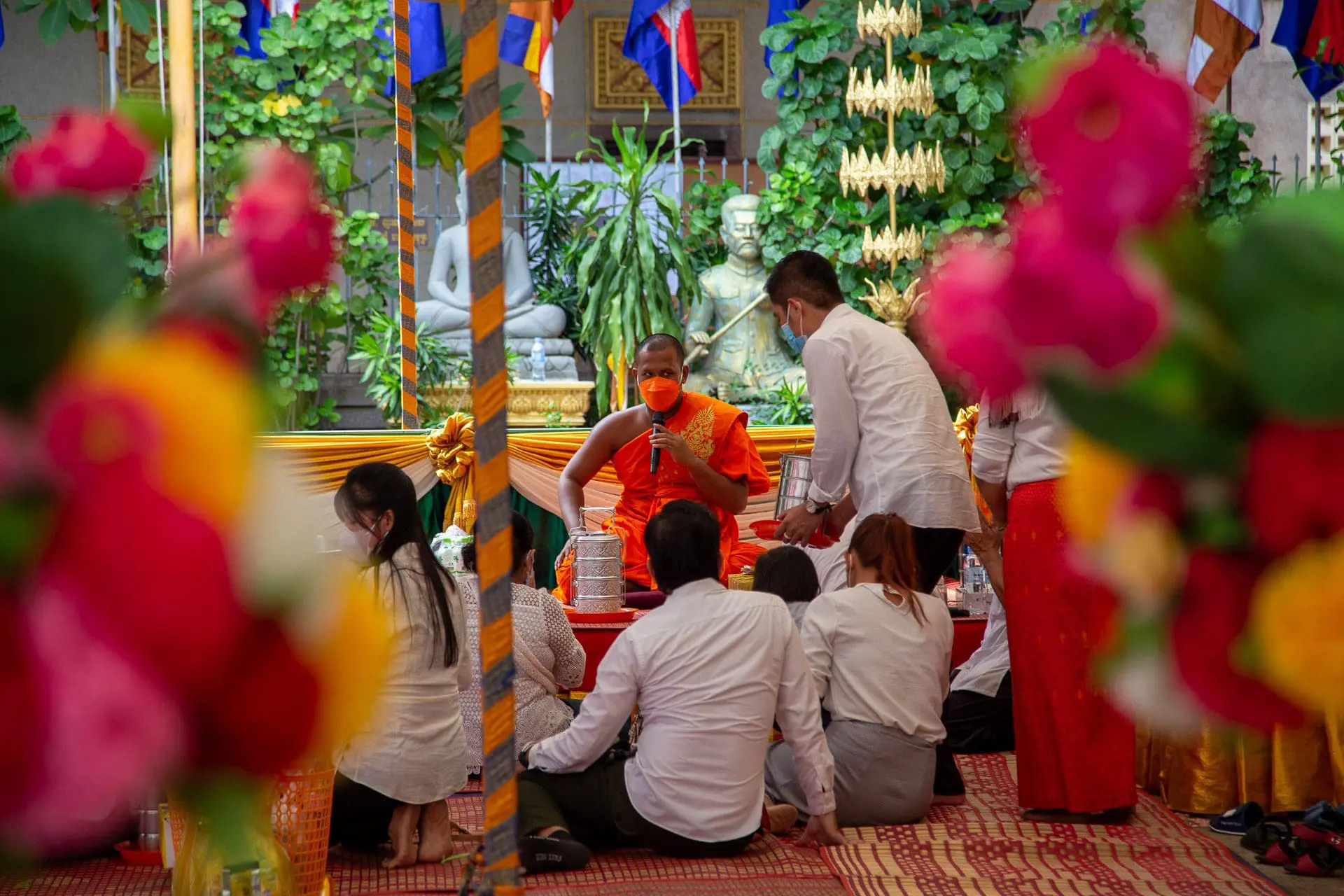 For 15 days a year, the gates of hell open and seven generations of tortured souls roam the land in search of food. Welcome to the Pchum Ben Festival in Cambodia.
People dressed in the traditional Buddhist mourning colours of black and white spilling out of pagodas in the early morning is a common sight that can be seen across Cambodia during the revered festival of Pchum Ben.
Armed with food offerings, lotus flowers and incense, locals are hoping to appease seven generations of dead ancestors who have been unable to pass onto the next life.
Ghosts of Pchum Ben
Also known as Ancestors Day, despite stretching across more than two weeks, Pchum Ben is a time when Cambodians commemorate the last seven generations of deceased relatives. It is also a time when Cambodians believe the gates of hell open, allowing tortured spirits unable to pass onto the next life to enter the land of the living.
Adding to their pain is the fact that these spirits are starving, and must fuel their huge appetites through pinhole mouths. Hungry, they spend their time on earth in search of food. If they fail to find it, it is believed they will avenge their living ancestors and curse them.
To help their relatives move onto their next lives – while warding off any potential curses – Cambodians flock to temples to hand over Pchum Ben food offerings to monks, who pass it onto the hungry spirits.
Another tradition that is believed to help stave of starvation is by offering bay ben – balls made from sticky rice and sesame. These are thrown in the air or on the ground at dawn.
Traditions of Pchum Ben Festival in Cambodia
The first 12 days of Pchum Ben festivities are called kan ben, with the last three days of the festival deemed the most significant. They are taken as a public holiday, which this year falls on 13 to 15 October in 2023.
The final three days of the festival see the country grind to a halt as Cambodians return to their homeland to mark this special occasion with relatives. And Cambodians love to party, so while cities may resemble ghost towns, the provinces tend to come to life with the sound of music ringing heavy in the air, traditional games played and lots of beer imbibed.
According to tradition, seven pagodas must be visited during this time to honour the seven generations of the dead. However, many modern families skip this tradition, visiting one or a handful of temples.
At the pagoda, prayers for the souls of the dead are given, before families return to their homes to prepare the feast that lies ahead. In the evening, families gather to eat food, sing, dance and gossip until the early hours.
Travelling during Pchum Ben
If you're visiting Cambodia during Pchum Ben, then there are a few things worth noting. Firstly, expect the capital to resemble the starting scene of 28 Days Later. The majority of businesses close their doors, so don't expect any major attractions, such as the Royal Palace, National Museum or Killing Fields to be open.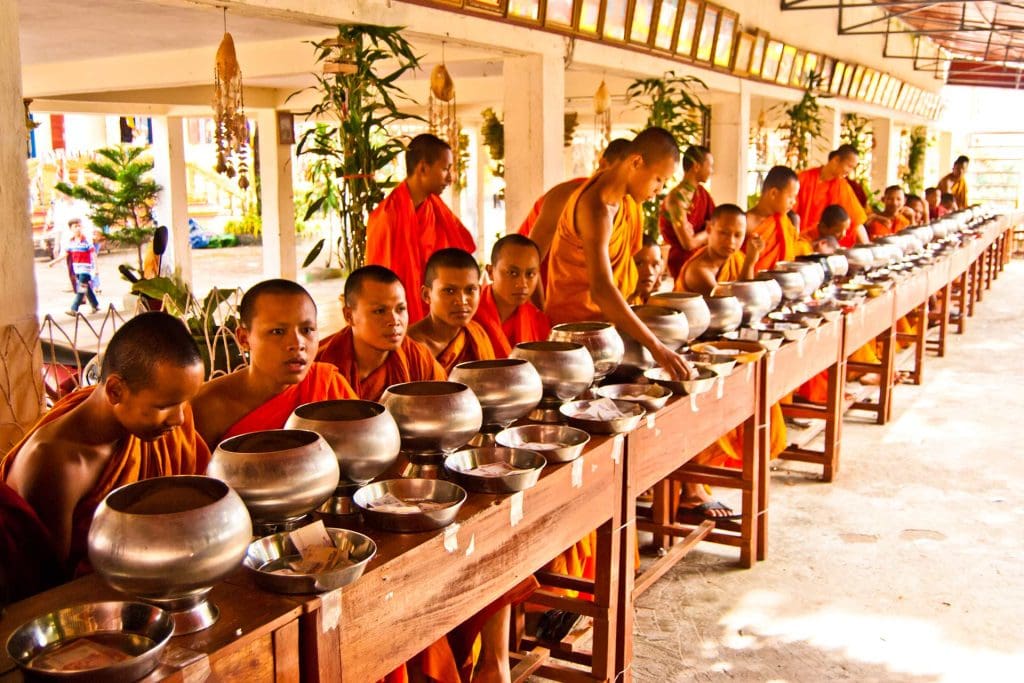 While with each year an increasing number of restaurants, cafés and bars continue to welcome guests, the majority close so double check first. Looking up their Facebook page should be enough.
It's also worth remembering that spots that do stay open throughout the country will operate on skeleton staff, so don't expect a speedy service.
With Pchum Ben being peak holiday time in Cambodia, expect hotels to hike up their prices, and leave yourself a little extra time for transport as tuk tuks, motorbikes and taxis are scarce – especially at night, so try and pre-arrange transport if you plan on staying out late.
If you're travelling across Cambodia during this time, book transport in advance as buses and taxis are booking up quickly. And if you're heading to a popular holiday spot, such as Kep, Kampot or Siem Reap, then book your accommodation well before to avoid disappointment.
While the Pchum Ben Festival may seem like a sombre celebration, Cambodians love an excuse to party and the country is alive with the usual excitement that couples a few days off work and the chance to head home.
Cambodia is just one of the many wonderful countries in the region, try our selection of Festivals in Southeast Asia.
Photos from Pchum Ben 2021 at Wat Langka, Phnom Penh
---
Read our Essential Cambodia Travel Guide.
---
When is Pchum Ben Day?
The Pchum Ben public holiday in 2023 is from 13 to 15 October 2023.
Other Festivals in Cambodia
Pchum Ben is one of a number of festivals in Cambodia, of which the most notable are Khmer New Year and the Cambodia Water Festival. Other noteworthy festivals include the Royal Ploughing Ceremony.
Flights to Cambodia
Cambodia is openly welcoming visitors and you can find many flights to Phnom Penh from around the Southeast Asia region. Flights from Europe or America often connect via Bangkok, Kuala Lumpur, Singapore, Taiwan or Hong Kong.
Hotels in Cambodia
If you are looking for a hotel in Cambodia during Pchum Ben or at any other time, perhaps you could consider using our booking page. Simply enter your dates in the box below, and it will search all the major booking sites so that you don't have to:
Details
Start:

October 13

End:

October 15

Cost:

Free

Event Categories:

Topics:
Marissa Carruthers
Marissa inherited her love of travel from her parents, who would entertain her as a child with exotic tales of their adventures across the globe. Her first solo leap into foreign lands was an Inter-railing trip across Europe and North Africa during her first summer at university and, despite two muggings, several dices with death and a terrifying encounter with the monkey mafia, she was hooked.
Event Navigation