Phuket Vegetarian Festival 2022
September 25, 2022

-

October 4, 2022
Event Navigation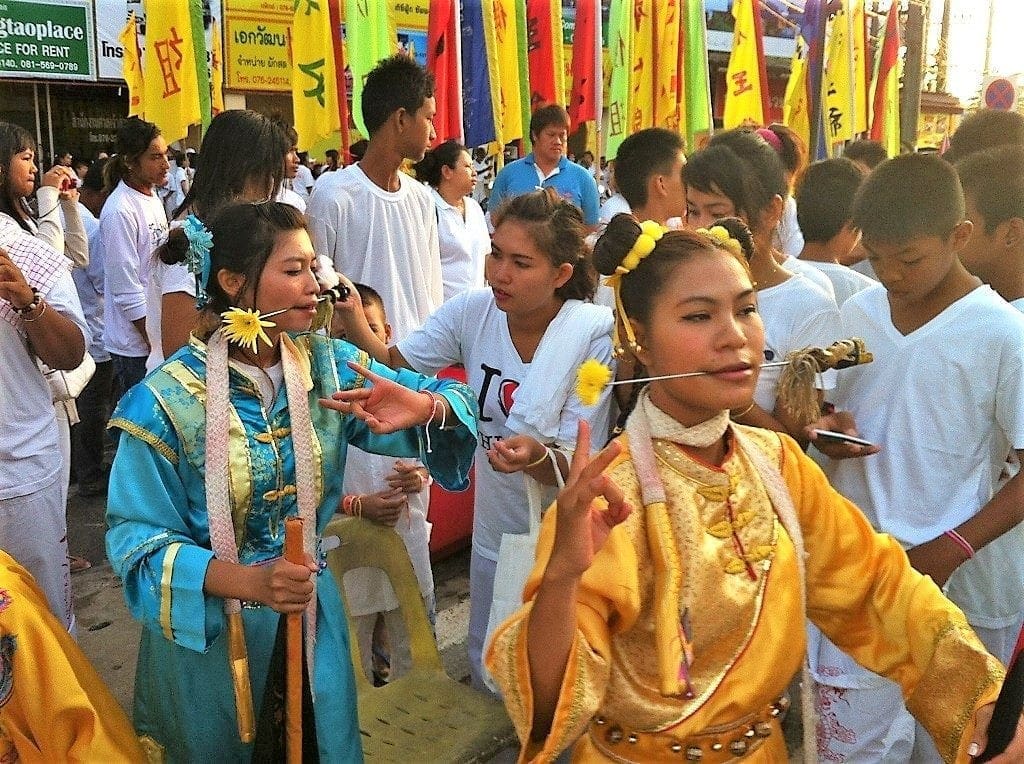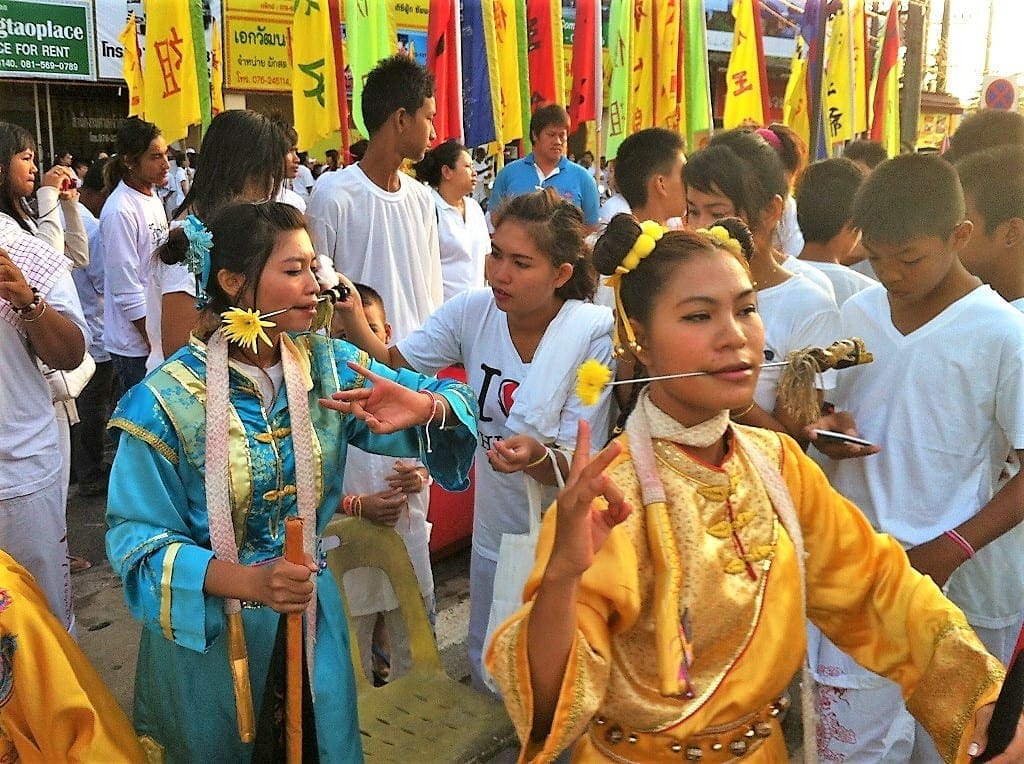 Thailand is certainly no stranger to everything that's quirky and out of the ordinary. The Phuket Vegetarian Festival held in autumn – also known under its more Taoist-inspired name Nine Emperor Gods Festival – is no exception.
It's considered as the number one auspicious event on the southern Thai island of Phuket, and may as well be one of the country's most eccentric and extreme festivals.
The festival will begin with the raising of the 'Go Teng' poles being raised at participating shrines, allowing the Nine Emperor Gods to descend from the heavens. The festival will conclude with the lowering of the Go Teng poles.
What is the Phuket Vegetarian Festival?
If you're a vegetarian who's averse to blood being spilt and who needs his or her daily treat of fresh veggies, the Phuket Vegetarian Festival may not be for you. This Taoist event is celebrated every year by Chinese communities around Southeast Asia, but in Phuket – home to a substantial Thai-Chinese population – the celebrations include ritual self-mutilation such as extreme and often bloody body piercing, tongue slashing, burning coal walking, climbing razor-blade-sharp ladders, and other fun activities that demonstrate one's devotion to gods and ancestors. Tabloid news photographers would have a field day here and it comes as no surprise that the Phuket Vegetarian Festival – as sensational and shocking as it is unusual – attracts hordes of spectators every year.
---
If you travel to Phuket via Bangkok, why not stay an extra day in the capital and discover 6 Undiscovered Things to Do in Bangkok.
---
Since devotees are not allowed to eat meat during the festival – one of several rules (see below) – plenty of vegetarian food stalls, marked with yellow flags displaying red Chinese or Thai characters, line the streets leading to the shrines. Because of strict rules that also exclude dairy, the food is actually vegan.
However, don't expect guacamole and fresh, leafy salad baskets – most of the food contains soybean-based lookalikes mimicking the tastes of different meats. But if you don't like the not always healthy deep fried options, there are also plenty of vegan boiled noodle and steamed rice dishes as well as fresh spring rolls.
What to expect at the Phuket Vegetarian Festival
The Phuket Vegetarian Festival is not just a sober, intimate experience. Expect loud and chaotic processions with plenty of deafening fire crackers, suffocating smoke, lion dancers, music and the aforementioned bloody self-mutilations. The most popular with spectators are the burning coal walking and the no-holds-barred body piercing with no limits of what can be stuck through one's cheek – from conventional objects such as multiple knives and hooks to quite inventive alternatives such as a helicopter drone or the barrel of a machine gun.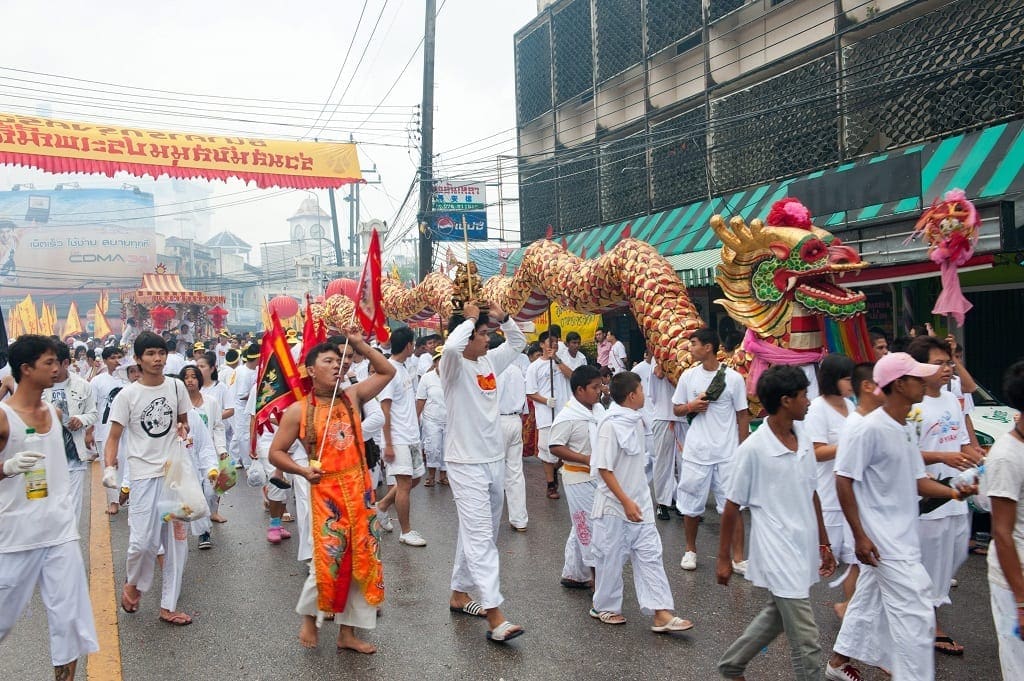 Do come prepared – mentally, for the body mutilation can be quite shocking, as well as physically, especially on the festival's last night: statues of the Taoist gods are carried to Sapan Hin in an enormous procession where thousands of firecrackers and fireworks are detonated indiscriminately. Either stay away or wear long sleeves and closed shoes, and cover your head and face if you venture close to the sometimes war-like revelry. Wearing earplugs is also not a bad idea.
---
The Phuket Vegetarian Festival is not the only Southeast Asian event to go heavily into body piercing. Read about the Thaipusam Festival Malaysia.
---
If you think this is all show to please tourists, think again. The Nine Emperor Gods Festival is based on ancient Chinese beliefs and is as genuine a festival as they come. By adhering to a set of strict rules and by bodily self-mutilation – by some devotees – where each mutilation represents a sacrifice, participants believe they take on the evil and sins of other worshippers to themselves, thereby returning auspiciousness back to the community. Sounds vaguely familiar?
Although this festival may not necessarily be to everyone's taste, there's unanimous agreement about one thing: it's immensely bizarre and spectacular.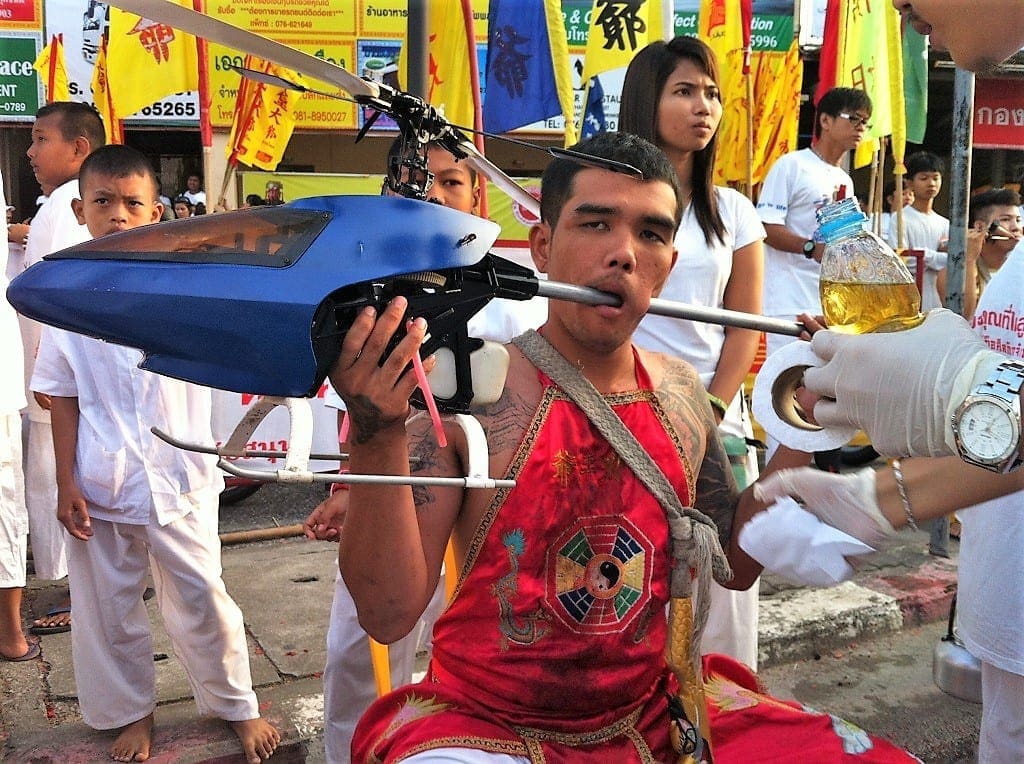 The masong at the Phuket Vegetarian Festival
Among the festival's devotees are a number of unmarried men and women called masong who, under trance, let the spirits of the gods enter their bodies and then proceed to pierce their bodies or walk over burning coals etc. They typically dress in white or yellow and have a support team nearby who tend to their wounds or – in some cases – help them support a particularly heavy piercing, say, a beach umbrella.
---
If you love Thai festivals, then prepare yourself for Songkran or Thai New Year, the country's most popular and extravagant event.
---
All participants are expected to adhere to a set of strict commitments which include wearing white during the festival, abstaining from eating meat and having sex, keeping thoughts pure and the body clean, and avoiding alcohol. People in mourning, pregnant women and women menstruating are not supposed to attend the ceremonies.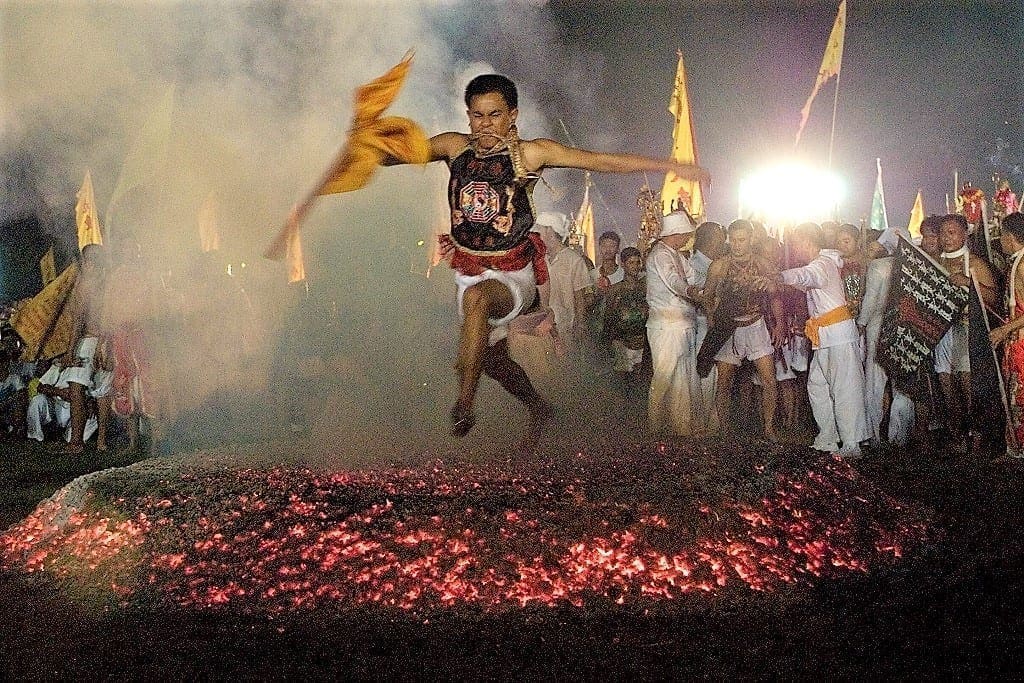 Major shrines celebrating the Phuket Vegetarian Festival 2022

If you stay around the main tourist beach areas, you won't see much of the celebrations as most of them happen in and around Phuket's two old centres which are Phuket town and Thalang district in the north of Phuket province. Various Chinese shrines on the island – over 40 of them – get involved with the festival, and while some of them are just small shrines, the major ones are the most interesting. They include Bang Niew, Cherng Talay, Phut Jaw, Jui Tui and Kathu. The parades usually start early in the morning.
The last day of the festival in Phuket Old Town is often a favourite with spectators, with lots of happenings around Cherng Talay, Jui Tui temple some and other areas. It's advised to set off early for town to avoid heavy traffic congestion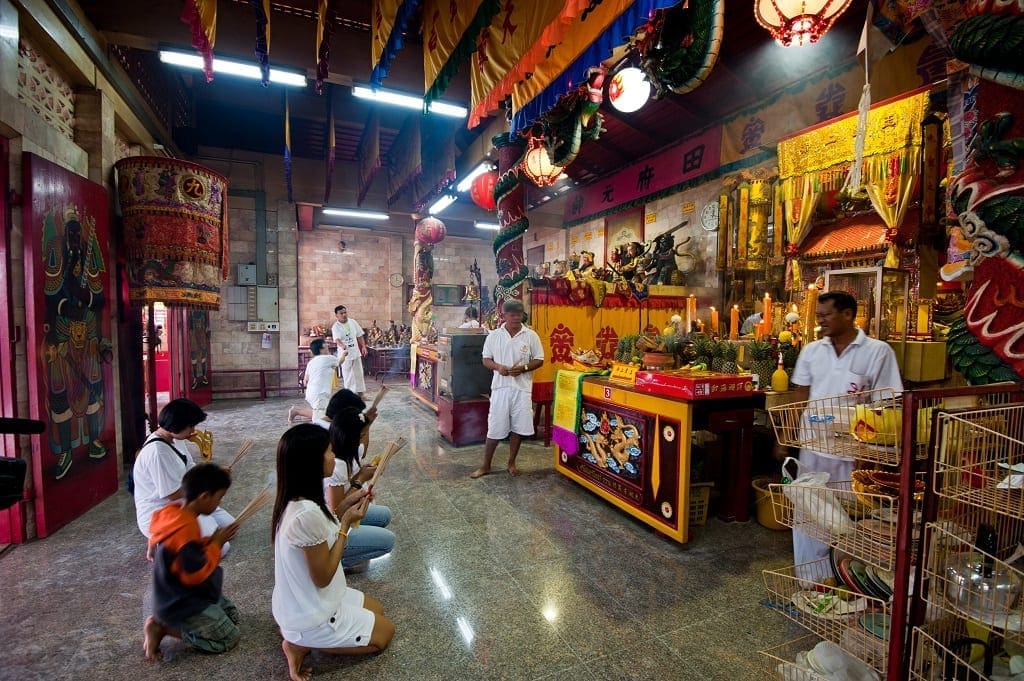 When is the Phuket Vegetarian Festival 2022?
It is scheduled to take place from 25 September to 4 October. To stay up to date with what will take place, visit the The Phuket News website.
Where to stay during the Phuket Vegetarian Festival?
Use our booking portal which searches and compares all major booking sites to find accommodation in Phuket. It will find you the best deal without it costing you any extra penny:
---
More information on the Phuket Vegetarian Festival 2022

Contact or keep an eye on The Phuket News' Facebook page. You can also ask your hotel or guest house for the latest programme information, or to help you translate the Thai language programme on the festival's website.
Main image: Vegetarian Festival in Phuket, Credit Kirill Kay.
Details
Start:

September 25, 2022

End:

October 4, 2022

Event Categories:

Topics:
Johan Smits
Freelance writer, translator, web content developer, author of the novel Phnom Penh Express and Tommy, a short story. Loves trying out local brews, avoids noise. Chronically indecisive about where to lay down his hat. Shortlisted AITO Travel Writer of the Year 2018.
Event Navigation