Pushkar Camel Fair 2022, India
November 1, 2022

-

November 9, 2022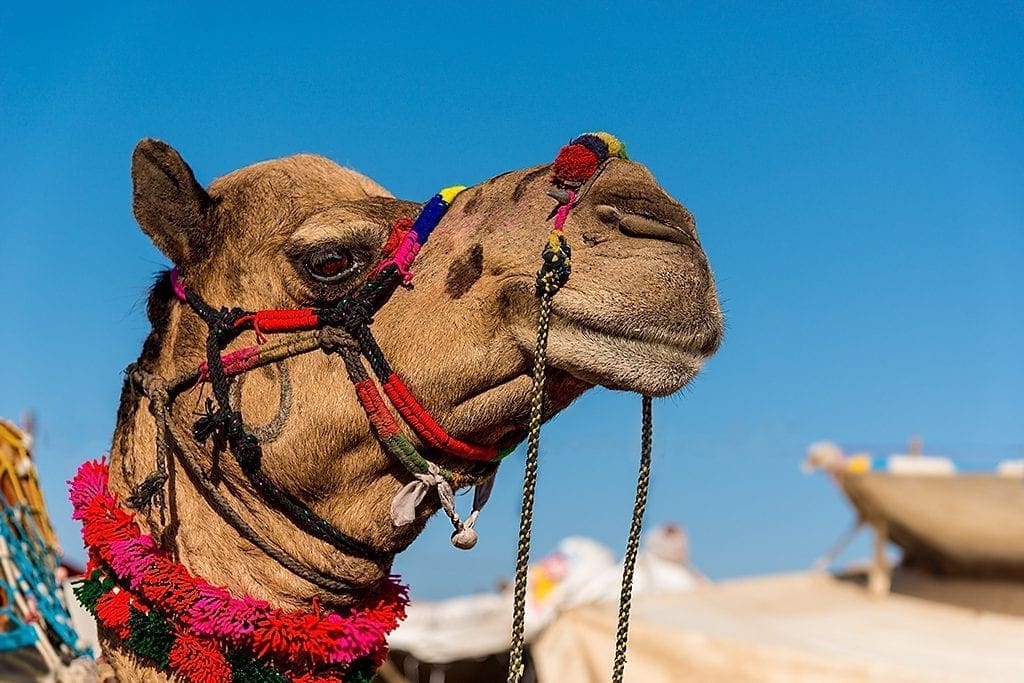 The Pushkar Camel Fair in November is a fantastic, colourful madhouse where Hindu pilgrims, mystics, cattle traders, entertainers, tourists and camera crews mix with some 30,000 camels.  
Also known as Pushkar Mela or Pushkar Fair, every year this nine-day event turns into one of the world's largest animal fairs when this small, sacred desert town in the Indian state of Rajasthan attracts over 200,000 visitors.
From genuine, age-old Indian trading practices and chanting Hindu devotees all the way to the touristy Ferris wheel and snake charmers, via moustache competitions, camel racing, musicians, dancers and, most popular, a camel beauty contest where the animals are washed and bedecked in colourful attire – the Felliniesque Pushkar Camel Fair has got it all.
Days before the official start of the fair, herders and traders of camels, horses and other cattle begin their journey to Pushkar to arrive in time for Karthik Purnima or full moon during one of Hinduism's holiest months. Following tradition, the thousands of camel traders congregate just outside of town, swarming the desert's sand dunes as far as the eye can see, where they set up their makeshift tent city. They not only buy and sell their livestock – this also marks an opportunity for villagers and tribal people to socialise and celebrate in what is a long-anticipated break from their hard desert lives.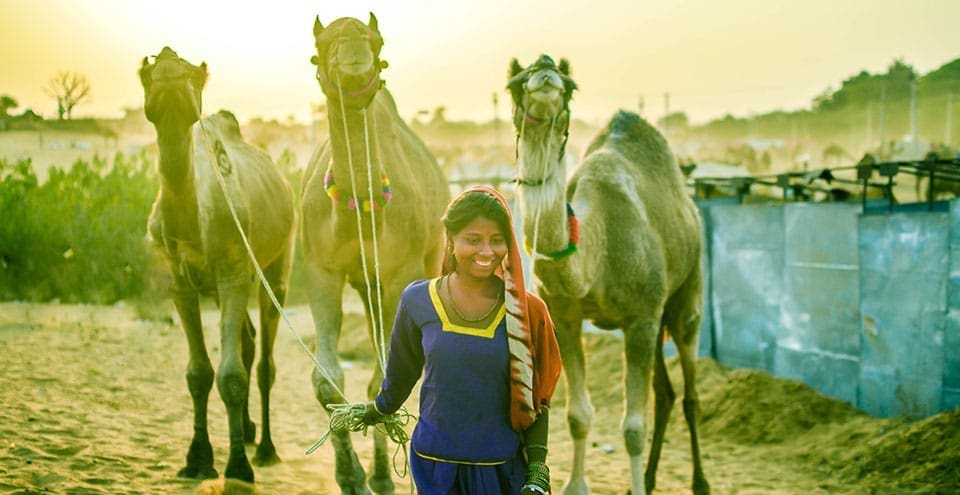 At the same time an enormous amount of Hindu pilgrims and devotees come together at Pushkar Lake to bathe in the holy waters and wash away their sins. Mentioned in Hindu scriptures as one of the five holy cities, Pushkar is home to India's only temple of Lord Brahma – the creator god – and of utmost importance to Hindu devotees.
---
---
Over the years, as the camel trading became increasingly popular with tourists, the mela or fair established itself with a formal cultural programme of activities and events organised by the local government's Rajasthan Tourism Development Corporation (RTDC). This is where you can delight in the eclectic range of side activities.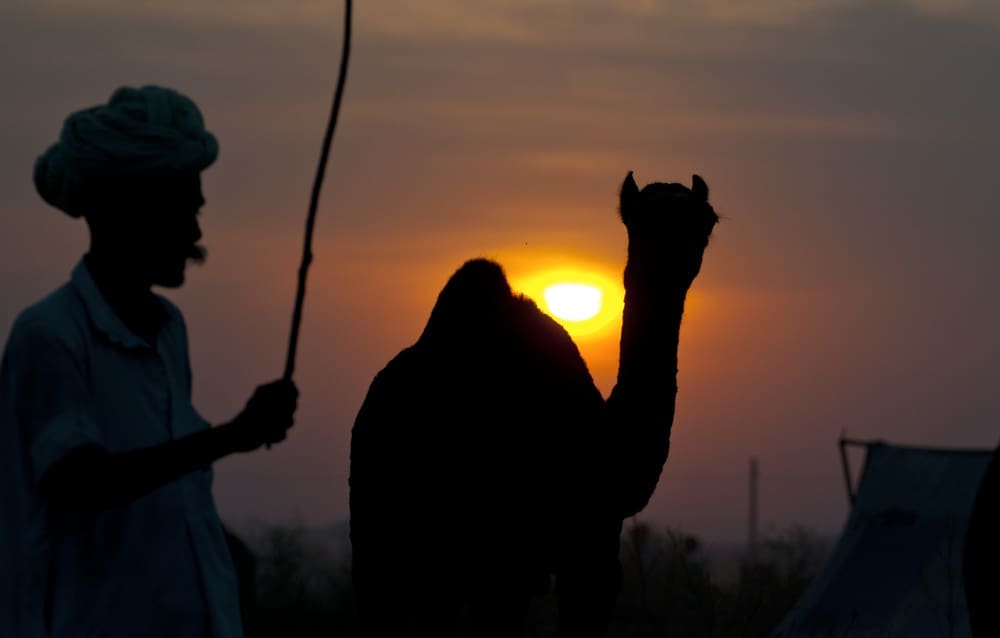 What to expect at the Pushkar Camel Fair 2022
If you're most interested in the traditional camel trading, then arrive at the fair a few days before its official start. It's during these days that the herders and tribesmen are setting up their camp and that lively trading takes place. Expect a desert landscape teeming with traders, camels, horses and other livestock, making this probably the best time for photography. By the end most herders and their camels have vacated the desert area.
If you're interested in the second – religious – aspect of the Pushkar Camel Fair, then watch out for colourfully dressed Hindu pilgrims filling up the town, and especially the areas around the temples. Expect lots of chanting and religious ceremonies culminating on the full moon night when mass bathing takes place by thousands of pilgrims in Pushkar's sacred lake. Maha aarti (worshipping with fire) and fireworks conclude the pilgrimage.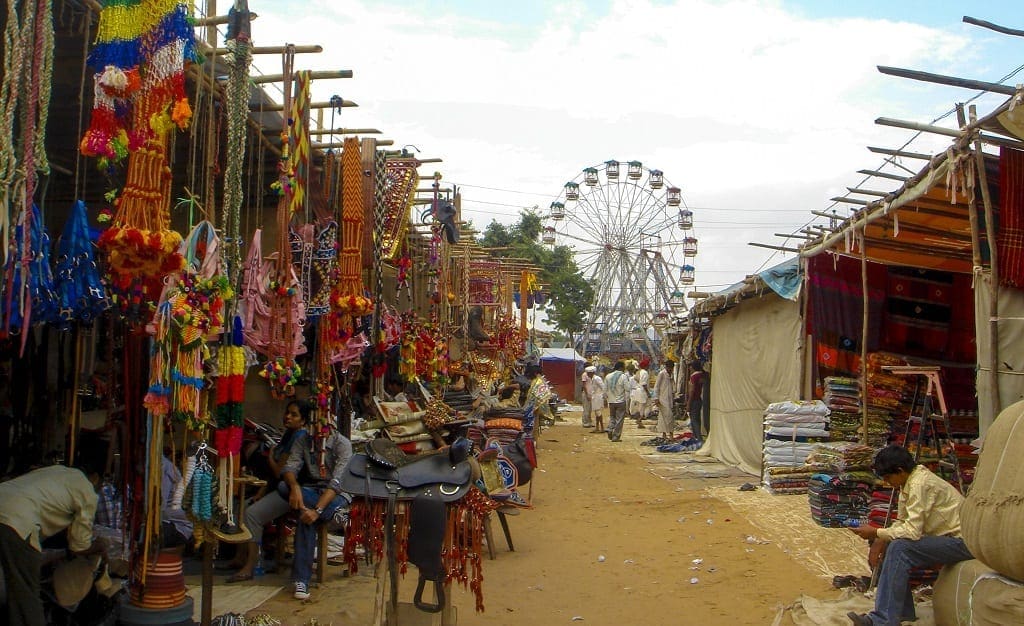 But this extraordinary event has become more than the huge market and important Hindu pilgrim destination it already is. On the day of the official start of the fair, the fairgrounds located to the west of town turn into a huge carnival where old traditions mix with new entertainments and the occasional tacky displays. The camels are dressed up and paraded and the grounds fill with singers, acrobats, dancers and snake charmers to entertain the crowd. There's an arts and craft bazaar and if you're looking for more action you can partake in Rajasthani wrestling or a cricket match between locals and visitors. If you plan ahead, you can even compete for the longest moustache – after all this is Movember. The Ferris wheel will lift you up and for those inclined to venture even higher, there are hot air balloon rides.
If the noise and bustle becomes too much, head to the Savitri temple located on top of the larger of the two hills outside of town. From there you can watch the full moon rise over Pushkar and the fairgrounds in all tranquillity.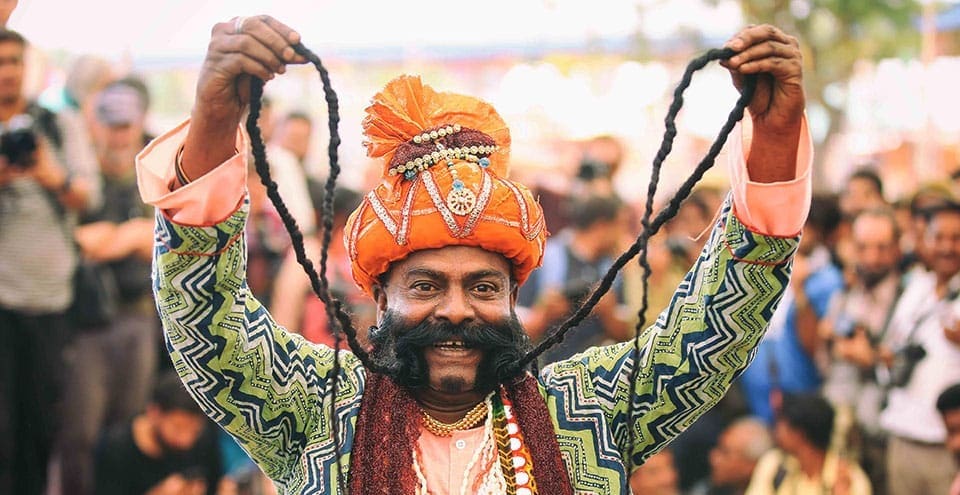 When is the Pushkar Camel Fair 2022 India?
This year the fair is held from 1 – 9 November.
How to get to the Pushkar Camel Fair 2022?

Located in the centre-east part of Rajasthan, Pushkar is set in a valley some 11 km from Ajmer with which it is connected via a road that snakes through the Aravalli mountain range. Pushkar is surrounded by hills on one side and by desert sand dunes on the other.
Sanganer Airport in Jaipur is 146 km away (two-and-a-half hours by taxi) and well connected with all major cities in India. Alternatively, nearer to Pushkar is the new airport in Kishangarh, about 40 minutes northeast of Ajmer. However, currently flight operations from here are still in limbo.
The closest major railway station is in Ajmer where long-distance trains arrive. From there there's a local train to Pushkar.
Pushkar is also connected by road to Rajasthan's national highways with regular buses to the major cities of Ajmer, Jodhpur and Jaipur.
Accommodation at the Pushkar Camel Fair 2022

Accommodation during the fair ranges from simple guest houses and hotels to luxury tented camps, set up in the desert for the occasion, and heritage hotels. Not surprisingly, the surge in visitors makes for much higher rates during the fair. It's best to arrive several days before the fair starts or to book in advance.
Use our hotel booking portal to find the best accommodation in Pushkar – it searches and compares all major booking sites to find you the best deal with it costing you anything extra:
More information on the Pushkar Camel Fair 2020 India                                                 
Visit the official Rajasthan Tourism website: http://www.tourism.rajasthan.gov.in/
---
Cover image © Koshy Koshy
Details
Start:

November 1, 2022

End:

November 9, 2022

Event Categories:

Topics:
Johan Smits
Freelance writer, translator, web content developer, author of the novel Phnom Penh Express and Tommy, a short story. Loves trying out local brews, avoids noise. Chronically indecisive about where to lay down his hat. Shortlisted AITO Travel Writer of the Year 2018.