Rio de Janeiro New Years Eve 2022/3
December 31, 2022

-

January 1, 2023
Event Navigation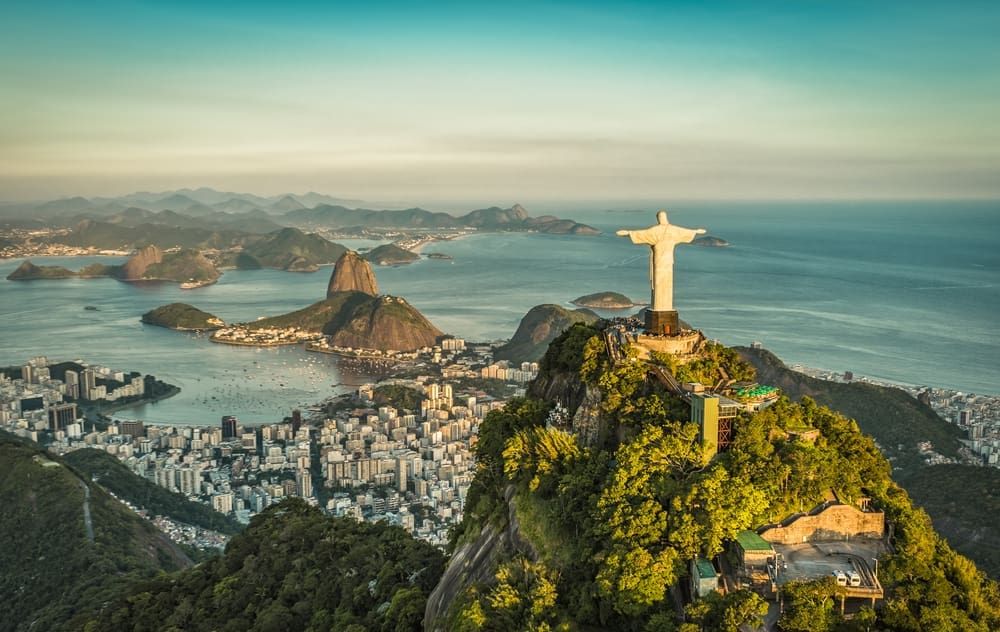 We have all heard about the city of the carnival, but how about Rio Rio de Janeiro New Years Eve, is it the place to toast in 2023? Mike East went to discover what it is all about.
The charms of Rio de Janeiro abound: the statue of Christ the Redeemer perched on high and the platform around it, from where you can really appreciate the expanse of the city; Sugarloaf Mountain, with its cable car and nature walk; the beaches of Copacabana and Ipanema with vibrant mini sub-cultures in the different sections of white sand. These are just a few reasons to go at any time. But what about Rio Rio de Janeiro New Years Eve? Does this city of Carnival also conjure up something special over the end of year holidays, known here as the Reveillon?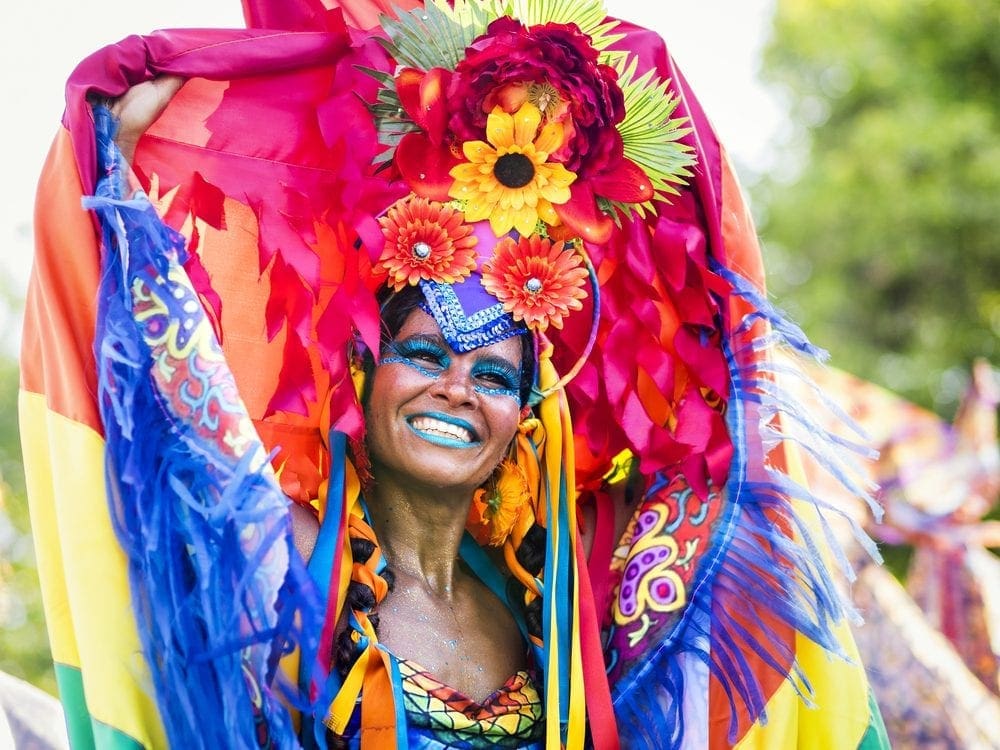 The first thing to say is that the old cliché is true – book early. This is serious party season, not just for international travellers, but for many Brazilians too. You are likely to see the rates rise, though not to the point where you feel the victim of some type of racket. Availability is your main problem. The second thing is location. If you want to be at this party – and you don't want a long walk home when the energy is low in the early hours – book in Copacabana. Better still, make that not too many blocks away from the beach.
---
Before heading to Rio's Reveillon, take part in the incredible salsa festival La Feria de Cali in neighbouring Colombia, from 25 to 30 December.
---
Let's assume you've been able to get this covered and you have at least a few days to enjoy this city. Make sure that you visit all the above points and, if you like bikes, arrange to hire some and enjoy the bike lane along Copacabana and Ipanema. For Christ the Redeemer, it is usually best to pass by and purchase your tickets ahead of the time you actually want to go.
Rio can take the edge off things if you try to travel at rush hour, so work around that. The metro can get you across town quickly – though with all the precautions you would take in any big city. You may find that taxis fall into budget too. There are almst four Brazilian reals to the US dollar, at the time of writing, so the city's prices should seem reasonable.
---
Essential Rio de Janeiro New Years Eve Tips:
Book early
Choose a hotel in Copacabana
Choose shoes comfortable for walking
Don't bring too much gear
Relax and enjoy the crowd around you
Don't carry wallets and passports, put sufficient money into secure pockets — relax and off you go.
---
Copacabana on New Years Eve
Okay, it's Rio New Years Eve – the big night – so what happens? Firstly, much of Copacabana gets cordoned off in the early evening. If you could get nothing closer, then you will have a modest walk to get to a section of beach and longer if you want to move along it. Remember that you will likely have to repeat the walk to get home. The roads will be blocked for several hours and when you get to moving traffic, people will be hanging out of the doorways of buses and the competition for any available taxis will be fierce.
In the centre of Copacabana there is a stage. If you want to be close enough to enjoy the range of musical acts get here early. When it gets going, it will be very hard to get near.
If you have seen a better show that this then I envy you
Further away, long into the early hours groups of friends, family and visitors will be chatting on the sand, enjoying the food and drinks that they brought with them. People start spontaneously talking to each other and mixing. Children rush off to play in the waves. Temperatures are pleasant; summer has arrived.
Look back to the landward side. The whole strip is lit up with parties in the apartment blocks and hotels opposite. Maybe your hotel had one and you are watching a million people on the beach from an upper terrace, glass in hand.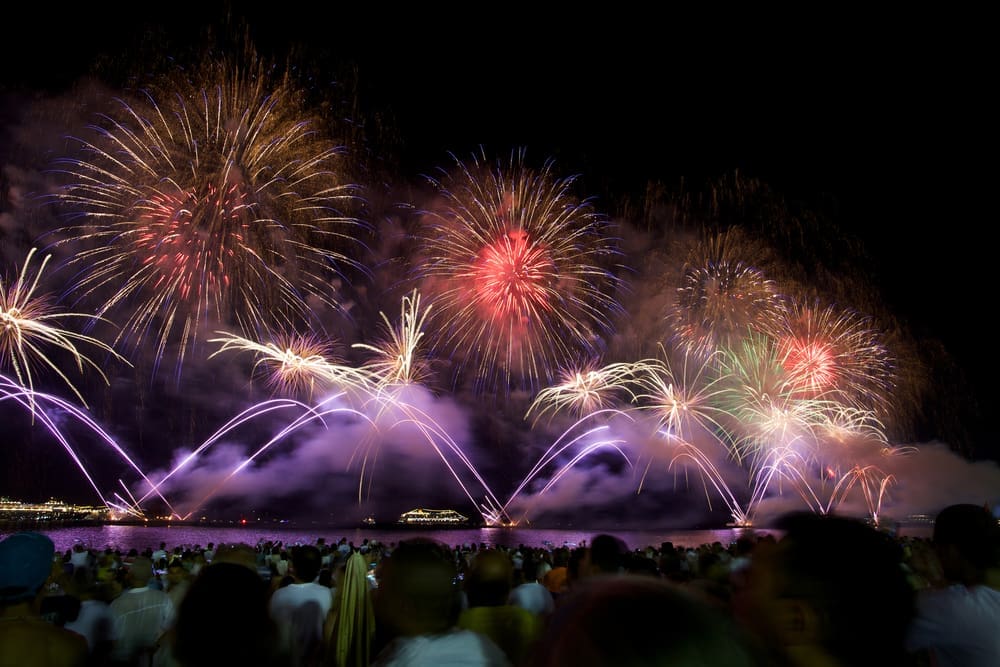 But the Reveillon celebrations are both on the beach and in the bay, where a series of massive barges are moored – in 2017, there were eleven. The firework displays are launched from here. Coordinated to precision, the cumulative effect runs along the bay; this is a long beach.
And wow. If you have seen a better show that this then I envy you.
---
Flights to Rio de Janeiro
British Airways have flights from London to Rio. US carriers American, Delta and United fly from many cities including: Los Angeles, New York and Miami.
Rio de Janeiro New Years Eve Tours
If you want to arrange your beach party before you set off, you could do worse than visiting tours gone wild where you can buy tickets in advance for parties at Copacabana or Sugarloaf Mountain.
Rio de Janeiro Hotels
If you are looking for accommodation in Rio de Janeiro then please fil in the form below. It will cost you nothing extra but the slight commission we make helps with the upkeep of this website.
Details
Start:

December 31, 2022

End:

January 1

Event Categories:

Topics:
Venue
Rio de Janeiro

Rio de Janeiro

,

Brazil
Mike East
Mike began his career in travel writing by going overseas during his holidays and writing his own guide. He then sent this manuscript off to a range of travel guide companies and got a range of rejection letters — all except one. Getting a contract to write for Roger Lascelles Publications on the Caribbean islands of Trinidad and Tobago and The Bahamas was how his career began. With this opportunity came other pieces for British magazines and The Sunday Telegraph.
Event Navigation