Rocket Festival Thailand (Bun Bang Fai) 2023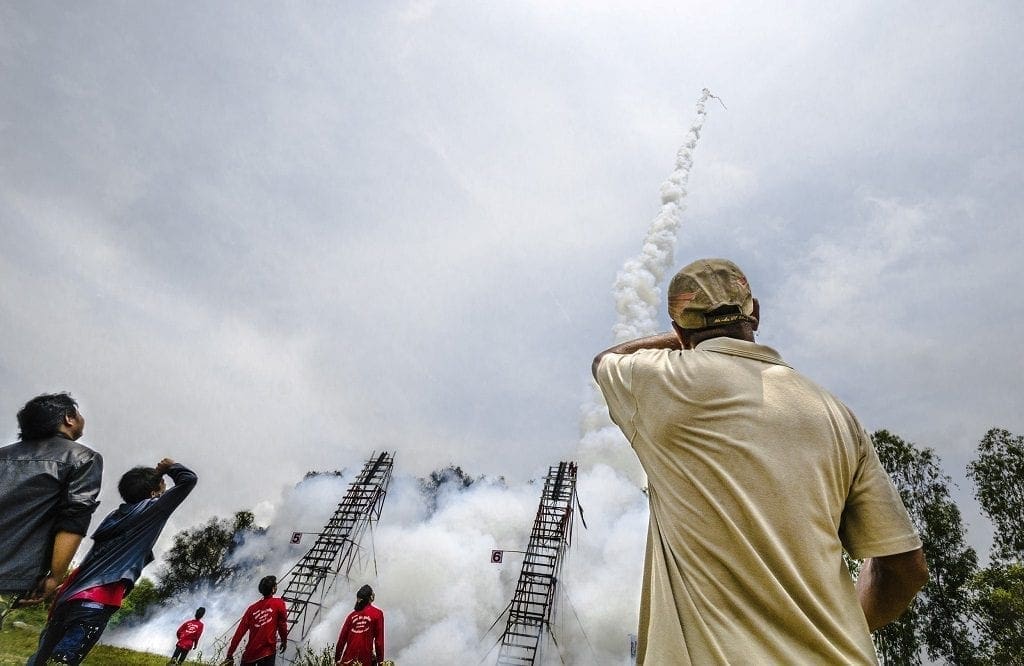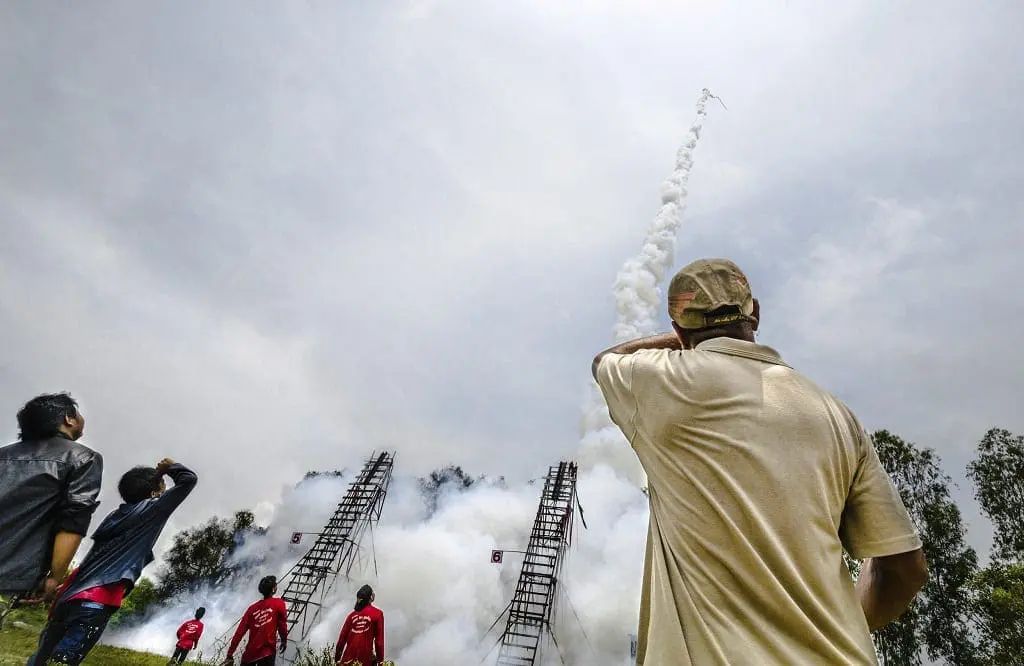 Home-made rockets roaring into the skies, dirty humour, cross-dressing parades, mud fests and lots of rice wine – the centuries-old Rocket Festival Thailand, or Bun Bang Fai, held in May is amongst the country's most memorable events.
When the local population of Thailand's north-eastern region of Isaan come out to honour Phaya Taen, the god of rain, no holds are barred. The airspace above the region is closed while hundreds of home-made rockets are shot high into the sky, a spectacle that attracts over 50,000 visitors every year. Since recently, there's even an international contest that sees teams from Laos, Cambodia, South Korea and Japan competing for the best, most beautiful and fastest rockets.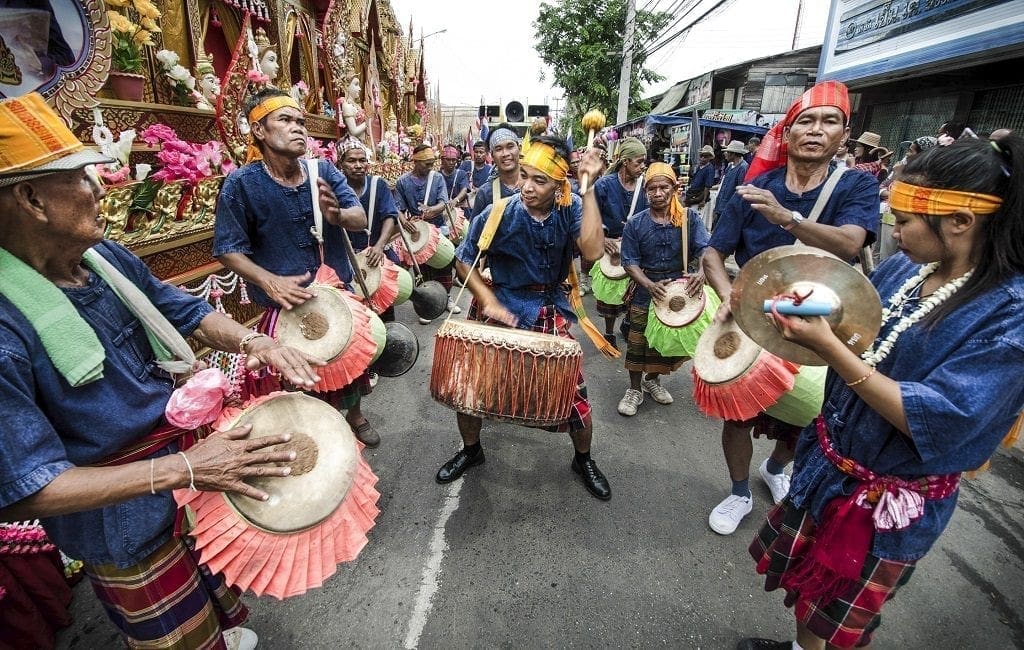 All of this is preceded by a most secret preparation period where weeks or even months in advance the teams start designing and building their rocket, or bang fai, carefully safeguarding everything from one another. They're made of bamboo, paper, plastic and wood and fuelled with gunpowder. Sometimes also glass and metal are used.
The rockets come in all sizes and colours. Some are relatively small but others are very big and inspire more fear than anything else – the average rocket measures nine metres and contains up to 25kg of gunpowder, with some rockets weighing more than 100kg. Whatever their size, the aim remains the same – to ensure a pest-free harvest, no flooding and no extreme droughts.
Bung Fai Kilo rockets have 1 kilogram of gunpowder, Bung Fai Muen 12 kilos and Bung Fai Saen 120 kilos. There are also parades with floats and displays of traditional costumes and folk dancing.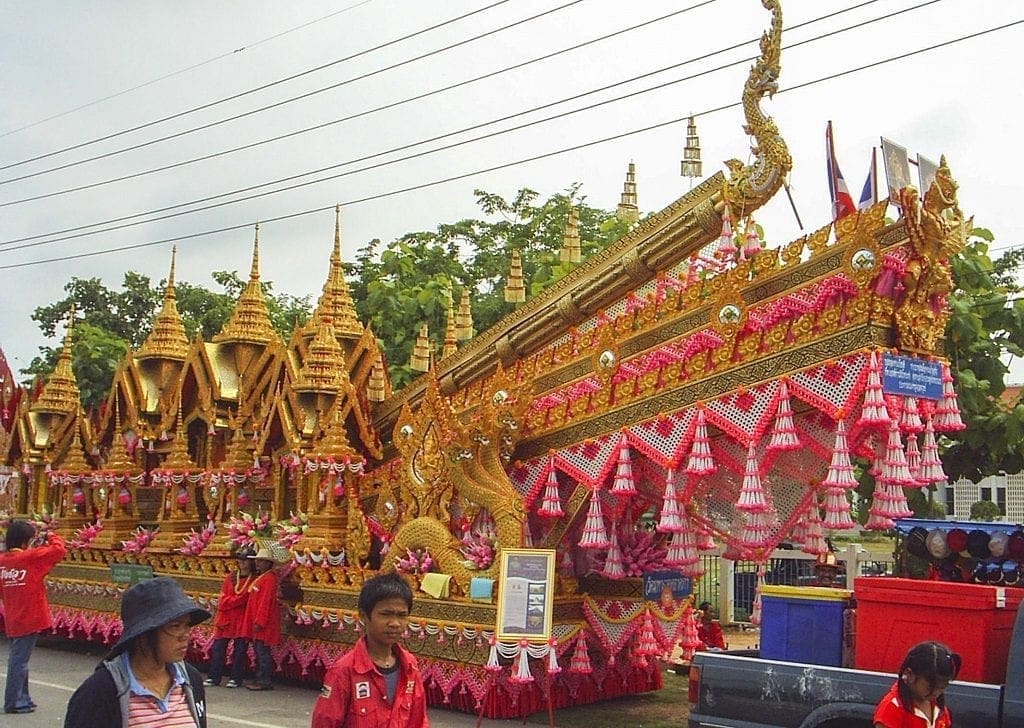 What to expect during the Rocket Festival Thailand
When the rockets are finally ready they're mounted onto large floats for everyone to admire during a rocket parade that would even make Kim Jong-un burst with jealousy. The procession also sees folk dances and people donning beautiful traditional costumes, while some men cover their body with white powder and wear frog masks in honour of the Toad King Phaya Khang Khok (see below).
---
---
After the parade the participants and their supporters gather to launch the rockets at a big fair with stalls selling souvenirs, food and lots of local rice wine. The higher the rockets reach into the sky, the more auspicious the weather will be for the crops and the harvest. Lots of betting is going on, and if a launch fails the members of the losing team are thrown into pools of mud – occasionally an innocent bystander will be thrown in too for good measure.
The rocket makers are not the only stars of this festival, as local residents go crazy with loud party music, dance, colourful masks and outrageous home-made costumes. Since this is a fertility festival, cross-dressing and sexual innuendo is not just accepted, but most desirable.
---
For another Asian fertility festival, check out Kanamara Matsuri or the Japan Penis Festival. And if you prefer an  entire festival dedicated to mud, then head to the Boryeong Mud Festival in Korea.
---
This is a noisy, scary, exciting, memorable and very fun spectacle, but one that is not always without elements of danger – rockets sometimes fail to go into the desired direction and there have been instances in the past with participants and spectators being injured or even killed. When attending the rocket launches, always keep a safe distance – at least 200m – and watch from underneath a tree or some other shelter; after all, what goes up must come down, eventually.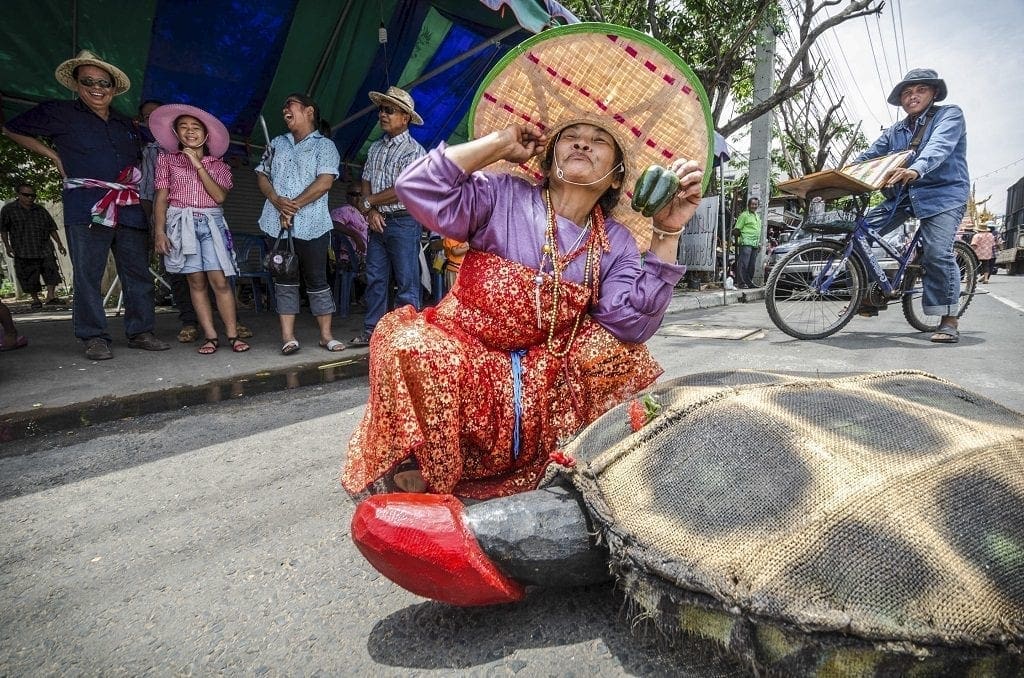 Origins and legend of the Rocket Festival
It is presumed that the fertility rituals of the Rocket Festival go back into the past as far as the pre-Buddhist era and that the rockets themselves were introduced in the 9th century after the arrival of gunpowder in Southeast Asia. Every important festival in Asia seems to have a legend behind it and this one is no different. When the god of rain Phaya Taen became upset after being wronged, he prevented the rains from falling for seven years. War ensued between him and the Toad King or Phaya Khang Khok, another Buddhist mythological figure. When peace finally came, the Rocket Festival is there to honour and remind Phaya Taen about his promise to bless the earth with rain.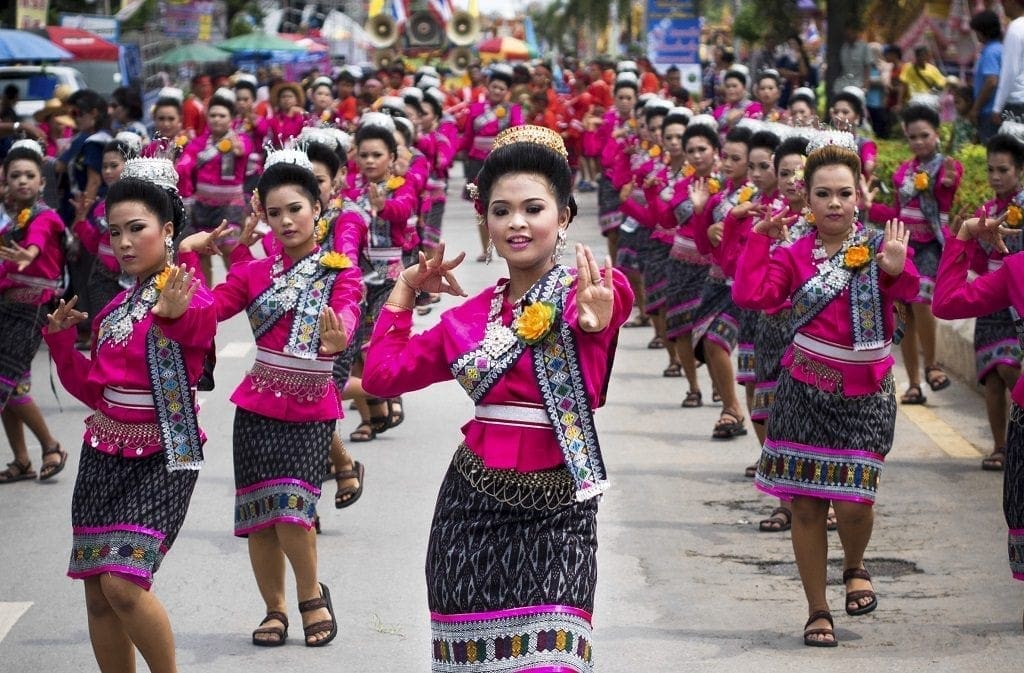 Where is the Rocket Festival Thailand held?
The Rocket Festival is traditionally practised by ethnic Lao people throughout the Isaan region in Thailand as well as in Laos. In Isaan, where the biggest rocket festivals take place, the most famous one is in Yasothon, capital of the Thai province bearing the same name. Other famous Rocket Festivals in Isaan are in Nong Khai, Sisaket, Kalasin, Roi Et and Maha Sarakham.
In Yasothon, head to the municipal park called Phaya Taen Park on the day of the rocket launches (Sunday). Smaller rockets are launched continuously while every half hour or so a big one is shot into the air. For the parades with the floats and dancers, head to Chaeng Sanit Road on Saturday.  Yasothon is also home to a somewhat surreal Giant Toad Museum around which you can find stalls with food and drink, traditional dances and various other entertainments.
Rocket Festival Thailand dates
Celebrations tend to last about three days from Friday night to Sunday night just before the planting season. In Yasathon in Thailand, this is usually during the second weekend of May which this year falls on 12 to 14 May. This is when you will see the processions of the floats with the rockets, accompanied by musicians and dancers, while the last day on Sunday sees the actual rocket launches from morning till evening.
Other Rocket Festivals are held at:
Roi Et Province: Pathum Rat Rocket Festival; Phanom Phrai Rocket Festival; Bun Pha Wet Festival.
Kalasin Province: Kutwa's Skyrocket Festival
Maha Sarakham Province: Phayakkhaphum Phisai Rocket Festival.
Khon Kaen Province: Kranuan Rocket Festival.
Dates for these other rocket festivals vary, so please confirm before you set off.
Accommodation during the Rocket Festival Thailand
Hotel prices too will skyrocket during the Rocket Festival with rooms typically fully booked well in advance. If you can't find accommodation in Yasothon then consider staying in Ubon Ratchathani which, at a distance of 98km, is less than two hours from Yasothon by bus. Ubon Ratchathani is a one-hour flight away from Bangkok or nine hours by train. Find the best deals on flights and hotels using our comparison engine, which scans all the major booking sites.
---
For more information and travel ideas in Thailand:
Browse the Tourism Authority of Thailand official website.
---
Cover image by Takeaway
Details
Start:

May 12

End:

May 14

Event Categories:

Topics:
Johan Smits
Freelance writer, translator, web content developer, author of the novel Phnom Penh Express and Tommy, a short story. Loves trying out local brews, avoids noise. Chronically indecisive about where to lay down his hat. Shortlisted AITO Travel Writer of the Year 2018.