Santa Cruz Carnival, Tenerife 2019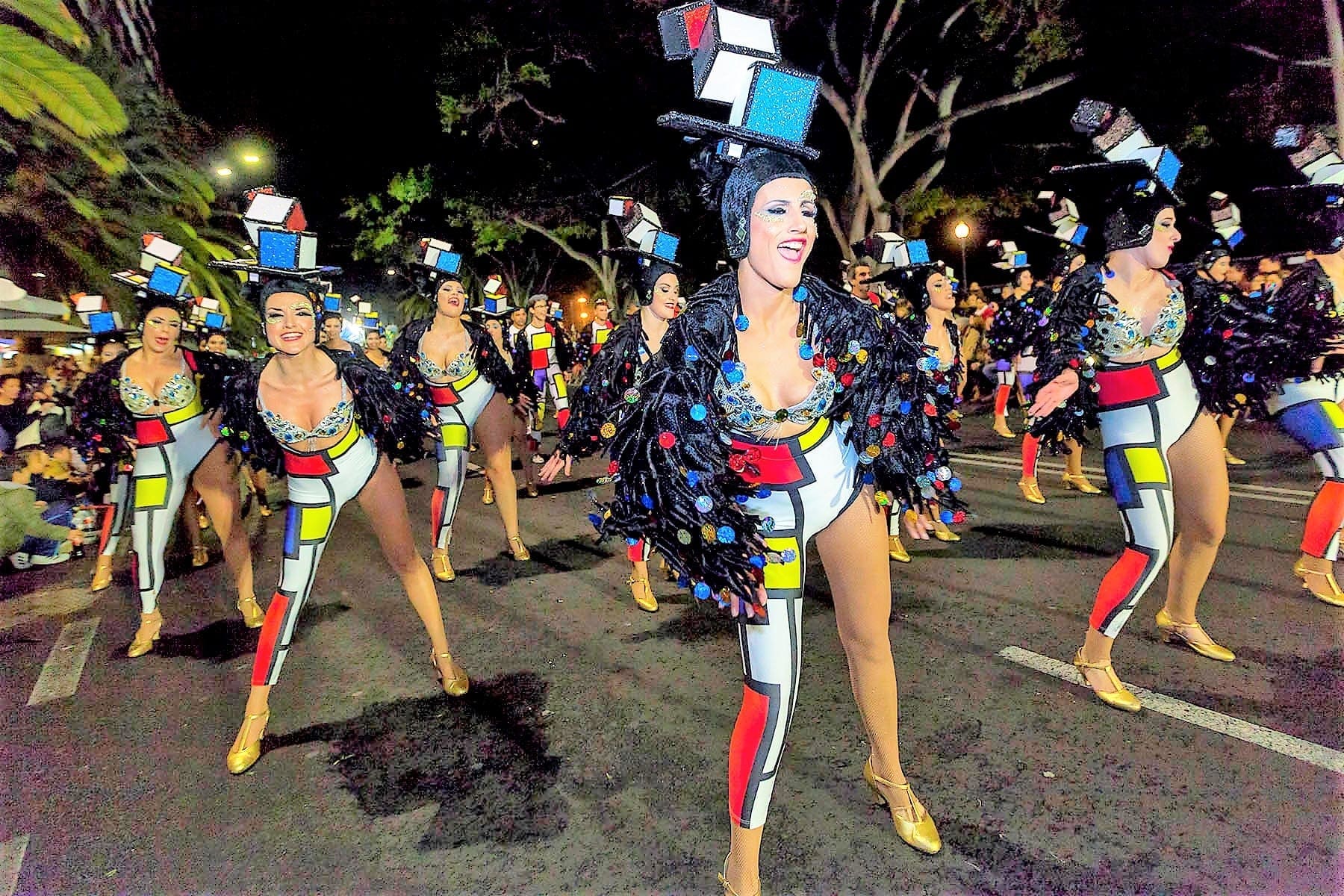 They sure know how to throw a fiesta in Spain, and the annual Santa Cruz Carnival (Carnaval de Santa Cruz de Tenerife) is a shining example of a 12-day pumping party. As Tenerife's alternative to the Sitges Carnival, this is a feast of colour, music, dance and a dazzling array of extravagance.
Festivities kick off with the Gala Reina – selection of the Carnival Queens – on the first Wednesday of the fiesta. This features a line-up of girls adorning a flurry of feathers, ruffles and beads strutting their stuff on stage. After the winner is chosen, a parade announcing the official start of carnival takes place on the Friday.
Alternative side competitions include children and senior's Carnival Queen, and the flamboyant Drag Queen of Carnival – a top carnival attractions so get tickets quick.
For the next three days, the streets are flooded with thousands of festival-goers watching the various bands, musicians and performers that set up shop throughout Santa Cruz. A rainbow of colour passes through the city in a series of parades, and bodies swing to the sounds of Latin and salsa music.
Thousands gather to watch the parades that mark Carnival Tuesday, or el Coso. And celebrations are officially rounded out the next day with the Burial of the Sardine. A giant effigy of the fish – said to contain the spirit of the carnival – is carried through the streets and set on fire.
However, in Tenerife they like to keep the party going a little longer, rounding out the 15-days of fun with Piñata Chica celebrations at the weekend. This features a spectacle of shows, dances and more parades.
Santa Cruz Carnival History
The Carnival is a religious annual celebration and Santa Cruz's outing is considered by some as the world's second-best after the Rio Carnival. Written documents date back to the early-17th century and describe carnival-type fever erupting on the streets of the island's capital.
The celebration has even defied bans. During the Miguel Primo de Rivera (1923-1935) and General Franco (1940-1960) dictatorships, the festival was officially banned. Despite this it carried on under the guise of Winter Holiday. In 1980, the festivities were officially bestowed the title of Tourist Festival of International Interest.

When is the Santa Cruz Carnival 2019
It's from 27 February 27 to 10 March.
Programme for the Santa Cruz Carnival
A provisional carnival programme can be found here.
Accommodation in Santa Cruz
If you are looking for accommodation during the Santa Cruz Carnival, please visit our Hotel Booking Portal.

Tickets for the Santa Cruz Carnival 2019
You can buy tickets here.
---
For more information on the Santa Cruz Carnival
Click here. Photos provided by Ayuntamiento de Santa Cruz.
Details
Start:

February 27

End:

March 10

Event Categories:

Event Tags:

Website:
Subscribe to our newsletter