Sapporo Summer Festival 2019
July 19, 2019

-

August 17, 2019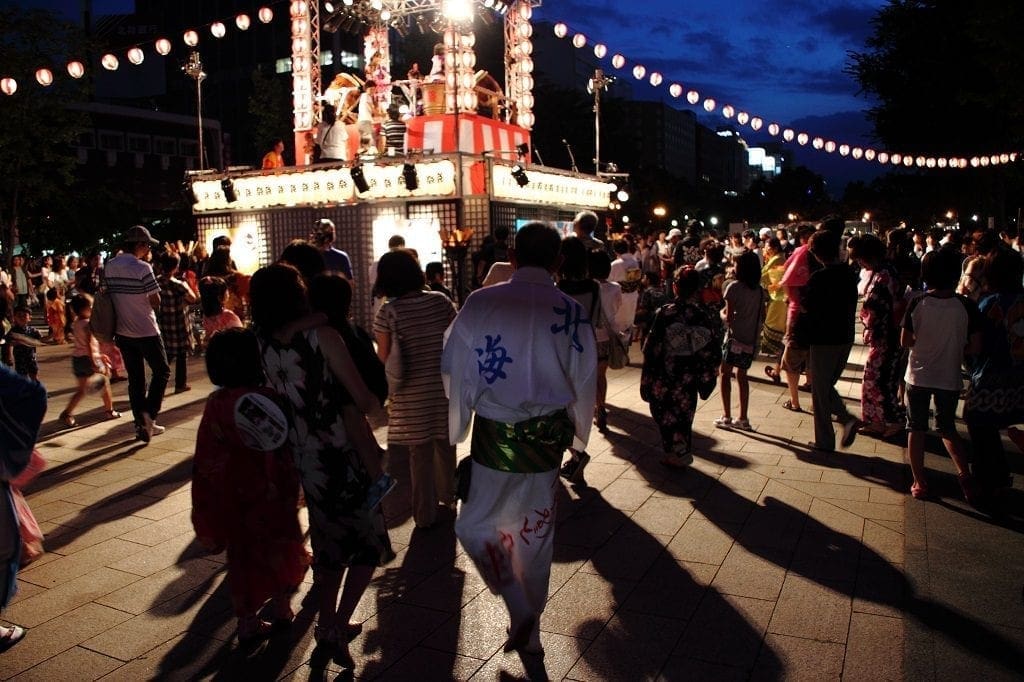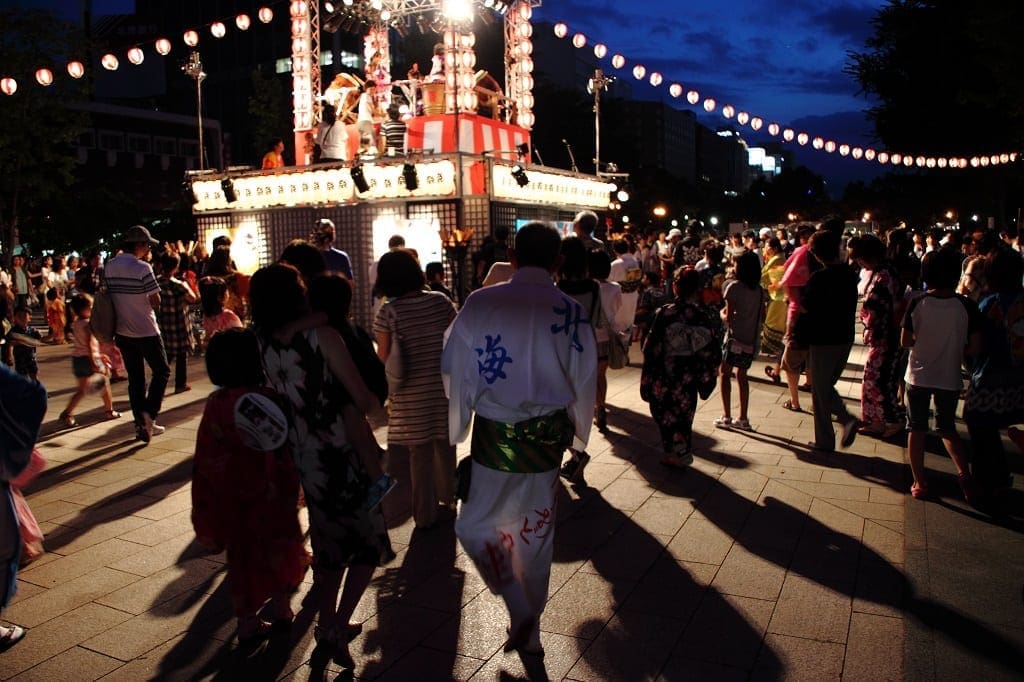 Lasting a whole month from mid-July to mid-August, the Sapporo Summer Festival 2019 is packed with a variety of cultural, musical, gastronomical and fireworks events attracting both local visitors and tourists.
Summers in Japan are hot and humid and not always considered to be an ideal time to visit the country, but not so in Sapporo, capital of the mountainous island of Hokkaido. Located in the extreme north, Hokkaido is blessed with mild summers making it a pleasant period to enjoy the Sapporo Summer Festival.
Sapporo Odori Beer Garden
Most of the events take place in Odori Park which really is a long, broad and leafy street that was built in 1871 as a firebreak dividing central Sapporo into two. Home to Sapporo Breweries, the oldest beer brand in Japan, the centre piece of Sapporo's Summer Festival 2019 is a massive beer garden in Odori Park. Stretching about one km and seating some 13,000 beer-drinking souls, it's the country's largest beer garden attracting more than a million visitors. From 19 July to 14 August thirsty visitors can taste and compare beer from local brewers and around the world from noon to 9pm at one of the island's most famous outdoor events.
Other main events during the Sapporo Summer Festival 2019
But the Sapporo Summer Festival is certainly not all about beer. Other events include the display of colourful Tanabata decorations that celebrate the reunification of the stars Vega and Altair which are believed to be the Japanese lovers Orihime and Hikoboshi, popular with couples (this year it falls on 7 July); the Tanuki festival (19 July to 16 August) – named after the Japanese raccoon dog known in folklore as a shapeshifter – where processions of Tanuki shrines take place in the kilometre-long roofed Tanukikoji Arcade which, with over 140 years of history, is one of the oldest shopping areas in Hokkaido; and the traditional Susukino festival (1-3 August 2019) with gaudy processions, music and a line-up of a hundred different food stalls.
From mid July to late September there are also firework festivals held all over Sapporo with its most famous ones the Hokkaido Makomanai Music Fireworks (6 July 2019) which is also one of the largest in Hokkaido, the Doshin UHB Fireworks (26 July 2019) and the Moerenuma Artistic Fireworks (7 September 2019).
For music lovers, the Pacific Music Festival will take place from 6 July to 2 August 2019 – a series of classical music concerts, many of which are free, while the Sapporo City Jazz (7 – 25 August) has grown into one of Japan's largest jazz festivals.
---
---
For rock enthousiasts, 16 to 17 August will see the Rising Sun Rock Festival, Hokkaido's premier rock festival attracting music fans from all over the country, including families.
Concluding the Sapporo Summer Festival 2019 are the traditional Bon Odori dances in Odori Park. Originally held to honour the souls of ancestral spirits that have returned during the summer, today the dances are a celebration with simple choreography where everyone can join in.
Where do the Sapporo Summer Festival 2019 events take place
Sapporo Odori Beer Garden: for more details about the different venues and access, click here.
Tanuki Festival: at Tanuki-Koji 1-7-Chome (Sapporo Chuo-ku Minami 2.3 Jo Nishi 1-7-chome). Go to the Tanuki-Koji shopping street and Honjin Tanuki Daimyojinsha shrine. This can be reached within five minutes on foot from Odori Station on the "Namboku", "Tozai" and "Toho" subway lines, and within three minutes from Susukino Station on the "Namboku" line. Visit their website for more details.
Susukino festival: in Susukino district (Minami-4-jo – 3, 6-jonishi – 4). Take the "Namboku" subway line to Susukino Station. From there it's nearby on foot.
Hokkaido Makomanai Music Fireworks: held in Makomanai Park at Makomanai-koen 3 – 1, Minami-ku, Sapporo. Take the "Namboku" subway line to Makomanai Station, and from there it's a 25-minute walk. If you don't feel like walking, from Makomanai Station take the Jotetsu Bus (Minami 90/Minami 95/Minami 96/Minami 97/Minami 98/Kan 96) to either "Makomanai kyogijo mae" or "Kamimachi itchome" bus stops.
Doshin UHB Fireworks: held nearby the Toyohira River Minami Bridge which is in the centre of the city.
Moerenuma Artistic Fireworks: held at Moerenuma Park at Moerenuma-koen 1-1, Higashi-ku, Sapporo. Visit the park's website for more details on how to get there.
Pacific Music Festival: at Sapporo Concert Hall Kitara, and also outdoors at Odori Park and Sapporo Art Park. Visit the event's official website for more details, ticketing etc.
Sapporo City Jazz: held at the Sapporo Music Tent in Odori Park where there will be performances almost every day throughout the month. At various hotels and public facilities there will be a free series of jazz concerts called the Park Jazz Live series, while the North JAM Session is held outdoors at Sapporo Art Park, featuring both top Japanese and foreign musicians. Visit their website for more details.
Rising Sun Rock Festival: held in Ishikari near Sapporo. To get there by public transport, take the subway from Sapporo Station to Asabu Station. From there take the shuttle bus that will bring you directly to the event (about 40 minutes).  Visit their official website for more details on the festival's lineup, ticketing etc. Mind you, on this site a lot of the information is in Japanese.
Accommodation and flights for the Sapporo Summer Festival
To find the best accommodation in Sapporo and flights, please search via our comparison engine, which scans all the major booking sites to find you the best deals:
---
For more ideas about things to do in Sapporo:
Visit the website of the Japan National Tourism Organisation.
Image: Bon Odori dances and music during the Sapporo Summer Festival. Photo credit MIKI Yoshihito
Johan Smits
Freelance writer, translator, web content developer, author of the novel Phnom Penh Express and Tommy, a short story. Loves trying out local brews, avoids noise. Chronically indecisive about where to lay down his hat. Shortlisted AITO Travel Writer of the Year 2018.