Songkran, Thailand Water Festival, 2023
Event Navigation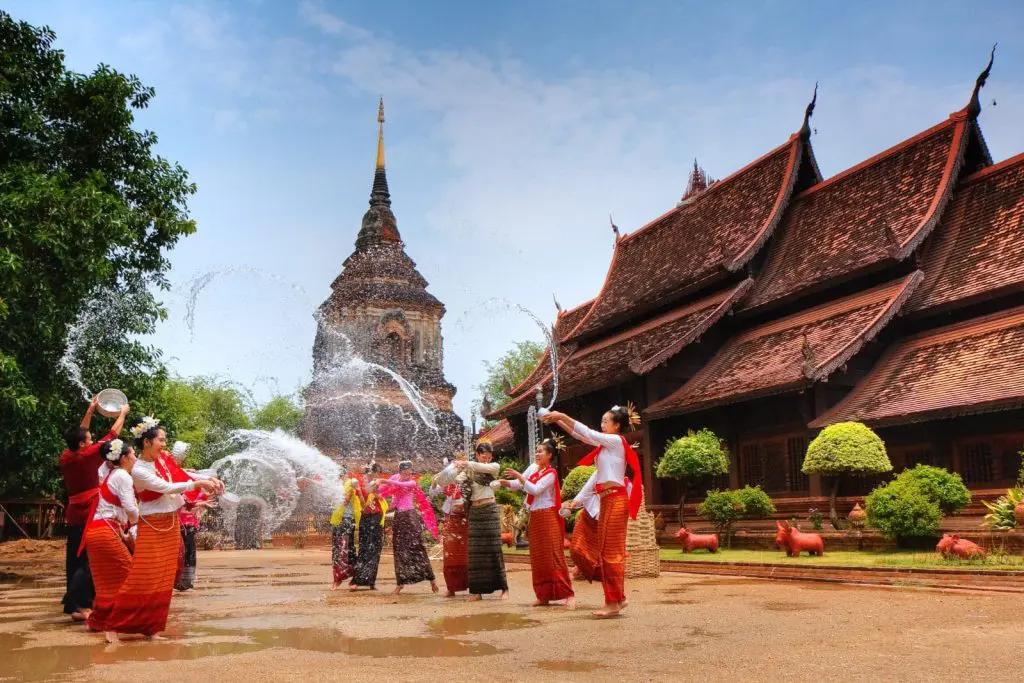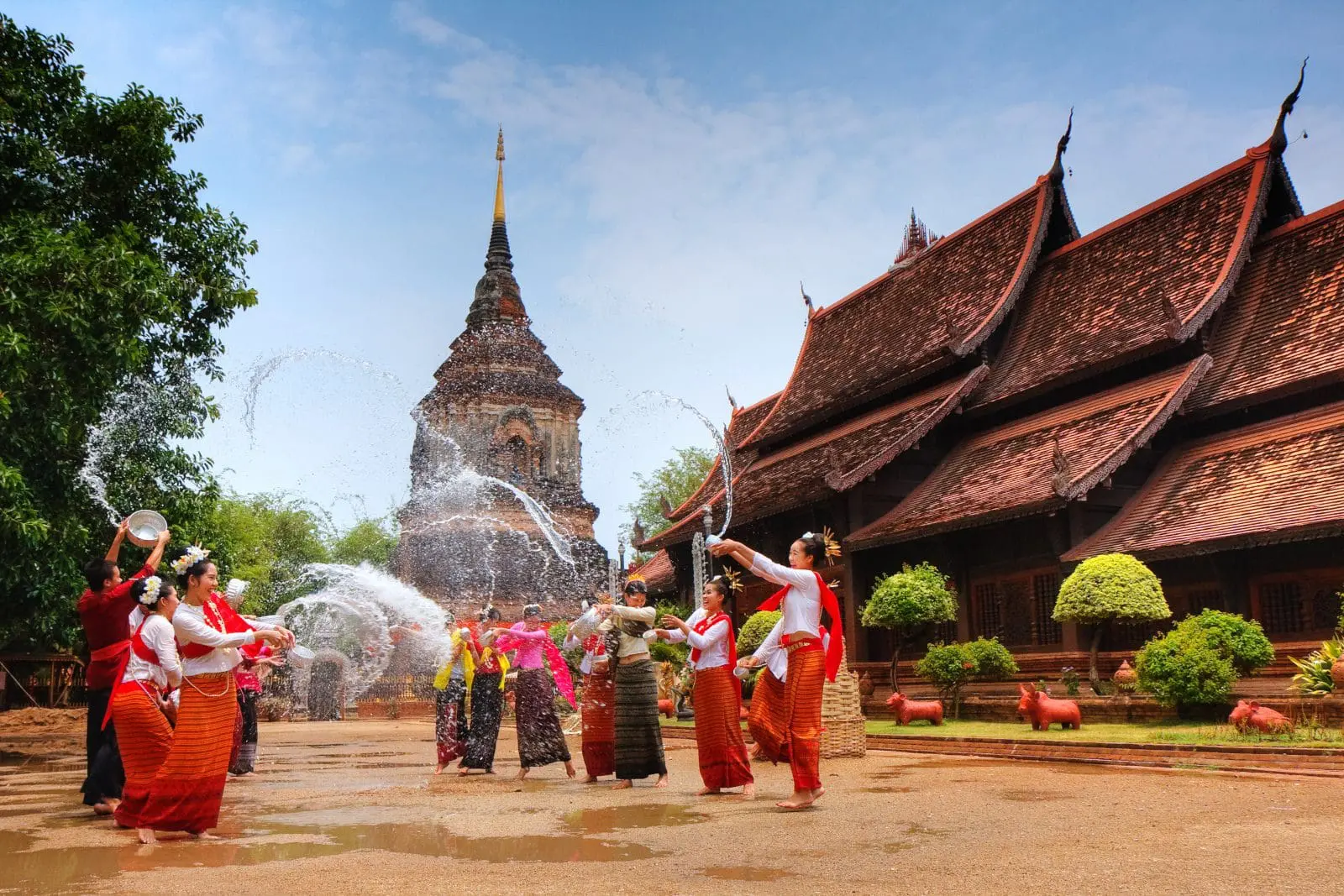 Songkran, or Thailand's water festival, is an occasion of great fun especially in the major cities such as Bangkok and Chiang Mai.
Songkran Water Throwing Battles
The whole country grinds to a halt as people are sprayed with industrial water guns or whatever comes most easily to hand. Celebrated from 13 to 15 April, it's best to turn up in swimming gear and wrap your fun, money and credit cards up in plastic so as to fully participate in the festivities.
The most famous Songkran activity is the throwing of water at one another. It's for this reason that it is often also called the Water Festival. The water stands as a symbol for the cleansing of spirit and body. It is also supposed to rinse away the sins and bad luck from the past year.
Visiting Thailand during Songkran is quite an experience. People are lining the streets with entire buckets of water, water hoses or – if you're lucky – the more civilised water pistols to make sure passers-by get a good drenching. In rebel-fighting style, open pickup trucks cruise the streets filled at the back with people armed with water guns and a couple of large water-filled barrels for ammunition. Nobody is spared, including tourists and the police.
What exactly is the Songkran Festival?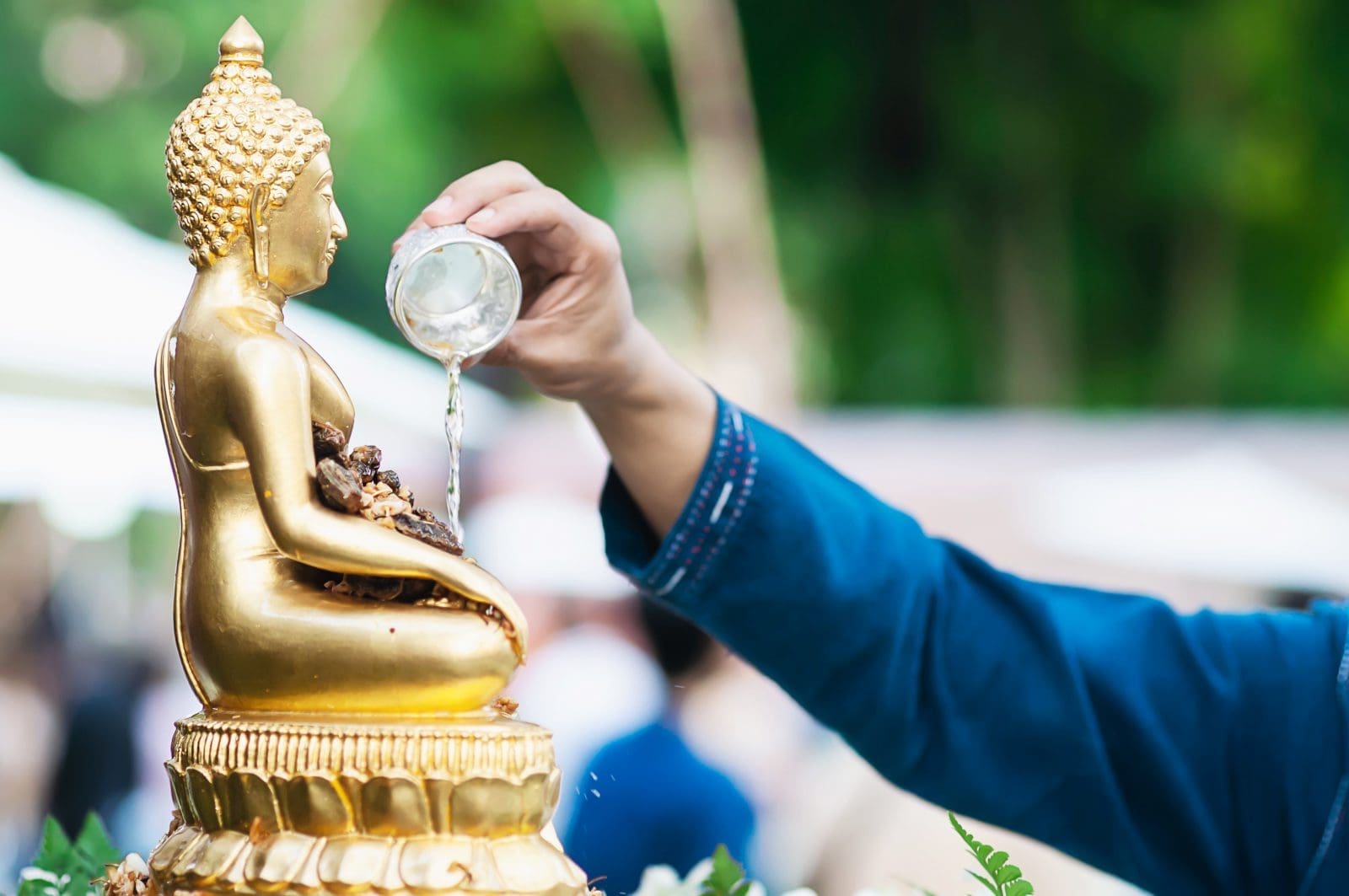 It's the celebration of Buddhist New Year which, according to the solar calendar, takes place between 5 and 20 April. In Thailand Songkran has been fixed on 13 April and officially extends till 15 April. Unofficially it can sometimes last for a whole week, depending on the area or city in the kingdom. During this Water Festival, Thai people return to their home villages and towns to celebrate together with their families.
Originally Songkran was only celebrated in the north of the country but has now spread all over Thailand. The most famous or infamous water festival parties still take place in the north, particularly in Chiang Mai (see below).
Traditions of Songkran
The traditional meaning of Songkran is about spiritual cleansing and showing respect. Houses are being cleaned too, images of Buddha are dusted and the younger generation pay their respects to the elders. Every city in Thailand has its procession where Buddha statues are paraded through town on special floats. These Buddha statues are taken out of their temples for this special occasion and everyone is allowed to sprinkle them with water. Many cultural activities take place and, of course, lots of partying, dancing, music and drinking.
The popular Din Sor Phong powder at Songkran
It's common to witness Thai people's faces smeared with a white paste during the water festival. Called Din Sor Phong, the powder is a mineral made of marlstone and originates from a village in Lopburi Province that bears the same name. Mixed with scented water and made following a recipe of herbal medicine, it's used to cool the skin, to minimise rashes and respiration, and is also believed to help with acne. Just don't get it in your eyes – if that happens then rinse with clean water.
Origin of Songkran
It's believed that this water festival originated from the Holi Festival in Mumbai (formerly Bombay) and Delhi, India, where it signifies the end of the harvest year. Instead of water, during Holi the Indian people splash different colour – or tika – pigments on one another, which stands symbol for chasing away society's dark forces.
Songkran in Chiang Mai
The most famous Songkran festivities take place in Chiang Mai and during this period the city is swamped with both Thais and tourists. If you are not faint of heart then the best experience is on the streets around the moat that surrounds the historical centre. Most activities take place at the north and east sides of the old town.
---
To discover more about Thailand, read Travel Begins as 40's 'Essential Thailand Travel Guide for the Over 40s'.
---
Tha Pae Gate: Lots of concerts, dances and parties take place on the square at the historical Tha Pae Gate, east side of town.
Kad Suan Kaew: At the front side of this shopping mall on Kuay Kaew Road hordes of Thais, expats and tourists congregate around a big podium on which musicians play their tunes the whole day.
Riverside: The Ping River is often the starting point for many parades and ceremonies. Restaurants and bars alongside the river fill up with revellers and live music.
Wat Phra Singh: This is one of Chiang Mai's most remarkable temples and a hub for religious activities during Songkran. Its important Buddha statue, the Phra Buddha Sihing, is paraded through town.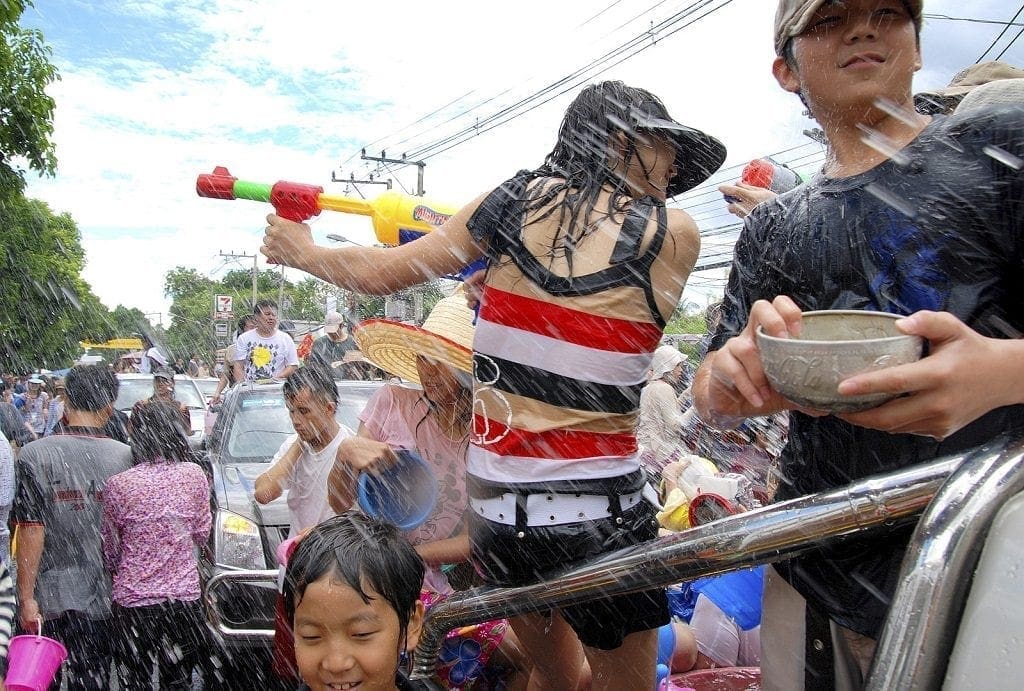 Songkran in Southeast Asia
Neighbouring Laos and Myanmar all have major Water Festival celebrations at the same time so wherever you are in the region come prepared. Khmer New Year in Cambodia is a more mellow affair.
---
For further information about Songkran in Thailand:
Visit the Tourism Authority of Thailand website. For more festival inspiration, read Books, Rockets and the Dead which covers festivals around the world.
Details
Start:

April 13

End:

April 15

Event Categories:

Topics:
Johan Smits
Freelance writer, translator, web content developer, author of the novel Phnom Penh Express and Tommy, a short story. Loves trying out local brews, avoids noise. Chronically indecisive about where to lay down his hat. Shortlisted AITO Travel Writer of the Year 2018.
Event Navigation