Thaipusam Festival Malaysia 2023
Event Navigation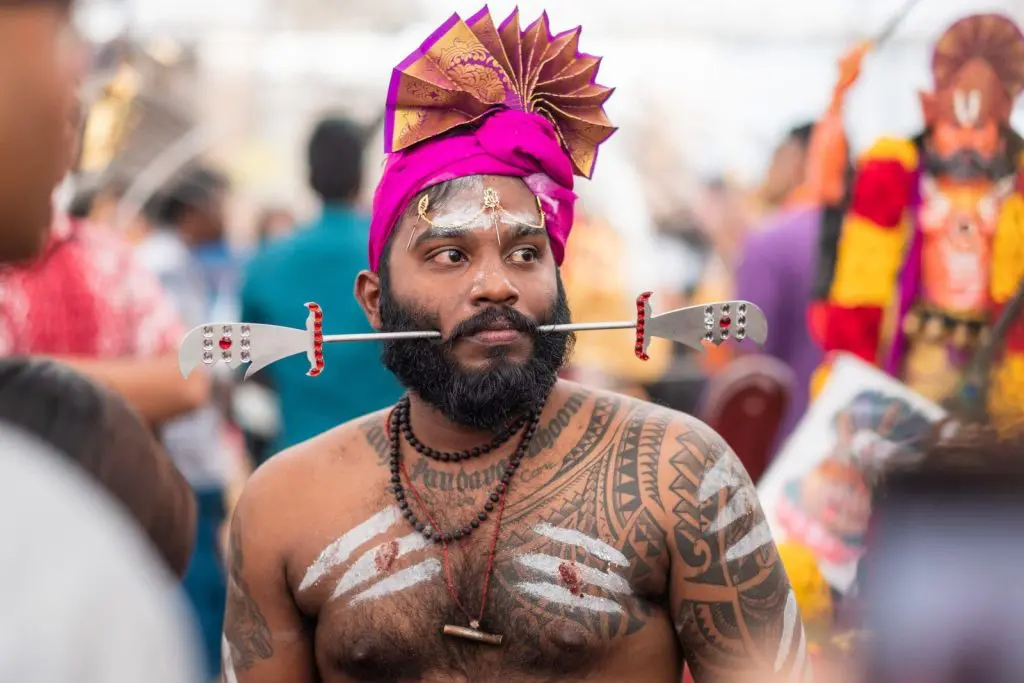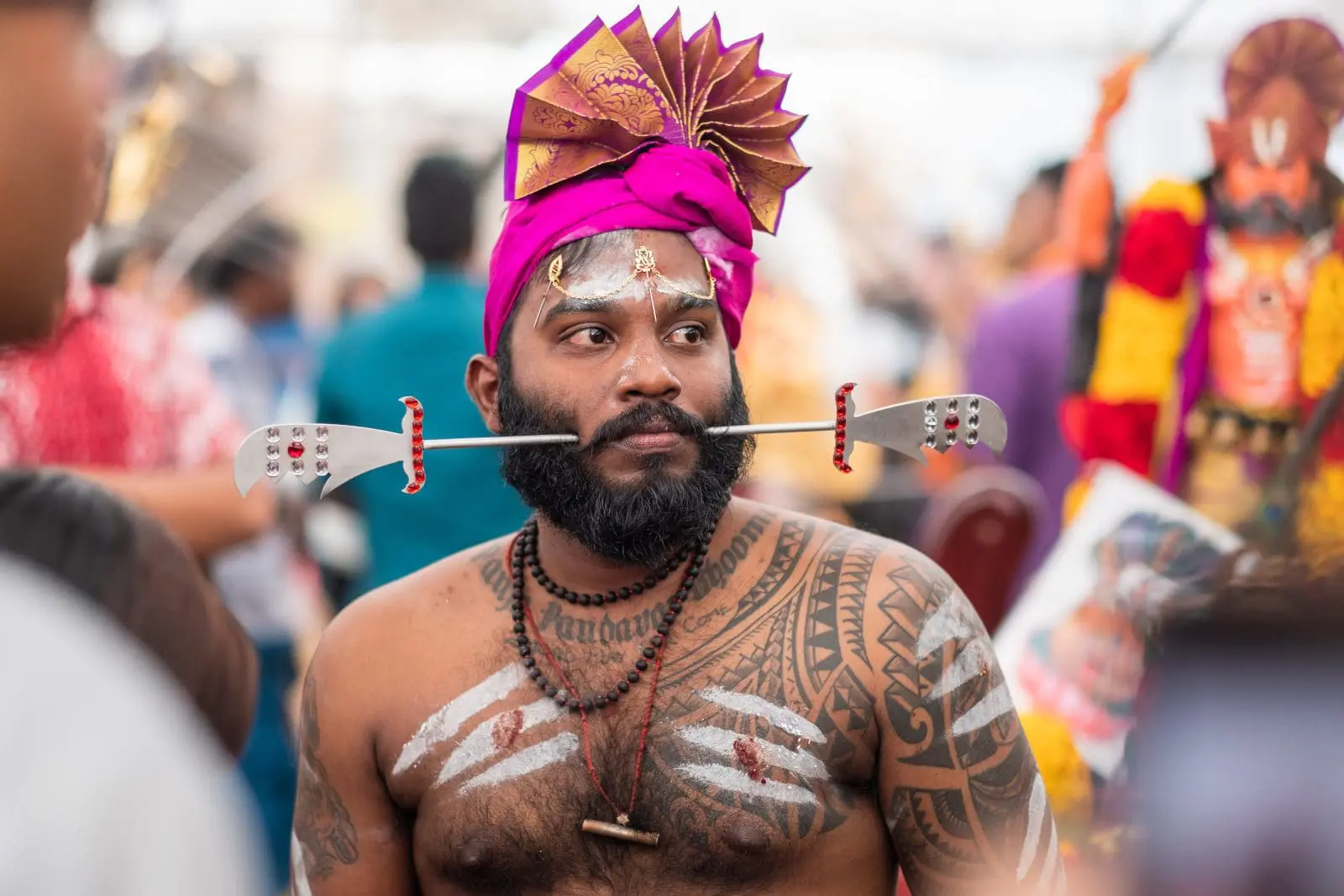 Every year the impressive Thaipusam Festival celebrations take place inside the Batu caves near Malaysia's capital Kuala Lumpur.
A million devotees and visitors gather from all over Asia for a frenetic event that sees extreme body piercings with needles, hooks and spears, and a procession where devotees in trance carry along a kavadi or physical burden as an offer to their god.
What is the Thaipusam Festival?
Thaipusam is a Hindu event dedicated to the Hindu god Lord Murugan, the youngest son of Lord Shiva and conqueror of evil. He's the god of war and victory and often depicted as a man with multiple faces, riding a blue peacock. Celebrated mainly by Tamils, anyone who seeks favour from Lord Murugan has to participate in the festival and do penance for past sins.
What to expect during Thaipusam Festival 2023?
Devotees pierce various body parts with needles and spears, especially through the cheeks and tongue. The skin on the back is pierced with hooks to which limes are attached that pull on the hooks when the person in question whirls around in a trance.
On the main day, a kavadi is carried to the temple and offered to Lord Murugan. Kavadis are large, decorated yokes that are usually carried or pulled along with hooks attached to the worshippers' backs.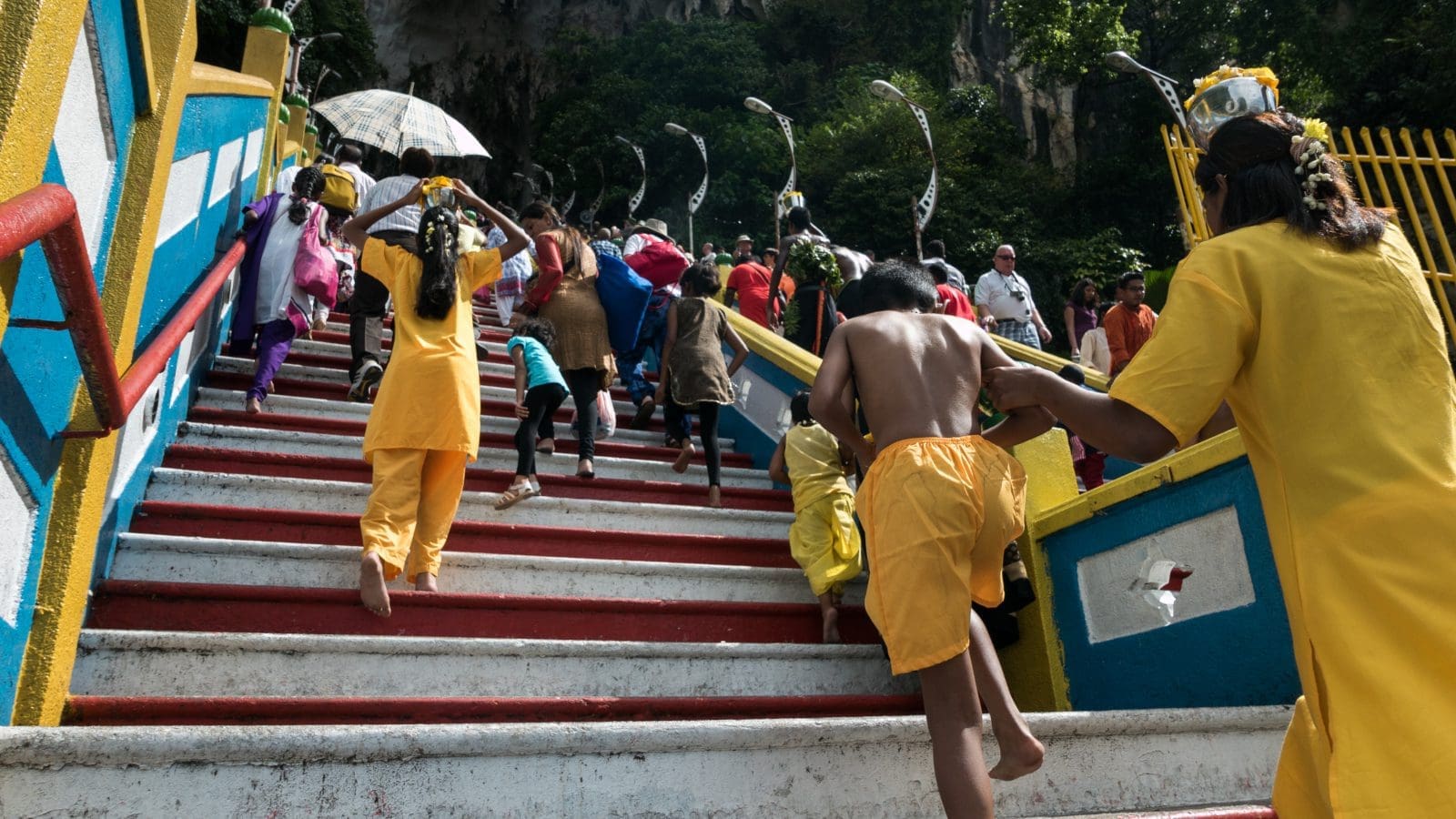 When a devotee decides to carry a kavadi, it is usually decorated with coloured paper, gold leaf, flowers, peacock feathers and an image of Lord Murugan. A pot of milk is attached to either end to offer to the god. His followers then pray to receive his mercy and wipe out their sins.
Women carry a silver jug of milk on their head while some of them also have their cheeks and tongue pierced.
It's customary for devotees to pray and fast during the weeks leading up to the event. They follow a strictly vegetarian diet while some of them sleep for months on the hard floor of their home to prepare for the big day.
---
---
By doing penance the worshippers expect to please Lord Murugan who will then make their wishes come true – although it is said that nothing of the kind is written in the holy scriptures.
Despite the gruesome scenes, blood is rarely spilt due to the trance in which the participants find themselves. They are always accompanied by family members and friends to encourage them with dance, and musicians beating the drums or playing the flute.
Where to witness Thaipusam Festival 2023?
Thaipusam is celebrated in countries with a large Tamil community, including India, Sri Lanka, Singapore, Indonesia, Suriname, Malaysia and other countries. In some states of Malaysia, and also in Sri Lanka, Mauritius and Fiji, it is a national holiday.
---
---
In Malaysia the festival is especially important and celebrated by its small Tamil community who are joined by more than a million pilgrims from South-India. Thaipusam is also celebrated in South-India itself but not in such an extreme fashion as in Malaysia, which is why according to many Indians the Malaysian version is purer and more religious.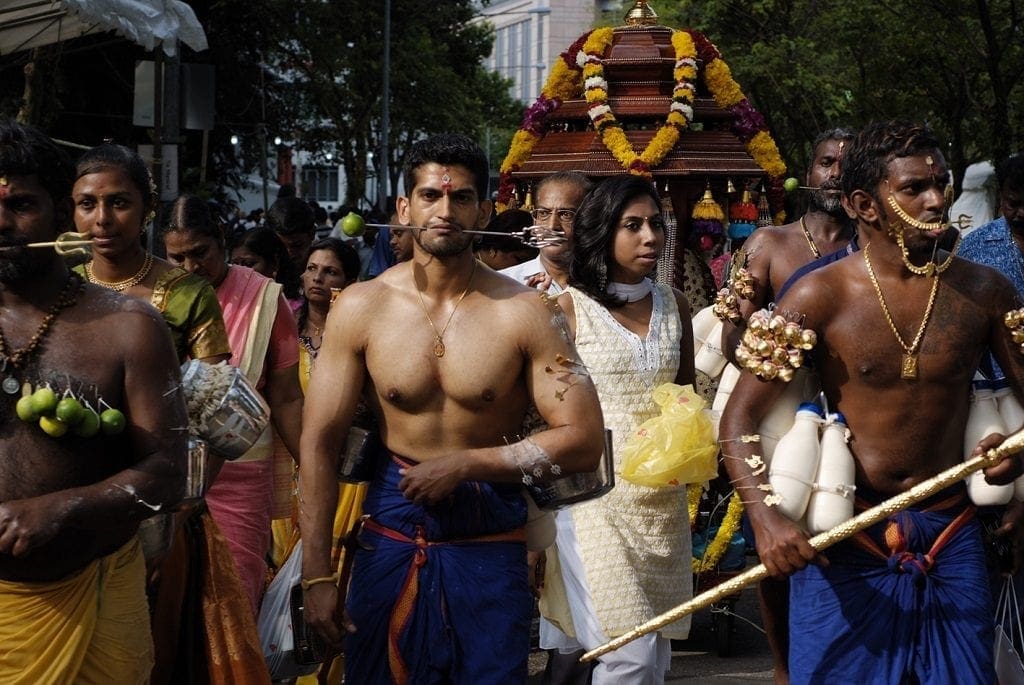 In Malaysia there are two main places where Thaipusam is celebrated. The most popular spot is in the Batu Caves near the capital Kuala Lumpur, but also in George Town on the island of Penang, which is another popular tourist destination in the northwest of the country.
The celebrations in the Batu Caves include spectacular scenes, making Thaipusam fascinating, surprising, cruel and sometimes a little scary. The caves are completely dedicated to Lord Murugan. A motivated core of devotees carry their kavadis – some of which can weigh up to 30 kg – up the 272 steps. During the Thaipusam Festival in 2006, a golden, 43-metre-tall statue of Lord Murugan was erected near the entrance of the caves, making it the largest statue in Malaysia.
The three-day-long festival starts inside the Sri Maha Mariamman temple in Kuala Lumpur's Chinatown from where a procession travels 11 km to the Batu Caves accompanied by some 50,000 Hindus. The procession finishes at the Sri Subramaniar Swamy temple at the caves where the devotees pray at altars. During two days the pilgrims let themselves be ritually cleaned inside the Batu River.
On the island of Penang the procession starts on the eve of Thaipusam. Starting at the Chettiar temple in Penang Street in George Town, a silver carriage starts its journey to the Nattukkottai Chettiar temple on Waterfall Road.
It is also celebrated in Singapore.
When does Thaipusam Festival 2023 take place?
Thaipusam is celebrated every year during full moon of the Tamil month Thai in the Hindu lunar calendar, which usually falls at the end of January to the beginning of February. In 2023 Thaipusam is on 5 February.
Hotels in Kuala Lumpur
Use our hotel booking engine which searches and compares all major booking sites to find you the best accommodation in Kuala Lumpur. It will offer you the best deals without it costing you anything extra:
---
More information on Malaysia

Visit the official website of Tourism Malaysia. Main image Deposit Photos.
Details
Date:

February 5

Event Categories:

Topics:
Venue
Batu Caves

Batu Caves




Kuala Lumpur

,

Malaysia

+ Google Map
Johan Smits
Freelance writer, translator, web content developer, author of the novel Phnom Penh Express and Tommy, a short story. Loves trying out local brews, avoids noise. Chronically indecisive about where to lay down his hat. Shortlisted AITO Travel Writer of the Year 2018.
Event Navigation