Wang Yeh Boat Burning Festival, Taiwan
October 28, 2018

-

November 4, 2018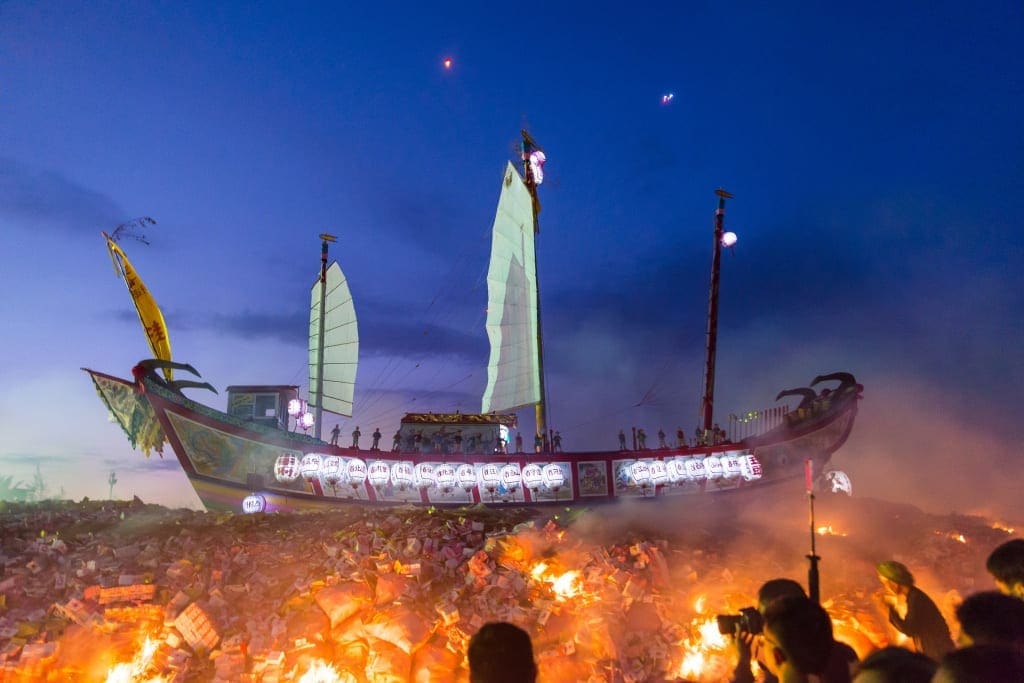 Happening only every three years – in the Chinese years of the Ox, Dragon, Goat and Dog – 2018 is your chance again to witness one of Taiwan's top festivals, and its most spectacular – the Wang Yeh Boat Burning Festival.
Over a period of eight days, the old, southern port town of Donggang will see an impressive folk ritual culminating in a large, life-sized wooden ship going up in flames on the beach at midnight.  
In this Taoist plague-expelling festival, protective gods are invited down to earth where they are celebrated and asked to ward off disease and absorb demons and bad spirits. The Wang Yeh Boat Burning Festival typically involves dancing, esoteric Taoist rituals and spirit-possessed mediums carrying out their rituals such as walking over burning coals.
Preparations usually start a year in advance with the construction of a 15-metre-long wooden junk carved, painted and decorated according to tradition. During the festival, the ship is then paraded around town to absorb all the bad spirits, diseases and misfortune. The worshippers of Wang Yeh – a divine emissary who is believed to tour the world of the living on behalf of the heavens – then fill the boat with rice, money and all sorts of goods to make it ready for its voyage. Also added are papers with the fears and wishes of the believers written on them.
On the last day of the Wang Yeh Boat Burning Festival, accompanied by lots of fireworks, the boat is taken to the beach around midnight and pulled on top of a mount made of tons of ghost paper – special paper meant as offerings to gods and ghosts. When, in a stunning pyrotechnic finale, the boat is set alight and engulfed by flames, all the bad spirits and diseases are supposed to be consumed with it.
---
---
Old generation Wang Yeh devotees will flee the scene to avoid their souls being taken up with the bad spirits, but nowadays most people risk their souls to watch the mesmerising sight of a large ship going up in flames.
When is the Wang Yeh Boat Burning Festival
The festival happens only once every three years, from 28 October to 4 November in 2018. The next one will take place again towards the end of 2021, the year of the Ox.
Where does the Wang Yeh Boat Burning Festival take place?
The Wang Yeh Boat Burning Festival takes place along the southern coast of Taiwan but by far the largest and most colourful ones are at Donglong Temple in Donggang, Sanlong Temple on Little Liuchiu Island, and Daitian Temple in Nanzhou.
Taiwan Hotels
If you are looking for hotels in Taiwan, or a flight to the island, enter your dates in our flight and hotel comparison engine to search hundreds of sites for the best deals:
---
For more information on Taiwan travel:
Browse the official Taiwan Tourism Bureau website.
---
Credit cover image: speedbug – https://speedbug.cc
Details
Start:

October 28, 2018

End:

November 4, 2018

Event Categories:

Topics:

Website:
Johan Smits
Freelance writer, translator, web content developer, author of the novel Phnom Penh Express and Tommy, a short story. Loves trying out local brews, avoids noise. Chronically indecisive about where to lay down his hat. Shortlisted AITO Travel Writer of the Year 2018.
Upcoming Events

Subscribe to our newsletter