Yi Peng Festival 2023, Thailand
November 27

-

November 28

Free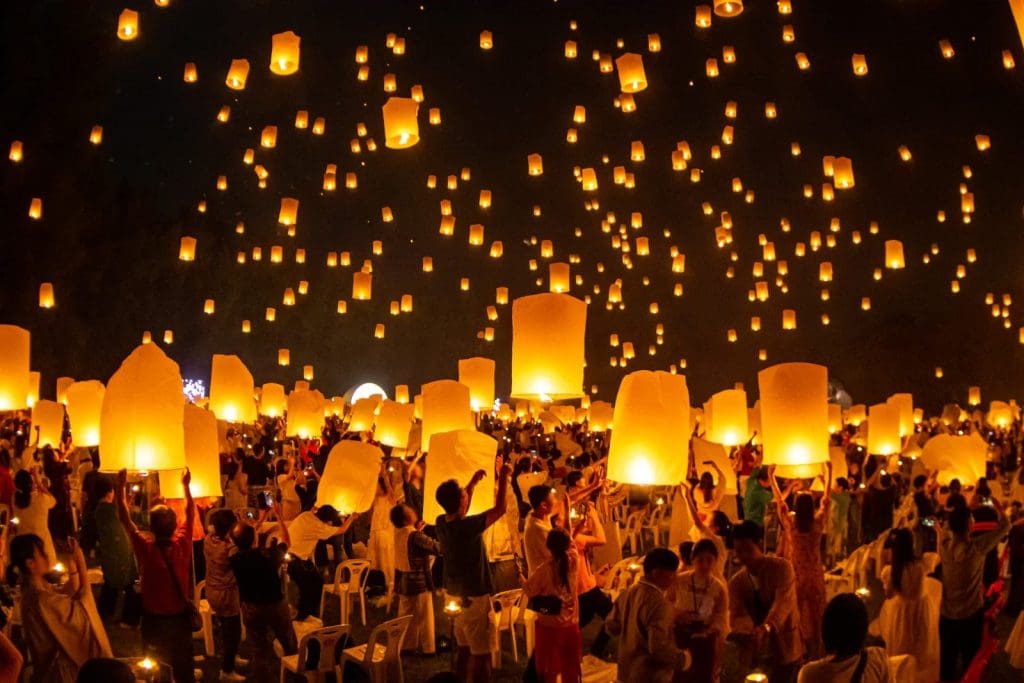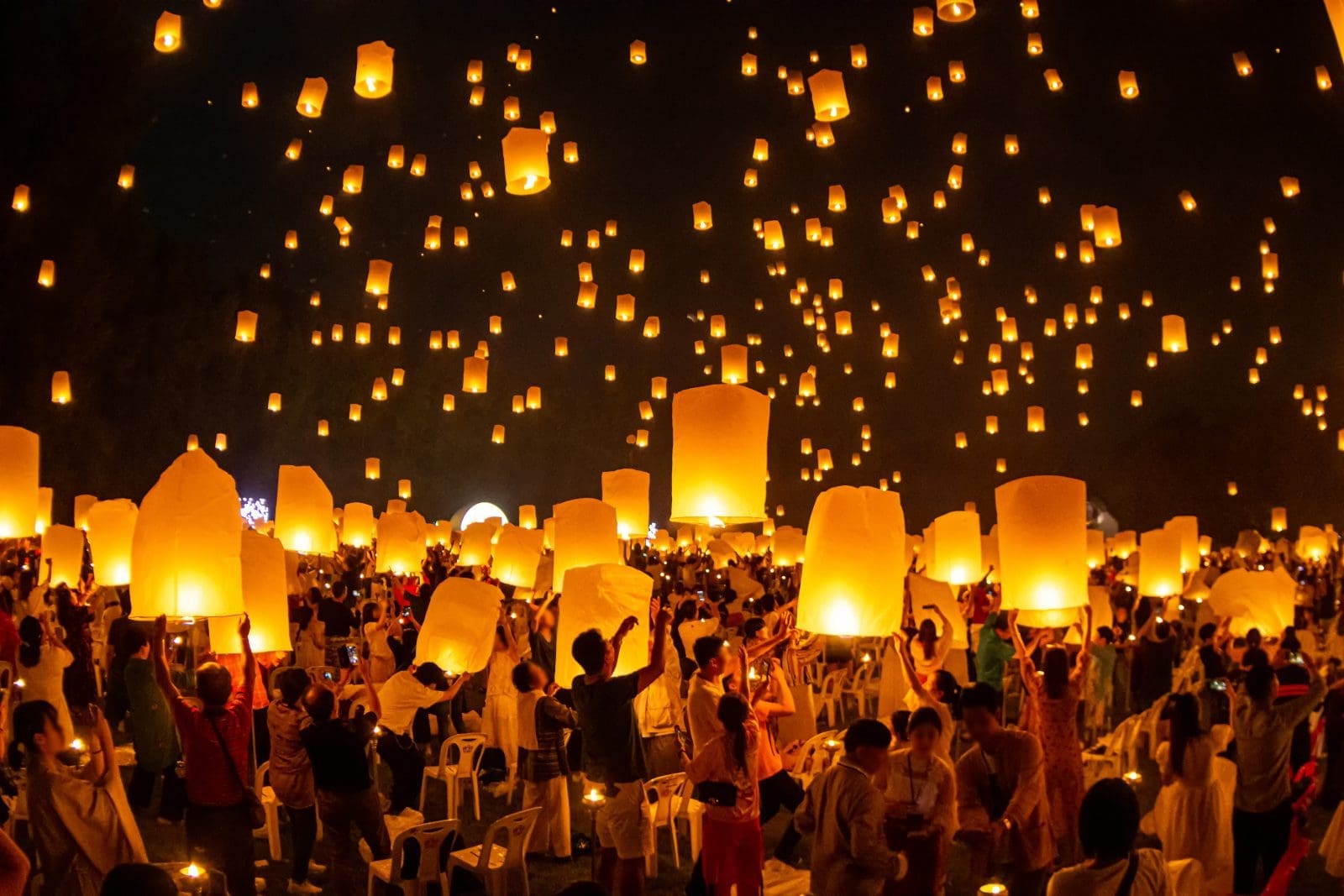 The Yi Peng festival, one of Thailand's most charming and alluring events, is incredibly well-liked by both locals and tourists. The north of the country sees its nightly heavens illuminated when countless candle-lit paper lanterns are released into the sky.
The celebrations last for three days during the full moon in the twelfth lunar month of the Thai calendar, it is extremely popular despite the fact that this is not actually a public holiday in Thailand. As t is based on the lunar calendar the date varies somewhat every year but usually falls in late October or November.
The Origin of Yi Peng
Historical accounts about the origin and meaning of the Thai lantern festival vary. In the north of Thailand where the former 13th to 18th century Lanna kingdom was, Yi Peng is celebrated alongside Loy Krathong – and often confused with it by visitors. Yi means "two" and Peng means "full moon day", referring to the full moon of the second month of the Lanna calendar which is closely linked to the Chinese calendar. Confusingly, Loy Krathong refers to the full moon of the 12th month of the Thai calendar, and although both are lunar calendars and both events take place at the same time, they are historically separate.
---
To discover more about Thailand, read Travel Begins as 40's 'Essential Thailand Travel Guide for the Over 40s'.
---
Some believe Yi Peng is, like Loy Krathong, adapted from Brahmanic origins while others think it came from China and is connected with Mahayana Buddhism. It's celebrated as a time to make merit and to mark the end of the rainy season. Today's motives are fairly similar to Loy Krathong – by releasing the khom loi or paper lanterns into the sky, the person's bad luck disappears with it.
How to Celebrate Yi Peng?
In Thailand, every occasion is an opportunity to have a good time, and Yi Peng is no different. Yi Peng is also time for parades, concerts, beauty pageants and lantern competitions in addition to the lovely illuminated lanterns that are allowed to float off into the sky. In Chiang Mai, Northern Thailand's largest city, hundreds of vibrant paper lanterns are on display at various locations along the moat that surrounds the city's historic district. Participating is simple, and the locals will motivate you to do so.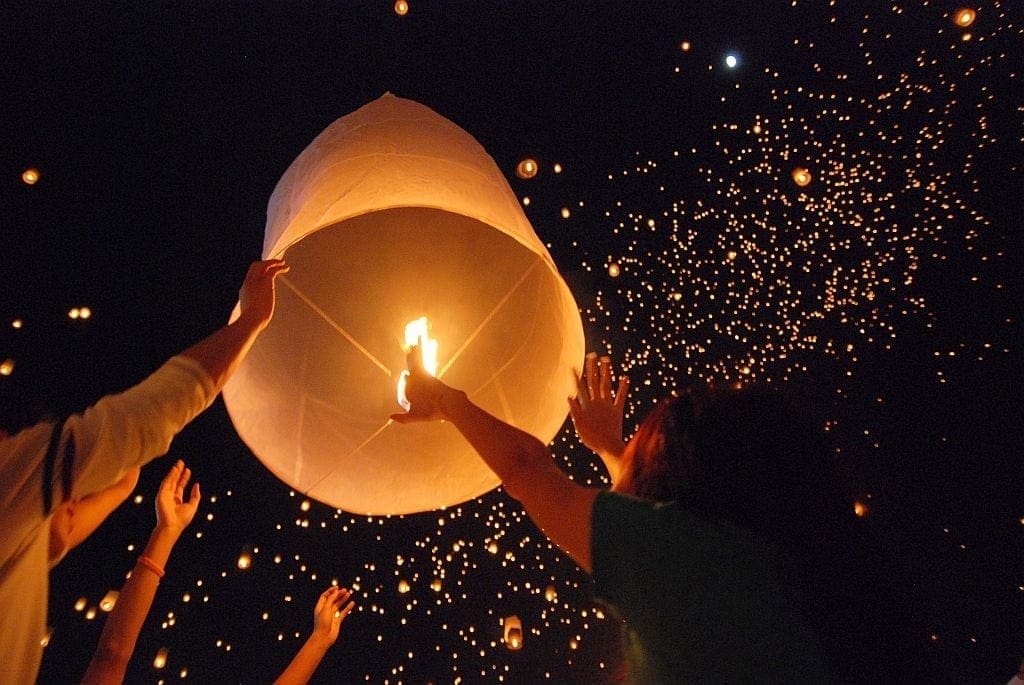 ---
Another one of Thailand's most popular festivals is Loy Krathong, which takes place on the same dates as the Yi Peng festival and is celebrated all over the country.
---
If you happen to be in the north, cheap floating lanterns will be offered for sale in local street shops. They're available in different sizes, made of thin paper suspended around a light bamboo frame and contain a spot to place a tea light or other source of heat. Once the hot air fills the lantern, it will rise into the sky – a truly magical sight and experience if it happens at night and alongside thousands of other khom loi.
However, celebrating these festivals is not entirely without risk. It is believed that good luck will come your way if your floating lantern disappears out of sight before the light extinguishes – except when it brings down an aircraft. The Thai government has placed severe restrictions on where and when lanterns may be launched so be very aware of the local rules if you intend to participate as violators now may face enormous fines or even imprisonment.
---
---
When is Yi Peng Festival 2023
This year the 2023 Yi Peng festival falls on 27 November and last until 28 November.
Best Places in Thailand to celebrate Yi Peng

Yi Peng festival is only celebrated in the north of Thailand, with the biggest celebrations in Chiang Mai.
In Chiang Mai you can enjoy the Yi Peng spectacle at the same time as Loy Krathong. A large portion of the festivities are concentrated along the old moat and the Ping River, which flows through the city (for instance, close to Narawat Bridge). Both Wat Chedi Luang and Wat Phan Tao temples are fantastic places to attend if you want a more spiritual experience. Alternately, locate a peaceful area outside of town and enjoy silently observing a plethora of little yellow lights slowly float through the night sky.
The enormous Kratong Parade, where flower-covered floats compete for the most exquisite, intricate, and spectacular design, is undoubtedly one of Chiang Mai's most significant events. On the night before Loy Krathong, you may watch them being driven along the river and along Thapae Road. On Loy Krathong Day the next day, more than 20,000 Lanna candles will be lit around the city moat and the Three Kings Monument as more than 200 women perform traditional dances on the square in front of the monument (early evening).
---
---
There is no cost to participate in these public events. However, in Chiang Mai there is a separate event organised by a Buddhist sect at their temple complex in Mae Jo where meditation sessions are held and lanterns are released en masse.
Accommodation for Yi Peng
Make sure to reserve accommodation in Thailand well in advance if you plan to visit during Yi Peng. Use our airline and hotel search engine with your dates to browse hundreds of websites for the best offers:
---
Other upcoming Thailand festivals:
Read our write-ups of the White Temple Thailand Light Fest in Chiang Rai, and the Monkey Buffet Festival in Lopburi, both held later this month.
Tourist Information on Thailand:
Consult the official website of the Tourism Authority of Thailand for other general information about Thailand.
Main image: Deposit Photos.
Details
Start:

November 27

End:

November 28

Cost:

Free

Event Categories:

Topics:
Johan Smits
Freelance writer, translator, web content developer, author of the novel Phnom Penh Express and Tommy, a short story. Loves trying out local brews, avoids noise. Chronically indecisive about where to lay down his hat. Shortlisted AITO Travel Writer of the Year 2018.