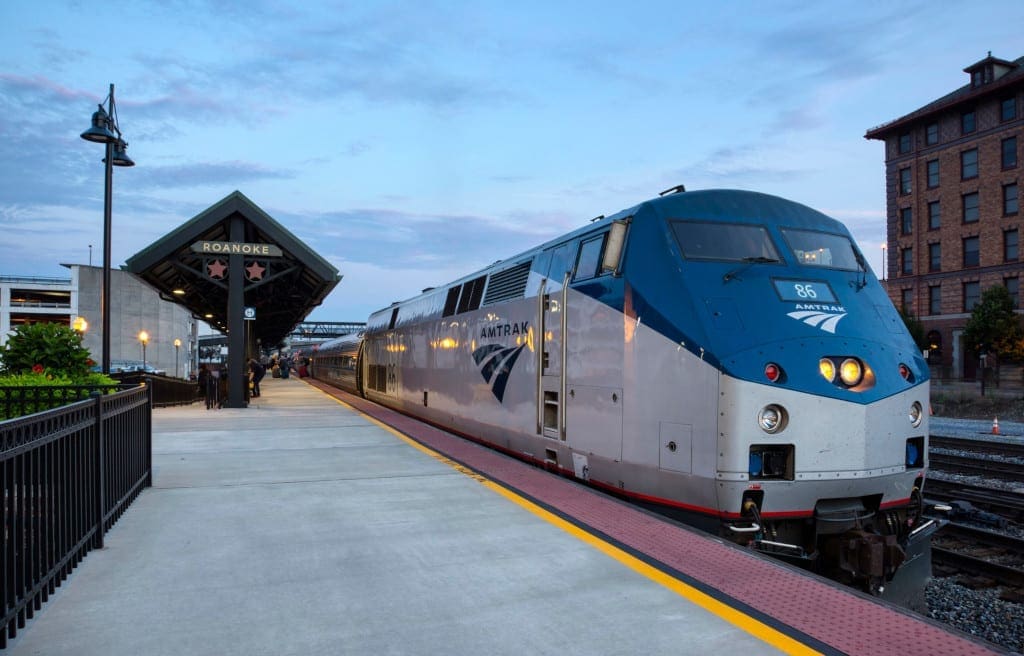 Celebrate Amtrak's 50th Anniversary
Travel Begins at 40 Editor
Posted on 8th Mar 2021
This year marks the 50th anniversary of Amtrak, the USA's national railroad train network. In 1971, Amtrak set up their headquarters in Washington, DC and continues to take passengers from DC along the Northeast Corridor, via Baltimore, Maryland and out into Virginia. The high-speed passenger railroad service operates out of Union Station, one of the DC's most iconic places with over 40 million people visiting every year.
Amtrak's Northeast Regional route is a fantastic alternative to the classic American road trip and means eco-conscious travellers and non-drivers can explore the region without a car. Train travel has grown in popularity in recent years with many people choosing rail travel for sustainability reasons. It seems a trend that isn't set to slow down, with Rail Bookers reporting that 85% of bookings in 2020 were new customers*.
Travellers to the region can fly directly from the UK into Washington Dulles International Airport and hop on board the newly expanded Dulles Metro, which will take them all the way into downtown DC, to start their adventure in the Capital Region.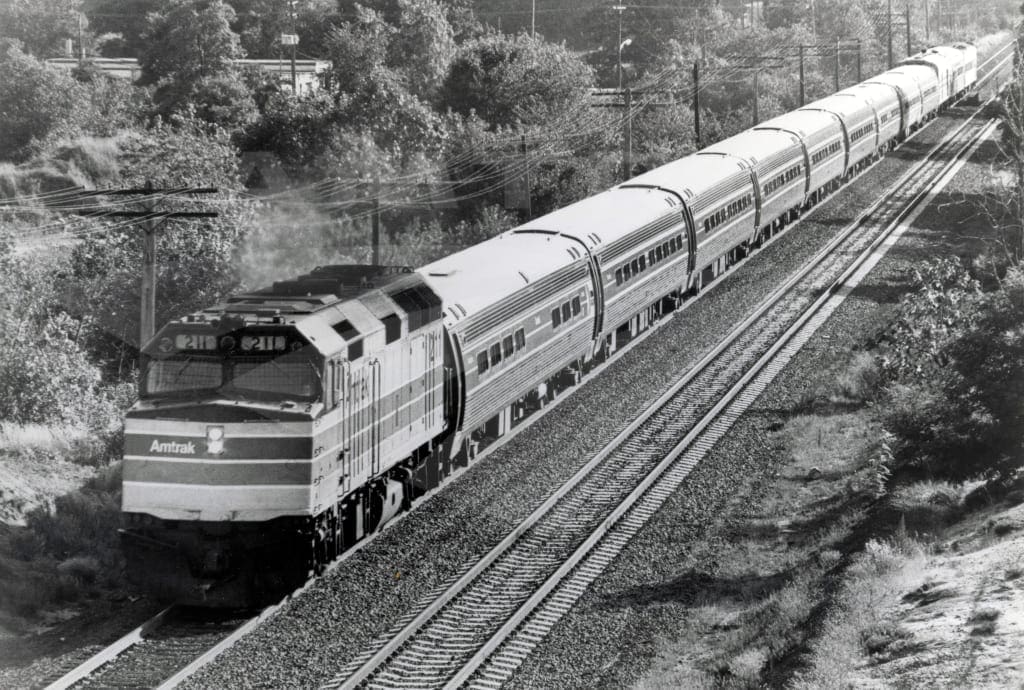 TRAVEL ALONG THE NORTH EAST CORRIDOR
Most travellers will start their trip in Washington, DC, and head north to Maryland or south into Virginia. We are going to start our trip in Baltimore, Maryland and travel along the tracks, stopping off in Washington, DC, before hopping back on to explore what Norfolk, Virginia Beach and Roanoke have to offer in Virginia. See the full North East Corridor route here.
STOP OFF IN: BALTIMORE, MARYLAND
Dubbed Charm City, Baltimore is the cultural capital of Maryland. Step off the train and onto the platform at Penn Station, and head down to Baltimore's Inner Harbor, just a 15-minute walk away. This is the heartbeat of Baltimore, home to seven miles of fantastic restaurants, eclectic shops and many famous museums including the Maryland Science Centre, National Aquarium, and the American Visionary Arts Museum. Travellers to the city can also experience Baltimore's floating museum, and step aboard the U.S.S. Constellation, built in 1855, and docked along the edges of Inner Harbor. From Baltimore, travellers can venture further up along the coast on the North Eastern Route, all the way into Aberdeen, and discover the many delights of Maryland's Eastern Shore.
TAKE A DETOUR TO FREDERICK COUNTY, MARYLAND
Though not on the Amtrak Northeast Corridor Route, travellers can easily travel from Frederick County, Maryland to Washington, DC on the Brunswick Route. Travellers can take the MARC commuter train, and arrive in the city in just two hours. Visitors to Frederick County, can enjoy a variety of eclectic activities, all within walking distance. Visit the city's Civil War History Museum, one of the many stunning parks or explore the local antique shops.
STOP OFF IN: WASHINGTON, DC
Less than an hour's journey from Penn Station in Baltimore, the next stop takes travellers to Union Station in Washington, DC. Washington, DC is the greenest city on the East Coast and was the first jurisdiction in North America to launch a bikeshare system, meaning it's very easy to explore the city without a car. The city now has more than 4,000 bikes and 500 stations across the city, as well as stations located in nearby Maryland and Virginia. Travellers to the city can explore some the most historically important monuments in America, including the Washington Monument, Lincoln Memorial and the US Capitol Building, as well exploring the city's diverse neighbourhoods and booming restaurant scene. DC is also home to the Smithsonian Institution which celebrates its 175th anniversary in 2021, with many Smithsonian museums located in the capital and free to enter.
When travellers head into Virginia from DC they have a choice of two routes – one taking them through Charlottesville and Lynchburg with a final stop in Roanoke, with its access to the mountains of Virginia's Blue Ridge, and a second route that takes them through Fredericksburg and Richmond with a final stop in Norfolk and Virginia Beach with access to the Chesapeake Bay and the Atlantic Ocean. Here are what you'll find at the end of both routes:
STOP OFF IN: ROANOKE, VIRGINIA 
In just five hours, travellers can venture directly from the buzzing metropolis of the US capital to Roanoke in Virginia, with great access to the majestic Blue Ridge Mountains. Visitors to Roanoke can explore the eclectic boutiques and markets in the city's downtown district, just a ten-minute walk from the station. Cycling and mountain biking are a huge part of the culture in Roanoke, with an extensive urban greenway system, and a huge number of road biking and mountain biking trails for cycling enthusiasts to explore. The city has a great selection of local shops and businesses where travellers can easily rent bikes to keep their Capital Region adventure car-free.
STOP OFF IN: NORFOLK & VIRGINIA BEACH
Travellers from Washington, DC can also head directly to Norfolk on the North East Corridor, which has great access to Virginia Beach and the Atlantic Ocean in just four-and-a-half hours. Norfolk is a city on the water, with a melting pot of people, cultures, delicious local flavours and interesting history. This charming city is one of Virginia's most bikeable, where travellers can easily rent bikes to explore many routes, including the Elizabeth River Trail, which takes cyclists along Norfolk's iconic waterfront.
Norfolk also gives travellers easy access to Virginia Beach. Just a stone's throw from the city, Virginia Beach is where the Chesapeake Bay meets the Atlantic Ocean. Travellers can reach Virginia Beach from Norfolk using the regular local bus service or the special Amtrak extension bus. The vibrant coastal city has a delicious culinary scene and a variety of arts and entertainment and family friendly attractions. The city is a cyclers paradise with miles of routes along the boardwalks and coast, perfect for exploring without a car.
HOW TO GET THERE: ALL ABOARD WITH PURELY TRAVEL
Purely Travel offers a 10 night 'Virginia by Rail' Tour. Starting in Washington, DC, travellers can take the train and see the scenic delights Virginia has to offer including Fredericksburg, Richmond, Lynchburg and the Blue Ridge Mountains. Prices start from £1,450 pp based on 2 sharing and includes the return flights, 10 nights' accommodation and train travel. www.purelytravel.co.uk/virginia-by-rail
Travel Begins at 40 Editor
Travel articles, news, special offers, festivals and events from the Travel Begins at 40 Editorial team and our global network of travel industry contributors.
Upcoming Events
September 21

-

September 26
Subscribe to our newsletter