Hump Ridge Track NZ Great Walk
Travel Begins at 40 Editor
Posted on 17th Jul 2019
The team at New Zealand In Depth are delighted to announce the addition of the latest walk to make it onto the Department of Conservation (DOC) list of Great Walks. The Hump Ridge Track is located on the south coast, of the South Island of New Zealand and will now undergo a $5 million NZD upgrade for the 61-kilometre circuit and change it from a two-night walk to a three-night experience.
Those looking to take on the new trail are advised to book early as spaces for The Paparoa Track, the last addition to the DOC's Great Walks, sold 37% (over 4300 bed nights) on its first day of launching.
"The new track gives walkers access to the spectacular southern coastline and forests, dramatic alpine tops and historic viaducts," says Paul Carberry, founder of New Zealand travel specialist New Zealand In Depth.  "The track is a fantastic addition to the collection of Great Walks and with even more investment being allocated to further improvements, you can see it becoming another classic walking destination for visitors."
Hump Ridge Track was one of three walks nominated during the Department of Conservation's search for potential new Great Walks, along with Te Paki Coastal Track at Cape Reinga, and Queen Charlotte Track in the Marlborough Sounds.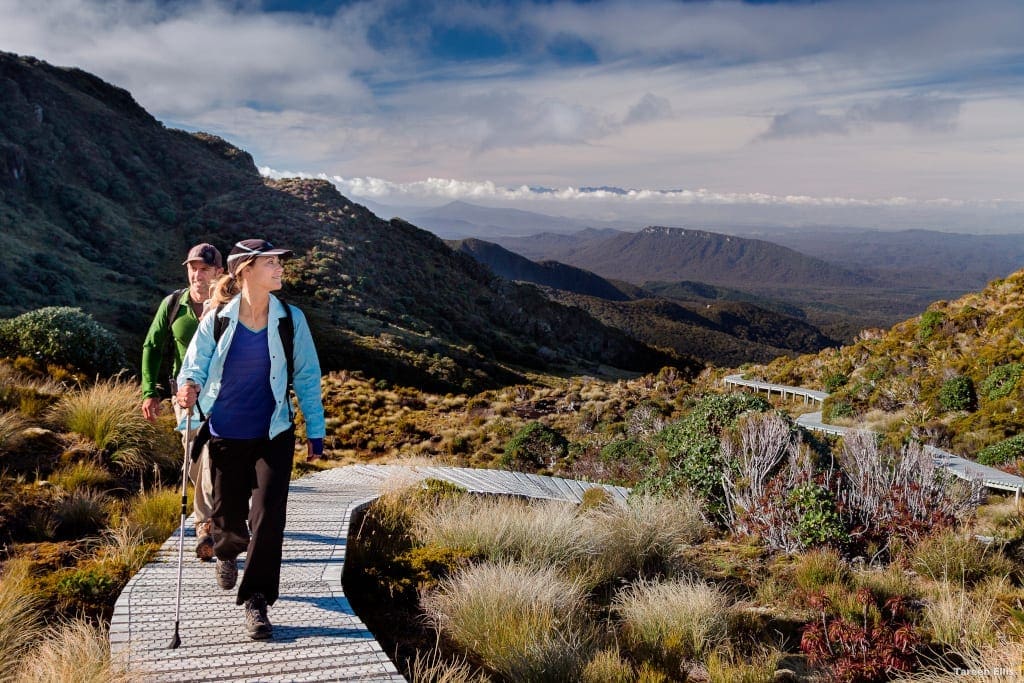 It was however the Hump Ridge Track that came through to claim the twelfth spot on the Great Walk's family with its stunning beach, forest and mountain views along the south coast of New Zealand, up to the sub-alpine zone of the Hump Ridge, and over historic viaducts giving it the edge.
New Zealand In Depth's Paul Carberry added; "The highlight of the track is the top of the Hump Ridge range which winds around soaring limestone tors offering panoramic views of south-west Fiordland, Southern Ocean and Stewart Island."
Suitable for those of reasonable to good level of fitness with walking huts sleeping up to 40 people per night with both Okaka and Port Craig Lodge also offering a limited number of premium upgrade rooms for walkers including a king-sized bed, all bedding, linen and towels supplied, and even a hot water bottle.
The new Hump Ridge Track is recommended to combine with a 14-day New Zealand adventure with New Zealand In Depth costing from £2,300 per person, excluding flights. This includes 13 night's accommodation on the North and South Islands including 2 nights on the Hump Ridge Track in a private room with breakfast, track transfers and car hire. Optional extras on the Hump Ridge Track include jet boating and helipack transfers.
"We have already had interest in the track and can't wait to include the newest Great Walk in our guests personalised itineraries. It is one to book early, as we are expecting availability for some of the busiest months to go quickly," added Paul Carberry.
The newest walk launched joins some of the country's most famous trails including Milford Track, Roruteburn Track and Tongariro Northern Circuit – many of which sell out through the year. The team at New Zealand In Depth, the world's leading New Zealand travel experts, are now arranging opportunities take on the new walk along with a wide range of luxury adventures to the country to experience the best food, wine, culture and nature.
---
For more information and expert advice on travel to New Zealand, visit www.newzealand-indepth.co.uk, call +44 (0)1298 74040 or email [email protected]. Cover photo, Tuatapere Southland, c. Graeme Murray
Travel Begins at 40 Editor
Travel articles, news, special offers, festivals and events from the Travel Begins at 40 Editorial team and our global network of travel industry contributors.
Upcoming Events

Subscribe to our newsletter