Jet Wings at Forefront of Sri Lanka Ecotoursism
Travel Begins at 40 Editor
Posted on 26th Jul 2019
Jetwing Hotels, one of the most respected and recognised tourist organisations in Sri Lanka, is a forerunner in eco and sustainable tourism. Blending green innovation, ecological sustainability and supporting local communities, Jetwing offers travellers 100% assurance of a holiday with a conscience. Historically committed, it has been successfully implementing various eco and sustainable initiatives long before the world trend of sustainable tourism gathered pace.  
No other hotel brand has done more in blazing the sustainable trail than Jetwing and its diverse range of properties dotted around Sri Lanka. With responsible tourism recognised today as the core imperative for a long-term, sustainable, travel industry as well as a sustainable planet, eco credentials are an essential element to many holiday-maker's checklists. Increasing numbers of travellers want to see the world without a guilty conscience.
From creating bio-gas production from kitchen food waste to an air-con system driven from biomass boiler to desalinating seawater (to use in toilets and on garden) to bringing all food production in-house, Jetwing has been at the forefront of pioneering green technology in its hotels for 40 years. Today, more than 50% of its energy requirements are met by renewables.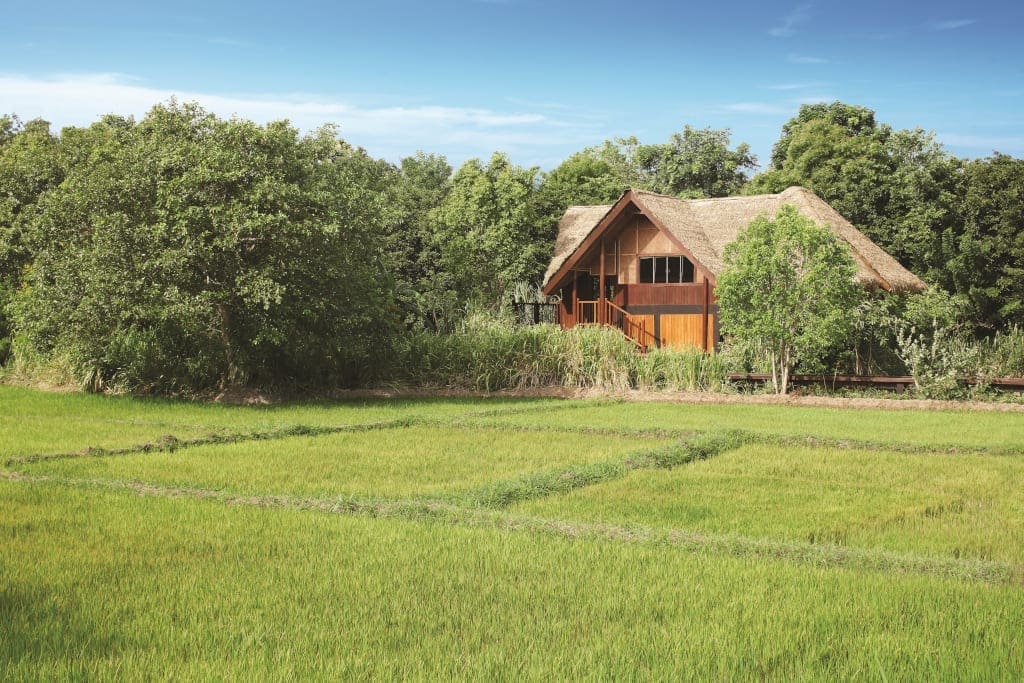 As well as technological innovation, part of Jetwing's philosophy is to create opportunities and give support to people through schemes like the Jetwing Youth Development Programme (JYDP). JYDP was set up in 2006 due to the lack of skilled labour in the hospitality industry and youth unemployment in rural areas.
It's aim? To give young people training in the hospitality industry, prepare them for work and supply the jobs they needed. The measure of its success can be seen across all the Jetwing Hotels, where brilliant graduates are realising their ambitions, beginning a personal and professional journey to a brighter future.
The Seven-Day Luxury Eco-Tour
A Jetwing holiday combines an eco and sustainable experience with luxury and breath-taking locations. To experience as much as possible Jetwing has a tailor- made, seven-day 'ultimate' eco-tour of Sri Lanka; combining some of the island's most indulgent spas, beautiful beaches, wildlife spectaculars and UNESCO world heritage sites with stunning hotels that are all exercising ecological, environmental and conservation work.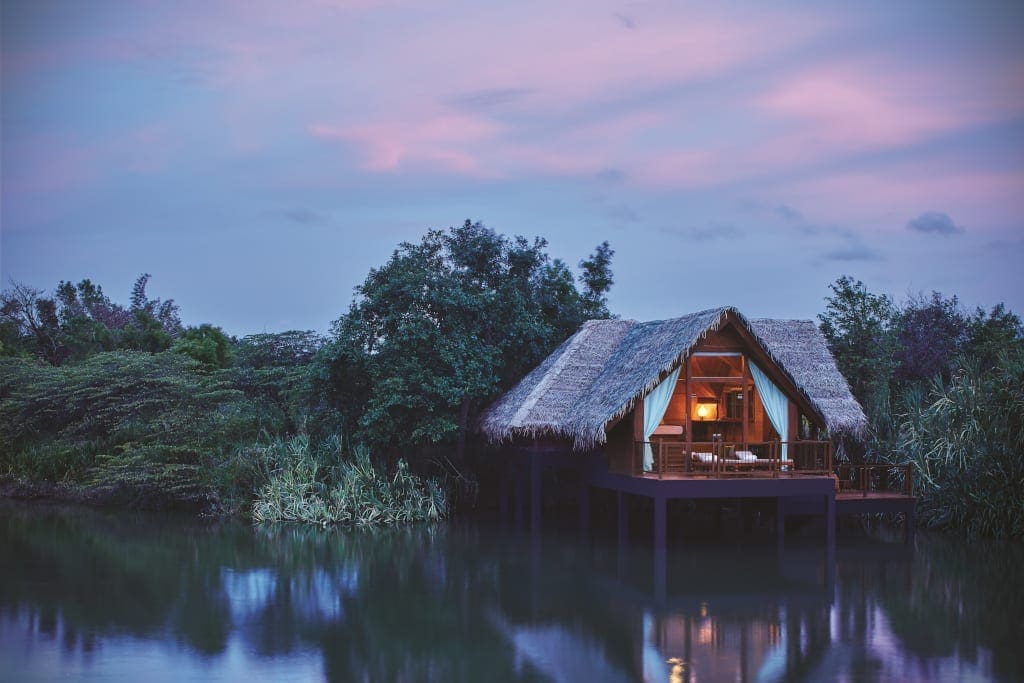 A tour throughout various provinces over the course of seven days allows guests to experience first-hand the progressive waste water schemes that see 90% of water re-used, air-con driven by state-of-the-art biomass boiler steam cooling systems, and progressive policies towards land and local farmers.
One of the many unique experiences is the visit to the islands first agro-tourism offering; at Kaduruketha, 31 farming families work and cultivate 50 acres of paddy. Jetwing awards a grant of LKR 25,000 per acre for farming per season, and then shares the harvest fifty-fifty with the growers. Rather than importing ingredients for its kitchens, Jetwing invested considerably in the local farming economy, creating a real sense of security. Guests are offered a rare opportunity to have lunch with these farmers and their families in their homes.
And for those interested in pioneering green technology, and inspiration to minimise their own home's eco-footprint, guests can explore the grounds of one of Jetwings' impressive and luxurious hotels with a staff member to see how wastewater is separated and re-used for the hotel's own organic farm and further disinfected to be used in toilet cisterns. Yearly this saves over 14 million litres of freshwater, enough to fill five Olympic swimming pools.
For more information and full itinerary of the seven-day Luxury Eco-Tour visit http://www.jetwinghotels.com/islandinsider/luxury-eco-tour-srilanka-sustainability-conservation/
With Jetwing's pledge to restore and benefit any environment where it builds a hotel, sustainability here is king. Such a commitment has deservedly positioned them as an icon of responsible tourism not only in Sri Lanka but worldwide.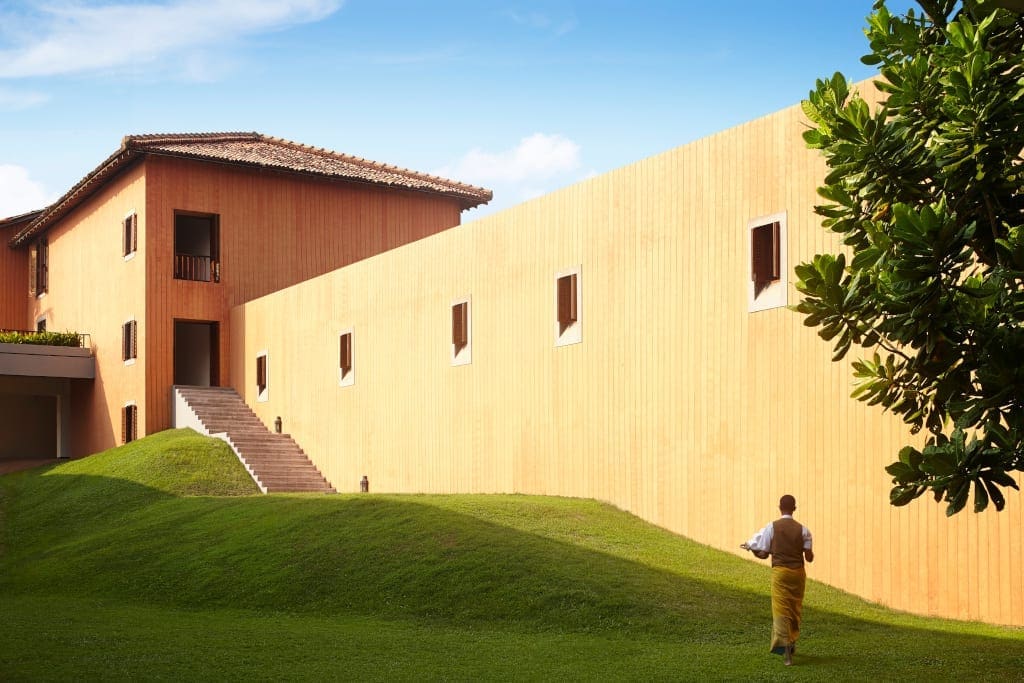 Jetwing Lighthouse, Galle, Refurbishment
Elsewhere, Jetwing Lighthouse, the iconic luxury hotel in the tropical southern province of Sri Lanka, is being refurbished at a cost of £2million.
63 of the original rooms designed by Geoffrey Bawa – the most influential Asian architect – will be revamped, a new pool will be installed along the first-floor rooms adjoining the ocean, plus plans to increase the massive 125kw solar energy and the installation of a bio-gas plant will sustain Jetwing's reputation as leading pioneers of sustainable tourism and green innovation. Jetwing Lighthouse Club, the sister hotel and separate wing to Jetwing Lighthouse, will be merged to create one property.
Situated in southern capital of Galle, Jetwing Lighthouse is synonymous with the heritage of the south of the island, sought-out by romantics due to its breath-taking hilltop position boasting spectacular views of the Indian Ocean.
---
For further information visit http://www.jetwinghotels.com
Travel Begins at 40 Editor
Travel articles, news, special offers, festivals and events from the Travel Begins at 40 Editorial team and our global network of travel industry contributors.