New Guide for Blossom Chasers
Travel Begins at 40 Editor
Posted on 30th Mar 2021
This year, as we come out of lockdown, it's never been a better time for get togethers under the frothy clouds of pink and white petals as Visit Herefordshire makes a bid to be recognised as the UK's capital for blossom with its live hotspots guide and new blossom cycle trail.
To help claim this crown the county has a new 'In the Pink', guide packed full of ways to enjoy the next six week window from late March when blossom can be enjoyed.
There's a live blossom map, where tourism partners will be posting orchard photography so that blossom 'chasers' can find the best spots to head to, as well as a new cycle trail in the west of the county called Porter's Perfection, orchard walks and recommended picnic spots for outside meet ups with friends.
As a county that is home to over 15,000 acres of orchards and produces over half of the UK's cider, it feels like the right time for Herefordshire to put its name to orchard blossom, invite visitors to enjoy picnics, orchard walks, cycle rides and drives around the county, much like Japan and cherry blossom.
The 'In the Pink' guide and campaign is part of the Covid tourism recovery marketing activity funded by the Marches Local Enterprise Partnership (LEP)* which was launched last autumn and run by Herefordshire Council to help boost visitor numbers post lockdown and support the economy.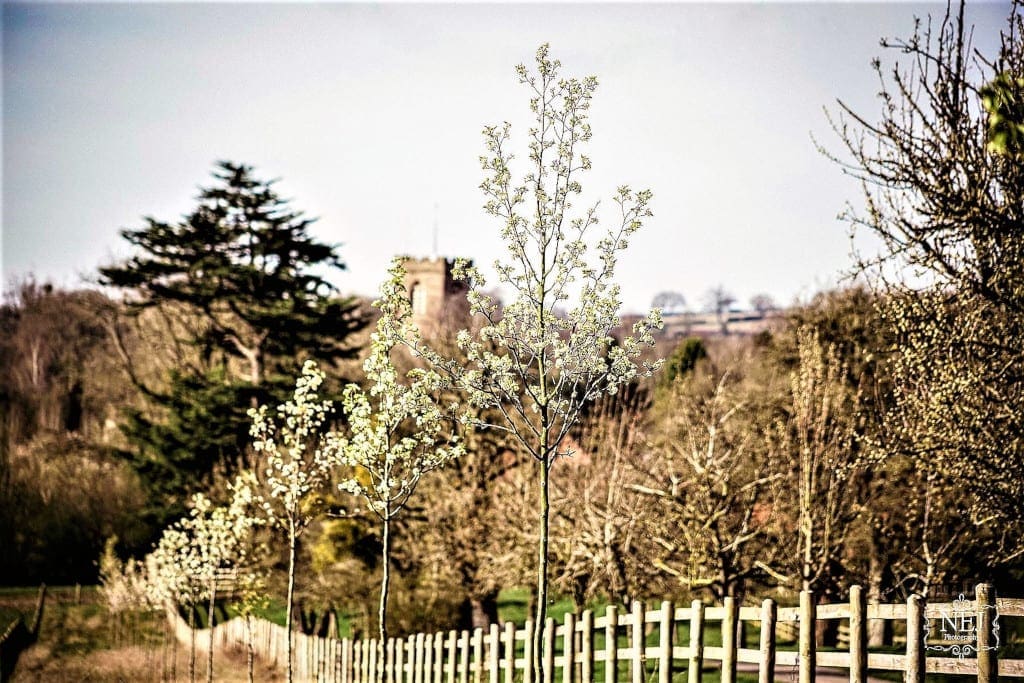 After a year of season watching the appetite from Brits to get outside has never been stronger. The 'In the Pink' guide harnesses the wellbeing aspect of enjoying the blooms as it showcases the county's best springtime assets with active, immersive or more sedate ways to see the show and gives advice on ways to do this in line with the government road map for reopening tourism.
"With Japan definitely off the cards to visit for its famous cherry blossom this year, we wanted to take the opportunity to show off our own blossom and make it easy for our visitors to find out how they can safely visit and  enjoy the very best displays here in Herefordshire. In future years we would love to market blossom visits to international visitors and maybe even organise Herefordshire's take on the Japanese's famous 'hanami' parties. This can only get bigger we hope!" commented Jo Hilditch, chair of the Covid Tourism Recovery Steering Group appointed to manage the campaign.
Orchard Walks
For those who want to lace up their boots there are suggested orchard walks such as Breinton Springs out along the River Wye from Hereford passing through community orchards where a rug can be thrown down and a picnic shared with friends.
New Blossom Cycle Trail – Porter's Perfection
In addition,  a new 'cider circuit' has been introduced for spring 'leg stretches' around the apple orchards in the west of the county. Porter's Perfection can be cycled or driven in a day and covers just shy of 50 miles making a double loop from Dorstone in the Golden Valley and exploring a network of backroads visiting the tastiest spots to try the adult apple juice. For a shorter ride visitors can choose the north or south sections of this route.
Blossom picnics and cider farm tours
The guide also pinpoints farm shops such as The Nest near Ledbury, delis such as Drapers Lane Deli in Leominster and cafes serving blossom picnics to be shared in their own or nearby orchards.  In addition, the cider producers are inviting visitors to take a walk through their cider and perry orchards before sampling from the barrels.
James Marsden from Gregg's Pitt Cider & Perry who is offering visitors guided orchard tours to 'walk, talk and taste' while they enjoy the blossom explains what to expect*,
"We will soon see the blossom on the perry pears, starting with Winter Burgundy and our very own indigenous variety – the Gregg's Pit perry pear – followed by Thorn, Moorcroft, Blakeney Red, Oldfield and Butt.  Later in April, continuing throughout May and into early June a succession of cider, dessert and culinary apples fill the orchard canopy with blousy pink blossom."
Wake up to blossom
To wake up and smell the blossom there are places to stay like White House Glamping with tipis tucked away in an apple orchard near Ross on Wye. In the north of the county the Netherwood Estate's brace of holiday houses are ringed by orchards and its own Michelin starred restaurant, Pensons. While over towards Hay on Wye and the Welsh border The Cob at Montpelier Cottage, a one room B&B, overlooks its own little orchard and you have a wide choice of holiday rentals through White Heron Properties on the Whittern Estate which is knee deep in fruit trees of all varieties.
---
To view the guide visit  In The Pink | Visit Herefordshire.
Travel Begins at 40 Editor
Travel articles, news, special offers, festivals and events from the Travel Begins at 40 Editorial team and our global network of travel industry contributors.