Reduce Carbon Footprint by Train to Austria
Travel Begins at 40 Editor
Posted on 9th Oct 2019
Welcome aboard the Alpen Express: the sleeper ski train with a route that takes you right to the slopes while slashing your journey's carbon footprint by around 80 per cent – and adding two full ski days to your holiday.
Take either Eurostar to Amsterdam, or Eurostar and a slick German ICE train to Cologne, then hop on the Alpen Express, now serving almost 100 fantastic Austrian ski resorts including St. Anton, Alpbach, Kitzbühel, Söll, Mayrhofen, Ischgl, Sölden, Westendorf, Kirchberg in Tirol, and brand-new super-resort Zell am See-Kaprun.
The Alpen Express runs outbound on Fridays, reaching Austrian resorts on Saturday morning, in time for the first of two extra days on the slopes. It travels back overnight the following Saturday evening, after you've had a second additional full ski day compared to a traditional week's ski package.
The service runs every week, with the first departure on 20 December 2019 and the final inbound journey on 14 March 2020. You can board an 11:04 Eurostar to Amsterdam arriving at 16:11, have a meal and take the Alpen Express at 18:59. Or take the 15:04 Eurostar to Brussels and then an ICE train from the adjacent platform, arriving in Cologne at 20:15 in time to have dinner and catch the Alpen Express at 22:26. You'll then arrive in, for example, Kitzbühel at 08:42 or St. Anton at 10:43, where the train stations are right in the centre of the resorts.
---
Read more about whether to take the train or plane to your holiday destination, at: Climate Change and Tourism: Plane, Car, Train or Boat?
---
A 06:00 flight with added winter-sports luggage fees that lands you a long road transfer from the slopes may seem less appealing, by comparison.  Especially when, on the train, you could be sipping bubbles or a beer, busting a move in the Alpen Express party carriage or enjoying breakfast in your couchette as breathtaking mountain vistas glide by.
The Alpen Express has three types of couchette accommodation: six-berth and five-berth sleeping cars, and luxury private compartments for one to three people. You can bring your own food and drink on board, and snacks, drinks and breakfast are all available on the train. For those travelling to a destination where the nearest stop isn't in the resort itself, Alpen Express pre-arranges optional transfers by coach, minibus or taxi for an additional fee.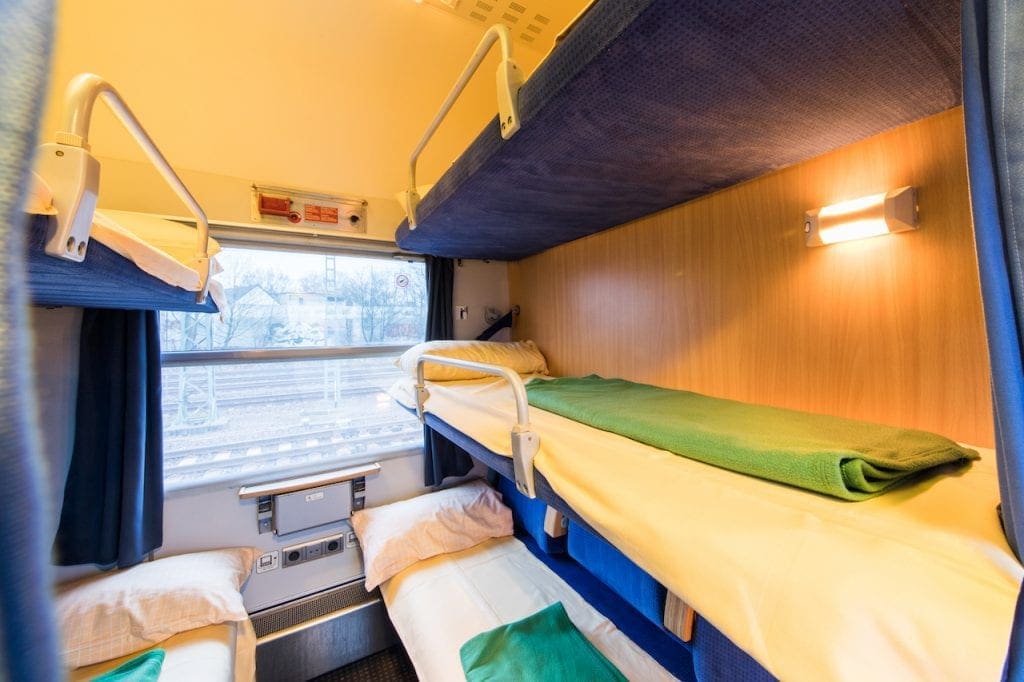 "Austria is a fantastic place to ski," says Daniel Elkan, founder of rail-ski guide Snowcarbon. "This new journey combining Eurostar and Alpen Express means that there's an attractive option for skiers looking for an enjoyable, relaxing and sustainable alternative to flying or driving. Many Austrian ski resorts have stations right in the village, meaning there is no transfer at all, and you can be making fresh tracks on the mountain in next to no time."
And what travellers are doing for the environment is way more than a token gesture. Train journeys to Austria can cut emissions by around 80%. Research by Best Foot Forward/Anthesis calculates that a one-way journey by plane from London to Zell am See-Kaprun generates 111kg of CO2 per passenger and a one-way road journey 256kg per car. Rail journeys meanwhile generate just 23kg of CO2 per person.
Martina Jamnig, UK Director of the Austrian National Tourist Office, says: "For skiers and for ski resorts, sustainability is a huge and important issue. We are really pleased that the development of these overnight train options means that skiers get a chance to enjoy more time on the slopes, have a quality journey and make their holidays in Austria much greener."
Prices start from €179 on the Alpen Express from Amsterdam and Cologne to Austria, with a place in six-berth sleeping car. Tickets for Eurostar from London to Amsterdam start from £70 return while fares from London to Cologne start from £53 return (www.eurostar.com). 
---
Information about train journeys to Austria with the Alpen Express, as well as other trains, can be found on the Snowcarbon website.
Travel Begins at 40 Editor
Travel articles, news, special offers, festivals and events from the Travel Begins at 40 Editorial team and our global network of travel industry contributors.
Upcoming Events

Subscribe to our newsletter